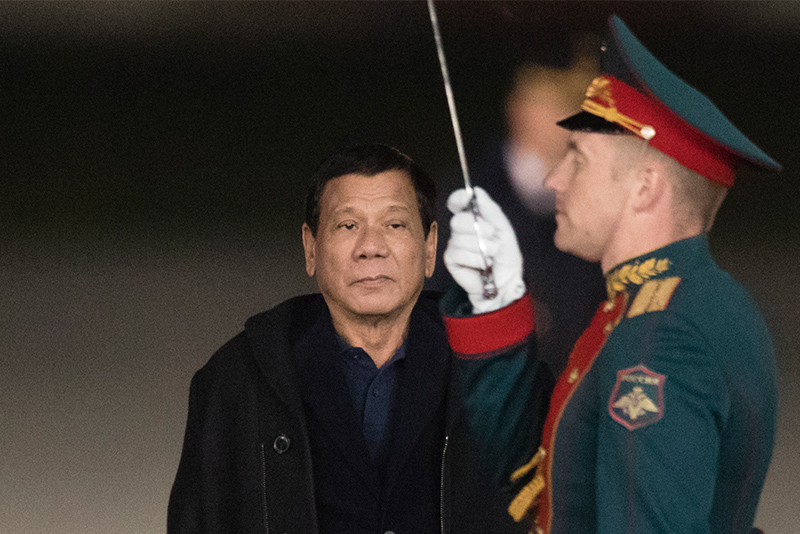 President Rodrigo Duterte reviews honour guards upon his arrival at government airport Vnukovo II just outside Moscow, Russia, late Monday, May 22, 2017. President Rodrigo Duterte is on his official visit to Russia. AP/Pavel Golovkin
Mindanao martial law to be like Marcos', says Duterte
(Philstar.com) - May 24, 2017 - 1:53am
'I'lll be harsh'
MANILA, Philippines — Martial law in Mindanao will not be different from Martial Law under dictator Ferdinand Marcos in the 1970s, President Rodrigo Duterte said on a plane in Moscow set to depart for Manila.
"Martial law is martial law ha. So kayong mga kababayan ko, you have experienced martial law, it would not be any different from what the President Marcos did. I'll be harsh," said Duterte, who was speaking on a live video by Assistant Communications Secretary Mocha Uson on Wednesday morning (Manila time).
Duterte declared military rule in the country's south late Tuesday after extremists that has pledged allegiance with the Islamic State group laid siege to Marawi City.
Under the current Constitution, a president is allowed to declare martial law in cases of "invasion or rebellion, when the public safety requires it" over a place in the Philippines for a period of 60 days.
Martial law for a month, or a year
For Duterte, however, martial law in Mindanao will remain as long as necessary. "How long? Well... if it would take a year to do it, then we will do it. If it's over within a month, then I'll be happy," he said.
Martial law may entail the suspension of the writ of habeas corpus, thereby allowing authorities to arrest any suspect with a court warrant.
The Constitution also requires the president to submit a report in person or in writing to Congress about the declaration.
"The Congress, voting jointly, by a vote of at least a majority of all its Members in regular or special session, may revoke such proclamation or suspension, which revocation shall not be set aside by the President," Article 7, Section 18 of the Charter states.
The president may also ask Congress to extend the proclamation for an indefinite period if the security crisis persists.
Marcos in 1972 placed the country in a prolonged period of martial law that stretched until the early 80s, bestowing on himself complete authority. Political enemies were arrested without warrants and countless became victims of human rights abuses. A people's revolution in 1986 overthrew Marcos, who was succeeded by Corazon Aquino whose government restored democracy.
Duterte, who ordered Marcos to be buried at the Libingan ng mga Bayani last year and who previously admitted to be indebted to the Marcos family, has publicly toyed with the idea of declaring martial law as he cited the threat of illegal narcotics.
The president is set to arrive in Manila on Wednesday afternoon from Moscow where he met with Russian strongman Vladimir Putin. — Camille Diola