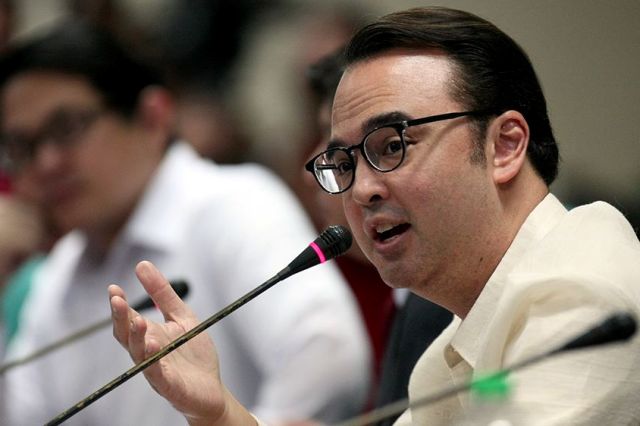 Foreign Affairs Secretary Alan Peter Cayetano thanked his colleagues in the Senate in his last day as a senator, and apologized to some whom he might have hurt in the past. Philstar.com/File photo
Cayetano thanks, apologizes to colleagues in farewell speech
MANILA, Philippines — Foreign Affairs Secretary Alan Peter Cayetano on Wednesday thanked his colleagues at the Senate and apologized to some on his last day as a senator.
In a speech at the Senate on Wednesday, Cayetano thanked his colleagues for making him a better person, debater, legislator and policy maker and, he said he hoped, a better diplomat, by "working together, working against each other, working for each other and everything that is in between all of that."
"I don't know the right words, but this isn't goodbye, maybe farewell in the meantime," Cayetano said.
He made the speech after the Commission on Appointments confirmed his appointment as secretary of the Department of Foreign Affairs in the "fastest ever" confirmation hearing.
As a senator, Cayetano filed several bills in the Senate, including the Freedom of Information Act of 2013, Iskolar ng Bayan Act, Decriminalizing Libel and Defamation Act, Children with Special Needs Education Fund Act and the Uniformed Personnel Health and Wellness Development Act.
Calls for support from Senate
Cayetano also called on his colleagues to support the DFA especially in fixing the long queue for passports. He said that he, in turn, will provide support through the department if needed.
"If I had the Senate of the Philippines behind me, then that will be a great, great advantage," Cayetano said.
Cayetano also apologized to fellow senators he might have hurt in the past.
"Kung meron man akong nasaktan o napersonal sa mga debate, please accept my apologies," Cayetano said.
"I don't promise not to do it again, but this time around I'll do it as a diplomat so I'll do it much kinder," he added.
Cayetano also said that he did not meant to hurt them and that it was "in the spirit of crafting better laws" if he had.
Senators Cayetano and Antonio Trillanes IV have repeatedly clashed over issues during senate hearings.
In an interview with 'Todo Arangkada' early Wednesday, Trillanes wished Cayetano well in his new position.
"I wish him well dito sa kanyang bagong assignment. Mabigat po na trabaho yan. He needs all the support he can get so hindi ko po hahadlangan yan," Trillanes said of his former partner in Senate hearings on corruption allegations against Vice President Jejomar Binay and his family.
President Rodrigo Duterte last week announced the appointment of his former running mate as soon as the one-year ban on the appointment of losing candidates in the May 9, 2016 elections was lifted.
Cayetano replaces acting Secretary Enrique Manalo who, in turn, replaced Perfecto Yasay, whose appointment was rejected by the commission.