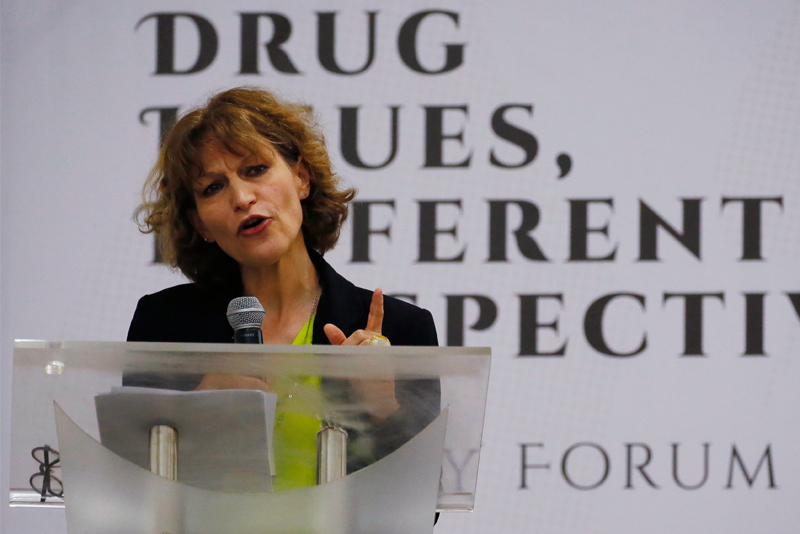 United Nations (UN) Special Rapporteur Agnes Callamard, a critic of Duterte's war on drugs, recently tweeted a statement by American professor Carl Hart, who claimed there is no evidence that shabu or methamphetamine hydrochloride leads to violence or causes brain damage. AP/Bullit Marquez
Duterte to Callamard: Go on honeymoon with Hart
(The Philippine Star) - May 10, 2017 - 4:00pm
MANILA, Philippines - Of course shabu fries the brain, and a human rights rapporteur and a psychology professor can go on honeymoon if they don't believe it, President Duterte said yesterday.
Duterte disputed claims that shabu does not damage the brain, saying users of the "virulent drug" have committed violent acts.
United Nations (UN) Special Rapporteur Agnes Callamard, a critic of Duterte's war on drugs, recently tweeted a statement by American professor Carl Hart, who claimed there is no evidence that shabu or methamphetamine hydrochloride leads to violence or causes brain damage.
Hart, chairman of Columbia University's psychology department, made the statement during a forum on illegal drugs at the University of the Philippines last week.
His statement went against Duterte's claim that constant use of shabu shrinks the brain.
Asked to react to the claim, Duterte remarked that Callamard and Hart should go on a "honeymoon."
"She should go (on) a honeymoon with that black guy, the American. I will pay for their travel," Duterte told reporters at the Ninoy Aquino International Airport Terminal 2 before leaving for Cambodia.
"They should be together and discuss…If shabu were good, (if it) is really in consonance with their pronouncement, you can be sure that beginning tomorrow, I will provide shabu in the streets. You may get your fix if you want," he added.
Duterte called Hart a "fool," saying his statement about shabu was based on an American forensic study.
"That's all b****s*** to me. That is why I will not talk to them because my experience until now and 23 years ago when I became the mayor of Davao City was always a lot of violence and killing because of shabu," the President said.
"He said shabu does not damage the brain. That's why that son of a b**** who has gone crazy came here to make announcements," he added.
Duterte said those who claim that shabu does not damage the brain have "prejudged" it as a harmless chemical.
"Why would you sue me before the ICC if you yourselves …claim that shabu does not harm people?" he remarked, referring to the International Criminal Court.
"You have prejudged everything and you are referring to the core of the complaint against me. Why would I go there and hang myself?"
The Philippine government earlier invited Callamard to conduct an investigation on the alleged human rights violations committed in connection with the drug war.
The investigation, however, has yet to push through after the Philippine government set conditions for her visit, including being questioned under oath by Duterte.
Sen. Francis Pangilinan urged the administration to formally invite Callamard for an official visit to the Philippines, this time without any conditions.