Duterte defends Calida: I would also move for Napoles acquittal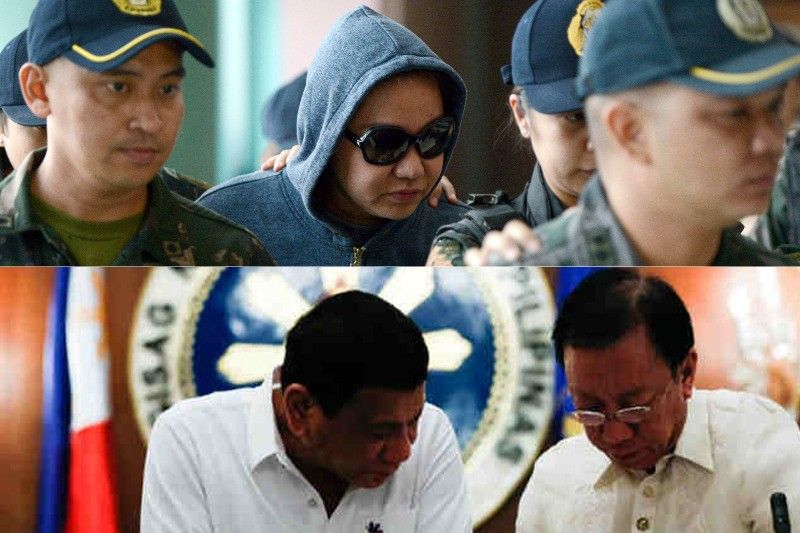 MANILA, Philippines — President Rodrigo Duterte on Monday said that if he was asked, he would also move for the dismissal of the illegal detention case against alleged pork barrel mastermind Janet Lim Napoles.
In a televised ambush interview, Duterte defended Solicitor General Jose Calida from critics who are saying he is lawyering for Napoles. He agreed with Calida's decision to move for the acquittal of Napoles in the illegal detention case.
"I think he's right. I agree with [Calida]," Duterte said.
"I myself would move for the dismissal of the case especially one 'yung fabricated, planted evidence. 'Yung gano'n ako talaga nagsasabi," he added.
The president said he would try to assess Napoles' illegal detention case because he considers the allegations thrown against her as "selective." He stressed that the principle of the law states that criminal action must proceed against all persons who are responsible.
Napoles was convicted of detaining her cousin, pork barrel scam whistleblower Benhur Luy.
Last January, Calida filed a "manifestation in lieu of rejoinder" at the Court of Appeals to acquit Napoles from the accusation saying she was wrongly convicted. He explained that Luy was not restrained.
Calida said his office just wanted to let the higher court know its opinion on the matter.
Duterte agreed and said that the circumstances cited by Calida showed that Luy was not restrained.
"If you follow the story of the Solicitor General he's right. He (Luy) could go in and out ilang beses nagbisita yung media sa kanya 'di naman siya umiyak," the president said.
"Para sakin talaga kung ako ididismiss ko rin talaga. I would move for the dismissal of the case because it is not our job to persecute it is your job to prosecute rightly. It's simple justice," he added.
Duterte clarified he is only moving for the dismissal of the case related to illegal detention and not the pork barrel scam.
Asked what he thinks about Napoles' role in the alleged scam, he replied "a lot" but refused to further comment.
"A lot, a lot I would say. Judging from the… May kaso ba? Kasi baka mayroon na naman akong masabi dito," Duterte said.
"Huwag ninyo akong tanungin. Masasabit lang ako diyan. Presidente ako tapos abogado pa," the president added.