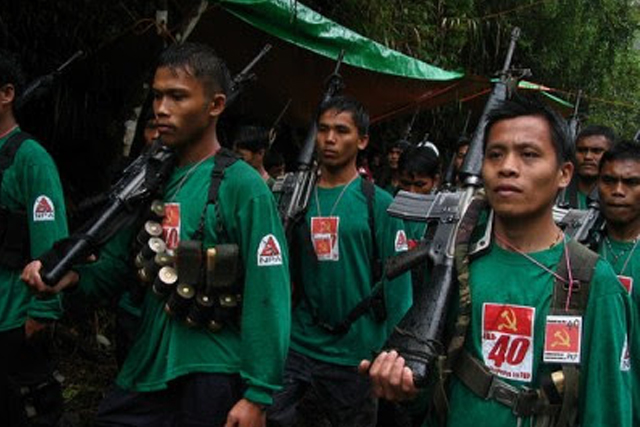 "To the NPA or the Communist Party of the Philippines (CPP), although you did not declare any cessation of hostilities somewhere, I would like to invite everybody: leave your arms where they are now and you can come down to the city or wherever you live; you visit your family," President Duterte said. AP/File
Holiday ceasefire with rebels declared
MANILA, Philippines – President Duterte declared a holiday ceasefire yesterday with the New People's Army (NPA), Moro Islamic Liberation Front (MILF) and the Moro National Liberation Front (MNLF).
Addressing the Armed Forces of the Philippines on its 81st anniversary, Duterte asked the soldiers led by AFP chief Lt. Gen. Eduardo Año: "Kindly open your gates and allow people to break bread with you even on Christmas Day."
After consulting with religious leaders and those involved in the peace process, he said he is declaring a halt to military offensives from Dec. 23 to 27 and from Dec. 31 to Jan. 3, 2017.
"To the NPA or the Communist Party of the Philippines (CPP), although you did not declare any cessation of hostilities somewhere, I would like to invite everybody: leave your arms where they are now and you can come down to the city or wherever you live; you visit your family," Duterte said.
"I would like you to come down and be with your family on Christmas Day. I guarantee you that there will be no arrests, no oppression, none of this. And if you come face to face with a soldier of the Philippines, my soldier, shake hands with each other or if you do not want to, just don't look," he said.
"Salamalaykum mga brothers ko. Bumaba kayo and spend time, (although) it's not your festivity but ours as Christians, we would like you to share the moment with us," the President added.
While announcing he has released P1 billion for poor Filipinos with doctor's prescriptions needing medicine and another P1 billion for those under medication and undergoing rehabilitation for drug addiction, Duterte said he would also release funds to buy food for those who want to eat with the country's soldiers, including rebels.
Noting that lumads in the farmlands love odong (noodles) and sardines, the President said such fare will be bought and flown to military camps, hopefully before Christmas.
Addressing the NPA, he said: "Go to the camp of the military and eat. Canned goods only because of preparation needs, wala nang luto-luto (no more cooking), except odong (and barbecue and pansit)."
"Don't be afraid. I guarantee you that there is a ceasefire and I would like to declare it officially on my part so that you can go home to your families," he stressed.
Not open to criminals
But the President clarified his invitation is not open to criminals, who have to answer for their crimes.
"All of you, except the criminals, kayong mga terrorists and kidnappers, I don't like to see you. I don't like to deal with you, criminals, who are totally unacceptable to me," he said.
Addressing revolutionaries like the NPA, Duterte said: "You can come down, be with your family, enjoy the celebrations, and we will pray together. Who knows, in the fullness of God's time, baka magka-areglo tayo (we might finally patch things up)."
As to ongoing talks and recent discussions with CPP founder Jose Maria Sison, Duterte said he is hoping he would not be misinterpreted again.
"Baka maintriga na naman (Intrigues might come up again). I do not concede anything of this republic. This Republic of the Philippines has its own powers and prerogatives. None of it will be surrendered to the enemies of the state," he said.
To criminals like the Maute group, who burned buses recently, Duterte said: "You'll have to pay for that. It will be no quarters given, no quarters asked."
Bilateral ceasefire
The Duterte government and the left have agreed to work out a bilateral ceasefire deal around the time they talk again in Rome in January, Luis Jalandoni, senior adviser of leftist political group National Democratic Front, disclosed yesterday.
In an interview with local cable TV channel ANC, Jalandoni said Duterte called CPP founding chair Sison last Saturday to talk about a bilateral ceasefire agreement.
"Duterte and Joma Sison had a conversation two days ago," Jalandoni related. "Duterte took the initiative to call Joma Sison before. It was declared by both sides that they could work out bilateral ceasefire agreement either before, during, or after the Rome talks."
Jalandoni said although no definite number has been committed, the President is set to release political prisoners 48 hours after the bilateral ceasefire deal is signed.
He said the aim of the NDF is the release of all political prisoners.
The third round of government and NDF peace talks will resume on Jan.18 to 25, 2017 in Rome, Italy.
"We welcome possible release of 60 political prisoners before Jan. 28," Jalandoni said, adding that Duterte is keeping an open line as part of the confidence-building measures for successful peace talks.
"Both sides are expected to exchange drafts on social and economic reforms on Jan. 4," he added.
Jalandoni said the NDF wants the country's Enhanced Defense Cooperation Agreement (EDCA) and Visiting Forces Agreement (VFA) with the United States scrapped altogether.
"It would be very good to be out of complete control of the US," Jalandoni said.
The communist leader also said that the rights of ordinary drug users should be respected and they need and should be given rehabilitation. – With Jose Rodel Clapano, Christina Mendez