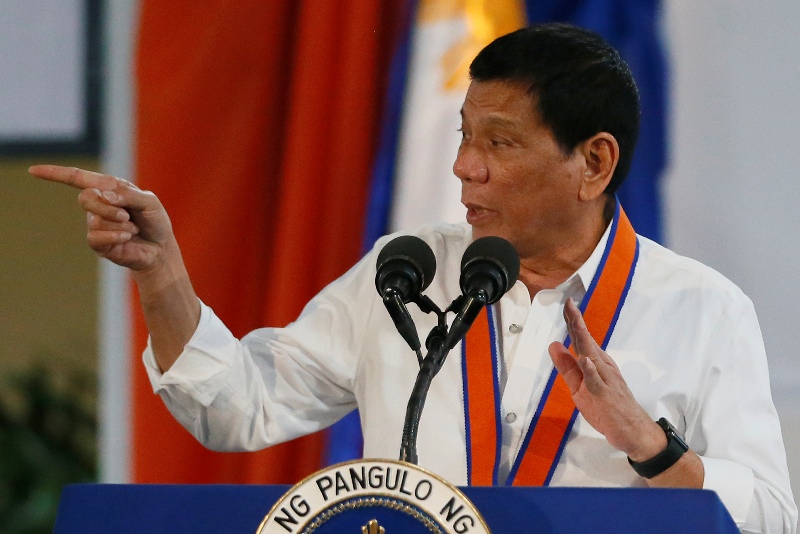 In a speech yesterday, the President Rodrigo Duterte indicated that he had given instructions to plant guns to show that drug suspects resisted arrest. Police have described those who resist as "nanlaban," most of whom have been shot dead. AP/Bullit Marquez, File
'Suspect unarmed? Give him a gun'
MANILA, Philippines - Has President Duterte given the green light to plant evidence against drug suspects?
In a speech yesterday, the President indicated that he had given instructions to plant guns to show that drug suspects resisted arrest. Police have described those who resist as "nanlaban," most of whom have been shot dead.
"I said, O sir, if they are there, destroy them also. Especially if they put up a good fight. O 'pag walang baril, walang – bigyan mo ng baril (If they don't have a gun, give them a gun). Here's a loaded gun, fight because the mayor said, let's fight," Duterte said.
"I don't know if the other guy who would have won the presidency (can do it). I do not know kung kaya talaga. But somehow I must stop (the drug menace) because it will continue to contaminate and contaminate, and so to the last man I said, to the law enforcer, to the military guys: destroy the apparatus," he said as he took a potshot at another presidential contender whom he doubted had the capacity to address the drug problem had he won the presidency.
Duterte made the admission of planting evidence against drug suspects to demonstrate how serious he is in destroying illegal drugs.
He said he has given fair warning against drug operators all over the country to leave or die and encouraged cops to pursue criminals to their deaths – "provided that they resist arrest or in act of self-defense."
"And so I warned everybody: stop drugs or I'll kill you. You want to stay alive? Stop drugs. You want dead? You want death? Go on with the drugs. Simple man lang 'yan (It's simple)," the President said.?He repeated his mantra that he wants the last pusher out of the streets and all the big drug lords killed.
"You know, until the last pusher is out of the streets in my country, and until the biggest or big drug lords are killed, this campaign against drugs will continue to the very last day of my term. Six years for now."
Support for operating police teams
The President defended anew his support for the team of Criminal Investigation and Detection Group Region 8 under commander Supt. Marvin Marcos that killed Albuera Mayor Roland Espinosa while under government detention a few months ago despite criticisms against the police operating unit.
He also justified the killing of the couple Melvin and Meriam Odicta in an ambush in August shortly after they disembarked from a vessel at Caticlan Jerry Port.