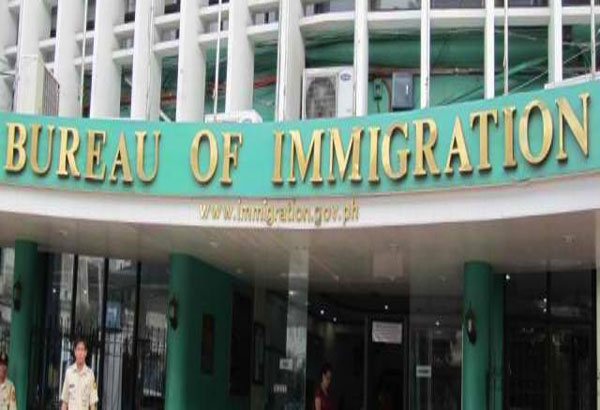 The BI officials claimed they were trying to entrap Chinese online gambling operator Jack Lam, but the plan backfired when they were caught holding the bags containing P50 million in cash. File photo
Immigration execs: It was an entrapment that backfired
MANILA, Philippines – They were caught with the bags of cash, but Bureau of Immigration (BI) Deputy Commissioners Al Argosino and Michael Robles yesterday denied corruption allegations, saying they were framed in an entrapment they had planned that went awry.
The two denied allegations that they accepted P50 million in payoffs from Chinese online gambling operator Jack Lam in exchange for the release of detained Chinese casino workers who lacked proper visas.
The BI officials claimed they were trying to entrap Lam, but the plan backfired when they were caught holding the bags containing P50 million in cash.
Argosino and Robles yesterday turned over P30 million of the P50 million to Justice Secretary Vitaliano Aguirre II ostensibly for safekeeping.
Two million of the P50 million was left with former police official Wally Sombero, who acted as middleman, and P18 million was allegedly given to BI Intelligence Division chief Charles Calima Jr.
There were reports that Calima would "share" the money with some people including Sombero, newspaper columnist Ramon Tulfo, BI commissioner Jaime Morente and Col. Ed Chan.
In an earlier column, Tulfo said two commissioners of the BI, who are fraternity brothers of the President, asked for P50 million from Lam in exchange for the release of 600 out of the 1,316 Chinese nationals arrested by the BI on Nov. 24 at Fontana Leisure Park and Casino in Clark Freeport.
During yesterday's noontime press conference, Argosino said that Morente was not aware of the alleged payoff.
Argosino and Robles are treating the incident not as a form of bribery but of the "highest evidence of corruption."
They denied recent news reports alledging that they received payoffs in exchange for the release of Chinese nationals arrested at the free port's casino for allegedly failing to produce proper employment visas and to help facilitate the license of Lam's online gaming operations.
Argosino and Robles claimed that they were in the middle of their investigation when the media blew their cover.
They decided to keep the information between the two of them since they have only been with the BI, an agency known for irregularities, for three months and do not know whom they could trust.
With the sleuthing activities of the two deputy commissioners, both lawyers, already "overtaken by events," they filed a 16-page joint affidavit of complaint of corruption of public officials and violation of Republic Act No. 4200 (Anti-Wiretapping Act) yesterday morning at the Parañaque City Prosecutor's Office.
The case was filed against Lam Yin Lok, aka Jack Lam; Lam's two interpreters Alexander Yu and Norman Ng; Sombero, and Calima.
Argosino said the filing of the case against these individuals was their gift to President Duterte.
"Mr. President, we were able to give you the living proof that Jack Lam is into corruption, and we are the first officers who were able to file corruption charge against Jack Lam."
Argosino added that the amount would have been enough to ensure they would live comfortably had they decided to retire early from government, but they decided to use it to entrap Lam.
Unfortunately, their meetings were always with Sombero. Lam was never present.
Argosino mentioned that there was a "Calima conspiracy." Since Dec. 1, Calima was reportedly going to the Immigration deputy commissioners' office, telling them of video recordings and photographs where they are seen at the City of Dreams with Sombero.
He was even allegedly heard calling Sombero and Tulfo.
Argosino and Robles went on leave last Monday.