Robredo claims victory
MANILA, Philippines – Claiming an insurmountable lead of 24,000 votes in the vice presidential race, Liberal Party (LP) bet Camarines Sur Rep. Leni Robredo yesterday declared victory amid allegations of irregularities in the canvassing of votes.
"We have already won," Robredo told her supporters as one of her aides said yesterday that she is "the next vice president of the country."
The Commission on Elections (Comelec) has yet to tally 15 remaining certificates of canvass or COCs involving about one million votes. For its part, the Parish Pastoral Council for Responsible Voting (PPCRV), whose unofficial quick count has slowed down, could not say where the LP got its figures.
Boyet Dy, policy head of Robredo's campaign team, said it would be "mathematically impossible" for Sen. Ferdinand Marcos Jr. to overcome her lead even if he received all the votes from areas yet to send their COCs.
Dy said that as of 2 p.m. yesterday, the Comelec had accounted for 99.51 percent of COCs.
He said only nine towns have yet to transmit their COCs: Rizal, Laguna; Allen, Northern Samar; Catarman, Northern Samar; Lope de Vega, Northern Samar; Binidayan, Lanao del Sur; Masiu, Lanao del Sur; Tamparan, Lanao del Sur; Indanan, Sulu, and Bacungan, Zamboanga del Norte.
The nine towns have a total of 168,988 registered voters.
Even if Robredo gets zero votes from the remaining precincts, she will still win by over 24,000 votes, based on data from the Comelec, he said.
"Based on the latest Comelec count including the OAV (overseas absentee voting) and LAV (local absentee voting), Leni is leading by 257,567," Dy said.
"It is clear that Senator Marcos can no longer overtake Robredo even if he gets all the remaining votes. For now, no one can stop Leni Robredo. She is the next vice president of the country."
Figure it out
The PPCRV said the figures mentioned by the Robredo camp might no longer manifest on the transparency server of the Comelec.
PPCRV national vice president Johnny Cardenas said Robredo's figures may have included the votes from precincts with defective vote counting machines (VCMs) or those which failed to transmit votes, or those that underwent manual count.
"The election results they might hold include those that underwent both automated and manual count," Cardenas said.
"Those that underwent manual count would no longer reflect on the results sent to the transparency server," he said.
He added the votes that enter the transparency server are those already transmitted.
Cardenas noted the possibility that the Robredo camp is referring to the copies of election returns provided to the LP, which the Comelec recognized as the dominant majority party.
As of 5:45 p.m. yesterday, Robredo led with 14,022,878 votes, while Marcos remained second with 13,803,654, a difference of 219,224 votes.
At the same time, the Comelec transparency server that the PPCRV takes care of has registered 96.13-percent transmission rate, or 90,630 precincts that have transmitted results.
Cardenas stressed that any candidate should wait for the official canvass before claiming victory.
Robredo's camp earlier said she would edge Marcos by over 24,000 votes, which would come from municipalities yet to transmit election results.
The Robredo camp apparently referred to the Comelec election results website, which as of 2 p.m. yesterday reported that it had received 99.51 percent of total votes from across the country.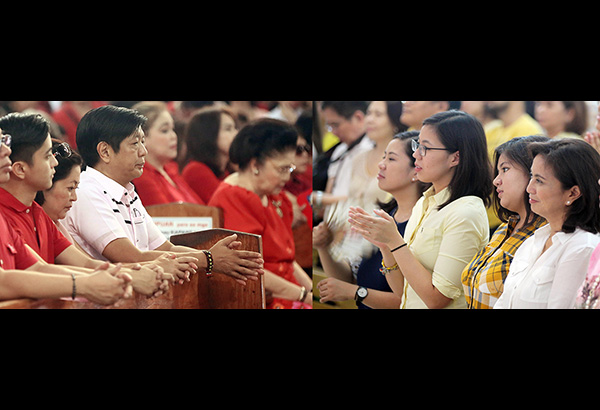 Vice presidential candidates Ferdinand 'Bongbong' Marcos Jr. and Leni Robredo attend mass with their families at the Redemptorist Church in Baclaran, Parañaque City and Ateneo Church of the Gesu in Quezon City, respectively, yesterday.
MIGUEL DE GUZMAN, KRIZJOHN ROSALES
Moving on
Robredo thanked her supporters for believing in her and vowed to treat them as "partners" in serving the country.
"I urge you, let us not engage in bickering because we have already won," Robredo told supporters. "It's now time to move on for the country."
Robredo said her victory would not be possible without the help of her supporters.
"This is truly a people's campaign," she said.
Marcos earlier questioned Robredo's surge in the canvassing and claimed to have received reports that the results were changed due to the tweaking of a computer command.
He claimed Robredo overtook him at around 3:30 a.m. on Tuesday because of the changing of the hash code.
The Comelec and its technology provider Smartmatic, however, claimed the changing of the hash code did not affect the voting results.
They said a "cosmetic change" was done because the system could not recognize the "ñ" in the names of some candidates.
Despite the explanation, Comelec Commissioner Rowena Guanzon believes Smartmatic breached protocol when it introduced a new script without the approval of the poll body.
She said the incident should be investigated even if the change in computer script did not alter the results.
Critics have accused Robredo of acting like the winner of the vice presidential race even if the canvassing of results is not yet completed.
Robredo told reporters that her camp released their projections, not to preempt the Comelec, but to assure her supporters.
The Robredo camp said they would respect the results of the election.
Robredo reiterated that she would not tolerate any effort to rig the election results.
"I know that you believed in me because you are aware that I won't allow myself to become an instrument or recipient of cheating," she said.
Robredo also joked about Marcos' claim that LP has a "plan B" that involves pushing her to win as vice president and preparing an impeachment complaint against incoming president Rodrigo Duterte.
"Some claim that I have a plan B. But my staff said that my plan B is about my bangs," she said.
Robredo also urged her supporters to support and pray for Duterte, who has gained close to 16 million votes as of yesterday.
"Let us also support the president. Let us pray for him because he has a very difficult job to do," she said.
Before claiming victory, Robredo and her daughters Aika, Patricia and Jillian attended mass at the Church of Gesu at the Ateneo de Manila University. – With Ghio Ong, Paolo Romero