Int'l terrorist in Maguindanao: Who is Marwan?
MANILA, Philippines — Malaysian bomb maker Zulkifli Abd Hir, most known for his alias "Marwan" among dozens he used, was likely to have been killed by Philippine police in Maguindanao last Sunday.
Authorities believe Marwan was neutralized in the Philippine National Police Special Action Force operation in Mamapasano town. The gun battle aimed to serve Marwan's arrest warrant, but 44 policemen were also slain by Moro insurgents.
An engineer who studied in the United States, Marwan is also thought to be the head of the radical Kumpulun Mujahidin Malaysia and a member of Jemaah Islamiyah's central command aiming to establish an Islamic caliphate in the region.
Abdhir was indicted on August 1, 2007, in the United States District Court, Northern District of California, and charged with "providing material support to terrorists, conspiracy to provide material support to terrorists, contributing goods and services to a specially designated global terrorist, and making false statements," the FBI writes in his profile.
Described to have Chinese facial features, Marwan, 49, was born in Muar, a city in southern Malaysia, and described in his profile posted by the Federal Bureau of Investigation as dark, balding and slim.
Attacks in Philippines
That the radical operative can speak Tagalog may come as no surprise as he is believed to have conducted bomb-making training for terror organization Abu Sayyaf Group and lived in Mindanao since 2003.
In 2007, US Secretary of State Condoleezza Rice offered a $5 million bounty for Marwan and listed him among American's "most wanted terrorists" following his alleged involvement in a series of deadly bomb attacks in the Philippines.
On Tuesday, Interior and Local Government Secretary Manuel "Mar" Roxas II said police commandos did not retrieve the body of Marwan in Sunday's attack due to the intense firefight but were able to take photos of his remains.
"May mga pictures, at ang mga pictures na ito ay dadaan sa proseso kung ito nga si Marwan, hindi ko masabi kung yung nasa picture nga ay si Marwan," Roxas said.
He said there is a "high likelihood" that it was Marwan who was killed, but it needs further confirmation.
'Killed' twice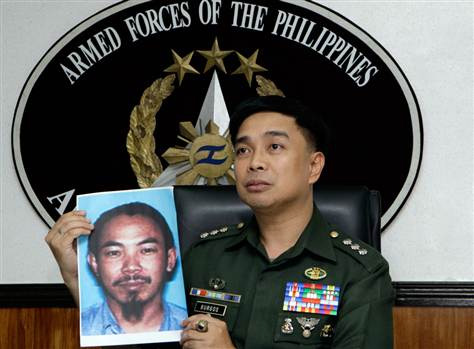 In this February 2012 photo, Armed Forces of the Philippines spokesman Col. Marcelo Burgos shows a picture of Zulkipli bin Hir, also known as Marwan, a top leader of the regional, al Qaida-linked Jemaah Islamiyah terror network, during a press conference in Quezon City, Philippines. AP file
It is not the first time Marwan is believed to have died. In February 2012, the Armed Forces said Marwan was slain in an air strike targeting an Abu Sayyaf lair in Jolo, Sulu.
The reported death prompted the terror suspect's mother to appeal to the Malaysian and Philippine governments to have his body sent to the Ulu Mosque in Bakri, Muar for burial.
A month later, however, Marwan was found to have escaped and coddled by the Bangsamoro Islamic Freedom Fighters, a splinter group from the Moro Islamic Liberation Front.