Another year of martial law in Mindanao?
December 12, 2019 | 7:30pm
+ Follow Story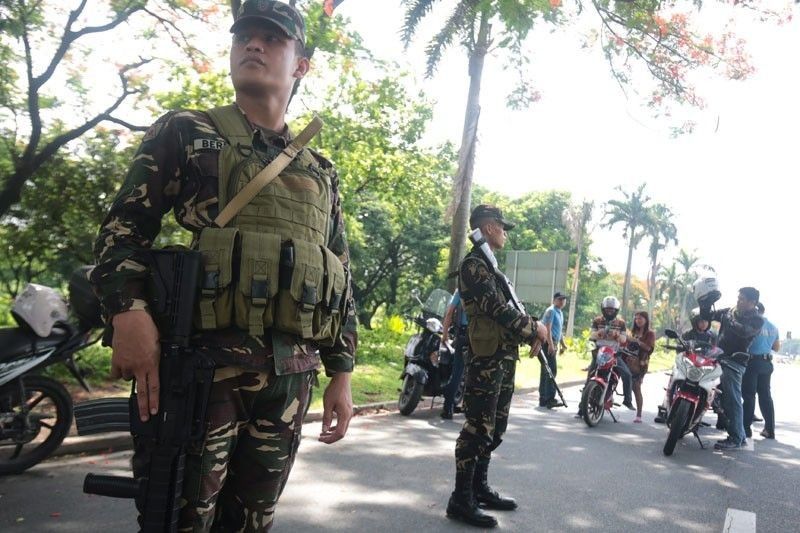 December 12, 2019
The Armed Forces of the Philippines and Philippine National Police will likely maintain if not increase the number of their personnel in Mindanao even after martial law is lifted, a Mindanao congressman says.
Rep. Manuel Jose Dalipe II (Zamboanga City, 2nd District) says that the decision to no longer extend martial law shows the security sector's confidence in the peace and order situation in the region, they have to maintain the present strength of forces in Mindanao in the face of a bigger budget.
"I doubt they would reduce the strength of the forces. Because the House of the Representatives has increased their budget. When you increase their budget it goes along that they added the strength of the AFP and the PNP. So I think with that added budget, which goes with the hiring of additional soldiers and policemen, I think the strength will be retained," Dalipe, vice chairman of the House appropriations committee, told media.
He said he would advise the police and military against decreasing the number of their personnel in Mindanao "because it will be unwise if they would reduce the strength." — The STAR/ Roel Pareño
December 10, 2019
President Rodrigo Duterte will no longer extend martial law in Mindanao.
The Armed Forces and the Philippine National Police had earlier said that the peace and order situation in the region has improved while Defense Secretary Delfin Lorenzana, who has said martial law has been in place for too long, did not recommend extending it past December 31, 2019.
Palace says President Duterte won't extend martial law in Mindanao @PhilippineStar @PhilstarNews

— Alexis B. Romero (@alexisbromero) December 10, 2019
Martial law, which was declared in Mindanao in May 2017, had been extended three times.
December 4, 2019
Defense Secretary Delfin Lorenzana says "it's time to go back to normal," saying he has submitted a recommendation to no longer extend martial law across Mindanao.
The current extension of martial law lapses at the end of the year.
DND Sec Lorenzana says "it's time to go back to normal" and has submitted his recommendation to the President to no longer extend Martial Law in the whole of Mindanao based on assessment of AFP and PNP @News5AKSYON @onenewsph pic.twitter.com/j18CJfx05L

— Pat Mangune TV5 (@PatMangune) December 4, 2019
Police and military officials had previously indicated they are inclined to recommend the lifting of martial law in general, although they said some areas like Sulu will still need a heavy presence of security forces.
November 14, 2019
Gen. Noel Clement, Armed Forces of the Philippines chief of staff, says Thursday that the military is considering recommending the extension martial law in select areas of Mindanao, where martial law has been in place since May 2017.
Clement visited the Western Mindanao Command headquarters in Zamboanga City and assessed the current security situation in the southern Philippines following a recent spike in terror threats launched by foreign militants hiding with the Abu Sayyaf group.
Clement says the military will conduct a thorough assessment and hold consultations with local officials and communities to see "if they still wish to continue the implementation of the martial law."
"But, right now, as we see it, because of the big improvement, we might make an assessment and if ever we will recommend for the lifting of the martial law there might be some areas that we will continue its implementation," Clement says.
Clement agrees with the observations of Defense Secretary Delfin Lorenzana that martial law has been enforced in Mindanao for a long time now. — The STAR/Roel Pareño
November 13, 2019
Basilan Gov. Hajiman Saliman-Hataman says martial law is no longer necessary in the province because the security situation there is under control.
He says the Abu Sayyaf group's number have been degraded and that the terrorist group is now isolated in the jungle. Many of its members have either been killed, arrested, or have surrendered, the governor also says.
"It has been a long period that we have not experienced bombing, kidnapping and even violent killing. This is beside that we started the all-out war against the Abu Sayyaf in 2016 even before the declaration of martial law," Hataman says. — The STAR/Roel Pareño
November 12, 2019
The Philippine National Police says the peace and order situation in Mindanao is now under control and that martial law over the region, declared in May 2017, might not need another extension.
"Nananatili lamang na mataas ang alert level doon sa bahagi ng Sulu na kung saan meron pa rin mga pinaghihinalaang presensya ng mga terrorist group na Abu Sayyaf," Police Brig Gen. Bernard Banac, PNP spokesperson, tells reporters Tuesday.
(The alert level will remain high around Sulu, where there is still a suspected presence of the Abu Sayyaf terrorist group)
Aside from that, he says, crime is down across Mindanao and the proliferation of loose firearms in the region is now under control.
"[S]a ngayon nakikita natin na talagang maari na natin talagang tanggalin na ang martial law sa buong kapuluan ng Mindanao," Banac says.
(As of now, we see that lifting martial law in Mindanao can be done)
November 11, 2019
If he had his way, Defense Secretary Delfin Lorenzana would put an end to martial law in Mindanao be extended for another year.
"It depends on their (Armed Forces of the Philipines and the Philippine National Police) recommendation, but if it were just me, I will not recommend anymore the extension," Lorenzana told reporters on the sidelines of a Camp Aguinaldo event.
"It's been too long. We can do our job anyway, especially if the Congress can pass the Human Security Act which our law enforcement some teeth. That's a better arrangement than the martial law," he added in mixed Filipino and English.
October 16, 2019
Martial law should be lifted across Mindanao, not just in Davao City, youth group Akbayan Youth says in a press statement.
"If the mayor's reason is a decline in crime rates in her city, then the administration's claim of economic growth in Mindanao in recent years should be a reason to lift Martial Law entirely," Akbayan Youth secretary-general Justine Balane says.
"If Mindanao really is developing and improving as the administration claims, there's no reason to still put it under emergency powers. We dare Mayor Sara to extend her proposal to the entire island."
The declaration of martial law in Mindanao in 2017 was generally received well by business groups and chambers of commerce in the region. They said the tighter security measures would bring more investors to Mindanao.
August 6, 2019
The Davao City council has passed a resolution asking President Rodrigo Duterte, the city's former mayor, to lift martial law there.
According to alternative media website Davao Today, the resolution was filed by Councilor Mabel Acosta, chair of the committee on peace and public safety.
Acosta said martial law has affected business, trade and investments in Davao City.
Davao City Mayor Sara Duterte-Carpio said earlier this month that she wants martial law, which is in effect in Mindanao, lifted in Davao City and Samal Island.
"If martial law is in place, it must be strictly implemented, wherein the military takes over and there will no longer be any court or the office of the mayor does not function anymore. But that is not the case with Davao City where everything is in place," Carpio said.
July 25, 2019
National Security Adviser Hermogenes Esperon Jr.'s is trying to justify yet another extension of martial law in Mindanao "spreading fear and paranoia to justify continued and unchecked repression and abuses," rights group Karapatan, which has opposed martial law in the region since 2017, says.
Esperon said this week that the presence of communist rebels in parts of Mindanao, which has a land area of 97,530 square kilometers, makes the extension necessary.
"He is floating the idea to extend martial law in Mindanao for another year without satisfying any of the prerequisites provided for in the Constitution," Karapatan says, referring to invasion and rebellion that allow the declaration of martial law.
Although the Communist Party of the Philippines and New People's Army have been carrying out an armed insurgency since 1969, critics of martial law have pointed out that their existence had not required the declaration of martial law, except during the Marcos administration.
Karapatan says it has documented 93 cases of extrajudicial killings, 136 cases of frustrated extrajudicial killings, 35 cases of torture, 1,450 cases of illegal arrests, 28,813 cases of threat, harassment and intimidation, and 423,538 victims of forced evacuation as of the second year of martial law, which was declared on May 23, 2017.
Martial law was declared across Mindanao in response to the Marawi Siege, where a law enforcement operation turned into an attack on the capital of Lanao del Sur by Maute terrorists and a faction of the Abu Sayyaf.
July 24, 2019
Senate Minority Leader Franklin Drilon says extending martial law in Mindanao again, this time until December 31, 2020, would set a bad precedent and will have economic and social implications.
"Is martial law now the new norm in Mindanao?" Drilon says, adding the government's security cluster should "study the situation in Mindanao and consider the dangerous mindset that the continued declaration of martial law in Mindanao may give rise to."
"There is no perpetual martial law. There must be an end to this. As I said before, martial law is like an antibiotic, and antibiotic, when used excessively, becomes ineffective," Drilon also says.
National Security Adviser Hermogenes Esperon on Tuesday says he is inclined to recommend keeping all of Mindanao under martial law until December 31, 2020.
Esperon told reporters that the Communist PArty of the Philippines-New People's Army operates in parts of Davao, Surigao and the Bangsamoro Autonomous Region in Muslim Mindanao, making the extension of the martial law imposed in the region since May 2017 necessary.
BARMM interim chief minister Ahod Ebrahim (Murad Ebrahim) said this month that "while BARMM as a region may have minimal problem [with] the communist insurgency, nonetheless, we still take it as a serious concern."