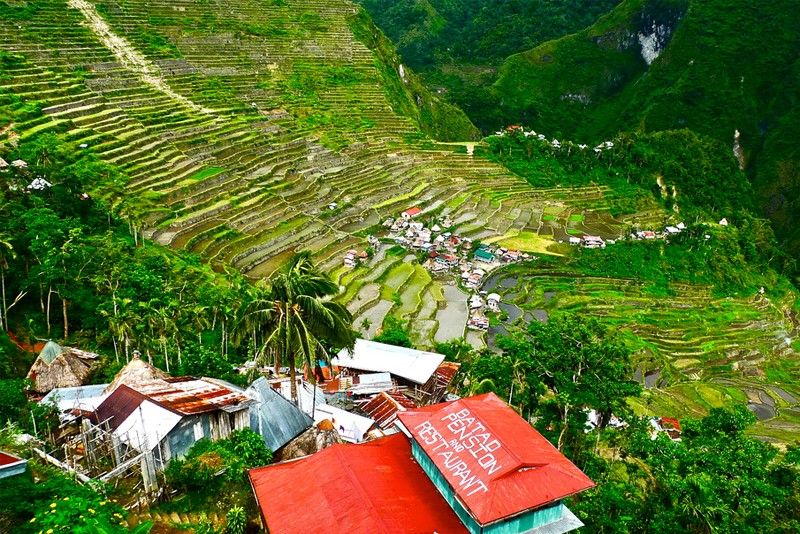 Cordillera Administrative Region updates
LATEST UPDATE: August 12, 2020 - 2:44pm
LOCATION:
ABRA
CORDILLERA ADMINISTRATIVE REGION
BENGUET
APAYAO
IFUGAO
KALINGA
MOUNTAIN PROVINCE
+ Follow Story
1 day ago
Baguio City Mayor Benjamin Magalong orders mandatory COVID-19 tests for grocery and department store workers.
After requiring employees of banks to be tested for COVID-19, Magalong was prompted to include those working in groceries and department stores following a report of COVID-19 cases in a grocery in Baguio City. — The STAR/Artemio Dumlao
2 days ago
Abra Gov. Ma. Jocelyn Valera-Bernos says she is shelling out P14 million to fund the learning continuity operational plan (LCOP) of the Department of Education in the province.
"This is part of the provincial government's assistance for the education of young Abreños under the new normal," she says.
With a special concern on young students from the hinterland locations in the province, Bernos says, "They are the most who need support and encouragement to learn for their future."
— The STAR/Artemio Dumlao
August 8, 2020
Baguio City Mayor Benjamin Magalong orders a crackdown against individuals jacking up prices of face shields.
The local government has been receiving complaints that the retail price of the protective gear continues to rise.
"I am ordering the City Health Services Office and the Public Order and Safety Division to coordinate with the Department of Trade and Industry to take immediate action against these opportunists. It is unconscionable to take advantage of others especially in this time of crisis ," the contact tracing czar and former police general says. — The STAR/Artemio Dumlao
August 5, 2020
A surge in cases of COVID-19 on Tuesday night—16 infections including three Baguio City employees—has prompted Mayor Benjamin Magalong to shut down the Baguio City Hall until Friday.
Magalong also ordered the closure of PFVR gym, where the three city employees are assigned, stopping the processing and issuance of travel documents.
Magalong, in an advisory late Tuesday, said "we are closing the facility and suspending the processing of travel documents effective tomorrow, August 5, to give way for disinfection and further testing."
The advisory noted that closing city hall is a precautionary measure that "will allow only a limited number of workforce to ensure the continuity of operations." — The STAR/Artemio Dumlao
August 4, 2020
Abra Gov. Ma. Jocelyn Valera-Bernos has suspended all social and mass gatherings in the province since this week
This, after Abra saw its biggest surge of COVID19 cases Sunday with 16 fresh cases.
Bernos cited the sudden increase in confirmed cases involving cases transmitted locally, the first COVID-19 death in the province on Friday, and that some of the fresh cases are frontliners assigned in different communities, as primary reasons for her suspension of all mass gatherings province-wide. — The STAR/Artemio Dumlao
August 2, 2020
Three frontliners have formally sued Tabuk City Vice Mayor Bernard Glenn Dao-as before the Office of the Ombudsman for alleged abuse of authority resulting to grave misconduct, conduct unbecoming of a public official, discrimination of health care workers, grave coercion and violation of the pertinent provisions of Republic Act, or the Bayanihan to Heal as One Act of 2020.
In an 11-page joint affidavit, Roxanne Dalignoc Eng-op, a job order health worker; Robert Purugganan Bayangan, a casual employee of the City Disaster Risk Reduction and Management Office (CDRRMO) and Rogelio Dulipas Calsiyao, residents of Casigayan, Bulo and Cugawe, Cudal, Tabuk City claimed that Dao-oas defied the health protocols that implemented at a control point in barangay Talaca (Tabuk City) after he passed through with another passenger, an eployee of the Bureau of Fire Protection (BFP) from Bulacan, who did not have travel documents. — The STAR/Artemio Dumlao
August 1, 2020
Governor of Abra says the province recorded its first COVID-19 death.
Gov. Ma. Jocelyn Bernos says "AC13", 85, from Padangitan, Danglas, came from Antipolo City on July 15 and arrived home already with symptoms of COVID-19.
Confirmation via RT-PCR test was conducted on the patient, which came out positive. — The STAR/Artemio Dumlao
July 29, 2020
Baguio policemen on Tuesday asked all state prosecutors in the city to inhibit from handling the case involving a 7-year-old boy who was murdered in May.
Police Col. Allen Co, Baguio City police director, says they filed a motion for inhibition covering the entire Baguio City prosecutors' office in investigating the murder raps against a couple from an influential family in Ifugao accused of murdering their 7-year old nephew.
"There is a perceived partiality on the part of the handling prosecutor and the entire office," Co says. — The STAR/Artemio Dumlao
July 23, 2020
Giving premium to discipline, the government launched the "Disiplina Muna" advocacy campaign in the Cordillera Administrative Region (CAR) this week to promote participatory governance and to foster the culture of discipline among the Filipino people.
"During this time of pandemic, discipline is our best defense against COVID-19 by simply complying with the minimum health protocols" DILG Cordillera director Marlo Iringan said citing examples such as the wearing of face masks, social distancing, and proper hand washing.
'Disiplina Muna' is anchored on the Philippine Development Plan (PDP) 2017-2022, which aims to lay the foundation for inclusive growth and a high-trust society by ensuring people-centered governance towards Ambisyon Natin 2040 that envisions a "matatag, maginhawa at panatag na buhay para sa lahat". -- The STAR/Artemio Dumlao
July 23, 2020
Baguio mayor says they had started to act early on detecting residents with early symptoms of COVID-19 to prevent the spread of the deadly disease.
Mayor Benjamin Magalong says Memorandum No. 123 series of 2020 was issued earlier this week ordering punong barangays and members of the Barangay Health Emergency Teams (BHERTs) to implement a campaign that would encourage residents experiencing flu-like symptoms to subject themselves to early check-ups in the barangay level.
"If we assess people with flu-like symptoms like fever, cough, runny or stuffy nose, body aches, headache and fatigue early, we can immediately identify the carriers and isolate them thereby preventing further virus transmission," Magalong says. — The STAR/Artemio Dumlao
July 22, 2020
Butbut tribal folk of barangay Bugnay in Tinglayan, Kalinga are now stockpiling food and materiel as they prepare for a protracted shooting war with neighboring tribal folk of Betwagan in Sadanga, Mountain Province.
Only on Monday, armed tribesmen from Betwagan reportedly moved into Bugnay, sparking a day-long gunfight resulting in at least two Betwagan tribesmen killed while Butbut tribesmen suffered no casualties.
The animosity between the two neighboring villages that heightened into actual hostilities began on February 13, when their "bodong" (peace pact) was severed after a shooting incident.
The Butbut and Betwagan tribal folk are accusing each other of firing the first shot. — The STAR/Artemio Dumlao
July 21, 2020
Allaying fears Baguio is willing to risk the health of its residents to revive its tourism-based economy, Mayor Benjamin Magalong declared that the city remains closed until the National Capital Region and the Central Luzon and Calabarzon regions deal with COVID-19 outbreaks in their areas.
Magalong at the heels of the Baguio Visitors Management System's (BVMS) presentation of City Tourism Officer Aloysius Mapalo mapping out strategies, if and when local tourism opens prospectively by September noted, "almost 45% of tourists come from Regions 3, 4 and the country's capital based on a survey on September 2018 to April 2019."
Most of the city's visitors hail from those regions. — The STAR/Artemio Dumlao
July 17, 2020
Baguio City logs two new COVID-19 cases, which brings the total number of active cases in the area to 10.
A 50-year-old male health worker from the Baguio General Hospital and Medical Center and a 35-year-old female from Middle Quezon Hill are added to those being treated for the deadly virus. — The STAR/Artemio Dumlao
July 16, 2020
Baguio City logs another COVID-19 positive patient, binging the total number of active cases in the province to nine.
The city's 55th case, a 50-year-old woman from San Luis Village, is symptomatic, according to Mayor Benjamin Magalong. — The STAR/Artemio Dumlao
July 15, 2020
The Department of Health – Cordillera announces that two patients have recovered from the coronavirus disease in the region, one from Benguet and the other from Ifugao.
This brings down the total number of active cases in the region to 28. — The STAR/Artemio Dumlao
June 24, 2020
Anti-narcotics operatives from the Kalinga police and Philippine Drug Enforcement Agency (PDEA) torched down at least P13.7M worth of marijuana in Buscalan, Tinglayan, Kalinga Tuesday morning.
The haul were discovered on six plantation sites: 1200 square meters with around 8400 fully-grown marijuana plants; another on a 50 square meter lot with at least 250 MJ plants; a 1200 sq. meter lots with 18,000 MJ plants; another 1500 sq. meter lot with 18,000 MJ plants; another 600 sq. meter lot with at least 9,000 MJ plants; and a 1000 sq. meter lot 15,000 MJ plants.
If summed up, the total area is a little more than half a hectare of marijuana with 68,650 fully-grown plants believed to peg around P13,730,000. — The STAR/Artemio Dumlao
June 21, 2020
Authorities seized at least P6.36M marijuana in brick form after three alleged couriers tried to slip through a checkpoint in Bontoc, Mountain Province on Saturday evening.
Noli Bendoy Navalez, Wilfredo De Leon Magbanua Jr., and Mary Grace Nepumoceno Lunas, all from Dasmarin?as, Cavite tried to pass through a checkpoint as sitio Finew, barangay Samoki enroute to the lowlands aboard a Mitsubishi Mirage sedan.
They tried to take the Bontoc-Banaue road but alerted Philippine Drug Enforcement Agency (PDEA) and policemen flagged them down and discovered 53 marijuana bricks they were hauling to Cavite, said PDEA-Cordillera regional director Gil Cesario Castro. — The STAR/Artemio Dumlao
June 18, 2020
An official says three policemen, a town health worker and a student tested positive for the coronavirus disease in La Trinidad, Benguet.
This prompted Mayor Romeo Salda to shut down the hall of the capital town starting Thursday morning for disinfection and contact tracing operations.
Salda asks La Trinidad town employees, volunteers and clients to avoid the town hall "for everyone's safety". — The STAR/Artemio Dumlao
June 18, 2020
Baguio City and Benguet town mayors have agreed to continue the liquor ban while their local government units are under modified general community quarantine.
Baguio City Mayor Benjamin Magalong says he will not lift the liquor ban while Baguio is under MGCQ. According to him, the alcohol ban is a "deterrent" in gatherings where COVID-19 infections may be transmitted. — The STAR/Artemio Dumlao
June 17, 2020
Officials say Tabuk City, Kalinga's capital, is COVID-19-free again.
The Tabuk City Health Office in its report to the Provincial Inter-Agency Task Force, says that six of the earlier confirmed positive cases were found negative after their second swab testing.
A total of 125 frontliners, who had close contact with the six patients were also subjected to COVID-19 testing. — The STAR/Artemio Dumlao
June 16, 2020
Three additional confirmed COVID19 cases were recorded Tuesday afternoon in Baguio City.
Mayor Benjie Magalong said the new patients are a ten-year old girl from San Vicente barangay who had an exposure to a known positive case; a 30-year old female hospital worker from Loakan Road also with known exposure to a case; and a 60-year old male from Upper Irisan who is presently confined in a hospital.
Thus hiking the COVID19 patients here to 8 mid afternoon Tuesday, a day after the police major assigned at Camp Crame and who snuck back to Baguio on May 11 before testing positive for COVID-19 positive, was discharged from the hospital Monday. — The STAR/Artemio Dumlao
June 15, 2020
Mountain Province is heightening its guard as COVID19 cases spike in all 6 provinces in the highland region.
Members of the Mountain Province COVID-19 Task Force (PCTF) increased efforts by contact tracing teams in the different towns in the province, management of Returning Overseas Filipino Workers, management of Locally Stranded Individuals and status of logistics support to Quarantine Control Points along provincial borders.
Only Mountain Province has so far had no case of COVID-19 in the region. Abra has five active cases, Benguet, 18; Ifugao, three; Kalinga, six; Apayao seven and Baguio City six.
— The STAR/Artemio Dumlao
June 13, 2020
Baguio City Mayor Benjamin Magalong admits that the city is still not ready for the "new normal", taking cue from situations in the National Capital Region, Central Luzon and Southern Tagalog.
"Despite decreasing COVID-19 cases in these areas especially in NCR, I am still not confident in opening our local economy to places still hounded by infections," the mayor says.
Magalong points out that there are still COVID-19 infections being reported in Baguio's neighboring local governments. — The STAR/Artemio Dumlao
June 13, 2020
Abra records two more COVID-19 cases, increasing the total number of active cases to five.
"AC7" is a 54-year-old male from Barangay San Jose Sur, Manabo town who went for consultation as an outpatient at the Seares Memorial Hospital on May 22, says Abra Gov. Ma. Jocelyn Bernos.
While "AC8" is a 43-year-old female from Sto. Tomas, also in Manabo, who visited the same hospital for consultation on May 30. — The STAR/Artemio Dumlao
June 12, 2020
Benguet records four more cases of COVID-19 infections, which brings the total number of active cases in the province at 11.
The Benguet public information office confirms that a 22-year-old male from La Trinidad, Benguet's capital; 24-year-old male from Buguias; a 37-year-old female from Itogon and a 23-year-old female from Mankayan were the latest addition to the 21 total confirmed cases in the province since March. — The STAR/Artemio Dumlao
June 10, 2020
More illicit marijuana plantations, this time at the world-famous tourist enclave Sagada, in Mountain Province, were overrun by authorities on Tuesday.
Eight hundred twenty fully-grown marijuana plants went up in smoke Tuesday morning in at least two plantations located in 50-square-meter and 30-square-meter plots of communal land in Sitio Litting, Barangay Patay.
Valued at P164,000, the marijuana in the two plantations was discovered by joint police and Philippine Drug Enforcement Agency personnel after Sagada town police were tipped off by informants. — The STAR/Artemio Dumlao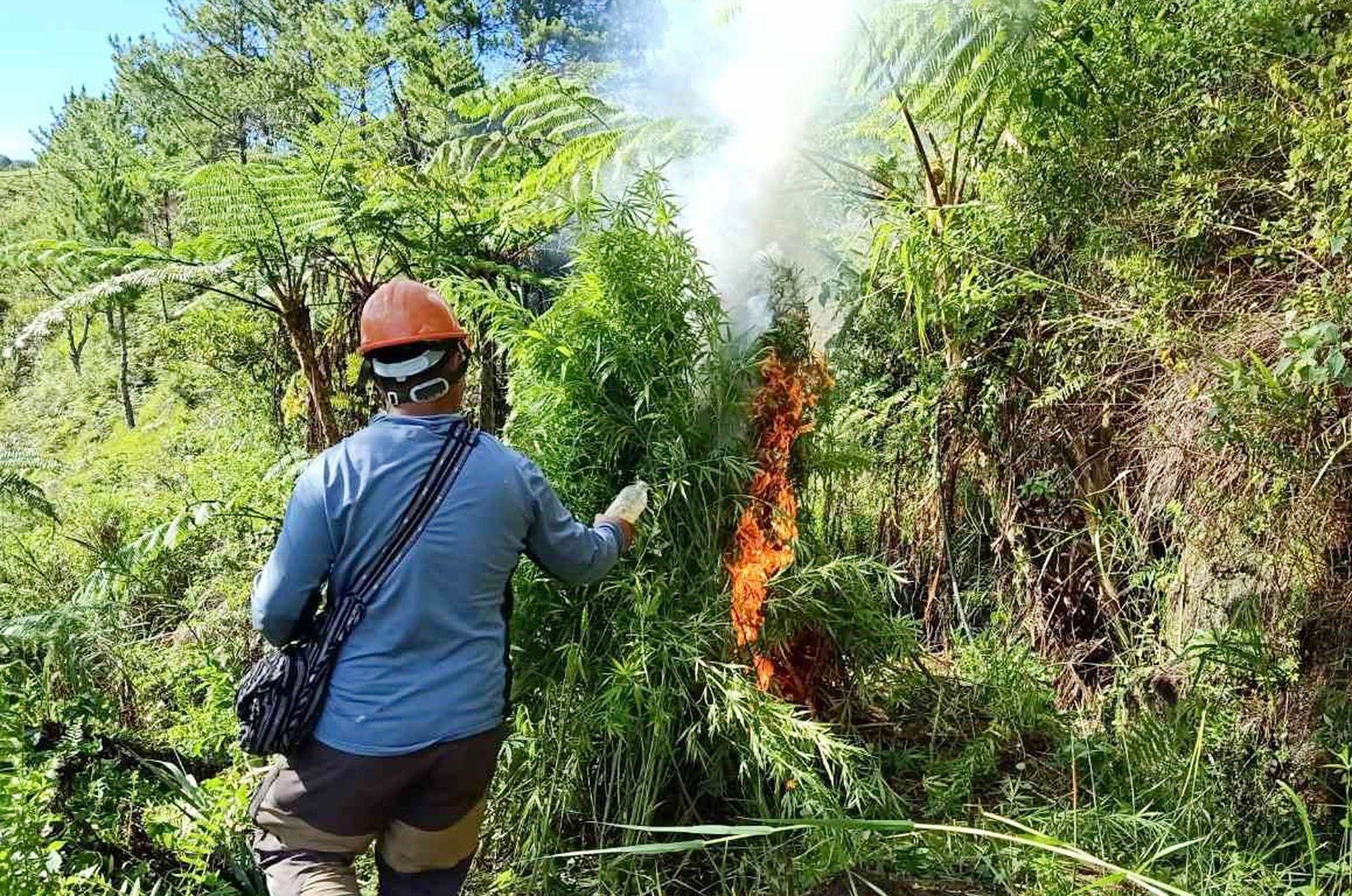 June 9, 2020
Authorities overran two more marijuana plantations in Tabuk City in Kalinga on Monday
Policemen who were supposedly on combat patrol operations in the area found the two plantations in Sitio Catao, Barangay Lacnog.
Immediately, policemen uprooted the 3,500 fully grown marijuana plants in both plantations valued at P700,000 and set them ablaze. — The STAR/Artemio Dumlao
June 8, 2020
Baguio City Mayor Benjamin Magalong has seemingly softened his stance on a breach of health protocols by San Juan City Mayor Francis Zamora and his entourage of 30 last Friday.
"We appeal to the public to exercise greater discernment and restraint in prejudging, (Zamora and the members of his group)," the mayor says in a statement Monday.
While Magalong admits he "understand(s) the public's displeasure over the reported breach," the mayor urged, the public to "bear in mind that the full appreciation of facts and the proper evaluation of evidence at hand are best left to our courts or the rightful quasi-judicial bodies. This is how justice works." — The STAR/Artemio Dumlao
June 7, 2020
"No one, regardless of rank and position, is exempted from the established and long-held health and safety protocols when entering the city," Baguio City Mayor Benjamin Magalong says.
Magalong issues the statement after San Juan Mayor Francis Zamora headed to the Baguio Country Club on Friday without going through the proper protocols.
"To his credit, Mayor Zamora took the effort to inform me about this incident and apologized for the serious lapse on the part of his police escorting officer. He profusely expressed deep regrets that while asleep in his car at the time, the PNP escort leading his convoy mindlessly took it on his own to ignore what has long been a standard border protection measure prescribed not only in his but our own city," he also says.
June 7, 2020
After several hours at the Benguet General Hospital, Rep. Eric Go Yap (ACT-CIS party-list) has been discharged after tests showed him free from any illness.
Blaming fatigue and stress, Yap confirms he took several tests the whole day Saturday at the BeGH and has since been cleared.
Yap, one of the three representatives of the ACT-CIS partylist and chair of the House appropriations panel, finished a meeting at around 3 a.m. on Saturday and was inside his room when his chief of staff heard a thump, prompting him to rush to the lawmaker's room and discovered him being massaged on the legs by his brother.
The lawmaker, who was appointed caretaker Benguet representative by House Speaker Alan Peter Cayetano after the passing of Rep. Nestor Fongwan Jr. last December, arrived in Benguet Thursday afternoon and met with Benguet town mayors at the BeGH. — The STAR/Artemio Dumlao
June 7, 2020
Areas in La Paz town in Abra have been on total lockdown since Saturday after the province recorded its fourth case Friday.
La Paz Mayor Ching Bernos placed northern portions of Barangay Poblacion, including Purok Uno, Purok Dos and Purok Tres were placed on a one-week lockdown until June 13 after medical frontliner tested positive for COVID-19.
After two months with no COVID-19 cases in Abra, a 32-year-old woman working at the private-run Seares Memorial Hospital in Bangued tested positive. She is reportedly asymptomatic but is suffering from asthma. She has no travel history outside of the province since the quarantine imposition.
"AC4" was quarantined at the hospital where she works and a massive contact tracing was launched immediately, says Abra Governor Jocelyn Bernos.
The entire Seares Memorial Hospital was placed under lockdown. — The STAR/Artemio Dumlao
June 5, 2020
Abra records its fourth case of the coronavirus disease two months after being COVID-19-free.
The first medical frontliner to be infected with the deadly virus in Abra is a 32-year-old female from the private-run Seares Memorial Hospital in Bangued, the provincial capital. She is asymptomatic but is suffering from asthma and has no travel history outside of her province since the quarantine was imposed. — The STAR/Artemio Dumlao
June 4, 2020
Some 350 young men and women to compose Philippine Military Academy class of 2024 are undergoing quarantine procedures at different military unified commands around the country, including the Northern Luzon Command (Nolcom).
Although PMA spokesperson Captain Cheryl Tindog begged off further details on how many of the incoming cadets are at Camp Aquino in Tarlac, the headquarters of the Nolcom, she confirms that the academy is processing the safe arrival of the incoming cadets in Fort del Pilar, under the established COVID-19 guidelines.
"We are requesting that the number, location, timeline and other operational security information be withheld at the moment for the security in the movement of the cadets and our troops," she explains.
With the Unified Commands nationwide including Nolcom, PMA is ensuring that all guidelines in accordance Department of Health protocol, such as the conduct of RT-PCR testing and mandatory quarantine before the incoming cadets travel to Baguio City. — The STAR/Artemio Dumlao
June 2, 2020
Baguio City's search for exemplary residents have been temporarily postponed due to the coronavirus disease pandemic.
Every June, organizers start the search for the Outstanding Citizens of Baguio, an annual feat given to Baguio residents who had significant contributions to the development of the city and their fellow people.
Nominees for the search are persons who made extraordinary services for the betterment of Baguio and people through their work and advocacies. — The STAR/Artemio Dumlao
May 31, 2020
Authorities overran yet another 300-square meter marijuana seedling farm in Tacadang, Benguet on Saturday.
Kibungan police, Benguet police drug enforcement unit operatives and PDEA agents discovered around 400 marijuana seedlings at the farm valued at P48,000.
The seedlings were put ablaze, says Police Col. Elmer Ragay, Benguet police director. — The STAR/Artemio Dumlao
May 29, 2020
Two barangays in Baguio City have been placed on lockdown after the villages reportedly dismissed the quarantine measures.
Barangay San Vicente, which was placed on a two-week lockdown earlier in April and Barangay Poliwes were ordered on lockdown starting 7 p.m. Friday. — The STAR/Artemio Dumlao
May 29, 2020
Baguio City Mayor Benjie Magalong says that all grandparents can go out on Sunday as a "special treat" for them for enduring to stay in their homes since the enhanced community quarantine in March.
The mayor adds that two grandchildren can join their lolos and lolas during the "free day for senior citizens." — The STAR/Artemio Dumlao
May 28, 2020
Neighbors Benguet and La Union are both COVID19-free now.
All ten COVID-19 patients in Benguet were discharged from hospitals and have fully recovered.
Benguet Gov. Melchor Diclas stresses the need to observe all public health standards and necessary precautions to ensure the safety of everyone. — The STAR/Artemio Dumlao
May 27, 2020
La Trinidad, Benguet's capital, is seeing a possible resurgence of the African Swine Fever.
This as the local government has again banned the sale, transfer and entry of pork from five identified ASF-affected villages here to thwart the spread of the swine disease.
La Trinidad Mayor Remeo Salda's Executive Order 31-2020, directed against the transfer, sale and bringing out of live pork or otherwise from barangays Bahong, Lubas, Pico, Puguis and Wangal, all with confirmed cases of ASF.
Salda ordered the ban after the Office of the Municipal Agriculturist warned of a possible resurgence of ASF cases in the town after conducting an examination and verification.
— The STAR/Artemio Dumlao
May 27, 2020
Strawberries are abundant despite restrictions on movement brought about by the Enhanced Community Quarantine.
Food passes have ensured that strawberry farmers are able to bring their perishable produce to local markets, the agriculture department says.
Strawberries dominate the market in February and March when Baguio City's Panagbenga Festival and La Trinidad's Strawberry Festival are annually celebrated.
During these months, supposedly coinciding with summer, touted as the highland's tourist season, farmers' incomes from strawberries peak too. — The STAR/Artemio Dumlao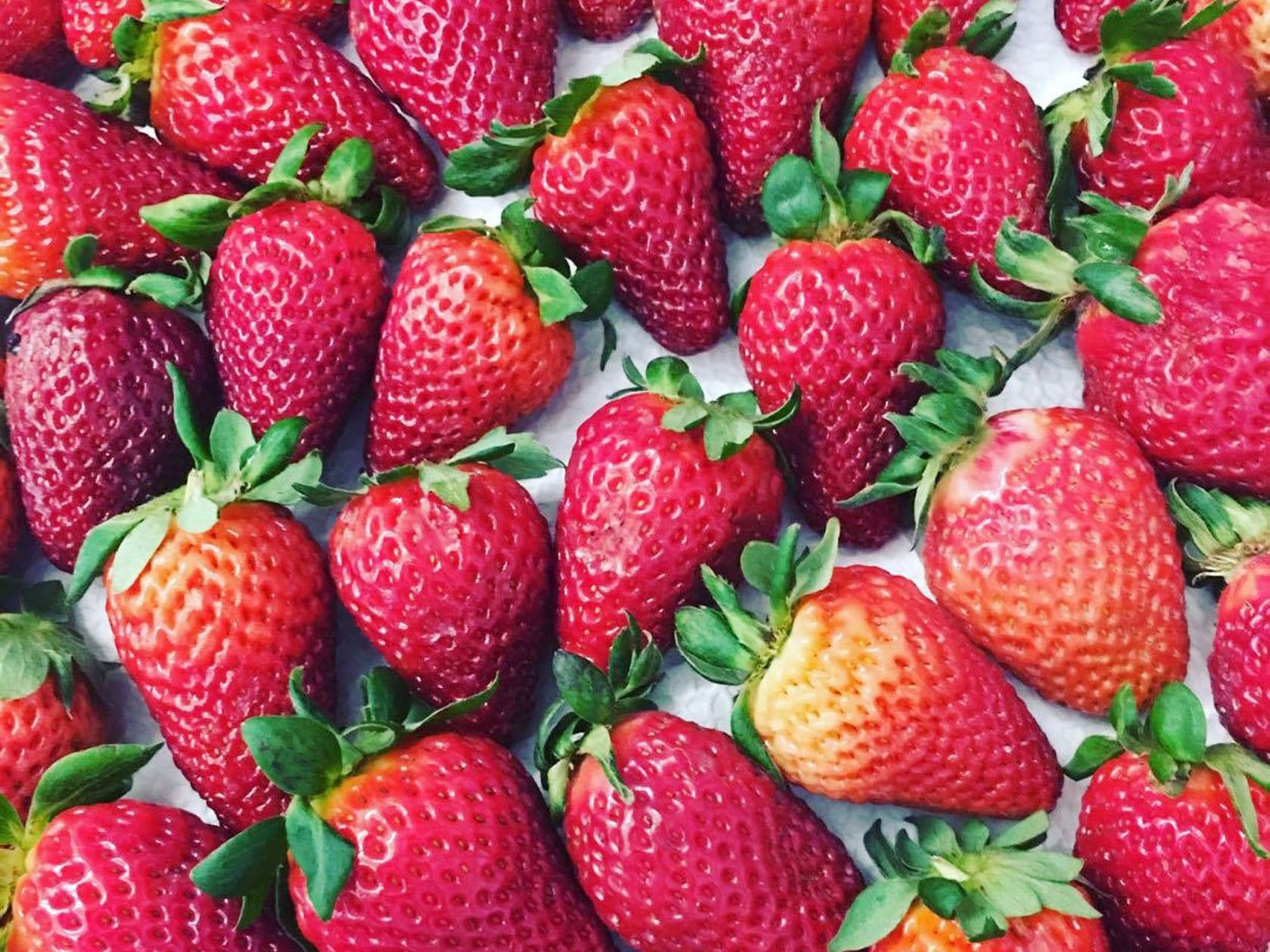 May 27, 2020
Strawberries are abundant despite restrictions on movement brought about by the Enhanced Community Quarantine.
Food passes have ensured that strawberry farmers are able to bring their perishable produce to local markets, the agriculture department says.
Strawberries dominate the market in February and March when Baguio City's Panagbenga Festival and La Trinidad's Strawberry Festival are annually celebrated.
During these months, supposedly coinciding with summer, touted as the highland's tourist season, farmers' incomes from strawberries peak too. — The STAR/Artemio Dumlao
May 27, 2020
Baguio City is confident it can ably handle the anticipated surge of returning OFWs, citing safety systems it has put up against COVID-19.
Baguio City Mayor Benjamin Magalong says the city in April put in place a management system consisting of a containment facility, triage and disease management scheme for returning OFWs and residents.
The OFW facility set up at the Teachers' Camp which initially offered 129 beds under the management of the Dept. of Health and the City Health Services Office has processed a total of 260 returning OFWs from Baguio City, Benguet Province and Mt. Province since April 17 in collaboration with the Overseas Workers Welfare Administration (OWWA)- Cordillera headed by Director Manuela Peña and the Benguet and Mt. Province LGUs. — The STAR/Artemio Dumlao
May 25, 2020
Baguio residents are being reminded anew to strictly abide by the basic coronavirus disease (COVID-19) precautionary measures to maintain its improving health outlook as the city is looking forward to exiting from its General Community Quarantine status.
The city has so far opened 80% of its businesses under GCQ last May 21 and added more starting May 25 thus the need to be doubly conscious of the COVID-19 health and safety protocols, says Baguio City Mayor Benjamin Magalong.
"We can win against this disease so long as we do not let our guards down. We will not slacken in our resolve to keep the virus at bay while we slowly open up our economy," Magalong says. —The STAR/Artemio Dumlao.
May 22, 2020
Party-list Rep. Eric Go Yap (ACT-CIS party-list) is donating a Polymerase Chain Reaction testing machine and an automated extraction machine to the Benguet General Hospital and Medical Center.
"This will be a big boost in addressing the backlog of PCR-based tests in Baguio. Sa ngayon, nasa humigit kumulang 1,600 ang backlog ng Baguio General Hospital dahil hindi lang Baguio City ang covered nila, sa kanila din dinadala ang mga samples ng Benguet at iba pang probinsya sa Cordillera at maging sa ibang bahagi ng Northern Luzon," says Yap.
"We will not flatten the curve without mass testing and I hope these machines will bring us one step closer to a COVID-free community", he adds. — The STAR/Artemio Dumlao
May 20, 2020
Abrenios stranded in the National Capital Region are now welcome to return to the province, according to a Facebook post by Abra Gov. Ma. Jocelyn Valera-Bernos.
The governor says that there will be a bus scheduled next week to fetch them.
The returnees and those who have private vehicle should coordinate with their respective LGUs.The stranded individuals are welcome to return from May 25-June 5, 2020.
She also asked her provincemates to strictly follow health protocols.
May 20, 2020
Authorities seize P4.3 million worth of marijuana after they flagging down two alleged drug traders in Tinglayan town in Kalinga Tuesday afternoon.
Alleged drug traders Rich Van Damme Alegre Armoreda and Martin Serrano were on board a Mitsubishi Adventure AUV that police flagged down in Mamaga, Bugnay, and were found to be transporting 36 kilograms of marijuana dried stalks and leaves, Brig. Gen. Rwin Pagkalinawan, Cordillera police director, says.
Police did not indicate where the duo are from and where they were heading when caught with the marijuana. — The STAR/Artemio Dumlao
May 19, 2020
Thirteen people cheated death in two separate highway mishaps along Benguet highways on Monday afternoon.
A public utility jeepney bound for Bokod from Tublay town lost its brakes while negotiating a sharp descending bend and fell on its side Tinongdan, Itogon.
The driver and passengers were rushed to the Benguet General Hospital and Medical Center in La Trinidad for their injuries. All are in stable conditions now, says Police Col. Elmer Ragay, Benguet police director.
A La Trinidad Trading Post-bound Mitsubishi Canter truck loaded with vegetables was also negotiating a descending portion of the road in Natubleng, Buguias when the brakes stopped working. The driver rammed the truck into a concrete barrier but it still fell down a five-meter ravine. — The STAR/Artemio Dumlao
May 17, 2020
After nine health workers who tested positive for COVID-19 were released from the hospital last week, another nurse became the newest case in Baguio City on Sunday morning.
Raising cases in the city to a total of 32, the Baguio General Hospital and Medical Center nurse is from Maria Pucay in Pinsao Proper. He is 32 years old.
Contact tracing, quarantine and disinfection protocols have been initiated and the area where he lives may be locked down.

This, after active cases in the city dropped to only one on Saturday — a 41-year-old police officer who came home from the National Capital Region and is believed to have caught COVID-19 there.
So far, there is only one coronavirus-related death in the city — a 55-year-old female government employee. — The STAR/Artemio Dumlao
May 14, 2020
Members of the Philippine Military Academy graduating class of 2020 will receive their diplomas without their very proud parents or their loved ones on May 22.
Worse, not even the commander-in-chief, President Rodrigo Duterte, is sure to award outstanding PMA graduates and declare them second lieutenants or ensigns.
There is nothing final yet on who will be the guest of honor and speaker, says Capt. Cherryl Tindog, PMA spokesperson.
Normally, the president as the commander-in-chief of the Armed Forces awards the Presidential Saber to the class topnotcher, the vice president awards the Vice President's Saber to the Number 2 graduating cadet while commanders of the major service commands—Army, Philippine Air Force and Navy—award the Major Service Sabers to graduates topping the Army, Air Force and Navy courses. — The STAR/Artemio Dumlao
May 13, 2020
Authorities have launched an investigation into how an officer of the Philippine National Police headquarters positive for COVID-19 was able come home to Baguio City from the National Capital Region.
Police Maj. Rafael Baldado Roxas, 41, presently the deputy chief of the Fingerprint Division of the PNP Crime Laboratory at the PNP National Headquarters in Camp Crame, Quezon City, apparently contracted the virus where he came from.
He is now confined at the Baguio General Hospital and Medical Center.
Police Col. Rae Allen Co, Baguio City police director, says Roxas' "travel from Manila to Baguio is now under pre-charge investigation and if it will be found out that he committed lapses, then the proper disciplinary actions will be taken against him."
The police director promised the police "does not tolerate disregard for rules and procedures from its personnel," while stressing, "he will face the consequences of his actions, but the focus right now is on his healing and bringing him back to good health."
Roxas' home barangay is Dontogan, which was placed by Mayor Benjamin Magalong on lockdown on Tuesday immediately after confirming Police Maj. Roxas has COVID-19.
Magalong says Roxas' case cannot be considered as a local transmission as he apparently contracted the virus in the National Capital Region. — The STAR/Artemio Dumlao
May 13, 2020
An alleged communist rebel, whom authorities claimed was assigned with the "Sentro de Grabidad" of the Ilocos-Cordillera Regional Committee of the CPP-NPA, surrendered on Tuesday afternoon in Tadian town in Mountain Province.
"Ka Noli or Ka VCO", listed as Number 29 in the "Watchlist Personality" in 2014, reportedly operated in Mountain Province, Abra and Ilocos Sur.
He gave up to intelligence operatives in Tadian on Tuesday afternoon, police say.
The rebel reportedly surrendered a World War II-era caliber .30 M1 rifle and eight bullets, the Cordillera police say. — The STAR/Artemio Dumlao
May 12, 2020
Sadanga town in the Mountain Province returned P1.47 million meant for beneficiaries of the Social Amelioration Program as emergency cash assistance.
Sadanga could not disburse P1,474,000 since, the local government said, there are no more qualified beneficiary families in the town.
DSWD–Cordillera sent funds for 1,400 target family beneficiaries, but during the actual payout, only 1,132 beneficiaries were qualified to receive the emergency cash assistance.
Leo Quintilla, director of the DSWD-Cordillera says Sadanga is the first local government unit among those that have already competed their payout in the Cordillera to return unused funds. —The STAR/Artemio Dumlao
May 11, 2020
A 26-year old Filipino-American man, a native of Benguet, tested positive of COVID-19, bringing the number of active cases in the province to seven.
All of the cases are in stable condition.
The man, who is from Ambiong in La Trinidad, Benguet, reportedly went directly to Teachers Camp along Leonard Wood Road in Baguio City to go into quarantine.
Since April 16, Teachers Camp, a facility of the education department, has been transformed into an isolation facility for Filipinos returning from overseas. -- The STAR/Artemio Dumlao
May 11, 2020
Baguio City's "new normal" when in public places is: wear a face mask.The Baguio City council during its regular session on May 4, approved on third and final reading an ordinance mandating the wearing of face masks by all persons in the city during the declared state of emergency over Coronavirus pandemic.
The ordinance was signed on May 7 by Mayor Benjamin Magalong. — The STAR/Artemio Dumlao
May 10, 2020
Baguio City Mayor Benjamin Magalong has lifted lockdown declarations over areas in five barangays with previous COVID-19 cases.
Teacher's Village; Sto. Tomas Proper; San Luis Ext.; Woodsgate Subdivision in Camp 7; Purok 1, Camp 8; Sitio Sto. Niño, Bakakeng Central; and Sector 5, Dominican-Mirador were "freed" Sunday morning.
In Memorandum 54-2020 to the Baguio City Police Office and barangay chairmen of the areas, the mayor lifted the lockdown orders citing the reassessment by the city's contact tracing teams. He says: "lockdowns are no longer necessary in these areas."
They were however reminded to continue abiding by the Enhanced Community Quarantine rules. — The STAR/Artemio Dumlao
May 10, 2020
Two more patients—an infant who tested positive when he was eight days old, and a 22-year-old nurse—were discharged from the hospital Friday.
Adding to the city's list of coronavirus disease recoveries and bringing the total to 17 is a 25-day-old baby who was diagnosed last April 25 and confined at the Pines City Doctors Hospital.
The baby boy was gleefully sent home by hospital staff Friday night, while 22-year old nurse Mae Anne Gabrielle Cachero was also discharged from the Baguio General Hospital and Medical Center where she works as a nurse, — The STAR/Artemio Dumlao
May 7, 2020
Rep. Eric Go Yap (ACT-CIS party-list), designated legislative caretaker of Benguet, wants to add one more legislative district for Benguet province.
Under House Bill no. 6615 titled "An Act Reapportioning the Province of Benguet into two Legislative Districts", the first legislative district will be composed of Bokod, Itogon, Kabayan, Sablan, Tuba while the towns of Atok, Bakun, Buguias, Kapangan, Kibungan, La Trinidad, Mankayan, and Tublay will compose the second legislative district.
Yap says the measure seeks to ensure equitable representation for the Benguet people in the legislature and the national government.
The proposal further seeks that the incumbent representative for Benguet's lone district will continue to represent and serve until the representatives for two districts have been elected. — The STAR/Artemio Dumlao
May 5, 2020
An employee of the Department of Health in Cagayan Valley and two more were flagged down at a checkpoint in Tabuk City, Kalinga over the weekend, a belated report from the Kalinga police says.
DOH worker Richard Gannaban Bueno, 27, from Centro Solana town in Cagayan was with drug surrenderee Arvin Rodico Alvendia, 40, from Enrile town, also in Cagayan and farmer Junior Galming Ticnang, 48, from Agbanawag, Tabuk City were stopped Saturday afternoon at the checkpoint because the motorcycle they were riding had no license plate number.
When frisked, Ticnang yielded a small size transparent heat-sealed containing shabu weighing less than a gram valued at P500.00, said newly-installed Kalinga police officer-in-charge Col. Davy Limmong. — The STAR/Artemio Dumlao
April 29, 2020
Mayor Benjamin Magalong is beefing up further the city's contact tracing teams in light of the spike in COVID-19 cases in the past days.
The mayor asked Police Col. Allen Co, Baguio City Police Office director, to orient more investigators and intelligence personnel on cognitive interviewing to team up with the City Health Services Team in tracking down contacts of the new patients.
Co has appointed six more Crisis Intervention Team (CIT)-trained investigators to the pool of contract tracers so that they now have 20 in the field, 14 from the Baguio City police and six from the Criminal Investigation and Detection Group (CIDG).
City Health Officer Rowena Galpo said the city has several contact tracing teams currently working double time. She said one patient has an average of 50 contacts while some have as high as 100. — The STAR/Artemio Dumlao
April 27, 2020
The Baguio General Hospital and Medical Center resumed operations mid afternoon Monday, just several hours after it was shut down with the sudden surge of new cases of COVID19 suspected to be emanating from local transmissions here.
"We resuming admissions of patients in our hospital both COVID and non-COVID," the state-run BGHMC said in its advisory mid afternoon Monday, adding, "however we will have to scale down in areas where there is a high risk of infection due to new positive cases coming up."
BGHMC said it has adjusted work schedules of their staff in their respective areas in the hospital and instituted stricter infection control measures. -- The STAR/Artemio Dumlao
April 26, 2020
A 61-year-old doctor and three nurses were diagnosed with COVID-19 in Baguio City on Sunday, bringing the total cases to 29 here with 12 health care workers.
The latest cases were tested positive under the Real Time Polymerase Chain Reaction (RT-PCR) confirmatory test.
The latest cases are from BGH Compound, Camp 8 and Sto. Niño barangays.
"All appropriate courses of actions and standard operating procedures are currently being executed," Mayor Benjamin Magalong was quoted by the Baguio City public information office as saying.
Magalong has declared Sto. Nino Barangay under lockdown as the two other barangays were earlier closed to avoid transmission of the disease while contact tracing is being made. — The STAR/Artemio Dumlao
April 26, 2020
The province of Ifugao, home of the famous rice terraces, is no longer free of COVID-19 after recording its first confirmed case of the viral disease, the Department of Health says.
The DOH says the patient from Poblacion East, Lamut, Ifugao is now currently confined at the Region-2 Trauma and Medical Center in Bayombong, Nueva Vizcaya, the neighboring province.
Dr. Rhodora Montesa, head of the Lamut Municipal Health Office (MHO) identified the patient as Danilo Pascua, 65, who was first admitted at the medical ward of the town's Panopdopan District Hospital from April 14-22, 2020.
"With the authorization of Mayor Mariano Buyagawan Jr., and permission from the patient's daughter, I am posting the name of the patient for faster contact tracing and rapid testing or swabbing," Montesa said on her Facebook account. — The STAR/Victor Martin
April 25, 2020
Mayor Benjamin Magalong announces the lifting of lockdown of Barangay Fairview in Baguio City.
The mayor warns residents to follow the COVID-19 community quarantine rules and precautionary measures seriously this time.
"May this also serve as a lesson to other barangays. We will not hesitate to lock you up if you will not abide by the rules," the mayor says. — The STAR/Artemio Dumlao
April 22, 2020
Baguio police rounded up 32 more Enhanced Community Quarantine (ECQ) violators in a continuing crackdown against Unauthorized Persons Outside Residences—a new government term for people out and about.
Police Col. Allen Rae Co, Baguio police director, says violators were apprehended at North Central Aurora Hill, New Lucban, Upper Mabini Street, MOT Checkpoint, Session Road, Quirino Highway Checkpoint, 1st Kayang Street, Upper Mabini Street, Lower Session Road, Quirino Highway, Mabini Street and Marcoville Barangay.
They included minors, senior citizens, four Yemeni nationals and one Japanese national.
They were made to stay in holding areas for six hours of lectures and "contemplation." The were also booked and their mugshots were taken, says Co. — The STAR/Artemio Dumlao
April 19, 2020
Baguio City Mayor Benjamin Magalong orders the police to enhance the implementation of the Enhanced Community Quarantine rules by intensifying arrests of those who violate the rules.
Now, violators will be handcuffed, the mayor says.
Magalong says there is need for more vigorous implementation of the measures now that the ECQ is nearing its homestretch.
"We need to stave off complacency otherwise all our efforts will be put to waste," he says.
This, as another barangay here was warned for ECQ violations.
Magalong on Saturday warned Dominican Mirador barangay will be placed under a lockdown after breaches in the Enhanced Community Quarantine rules were observed.
"If they continue to violate ECQ, I will be constrained to declare a lockdown. They better get their acts together," the mayor warns.
Barangay Pinget was earlier declared on a lockdown for two weeks after similar ECQ rules breaches. Barangay Fairview was cited two days ago also for quarantine rules violations. — The STAR/Artemio Dumlao
April 14, 2020
Lawyer Edison Bilog, a former vice mayor who lost to Mayor Benjamin Magalong in the 2019 polls, has left social media after backlash for joking about the current mayor's hair.
Bilog had, in an earlier post, compared Pasig City Mayor Vico Sotto and Baguio's own local chief executive after somebody from Pasig with family in Baguio had complained that food packs are not delivered to residents' houses like in Pasig City.
Bilog answered that Pasig is different from Baguio. "Your mayor there in Pasig is handsome, here in Baguio, the mayor is bald," he said in Filipino. He also said that he will let those who will bash him "be infected with" COVID-19.
Social media users, presumably from Baguio City, did not appreciate Bilog's comments.
He has since announced he is deactivating his account but will still be available on FB Messenger. — The STAR/Artemio Dumlao
April 12, 2020
Class suspensions in Baguio City, which hosts universities and colleges, have been extended to the end of May.
Mayor Benjamin Magalong, in Executive Order 78, series of 2020, says that the consensus among stakeholders is to extend the class suspensions of private and state-run educational institutions as part of stringent measures to protect residents from COVID-19.

School officials are directed to coordinate with the education department, the Commission on Higher Education and the Technical Education and Skills Development Authority for additional instructions regarding the guidelines for culmination of the school year and other related issues.
The mayor also banned culmination rites in schools.
Magalong suspended classes in all levels from March 13. — The STAR/Artemio Dumlao
April 8, 2020
Kalinga province has enough rice to last until the enhanced community quarantine of Luzon is lifted, which will be on April 30 at the earliest.
Officials from the provincial, city and municipal agricultural offices, National Food Authority, National Irrigation Authority and millers from palay buying stations have conducted an assessment of the province's rice supply.
Kalinga Provincial Agriculturist Domingo Bakilan says the estimated 221,491 people in the province consume 166.6 kilograms of rice per year and says the province is self-sufficient at more than 200% of its projected needs.
Tabuk City Agriculturist Julibert Aquino reports that around 30% of the rice fields in Tabuk City are already planted with rice seeds and more than 30% of areas are undergoing land preparation. At least 10,417 hectares of farmlands in Tabuk City are irrigated.
Nasser Rey Juan of the Office of the Agricultural Services in Rizal town also claims that there is a total of 1,886 hectares included in the harvested area in the municipality and an estimate of 811 hectares are to be harvested. He says that farmers in Rizal will begin planting again this month. — The STAR/Artemio Dumlao
April 7, 2020
Baguio is on its 9th day of maintaining a "flat curve" in the coronavirus disease (COVID19) crisis as no new positive case was recorded.
The last confirmed COVID19 case was on March 28, Baguio Citty Mayor Benjamin Magalong said Monday, adding, "if this trend keeps in the coming days then the city can claim to have truly flattened the curve or reined in the insidious disease."
The Mayor however appealed, "until then, we should continue holding the line by sustaining our vigilance and not lapsing into complacency."
The "success" in maintaining a "zero new case", Magalong attributed, "is due to the strong working link between the city government, national line agencies led by the Department of Health Cordillera and the Inter-Agency Task Force and the private sector. -- The STAR/Artemio Dumlao
April 2, 2020
The war on drugs in the Cordillera continues as more than P132 million worth of illegal drugs were seized in month-long operations in the region.
At least 31 people were arrested, and 17 cases were filed in court, Police Brig. Gen. RWin Pagkalinawan, regional director, says.
Pagkalinawan says that of the P132,962,787 worth of seized drugs, 137.05 grams consist of shabu, 366,273 marijuana plants, and 12,160 seedlings, 9,050 grams of marijuana seeds, 398,358.92 grams of marijuana leaves, and 85,000 marijuana stalks. — The STAR/Artemio Dumlao
March 31, 2020
A shop known for designing and producing world-class fabrics and clothing with indigenous Cordillera designs is now making Personal Protective Equipment (PPE) suits for health workers as the country struggles with an outbreak of the novel coronavirus.
Narda's Handwoven Arts and Craft, owned and established by accomplished fabric weaver Narda Capuyan, will distribute the PPEs to Baguio City, La Trinidad and other nearby town hospitals.
They coordinated with the Department of Health-Cordillera for samples and material.
Lucia Capuyan-Catanes and daughter Narda said the drive all started when she heard the appeal for PPEs of the Lung Center of the Philppines in Quezon City on Tuesday, March 24.
She consulted her father, Wilson Capuyan, president of the firm, who readily agreed.
The company looked for available materials in Baguio City while Red Cross Baguio board member and philantrophist Ryan Mangusan also extended assistance.
A firm in Manila had provided the needed materials for the PPEs while an owner of a cargo company offered free transport of the materials.
Narda's workshop at the Winaca Eco-Cultural Village and Forest Homes in Tublay, Benguet is the temporary work area for the cutters and sewers of Narda's for the PPE production. — The STAR/Artemio Dumlao
March 25, 2020
The supposed closure on Wednesday of the vegetable trading post in La Trinidad, Benguet has been moved to Friday, March 27, after a long dialogue between town officials and vegetable farmers and traders.
The dialogue was prompted by an executive order by La Trinidad Mayor Romeo Salda on Tuesday ordering the partial closure of the trading post as part of the town's measures against the novel coronavirus (COVID-19). The partial closure would be until April 12, the expected last day of the enhanced community quarantine across Luzon.
Salda clarifies that the trading post cannot be totally closed and that those who will be displaced will be temporarily transferred to the Benguet Agri-Pinoy Trading Center here.
He says the trading post needs to be disinfected but the flow of vegetable supply should not be hampered.
After the dialogue, trading post stakeholders agreed to totally close the area for disinfection.
Agot Balanoy of the Benguet Farmers Multipurpose Cooperative says they agreed for the closure of the backfill trading area only. She says the carrot trading area of the trading post and the Benguet Agri Pinoy Trading Center will remain open. — The STAR/Artemio Dumlao
March 23, 2020
Starwood Hotel has offered its facilities for Baguio City's medical frontliners in the battle against COVID-19.
Baguio City administrator Bonifacio Dela Peña says the owner of the hotel along Kisad Road has allowed the use of unoccupied rooms for free to frontliner medical staff of the state-run Baguio General Hospital and Medical Center.
Dela Peña says the owner learned of the difficulties being encountered by some of the frontliners in going home due to the suspension of operation of the public utility vehicles, thus the offer.
This is a big help as it is the BGHMC staff members who will be attending to the bulk of patients as being anticipated, said Baguio City Health Officer Rowena Galpo, adding, "(but) since the available rooms are also limited, it will be on priority basis to be decided by the management of BGHMC."
Mayor Benjie Magalong expressed the city's gratitude for the hotel's generosity which he said is crucial in these critical times.
Lindi Hotel, also along Kisad Road, earlier offered its premises as a containment center for COVID-19 PUIs with mild symptoms. — The STAR/Artemio Dumlao
March 9, 2020
Anti-drug agents over the weekend arrest eight alleged drug couriers posing as tourists in two separate operations in Bontoc, Mountain Province.
Personnel from the Philippine Drug Enforcement Agency and regional and provincial police units at a checkpoint in Lower Caluttit, Bontoc flagged down a black Chevrolet vehicle and discovered 145 pieces of marijuana bricks and in tubular forms worth around P19.3 million.
They arrested the following:
Joseph Petilona, 35, from Angeles City, Pampanga
Mark Kevin Guzman, 21, from Quezon City
Niño Acio, 25, from Angeles City, Pampanga
and Princess Guma, 18, from Angeles City, Pampanga
The suspects were travelling with a 7-year-old child.
While police were documenting the case against the five, they received a tip that another group of "tourists" would be passing the same route coming from Buscalan, Tinglayan, Kalinga.
Operatives seized 27 pieces of marijuana bricks and in tubular forms valued at P3.3 million from Jerald Escanillas, 29; John Vincent Santos, 20; and Princess Diana Kling, 21, all from Angeles City, Pampanga who were aboard an orange vehicle.
A certain Ryan Joe Courpin was mentioned by the three as one of their companions, but evaded arrest. -- The STAR/Artemio Dumlao
February 20, 2020
Baguio's chilly morning's dropped to a record low of 10.4 degrees Celcius, the second lowest temperature reading so far this year.
On the first day of February, Baguio residents refused to kick off under their blankets after they were greeted with a 10.2 degrees chill. The temperature became erratic between 11-12 degrees after.
Early Thursday morning was even "fanned" by winds from the Northeast monsoon locally called "Amihan", a weather system that starts every October. — The STAR/Artemio Dumlao
February 20, 2020
Twenty-five villagers in Mankayan, Benguet have completed the Department of Information and Communication Technology's DigitalJobsPh Technical Training Program.
Formerly known as the Rural Impact Sourcing Technical Training Program, DigitalJobsPh is one of the flagship programs of DICT and aims to provide digital opportunities and promote online freelancing in the countryside.
Covered in the program are the vulnerable sectors such as the PWDs, out-of-school youths, homestay moms, among others.
The trainees underwent eight days of face-to-face lecture on virtual assistance skills; primarily focused on email and calendar management, transcribing, client management and basic social media marketing.
They also embarked on an actual 21-day digital marketing campaign as an online freelancer that will help them increase their employability and look for potential clients.
— The STAR/Artemio Dumlao
February 16, 2020
At least three already decomposing bodies were found anew in separate locations in Tuba, Benguet.
Late last year, at least 8 already decomposed bodies were also found dumped at a deep ravine along the dimly-lit portion of Marcos Highway at barangay Poyopoy, Tuba. Only three were later identified as Alfredo Domilos Lamenta Jr. also known as Junie Batang-e from Tadian, Mountain Province, Fahad Manan Macalanggan, 28, a native of Marawi City and Kent Charlie Licyayo, 22, a native of Ifugao but both have been living in Baguio City.
Last week Wednesday, a still unidentified male, already decomposing, was found dumped at a 15 meter ravine along the newly-opened San Pascual-Nangalisan road, an alternate route from Tubao, La Union to Baguio City, specifically at sitio Ana-aw, barangay San Pascual, Tuba.
The dumped male wore a gray sweatshirt, denim jeans and his head was wrapped with gray packaging tape. — AFP
February 13, 2020
The Ifugao State University recently participated in the successful mediation of boundary disputes in Lagawe, Ifugao through the hidit, an indigenous practice to resolve such conflicts.
Before the traditional amicable settlement, the three barangays of Dulao; Olilicon and Tupaya all claimed a total of 291 hectares of land in their jurisdiction.
"IFSU is honored to be one of the selected juries in this historic case. Our participation in this kind of conflict reconciliation is one of our functions as a University to extend services in our communities," says Eulalie Dulnuan, director of the Ifugao Rice Terraces-Globally Important Agricultural Heritage Systems Center, says in an IFSU release.
"The amicable settlement of the three barangays to resolve boundary disputes through hidit is commendable. With this development, it reminds us that there are indigenous knowledge and practices that we can maximize to have just and fair decisions for all parties involved. IFSU will use this example in its IKSP (Indigenous Knowledge Sytems and Practices) subjects to promote the importance of indigenous knowledge and practice in resolving boundary disputes."
February 11, 2020
La Trinidad, Benguet's capital town, has just cancelled the 2020 Strawberry Festival scheduled for March.
The annual month-long festival coincides with La Trinidad's foundation anniversary.
Mayor Romeo Salda, Vice Mayor Roderick Awingan and the town's councilors held a meeting on Tuesday to discuss postponing the event but eventually voted to cancel it altogether.
The officials cited precautionary measures against the novel coronavirus as the main reason for calling the festival off.
Benguet province has recorded three persons under investigation for possible infection by the 2019-nCoV. — The STAR/Artemio Dumlao
February 10, 2020
The 25th edition of the Baguio Flower Festival, locally known as "Panagbenga" (A Time To Blom), will finally officially start on March 21, more than one and a half months after its supposed opening on February 1.
The Baguio Flower Festival Foundation moved the opening parade to parry off the spread of the 2019 novel coronavirus acute respiratory disease (2019-nCoV ARD).
Andrew Pinero of the Hotel and Restaurants Association of Baguio says the decision to push through with the opening parade came after Friday's meeting among top officials of the BFFI, Inc. and Baguio City Mayor Benjamin Magalong. — The STAR/Artemio Dumlao
February 5, 2020
The Office of Baguio City Mayor Benjamin Magalong via its public information office (PIO) stressed Wednesday morning that there is no lockdown for tourists and visitors in Baguio amid the 2019 novel corona virus scare.
Aileen Paguio Refuerzo, Baguio City public information officer said, the City Government stands by the earlier proclamation that only the canceled activity is the supposed opening parade of the 25th Baguio Flower Festival or Panagbenga on February 1, 2020. Other postponed activities are crowd drawers like the Cordillera Administrative Region Athletic Association (CARAA) sports meet among others, until further notice. There is still no decision yet for the grand Street dancing and Float parade that is scheduled for February 29 to March 1, 2020.
-- The STAR/Artemio Dumlao
February 3, 2020
Abra police is getting useful clues on the brutal January 21, 2020 killing of a Cebuano cop near the police station in Villaviciosa town in Abra.
"We could not yet disclose as early as now the real motive behind the killing of our comrade. There might be different possible motives but we don't want to theorize or make impulsive judgments, rather, we will consider all these possibilities and capsulize the investigation based on evidence," Police Col. Alfredo Dangani, provincial police director, said as he together with the Abra police force condemned the murder of Police MSgt Frederick Fernandez Ybanez.
Ybañez was at the restaurant below his boarding house, just a stone's throw away from the town police station, when gunmen came from behind and pumped bullets killing him instantly.
His government-issued rifle and pistol were not taken by the gunmen, who remain unidentified. — The STAR/Artemio Dumlao
January 31, 2020
A supposed communist guerilla said to be a member of the Kilusang Larangang Gerilya Marco (codename for Mountain Province) surrendered to La Trinidad Mayor Romeo Salda and Cordillera police director Brig. General Ephraim Dickson on Thursday morning.
Benguet police director Col. Elmer Ragay and Cordillera police Regional Intelligence Division chief Col. Reynaldo Pasiwen witnessed the surrender of "Ka Wilang", who turned over a US carbine rifle, bullets and a grenade.
"Ka Wilang" had been an NPA rebel since he was 15 years old and is a known "Militia ng Bayan" member operating in the tri-boundaries of Mountain Province, Kalinga, and Abra, authorities claimed. — The STAR/Artemio Dumlao
January 28, 2020
Authorities are opening Kennon Road—the shortest, most historic and undeniably most scenic route to Baguio City—both north- and southbound every weekend.
The Cordillera Risk and Disaster Management Council (CRDRRMC) "Joint Task Group Kennon" on Monday decided on a motion to open Kennon Road to private motorists, light vehicles only (5 tons and below), as a response to the expected influx of tourists and visitors for Panagbenga 2020 that starts on February 1 and ends on the first week of March.
Kennon Road will be open to two-way traffic every weekend starting 6am Friday January 31 up to 6pm Monday February 3, and under the same scheme every weekend thereafter (Feb. 7 - 10; Feb. 14. - 17; Feb. 21 - 24; Feb. 28 - Mar. 2; and Mar. 6 - 9), the Task Force ruled. —The STAR / Artemio Dumlao
January 27, 2020
Many employees of the Baguio City government are not registered voters, lawyer John Paul Martin, chief of the Commission on Elections office in Baguio, says.
"Imagine, they are requiring the night market vendors and business owners to secure certificates proving they are registered voters of Baguio City, but they themselves are not registered voters?" he says.
Martin acknowledges city government staff may be afraid that politicians might discover that they did not vote for them but stresses candidates will not be able to find who they voted for. — The STAR/Artemio Dumlao
January 23, 2020
Of Baguio City's 128 barangays, 110—or 85.93%—have been cleared of illegal drugs, city police say.
While three barangays—Pinget, Irisan and Bakakeng Central—are undergoing drug-clearing operations by authorities, the illegal drug trade has returned to 10 barangays.
Four barangays were unaffected by the drug trade: Country Club Village, Upper Dagsian, Happy Hallow, and Lower General Luna. — The STAR/Artemio Dumlao
January 22, 2020
The bone-tingling chill in Baguio has dropped to a low of 11.4 degrees Celcius early Wednesday morning helped by moderate to at times strong winds from the northeast, Pagasa says.
"Dress in layers, with a wind-resistant outer layer," state-run Philippine Information Agency advises, while also suggesting everyone should "wear a hat, mittens and keep your face warm with a scarf, neck tube or facemask."
Even Baguio residents, supposedly used to the cold Januaries, growl "brrr its soooo cold."
"I skipped the shower," says a resident who also attributed the "bath-skipping attitude" to the 6AM-6PM power outage Wednesday instituted by Benguet Electric Cooperative.
In January 1963, Baguio experienced temperatures of 6.3 degrees, the lowest so far in the history of the highland resort enclave.
January 21, 2020
Two suspected couriers of marijuana from Bulacan were caught at a checkpoint in Barangay Samoki in Bontoc, Mountain Province Sunday afternoon.
Tricycle driver Rufino Tenedero Marmito Jr., 20; and call center agent Ernie Manapao Leongson, 24; both from Guiguinto, Bulacan were arrested after the Coda Lines bus bound for Cubao, Manila they were riding in was flagged down at the checkpoint.
Police found the duo with seven marijuana bricks and five tubular fruiting tops with a total weight of 8,200 grams worth P984,000. — The STAR/Artemio Dumlao
January 20, 2020
Two men claiming to be "part-time" New People's Army rebels?—who, as rebel auxiliaries, aided communist guerillas in fighting the government?—surrendered to authorities in Benguet over the weekend.
Forty-one-year-old Christian Pili Maswood, alias "Ka Ronald", of the "Militia ng Bayan" under under Kilusang Larangang Gerilya "BAMPIS" (Benguet, Abra, Mt. Province, Ilocos Sur) surrendered to police and military intelligence agents on Friday in Itogon town, Benguet, provincial police say.
"Ka Ronald" reportedly turned over a cal. 38 revolver and six bullets, said Police Col. Elmer Ragay, Benguet police director.
On Sunday morning, Felomino Kiwas Gapuz alias "Ka Kasaki", 45, also a "Militia ng Bayan" member under KLG "BAMPIS" turned himself in to authorities. — The STAR/Artemio Dumlao
January 17, 2020
Pollution in Baguio has been killing thousands and the death toll is rising since 2015.
The startling revelation by Baguio City planning officer Antoinette Aniban during the top level meeting Friday last week on Baguio's rehabilitation cited that an average of 2,136 have died due to pollution-related sicknesses.
And unlike in the past, Baguio City officials including Baguio City mayor Benjamin Magalong admit the air quality in the city is bad.
Magalong said air in the summer capital is indeed one of the worst in the country, prompting his administration, he said to take brave steps to rectify it.
Deaths due to air pollution-related diseases have steadily increased in the city since 2015 according to Aniban's report before local and national government officials.
In 2015, there were 2,181 deaths followed by 2,129 in 2016. In 2017 there were 2,267 deaths and it peaked in 2018 at 2,338. Though in 2019, there were 1,767, showing a decrease during the five year monitoring period. — The STAR/Artemio Dumlao
January 13, 2020
Benguet vegetable traders are appealing to Manila Mayor Francisco "Isko Moreno" Domagoso to keep Divisoria open during Fiesta de Sto Niño of Tondo.
Foreseeing huge losses, Benguet vegetable farmers and traders vigorously urged Moreno not to shut down Divisoria for three days as it would mean thousands of kilos of vegetables to rot.
The City Government of Manila will be celebrating the annual Fiesta de Sto. Niño of Tondo, Manila from 17 to 19, 2020. The roads leading to the area are said to be closed for the feast.
Around 500 tons of various vegetable are being delivered to Manila everyday, according to La Trinidad Vegetable Truckers and Traders Association grievance officer Rudy Bulawan.
If the area will be closed for three days, there will be around 1,500 kilos that will not be delivered and will possibly stocked and rot in La Trinidad's vegetable trading post, he feared.
— The STAR/Artemio Dumlao
January 9, 2020
An alleged gun-for-hire and member of a private armed group surrendered to Abra policemen on Wednesday.
Eljay Asistio Biyang, 26, tagged by policemen as a member of the notorious "Sindon Group" operating in Lagayan town turned himself in to intelligence and drug enforcement agents Wednesday afternoon at Camp Juan Villamor in Calaba, Bangued, Abra's capital.
Biyang was earlier also tagged as one among two suspects in the January 2018 grenade attack in La Paz, Abra that killed two police officers and hurt 24 others, including the town's mayor and the province's congressman. — The STAR/Artemio Dumlao
January 9, 2020
A commuter van plunged into a 30-meter ravine in Sitio Nabjeng, Tabaan Norte, Tuba, Benguet on Thursday morning, leaving a laborer dead an 11 others hurt.
Tuba Municipal Disaster Risk Reduction and Management Office chief Jonathan Labutan says the van, which came from Sitio Toybongan in Tabaan Norte was bound for Pugo, La Union for market day when it lost its brakes around 7:30 a.m.
Laborer Reynante Pig-ang Garcia, 41, from Pugo, La Union died on the spot. — The STAR/Artemio Dumlao
January 7, 2020
Benguet's capital town has also been stung by traffic gridlocks, prompting officials here to grope for solutions.
Traffic woes and congestions in the town, especially within the vicinity of the famous strawberry farms, during weekends and holidays kept recurring.
La Trinidad Tourism Officer Valred Olsim said they have recorded a conservative count of 240,000 tourists who trooped to the strawberry farms during the Christmas and New Year break only.
During the 4th quarter of 2019, around 322,000 tourists came to the strawberry farms either for fruit picking or just a selfie or groupie.
The count was based on the vehicles that arrived in the parking area managed by the local government unit (LGU) and the report from the Benguet State University (BSU)
— The STAR/Artemio Dumlao
January 6, 2020
La Trinidad—the capital of Benguet province—and Aboitiz Power have inked a Memorandum of Agreement for a 20-megawatt hydroelectric power project.
La Trinidad Mayor Romeo Salda said the planned plant is one of the biggest projects of the town for 2020 and is seen to bring additional and bigger income for the local government.
Aboitiz Power Vice President Chis Faelnar said the hydroelectric plant will be constructed between Barangay Banengbeng in Sablan town and Barangay Bineng in La Trinidad .
Indigenous peoples' communities in both Sablan and La Trinidad have given their Free Prior and Informed Consent for the project. — The STAR/Artemio Dumlao
December 26, 2019
Apologizing for the discomfort caused by the Benguet Day pageant ruckus, the Benguet provincial government has sought the community's understanding and has reached a solution to the problem among parties.
The problem erupted when the contestants and their handlers were provided with copies of the tallies of all the events of the beauty tilt. The handlers of the non-winning contestants noticed discrepancies in the calculation of the overall scores and questioned the results.
The parties agreed that the declared winners will remain.
"This is to inform the public that Seth Wayne Chacapna, representing the municipality of Atok and Marilou D. Saguidec will remain Mister and Miss Benguet 2019, respectively, as such, they will continue to perform their duties and responsibilities, more particularly in promoting sports, health, education and the like in the province, " the official statement of the provincial government stressed.
The governor said that Novy Jones Aban and Amie Rose Pitas, both representing the municipality of Kapangan were conferred the titles Mr. and Miss Benguet Adivay 2019 respectively and were given task to promote the culture and tourism of Benguet.
Bryan Marzo of Kibungan and Karen B. Evasco of Atok meanwhile were recognized as finalists. — The STAR/Artemio Dumlao
December 9, 2019
Policemen are in hot pursuit of a still unidentified gunman who waylaid a retired Philippine Drug Enforcement Agency agent Monday morning along Marcos Highway in Baguio City.
The shooting occurred at around 7:20 a.m. in front of Hercules Bar, along KM 4, Marcos Highway while Samuel Lopez Mora, 58, was in board his Toyota Hilux with license plate number CAH 6762 heading home nearby.
Mora, a native of Zambales, lives in Sto. Nino, Bakakeng Central barangay here.
The supposed gunman on board a motorcycle peppered the former PDEA agent with at least 15 bullets as shown by the holes on the driver's side glass window. — The STAR/Artemio Dumlao
December 5, 2019
Some 700 or so golfers teed off Wednesday in the 70th edition of the Fil-Am Invitational Golf Tournament, the world's biggest and longest running amateur golf tournament, at both the Camp John Hay and the Baguio Country Club golf courses. — The STAR/Artemio Dumlao
December 4, 2019
Apayao governor Eleanor Bulut-Begtang suspended class in all levels in both private and public schools in the entire province starting Tuesday noon.
This as the latest heavy rain fall warning advisory from the weather bureau PAGASA said moderate to occasional heavy rains will be experienced in Apayao today.
Likewise pre-school to high school classes were suspended in Abatan and Bangao in Buguias in northern Benguet as early as Tuesday morning while pre-school to elementary classes were also suspended in Tadian town in Mt. Province. —The STAR/Artemio Dumlao
December 3, 2019
A 70-year-old widowed mother immediately died after her son hacked her with a bolo Sunday afternoon in San Ramon East, Manabo town in Abra.
Manabo police said Leonida Carpio Miguel was hanging clothes she washed on a clothesline when her 35 year old son Ramos, single and a farmer, came close and with one stroke of a bolo hacked his mother on the neck killing her instantly.
Policemen were able to catch up on the farmer and promised to bring him for psychiatric examination and for charges he will face. — The STAR/Artemio Dumlao
December 1, 2019
The 70th edition of the Fil-Am Invitational Golf Tournament, the biggest amateur golf tournament in the world, hosted by Camp John Hay and the Baguio Country Club golf courses starts this Sunday.
"It's a go," says co-chairs Tim Allen and Anthony de Leon as they have started welcoming players to the events in their respective clubs early this week.
The three-day practice rounds will start Sunday which will culminate with the captain's meeting when team leaders finalize their line ups in the five to play four to count tournament that uses the Modified PAL format. -- The STAR/Artemio Dumlao
November 21, 2019
November 22, Friday, is a special non-working holiday in Benguet in commemoration of its 119th founding anniversary.

Although Benguet officially celebrates its founding anniversary on November 23, President Rodrigo Duterte declared the 22nd a non-working holiday as requested by Gov. Melchor Diclas.
The province will hold various activities, including a parade, community dancing as well as traditional celebrations.
At least 22 black pigs will be butchered for the public to partake as "watwat" during the day-in day-out revelries on Saturday.
A unique "ewek" (pig-catching ritual) will certainly amuse everyone, the Benguet provincial government says. — The STAR/Artemio Dumlao
November 20, 2019
Ten villagers were hurt when the footbridge they were passing through collapsed early Wednesday morning in Sadanga town in Mt. Province.
Local disaster council officials named those injured as Franklin Makchong, 38; Lorenso Limiseb, 48; Albert Paloran, 37; Anggara Cayang-o, 32; Anyo Estiman, 44; Arman Agayyong, 40; Monger Tinmakcheg, 38; Rudy Yakak, 40; Henry Tangkiyao, 51; and Vivian Cayang-o, 30.
All except Tinmakcheg, Yakak and Tingkiyao were admitted at the Luis Hora Memorial Regional Hospital in Abatan, Bauko town, while Cayang-o was left at the Betwagan Health Station because she refused to be taken to the hospital. — The STAR/Artemio Dumlao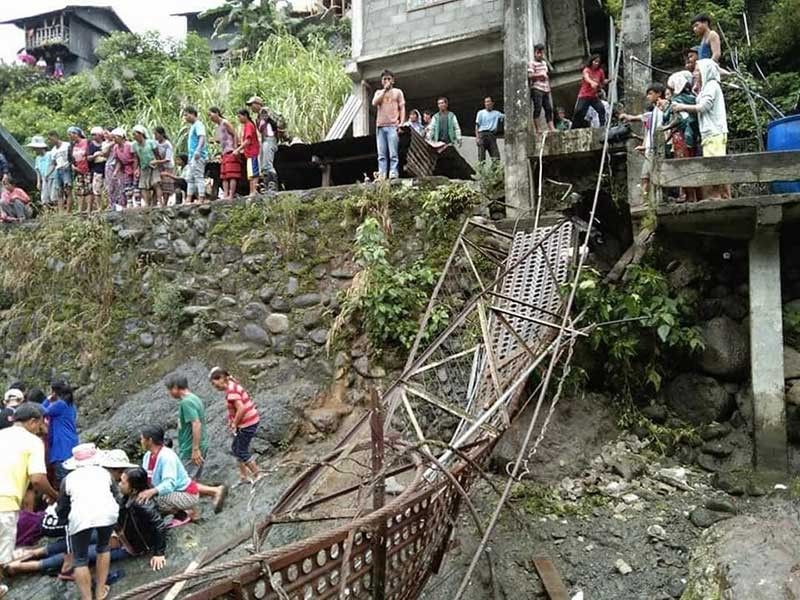 November 18, 2019
Tourism Secretary Bernadette Romulo-Puyat has reportedly committed some P500 million for the rehabilitation of 34-hectare Burnham Park.
Recent meetings between Secretary Puyat and Baguio Mayor Benjamin Magalong drew good prospects of rehabilitating the city's premier tourist destination to be at par with other frequently visited parks in the different parts of the country.
The Baguio City government earlier estimated around P300 million is needed to implement recommended developments inside the park pursuant to the comprehensive master development plan of the park.
Among the initial plans for the rehabilitation of Burnham Park include the improvement of the Melvin Jones football ground, the provision of a fountain and re-development of the Burnham lake, the put up of a senior citizen's park near the children's park, the put up of a creative center, the facelift of the Rose Garden and the development of the Pine Trees of the World within the Burnham Park complex. — The STAR/Artemio Dumlao
November 15, 2019
Police investigators are deep into the probe of two civilian swimming instructors of the Philippine Military Academy who are believed to have failed to assure the safety of Philippine Military Academy cadets that led to the drowning of fourth class cadet Mario Telan Jr. last Friday at the Academy's swimming pool.
This, though the duo — Dr. Robert S. Bete Jr. and Professor Antonio Calatan — already gave their narratives to the police on what their version of the incident were.
Baguio police director Col. Allen Rae Co said they have asked for PMA's security and safety protocol for the use of the poor and in the conduct of swimming classes to see whether it was followed including the Program of Instruction (POI) for swimming lessons. This to ascertain the chain of events that led to the drowning, the police official said.
Telan Jr., 20, who will be buried on Saturday in his hometown in Enrile, Cagayan, reportedly waded to the 15-foot part of the pool unnoticed and had not resurfaced even after the class.
Everybody including Dr. Bete and Calatan and 26 others did not notice Telan Jr., who accordingly was "not a swimmer". — The STAR/Artemio Dumlao
November 12, 2019
Six cheated death Tuesday morning after the Mitsubishi L300 van they were riding to Baguio City plunged down a 50-meter ravine in sitio Tigil, Sagpat, Kibungan town in Benguet.
Brought to the town's Rural Health Unit, then rushed to the Benguet General Hospital in La Trinidad, Benguet were Samuel Dolin, 46, who owns and drove the van; Dolin's brother Butch; Susan Landisan, 56; Leomy William; and 6 year old Angelo Landisan; all from sitio Polis, barangay Poblacion, Kibungan, Benguet and Dario De Lara, 32 from Buyagan, La Trinidad, Benguet. — The STAR/Artemio Dumlao
November 6, 2019
Troops found an abandoned encampment of New People's Army rebels, that could house at least 50 individuals, in Sagada, Mountain Province, the military said.
Soldiers from the 54th Infantry Battalion said villagers tipped them off about the camp, prompting them to head to a thicket in barangay Bangaan. They found a camp that could house at least two undersized platoons (40-50) of communist guerillas.
The rebel encampment also had a food cache of rice and kitchen utensils.
Lt. Col. Narciso Nabulneg Jr., commander of the 54th Infantry Battalion says, if not for the "tips of villagers who have been driving away NPA rebels in the area," the encampment would not have been discovered. — The STAR/Artemio Dumlao
October 30, 2019
Three passengers of an AUV died and another was seriously hurt when their vehicle plunged into a 400 meter ravine in barangay Bogao, Kabayan, Benguet dawn Wednesday.
Benguet police director Colonel Elmer Ragay named the fatalities as Dennis Ingosan Begya, who drove the Toyota FX AUV with plate number TSY 476; Leonardo Pay-oen Oyad; and he driver's brother Samuel Ingosan Begya. The Begya's cousin Franklin Aroyaw Pay-oen was brought to the hospital.
Investigators claimed the four came from Abatan, Buguias at around 1AM and passed by the foggy highway at around 3:30AM when the driver dozed off. -- The STAR/Artemio Dumlao
October 22, 2019
Jimmy Galingan, the chosen Indigenous Peoples Mandatory Representative of Sadanga town in Mountain Province, is asking the Ombudsman to suspend the entire municipal council, including Mayor Gabino Ganggangan, for barring from sitting on the council.
Galingan stressed that the acts of the Municipal Council preventing him to fulfill his mandate "is unreasonable, unfair, oppressive and discriminatory."
He further says that the contentions of the Municipal Council that the IPMR is no longer necessary in a legislative district which is predominantly occupied by IPs, does not hold water and is grounded squarely on self-vested interest.
"The ultimate objective [of the Municipal Council led by Ganggangan] is to prevent the duly selected IPRM from exercising his mandate as provided for by law. They are questioning his being an IPMR to the Sangguniang Bayan yet they do not question the assumption of other IPMRs within the Municipality. […] there are other IPMRs serving at the Barangays within the Municipality of Sadanga yet the respondents choose only to prevent the complainant from assuming and performing his mandate as IPMR…", he says in his complaint.
— The STAR/Artemio Dumlao
October 21, 2019
Three tourists were arrested over the weekend for allegedly selling P340,000 worth of shabu to government agents.
John Charlei Mutuc alias "Marco Paolo Mutuc", 26, from barangay Kias, here; Michael Llamas Evangelista, 20, from barangay Bayo Tipas, Taguig City; and Dronie Masdo, 39, from barangay Wawa, also in Taguig City tried to sell two transparent plastic bags of shabu weighing more or less 50 grams reaching P340,000 to Baguio and Benguet policemen together with PDEA Baguio agents led by Intelligence Agent Laila Abad at Purok 4, barangay Poliwes here. — The STAR/Artemio Dumlao
October 16, 2019
A farmer was killed and two others were injured following a gun fight Tuesday evening at a wake in Barangay Taping, Dolores town.
Farmer Modesto Baldemor Bergonia, 54, from Barangay Taping, Dolores was killed while Narciso Pinto Aldaca, 54, from Barangay Lub-luba, also in Dolores and Ramie Manangbao Bagsi, 27 from Barangay Buneg, Lacub, also in Abra are still recovering from gunshot wounds.
Police said Bergonia and Bagsi were playing "pusoy" at the wake of Julie Piano when a heated argument broke out. During the exchange of expletives, both drew their firearms and shot at each other.
Both sustained multiple gunshot wounds while Aldaca, who was also present at the wake, was hit with stray bullets. — The STAR/Artemio Dumlao
October 9, 2019
Baguio City Mayor Benjamin Magalong is asking the Department of Justice to take a second look at the dismissal of a complaint filed against a developer over the "slow" killing of 45 pine trees in the city.
Saying this was "abnormal and scheming", Magalong says he also "requested" the DOJ, through Undersecretary Deo Marco, to investigate Deputy City Prosecutor Conrado Catral Jr. who penned the dismissal.
Baguio City's drive against environmental offenders lost its first round last week when charges against six officers of Gateluck Corp., who "tortured and murdered" the 45 fully-grown pine trees at a lot along Legarda Road were dropped by Catral Jr. for lack of sufficient evidence.
Catral Jr., who penned the resolution dated August 22, but only released last week ruled, "no sufficient evidence was adduced by the complainant to warrant the filing of any information" against the six officers of Gateluck Corp. for a violation of the city's Environmental Code.
An information is the formal charge brought to court.
The resolution was also approved by City Prosecutor Elmer Sagsago. — The STAR/Artemio Dumlao
October 2, 2019
Baguio City's drive against environmental offenders suffers a major blow after charges against six officers of the Gateluck Corporation, who "tortured and murdered" 44 fully-grown pine trees at a lot along Legarda road here are dropped by the Baguio City prosecutors office for lack of sufficient evidence.
Deputy city prosecutor Conrado Catral Jr., in penning the resolution dated on August 22, but released Wednesday, says "no sufficient evidence was adduced by the complainant to warrant the filing of any information" against the six for a violation of the city's Environmental Code."
On August 2, Baguio City represented by Baguio City Mayor Benjamin Magalong filed an environmental complaint versus Gateluck Corp. officers to hold them accountable "for every tree damaged and for every act in violation of City Ordinance 18, series of 2016 or the Environmental Code of Baguio City."
DENR-Cordillera director Ralph Pablo earlier said calcium carbide was used to poison the pine trees at the 51.186 square meter lot, where the corporation reportedly plans to build a mall.
Earlier in July, Magalong and other officials found 45 pine trees in the said lot were bored with the chemical at its base "intentionally to kill it slowly".
But Deputy Prosecutor Catral Jr. says "the evidence provided by the complainant had not fully established the probable criminal culpability of any" of the six officers of Gateluck Corp. — The STAR/Artemio Dumlao
October 1, 2019
More than P20 million in marijuana plants and seedlings were seized and burned in plantations in Benguet and Kalinga last week by the police and the Philippine Drug Enforcement Agency.
More or less 300 seedlings of marijuana plants worth P12,000 were uprooted on September 23 in Kibungan, Benguet while 1,000 fully-grown marijuana plants worth P200,000.00 were also destroyed in the same town on September 24.
Another 325 fully-grown marijuana plants worth P65,000 were uprooted on September 26 and 170 marijuana plants worth P34,000 were destroyed on September 27.
The operations in Benguet yielded a total of P311,000 in drugs.
In Tanudan, Kalinga, 3,000 fully-grown marijuana plants worth P600,000 were set ablaze by policemen and PDEA agents on September 23 while 77,000 marijuana plants and 30 kilos of dried marijuana leaves worth P19,300,000 were also uprooted during the three-day operation on September 25-27, 2019 in villages of Tinglayan, Kalinga.
No arrests were made. — The STAR/Artemio Dumlao
September 26, 2019
A landslide in Tuba, Benguet shut down Baguio City's only open road artery to Manila for several hours early Wednesday evening.
Two passengers of a jeep that was hit by an electric post that the landslide toppled over were brought to the hospital for injuries.
The other main arterial highway from Baguio southbound to the lowlands—Kennon Road—has been closed for months because of rehabilitation work.
The newly-opened Asin-Nangalisan-Pugo highway is rarely used by motorists who complain of narrow curves and mostly unlit sections that make driving there at night difficult. — The STAR/Artemio Dumlao
September 24, 2019
The Center for Health Development of the Department of Health in the Cordillera has noted an 847-percent increase in the number of people getting measles in the region.
This despite heightened efforts in encouraging parents to have their children get immunized to boost body resistance against future diseases.
DOH Cordillera has also recorded four deaths this year compared against no deaths in 2018.
Last year, DOH listed 194 cases of measles that rose to 985 from January 1 to September of 2019.
Measles as reminded by the DOH is an acute viral illness caused by measles virus and characterized by fever, conjunctivitis, cough, coryza and small spots. It can be transmitted through direct contact with nasal or throat secretions of infected persons or by articles freshly soiled with the said secretions.
The Health department warned that the disease is extremely communicable and it is estimated that 90% of non-immune people exposed to an infective individual will contract the disease. — The STAR/Artemio Dumlao
September 24, 2019
Members of a coffee farmers' cooperative in Ifugao have been advised to increase production and upgrade crop quality so their enterprise can be comercially viable, the Peace and Equity Foundation says in a release on the training.
PEF says 15 coffee farmers from the Hojap Multipurpose Cooperative visited the coffee farm of certified Arabica Q grader and trainer Jennifer Rimando for a two-day technical learning tour at Ola Organic Coffee Farms in Sagada, Mountain Province for the training.

"They were trained on organic farming techniques such as weeding, pruning, rehabilitation, and rejuvenation," PEF says.
The training was held on-farm to give the farmers concrete examples that they can replicate in their own town, Rimando says in the release.

Rimando, during the training pushed for rejuvenation, or prunng to induce new spouts, of old coffee trees to further boost productivity.
September 17, 2019
A police staff sergeant driving in Kabayan, Benguet drove of the road on Monday afternoon but survived the 500-meter fall.
Staff Sergeant Keithley Canuro Gavine, 32, was heading to the provincial capital in La Trindad, Benguet in his red Mitsubishi Adventure AUV and was approaching a curve when he swerved to evade another vehicle going the opposite direction.
A villager came to the police officer's rescue and brought him to the Dennis Molintas Memorial Hospital in Buguias for his injuries.
His vehicle was a total wreck because of thr fall. — The STAR/Artemio Dumlao
September 6, 2019
Local legislators in Benguet have formally asked Benguet lawmaker Nestor Fongwan Sr. to push for another legislative district in the province.
Namoro says the 1987 Constitution is 32 years old and that there have been significant developments both in the province and in the country warranting an increase in legislative districts, especially in Benguet. — The STAR/Artemio Dumlao
September 3, 2019
Four students, three of them minors, were caught with marijuana at a residential compound in Bangued, Abra's capital town, on Monday afternoon.
Tipsters informed police that Mars Jewel Daipan, 20, and his three minor companions were smoking marijuana, prompting the deployment of officers to Beneza Compound in Zone 1 barangay and arrested the four at around 3 p.m.
Policemen seized a small transparent cellophane sachet containing marijuana, drug paraphernalia, and cellular phones from the four.
The three minors were reportedly turned over to the Department of Social Welfare and Development while Daipan was booked to face illegal drug violations. — The STAR/Artemio Dumlao
August 27, 2019
A drunk barangay chairman in Bangued, Abra's capital town, gunned down a bar owner, and another villager and battled responding policemen Tuesday dawn, police say.
Calaba barangay chairman Joel Bayle Mailed, 59, was also rushed to the hospital after responding policemen shot him after he killed bar owner Bardillo Castillo Jr., 49 and resident Nonilo Billedo, 31.
Police claim that the barangay chairman, who was already drunk, arrived at Castillo's El Amor disco/bar aboard a van and ordered the closure of the bar.
Mailed's order led to a heated debate.
The barangay chairman reportedly drew a gun and fired at Castillo Jr. and Billedo several times.
A team of police officers on patrol tried to subdue the barangay chairman but were fired upon, prompting Police Staff Sergeant Lauro Robino to fire back hitting the barangay chairman. — The STAR/Artemio Dumlao
August 23, 2019
Durian and other sought-after fruits from Mindanao will soon be enjoyed in Baguio City.
Baguio City Mayor Benjamin Magalong will host the first marketing and promotions program of the Mindanao Development Authority with the staging of the First "MinDA Fruit Festival" this weekend.
MinDA head Emmanuel Piñol says on his Facebook page that aside from durian, local vendors will also sell longkong lanzones, pomelo, mangosteen and rambutan along Session Road, which is "pedestrianized" on weekends.
According to Piñol, the project was forged with just one short phone call to Mayor Magalong, who readily embraced the idea.
Two cargo trucks loaded with durian and pomelo left Mindanao on Wednesday for the three-day trip to Baguio City. Fruits like lanzones, rambutan and mangosteen will be flown to Manila from either Davao City or General Santos City, Piñol says.
Piñol is a former Agriculture secretary. ?— The STAR/Artemio Dumlao
August 13, 2019
A barangay kagawad who was tending his farm in Pidigan, Abra was gunned down Sunday morning.
Barangay Kagawad Rey dela Cruz Pisco, 43, was attending to his ricefield in barangay Immuli when a shotgun-bearing assassin who remains to be unidentified pumped a single slug hitting him on the chest and arms.
Pisco reportedly goes to his farm very early in the morning everyday, but when his wife couldn't wait for him to return home from his rice field on that Sunday morning, she headed to check on him and found his husband sprawled on their ground already lifeless.
Abra police spokesperson Major Grace Marron says they have no inkling yet what prompted the killing while also facing a blankwall who was behind the latest gun-related violence in the province. — The STAR/Artemio Dumlao
August 12, 2019
A Philippine Army sergeant lost her government-issued 9mm Glock 17 handgun, as well as bullets and jewelry, after thieves reportedly broke into her room at Fort Del Pilar's Enlisted Personnel quarters on Saturday afternoon.
Sgt. Dalla Palitayan told police investigators at station 4 of the Baguio City police that the break-in probably occurred between 8 a.m.-12 noon on Saturday.
She claimed her 9mm Glock 17 service firearm with three empty magazines together with one box containing 40 bullets and 28 empty shells of the same gun were taken together with a necklace with pendant worth P21,500, a pair of earrings worth P4,000, two silver earrings worth P1,000, and assorted coins.
The still unidentified thieves reportedly destroyed the main door to gain entry and also fled through it. — The STAR/Artemio Dumlao
July 31, 2019
Police rounded up three barangay chairmen, a barangay kagawad, and 41 others?—including two brothers of Bangued Vice Mayor Mila Acosta-Valera?—for playing "dado", a betting game, at a cockpit in Barangay Ubbog-Lipcan on Tuesday.
Bangued Mayor Dominic Valera allegedly owns the cockpit where the arrests were made.
Abra police say that two brothers of Vice Mayor Acosta-Valera—Barangay Zone 2 Chairman Amado Briones Acosta and Carmelo Briones Acosta, 63, of Zone 1?—were among those arrested.
Also nabbed were Barangay Zone 7 Chairman Alberto Barras Bigornia and Rodel Utlang Gavanes—chairman of Barangay Cabcaburao in San Juan town—and barangay kagawad Mark Viernes Bandayrel.
Policemen seized P14,650.00 cash bets, dice, table, chips, clay pot cover and other gambling paraphernalia.
"Dado" is an illegal game played with a pair of dice. Bettors win on the combinations of black and red, explains Police Lt. Col. Elmer Ragay, Cordillera police intelligence chief. — The STAR/Artemio Dumlao
July 23, 2019
Fernando Gapuz, vice mayor of Tinoc, Ifugao, has been missing for four days.
Gapuz, 56, was last seen in Impugong village, also in Tinoc, on the morning of July 19.
He was wearing brown pants, a brown leather jacket, a green polo shirt, brown slip-on sandals and a dark yellow shawl.
The Tinoc police are appealing for any information about the vice mayor's whereabouts.
"Investigation is still ongoing," the Tinoc Municipal Police Station says when asked for comment over the phone. — The STAR/Artemio Dumlao
July 22, 2019
A Saudi businessman is accusing his girlfriend of robbing him of nearly P50,000 in cash and valuables.
Bahaeldin Elzaki Alhabib, 37, tells Baguio City police that his girfriend Angela Sanchez Leonar, with whom he booked a room at the Prime Hotel along Calderon St. since Friday, ran away with his cash and his cellular phone.
The Saudi businessman said he left his girlfriend minutes before midnight Sunday to unwind at a bar but was told by the hotel receptionist whe he returned Monday dawn that his girlfriend had left.
He immediately checked their hotel room and discovered that P40,000 in his travelling bag and his cellular phone worth P6,999 were missing.
He is readying charges against his girlfriend. -- The STAR/Artemio Dumlao
July 22, 2019
A tourist drowned in a river in Ifugao province over the weekend, authorities say.
Joseph Benmaso Binat-an, 22, reportedly went on a picnic with his cousin Ramses Pinnay Illag at the Tappiyya River on Sunday.
The strong river current swept Binat-an away and he drowned.
Police, BarangaY Battad officials and villagers were able to locate the victim's body mid afternoon Sunday. — The STAR/Artemio Dumlao
July 18, 2019
The state-run Ifugao State University launches its historic International Innovation Center for Indigenous Studies to promote international academic cooperation and researches on indigenous, local knowledge and sustainable studies
The first-of-a-kind program in the Cordillera, the program is closely collaborating with the University of California, Los Angeles (UCLA), University of Hawai'i at M?noa (UHM), and National Chengchi University (NCCU), says Dr. Eva Marie Codamon-Dugyon, IFSU president and project leader.
She emphasizes the importance of the center for the University, Ifugao and the Cordillera Region for the preservation and perpetuation of indigenous and local knowledge, cultural and environmental heritage.
The university is inspired and resolute to contribute towards the protection and conservation of the Ifugao rich heritage, environment and natural resources that nurtured the life past generations over the course of the centuries, Dugyon says.
The center will be a haven for indigenous studies, host collaborative meetings, and foster joint research projects from the local to the international level, says Eulalie Dulnuan, director for the Ifugao Rice Terraces as Globally Important Agricultural Heritage System (IRT GIAHS) and project manager. — The STAR/Artemio Dumlao
July 15, 2019
The move for self-rule in the Cordillera region still lacks steam as the regional autonomy movement has yet to catch fire in the highland region more than 30 years since it was founded.
Aside from President Rodrigo Duterte declaring July 15 a special non-working holiday in the region for the 32nd foundation anniversary of the Cordillera Administrative Region, people in CAR seem cold to autonomy.
CAR, comprising Abra, Apayao, Benguet, Ifugao, Kalinga, Mountain Province and Baguio City, was created through Executive Order 220, which was signed by President Corazon Aquino on July 15, 1987.
Two previous attempts to create an autonomous Cordillera have failed and it is unclear if another one will be made through the 18th Congress, which meets later this month.
With President Rodrigo Duterte's push for federalism apparently making a detour to a simple charter change, prospects for it are dim.
Even Cordillera lawmakers seem indifferent to another attempt at a new charter for the region.
Despite the drumbeating by government agencies and local government units for Cordillera Day and the yearly Cordillera-wide "gong relay" to demonstrate regional unity, legislators from the Cordillera are unlikely to take up the campaign again, especially after the electoral loss of former Baguio City Mayor Mauricio Domogan, one of the "figureheads" of the autonomy bid. — The STAR/Artemio Dumlao
July 12, 2019
July 15, Monday, is a special non-working holiday in the highland Cordillera region.
Malacañang via Proclamation 763 signed by Executive Secretary Salvado Medialdea on Thursday declaresJuly 15 as a special non-working holiday for the six provinces and two cities in the highland region in connection with its 32nd founding anniversary.
The declaration states: "It is but fitting and proper that the people of the [Cordillera Administrative Region] be given full opportunity to celebrate and participate in the occasion with appropriate ceremonies."
CAR, which includes the provinces of Abra, Benguet, Mountain Province, Ifugao, Kalinga, Apayao, and Tabuk City and Baguio City, was created under Executive Order 220 by President Corazon Aquino on July 15, 1987.
The Palace also declared non-working holidays in Sta. Rosa City, Laguna (July 10), Guihulngan City, Negros Oriental (July 12) and Mauban, Quezon (July 15). ?— The STAR/Artemio Dumlao
July 4, 2019
Abra province is the first in the Cordillera and Northern Luzon to open drug reformation facilities for drug offenders.
The "Bahay Silangan" facilities in Tayum and Bucay towns were established by the Philippine Drug Enforcement Agency in close partnership with local government unit.
Balay Silangan is a reformation program that helps individuals stop substance or drug abuse.
But even before formally opening the facility, Bucay town had started operating their reformation facility in December 2018 and already had 19 graduates on January 30, 2019.
While Tayum has just started its facility on June 20, 2019, with seven enrollee-reformists.
PDEA Abra provincial officer Julius Paderes beamed, "I am proud to say that we are the first province in the Cordillera Administrative Region (CAR) and in Northern Luzon to establish a Balay Silangan."
Nineteen reformation clients of Balay Silangan in Bucay are now productive members of the society through this program, Paderes claimed. They are now recognized as volunteers of the Disaster Risk Reduction and Management Office of the town.
The graduates underwent livelihood training by the Technical Education and Skills Development Authority (TESDA)-Abra.
They were schooled about animal husbandry, massage therapy, and other services. This joint effort between TESDA and PDEA is a part of the 30-day training program in Balay Silangan.
Balay Silangan is based on the concept of "Bahay ng Pagbabago", a reformation center which helps rehabilitate drug offenders. — The STAR/Artemio Dumlao
July 3, 2019
The Environment department has reconsidered an earlier order to close down the Irisan dumpsite in Baguio City, but also wants the city to haul out mixed waste material there by the end of the month.
Engineer Ralph Pablo, director of the Department of Environment and Natural Resources- Cordillera Administrative Region (DENR-CAR) says the city should also install and operate the two Environmental Recycling System machines at the site that have conked out.
The dump can continue to operate but must collect only biodegradable waste and should not store any residual waste outside the ERS facility.
Environment Undersecretary Benny Antiporda, who ordered the shut down of the Irisan dump last week, explains that they were at the dump site (last week) "not to create chaos, but good management and housekeeping."
The private firm Rapport has been in charge of the management and operation of ERS machines at the dump for the processing of biodegradable waste into an organic fertilizer. The five-year contract of the city with Rapport Innovations will lapse on 2023.
It has committed to rehabilitate the ERS machines, which processes at least 20 tons of biodegradable waste each daily into fertilizer. — The STAR/Artemio Dumlao
July 1, 2019
The Philippine Drug Enforcement Agency in the Mountain Province with support from the provincial police seized two marijuana plantations in Mt. Ungyod at Betwagan in Sadanga town over the weekend.
A total of 13,000 marijuana plants, valued at P2.6 million, were uprooted and then set on fire.
PDEA-Cordillera director Edgar Apalla said marijuana trails behind shabu as the drug of choice among drug dependents.
Marijuana eradication though still tops the efforts of authorities in the highland region, where the quality of the illicit drug remains the highest comparable to the Mexican hemp variety famous worldwide. — The STAR/Artemio Dumlao
July 1, 2019
Authorities overran an illicit marijuana plantation in Tinglayan, Kalinga over the weekend and destroyed 240,500 of fully-grown marijuana plants.
They also destroyed 1,000 seedlings seized from the 14,200-square meter plantation.
The operations were led by the Tinglayan and Tanudan, Kalinga police drug enforcement units aided by PNP drug enforcement group Special Operations Unit 1, Kalinga provincial police office and PDEA Ifugao during a three-day operation that ended Monday morning.
The bust was so massive, the Kalinga police said, that it took them three days to complete the destruction of the plants. — The STAR/Artemio Dumlao
June 24, 2019
A young boy reportedly shot and killed a 42-year-old villager of Lagayan town in Abra over a verbal spat, police say.
Fisherman Wilfred Ban-o Bersamira alias "Boy London", 42, reportedly left a drinking party at the house of a certain Alan Bernal with his friends Ali Donato and Peter Tandingan when they met Marian Mica Vista,20, on their way home.
A verbal spat ensued between the fisherman and Vista prompting the suspect to draw a gun and fired at the 42 year old fisherman on the head.
The suspect is Vista's brother..
Bersamira died while being treated at the Abra Provincial Hospital in Bangued, the province's capital, Sunday night.
Police launched a search for the suspect, a minor. — The STAR/Artemio Dumlao in La Trinidad, Benguet
June 20, 2019
Authorities have nothing yet in the murder of Islamic religious leader Imam Bedejim Abdullah, 55, who was peppered with bullets by a bonnet-wearing gunman last December just a stone's throw away from the headquarters of the Baguio City police and from Baguio City hall.
"Right at the doorstep" of an Islamic education institution along Kayang St., here, Abdullah, who taught theology at the Philippine Military Academy aside from being a very important instrument in the propagation of Islam in Baguio City and the rest of the Cordillera region, was walking up to the "Discovery Islam", a non-government institution propagating the teachings of Qur'an (Koran), when the gunman came close from behind and pumped bullets into his head and body.

Even with CCTV footage at hand, local police are finding it difficult to find a suspect.
Already considered "a cold case", nothing has came out of a probe by a Special Investigation Task Group of the Baguio City police.
The case has been handed over to the Criminal Investigation and Detection Group-Cordillera.
Even the family seems to be losing hope that the case will be resolved, laments lawyer Yasser Guru of the National Commission on Muslim Filipinos (NCMF) here. "Not that they are losing confidence to the investigators but the snail-paced results is despairing them," he explains.
Abdullah's colleague Imam Samsoden Monib, who swore Abdullah has no personal enemies nor business interests in the city earlier said that before the religious leader's murder he had been receiving death threats from a fundamentalist Islamic group, alluding to an "ISIS"-inspired group that wanted his head.
Abdullah was not the first Islamic religious leader gunned down in the country. In 2017, another "imam" was gunned down by suspected "ISIS"-inspired gunmen in Cavite. — The STAR/Artemio Dumlao in Baguio City
June 17, 2019
More than P2.9 million worth of marijuana plants went up in smoke after a three-day marijuana operation by Cordillera police, soldiers and Philippine Drug Enforcement Agency agents in Tinglayan, Kalinga.
Three plantation sites with a total land area of 1,950 square meters were discovered at Barangay Loccong by Kalinga police, PDEA-CAR and troopers from Philippine Army's 503rd Infantry Brigade .
Some 14,600 fully-grown marijuana plants were uprooted and burned onsite.
Authorities recently hatched "Oplan Buscong Ridge" wanting to clear all drug-affected barangays in Tinglayan, Kalinga.
Last month, P5.7 million worth of weed were destroyed and burned in Barangay Butbut Proper, also in Tinglayan. — The STAR/Artemio Dumlao in Baguio City
June 10, 2019
The Department of Environment and Natural Resources in the Cordillera region says there is no formal order or memorandum from Environment Secretary Roy Cimatu imposing a total ban on the cutting of trees in Baguio City.
Ralph Pablo, regional chief of the DENR, said Cimatu's supposed pronouncement of a ban on cutting trees is not backed by a formal order for it. He said the DENR will process applications to cut trees in Baguio City through the regular process and under the existing rules and regulations.
"We never delayed the issuance of tree-cutting permits to applicants but we have to subject their applications to the processes prescribed under existing orders. We can issue the desired permit within one week from the date it was applied for," Pablo said.
The DENR's central office can issue tree-cutting permits to cut naturally-grown trees and applications for 50 or more planted trees. The regional office is authorized to issue tree-cutting permits for applications to cut down 50 trees or less.
Local chief executives can issue tree-cutting permits for dead trees and trees that pose a serious threat to life and property. — The STAR/Artemio Dumlao in Baguio City
June 6, 2019
Police in Baguio City say they arrested two women Wednesday after they sold shabu to undercover government agents in separate sting operations.
Rowela Maso Delfin, 47, from Brgy Balili, Km 3, La Trinidad, Benguet was caught at Camia Street, Purok 2, Sunnyside, Fairview, Baguio City Wednesday afternoon.
Joint personnel of the Baguio City Drug Enforcement Unit (CDEU), station 1 of the Baguio City Police Office and Benguet police investigators caught Delfin selling more or less 5 grams of shabu to an undercover agent.
On Wednesday night, Marie Claro Dela Cruz, 41, from Pinsao Proper, here, was taken to the jail after she sold .3 grams of shabu to an undercover government agent at 2nd Kayang Street, Barangay Kayang-Hilltop, here — The STAR/Artemio Dumlao in Baguio City.
June 6, 2019
The Technical Education and Skills Development Authority has trained 1,987 Kalinga scholars after President Rodrigo Duterte directed the agency to help improve the lives of the marginalized, especially among the indigenous peoples of the Philippines.
Trainings included Basic Training on Manicure and Pedicure, Basic Haircutting, Install Electrical Wiring, Lights and Outlets, Furniture Finishing, Basic Tile Setting, Bread and Pastry Production II, Bread Making, Concrete Hollow blocks Making, Sustainable Agriculture Organic Farming.
A sizeable number also underwent Electrical Installation and Maintenance NC II, Basic Body Massage, Draft and cut pattern of casual apparel, Fabricate, install and remove wooden formworks and Basketry and Bag Making.
"We are targeting 4,324 beneficiaries for community based training the whole year, and currently 1,987 graduated already as of May 2019," says Gabriel Gayacay, TESDA Kalinga provincial director. — The STAR/Artemio Dumlao in Baguio City
June 3, 2019
A man was found dead and shirtless along a dimly-lit grassy portion of a road in Baguio City over the weekend.
The body was found Sunday morning when a resident urinated along the road and noticed it.
The said road, which stretches up to Bakakeng Norte, is a new arterial bypass road that is not as busy as the Marcos Highway route.
Forensic investigators have yet to release details on what caused the death of the victim. — The STAR/Artemio Dumlao
June 1, 2019
Anti-narcotics operatives from the Benguet police has raided two plantations of marijuana in Kibungan, Benguet.
Putting ablaze some 5,100 fully grown marijuana plants, Benguet police director Colonel Lyndon Mencio says they discovered those planted in a land measuring around 1,020 square meters in Tacadang proper. The marijuana plants approximately cost P1,020,000.
No one was in the area when authorities found the plantation site. — The STAR/Artemio Dumlao
May 30, 2019
An online petition is asking President Rodrigo Duterte to declare a moratorium on the construction of high-rise buildings in Baguio City.
The moratorium should be in effect until a proper urban plan is reviewed and implemented, the petitioners said. The urban plan will include properly conducted and peer-reviewed soil investigation and testing reports for foundations of structures, performed by a licensed geotechnical engineer and that no structures will be constructed over the eight-story limit specified by the city government.
Petitioners claim, it is crucial that the current policies on construction and zoning be reviewed, citing six earthquake faults below Baguio City while also citing a historical seismic study by the Philippine Institute for Volcanology and Seismology that supposedly saw a 6.4 to 7.0 magnitude earthquake is likely to occur in 20 years after the July 16, 1990 major earthquake.
The fault lines are located at Burnham, Mirador, Tuba, San Vicente, Bued, and Loakan. — The STAR/Artemio Dumlao
May 30, 2019
Government anti-narcotics operatives swooped down on more than P5 million worth of marijuana in Tinglayan, Kalinga in three days of operations.
The Philippine Drug Enforcement Agency burned P5.6 million worth of marijuana plants seized in operations done alongside the the Tinglayan and Lubuagan town police, Kalinga intelligence agents and the 1st and 2nd Companies of the Kalinga Provincial Mobile Force Company.
Some 28,300 grown marijuana plants and 1,000 marijuana seedlings were found from at least 10 plantations at a total land area of 2,931 square meters in Butbut Proper, police said.
No suspect was caught and PDEA agents believe the cultivators fled when they heard operatives closing in.
Any individual engaged in the unlawful cultivation of marijuana is punishable under Sec.16, Article II of the Republic Act 9165 or "The Comprehensive Dangerous Drugs Act of 2001".
— The STAR/Artemio Dumlao
May 29, 2019
Kalinga Vice Governor James Edubba, who ran for governor, has formally filed an election protest with the law department of the Commission on Elections seeking to exclude votes cast in one of the vote-rich barangays in Pinukpuk town.
He also wants the poll body to dig into circumstances that cast doubt on the sanctity of the 622 votes cast in that precinct.
In his petition, Edubba questioned the decision of Comelec officials in barangay Sucbut, Pinukpuk to confiscate the SD cards from the board of election inspectors (BEIs) and ordered them to leave the polling precinct since it might take two days to allegedly reconfigure the alleged defective SD cards.
He however narrated that after several hours, the BEI members were called back to the municipal canvassing center only to be informed that what was defective was the vote counting machine and not the SD cards which now raised doubts on the sanctity of the ballots in the said barangays.
Edubba's petition claimed there were some 622 votes that were cast in the questioned precinct in barangay Sucbut where incumbent Tabuk City Mayor Ferdinand Tubban garnered 267 votes, Conrado Dieza, one of the aspirants for the gubernatorial post was able to get some 191 votes while Edubba only got 125 votes. — The STAR/Artemio Dumlao
May 28, 2019
Mystery still shrouds what villagers found Monday afternoon in a remote village in Tubo, Abra.
Residents found the remains of three men in sitio Lakanga, Baclingayan, Tubo town at around 2:30 PM Monday.
Barangay Chairman Filbert Tingyan told police that residents discovered the bodies while they were on their way home.
Police Captain Grace Marron, Abra police spokesperson, said the chief of the investigation division of the Abra police provincial office went to the site to investigate but has yet to send back his findings.
No word had come from the Abra-based Agustin Begnalen Command of the CPP-NPA if the victims come from their ranks or to claim responsibility for the bodies — The STAR/Artemio Dumlao
May 23, 2019
The Philippine Military Academy in Baguio is now officially a historical site.
National Historical Commission of the Philippines Acting Executive Director Ludovico Badoy unveiled the historical marker with PMA Superintendent Lieutenant General Ronnie Evangelista on Tuesday, before the graduating ceremonies of the 263-strong PMA class of 2019 on Sunday.
The NHCP is the national government agency mandated to promote Philippine history through its museums, research and publications, and to preserve historical heritage through conservation and the marking of historic sites and structures.
PMA acting information chief Reynan Afan said application for the NHCP started last year for the Marcelo Hall, Borromeo Field and Sundial areas.
The Marcelo Hall was built in the 1950s along with the establishment of the hallowed grounds of the Borromeo Field, while the sundial was built in 1957.
The NHCP decided to declare the entire area as a historical site with the marker set at the main gates of the academy.
The marker reads:
"Kinikilala bilang kahalili ng Academia Militar na itinatag sa kumbento ng simbahan ng Barasoain sa Malolos, Bulacan, 25 Oktubre 1898 at nagtagal hanggang 20 Enero 1899. Itinatag sa Intramuros, Maynila bilang Philippine Constabulary School alinsunod sa General Order no. 71, 17 Agosto 1905.

Inilipat sa Camp Henry T. Allen sa Baguio alinsunod sa general order no. 24, 1 Setyembre 1908. Naging Academy for Officers of the Philippine Constabulary sa bisa ng Act No. 2605, 4 Pebrero 1916 at Philippine Constabulary Academy sa bisa ng Act no. 3496, 8 Disyembre 1928.

Pinangalanang Philippine Military Academy sa bisa ng Commonwealth Act no. 1 bilang pagsasakatuparan ng 'National Defense Plan' ni Heneral Douglas Macarthur, 21 Disyembre 1935. Itinalaga si Tenyente-Koronel Pastor C. Martelino bilang unang Pilipinong tagapamahala, 1936.

Inilipat sa Baguio Teachers' Camp, 1936-1941.

Pansamantalang nagsara noong sumiklab ang Ikalawang Digmaang Pandaigdig habang ang mga kadete ay lumahok sa pakikidigma.

Muling nagbukas sa Camp Henry T. Allen, 1947. Pinasinayaan ang kasalukuyang paaralan sa Fort General Gregorio del Pilar sa Loakan, Lungsod ng Baguio, 1950.

Nagsimulang tumanggap ng mga babae bilang kadete alinsuod sa Batas Republika blg. 7192, 1 Abril 1993."
— The STAR/ Artemio Dumlao
May 20, 2019
Outgoing Baguio City Mayor Mauricio Domogan, who lost a bid for a seat at the House of Representatives, says he is ready to face usurpation charges initiated by the Department of Environment and Natural Resources in connection to the issuance of tree-cutting permits for dead trees and those that pose a danger to the public.
Charges being floated by DENR Undersecretary Benny Antiporda, Domogan says, are another effort to subject him to trial by publicity.
He says the DENR should file the supposed usurpation charges so he can defend himself in the proper forum.
"We do not even know if the usurpation charges were filed in the first place. We are wondering why such charges are being floated in the media and not the proper forum so that we will be able to present our arguments that will dispute such unfounded and unfair allegations," Domogan says. — The STAR/Artemio Dumlao
Follow this thread for updates from the Cordillera Administrative Region, which comprises the provinces of Abra, Apayao, Benguet, Ifugao, Kalinga and Mountain Province.
As of the 2015 census, the region has around 1.7 million residents.