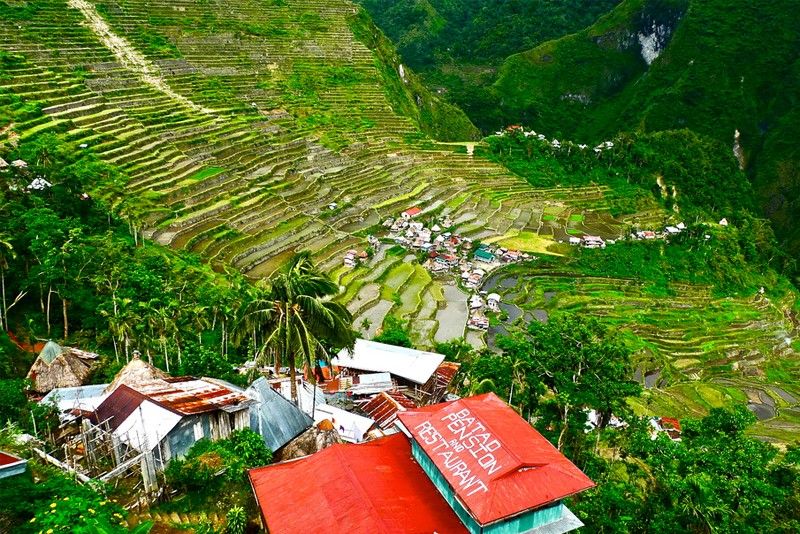 Cordillera Administrative Region updates
LATEST UPDATE: July 15, 2019 - 9:32am
LOCATION:
ABRA
CORDILLERA ADMINISTRATIVE REGION
BENGUET
APAYAO
IFUGAO
KALINGA
MOUNTAIN PROVINCE
+ Follow Story
3 days ago
The move for self-rule in the Cordillera region still lacks steam as the regional autonomy movement has yet to catch fire in the highland region more than 30 years since it was founded.
Aside from President Rodrigo Duterte declaring July 15 a special non-working holiday in the region for the 32nd foundation anniversary of the Cordillera Administrative Region, people in CAR seem cold to autonomy.
CAR, comprising Abra, Apayao, Benguet, Ifugao, Kalinga, Mountain Province and Baguio City, was created through Executive Order 220, which was signed by President Corazon Aquino on July 15, 1987.
Two previous attempts to create an autonomous Cordillera have failed and it is unclear if another one will be made through the 18th Congress, which meets later this month.
With President Rodrigo Duterte's push for federalism apparently making a detour to a simple charter change, prospects for it are dim.
Even Cordillera lawmakers seem indifferent to another attempt at a new charter for the region.
Despite the drumbeating by government agencies and local government units for Cordillera Day and the yearly Cordillera-wide "gong relay" to demonstrate regional unity, legislators from the Cordillera are unlikely to take up the campaign again, especially after the electoral loss of former Baguio City Mayor Mauricio Domogan, one of the "figureheads" of the autonomy bid. — The STAR/Artemio Dumlao
July 12, 2019
July 15, Monday, is a special non-working holiday in the highland Cordillera region.
Malacañang via Proclamation 763 signed by Executive Secretary Salvado Medialdea on Thursday declaresJuly 15 as a special non-working holiday for the six provinces and two cities in the highland region in connection with its 32nd founding anniversary.
The declaration states: "It is but fitting and proper that the people of the [Cordillera Administrative Region] be given full opportunity to celebrate and participate in the occasion with appropriate ceremonies."
CAR, which includes the provinces of Abra, Benguet, Mountain Province, Ifugao, Kalinga, Apayao, and Tabuk City and Baguio City, was created under Executive Order 220 by President Corazon Aquino on July 15, 1987.
The Palace also declared non-working holidays in Sta. Rosa City, Laguna (July 10), Guihulngan City, Negros Oriental (July 12) and Mauban, Quezon (July 15). ?— The STAR/Artemio Dumlao
July 4, 2019
Abra province is the first in the Cordillera and Northern Luzon to open drug reformation facilities for drug offenders.
The "Bahay Silangan" facilities in Tayum and Bucay towns were established by the Philippine Drug Enforcement Agency in close partnership with local government unit.
Balay Silangan is a reformation program that helps individuals stop substance or drug abuse.
But even before formally opening the facility, Bucay town had started operating their reformation facility in December 2018 and already had 19 graduates on January 30, 2019.
While Tayum has just started its facility on June 20, 2019, with seven enrollee-reformists.
PDEA Abra provincial officer Julius Paderes beamed, "I am proud to say that we are the first province in the Cordillera Administrative Region (CAR) and in Northern Luzon to establish a Balay Silangan."
Nineteen reformation clients of Balay Silangan in Bucay are now productive members of the society through this program, Paderes claimed. They are now recognized as volunteers of the Disaster Risk Reduction and Management Office of the town.
The graduates underwent livelihood training by the Technical Education and Skills Development Authority (TESDA)-Abra.
They were schooled about animal husbandry, massage therapy, and other services. This joint effort between TESDA and PDEA is a part of the 30-day training program in Balay Silangan.
Balay Silangan is based on the concept of "Bahay ng Pagbabago", a reformation center which helps rehabilitate drug offenders. — The STAR/Artemio Dumlao
July 3, 2019
The Environment department has reconsidered an earlier order to close down the Irisan dumpsite in Baguio City, but also wants the city to haul out mixed waste material there by the end of the month.
Engineer Ralph Pablo, director of the Department of Environment and Natural Resources- Cordillera Administrative Region (DENR-CAR) says the city should also install and operate the two Environmental Recycling System machines at the site that have conked out.
The dump can continue to operate but must collect only biodegradable waste and should not store any residual waste outside the ERS facility.
Environment Undersecretary Benny Antiporda, who ordered the shut down of the Irisan dump last week, explains that they were at the dump site (last week) "not to create chaos, but good management and housekeeping."
The private firm Rapport has been in charge of the management and operation of ERS machines at the dump for the processing of biodegradable waste into an organic fertilizer. The five-year contract of the city with Rapport Innovations will lapse on 2023.
It has committed to rehabilitate the ERS machines, which processes at least 20 tons of biodegradable waste each daily into fertilizer. — The STAR/Artemio Dumlao
July 1, 2019
The Philippine Drug Enforcement Agency in the Mountain Province with support from the provincial police seized two marijuana plantations in Mt. Ungyod at Betwagan in Sadanga town over the weekend.
A total of 13,000 marijuana plants, valued at P2.6 million, were uprooted and then set on fire.
PDEA-Cordillera director Edgar Apalla said marijuana trails behind shabu as the drug of choice among drug dependents.
Marijuana eradication though still tops the efforts of authorities in the highland region, where the quality of the illicit drug remains the highest comparable to the Mexican hemp variety famous worldwide. — The STAR/Artemio Dumlao
July 1, 2019
Authorities overran an illicit marijuana plantation in Tinglayan, Kalinga over the weekend and destroyed 240,500 of fully-grown marijuana plants.
They also destroyed 1,000 seedlings seized from the 14,200-square meter plantation.
The operations were led by the Tinglayan and Tanudan, Kalinga police drug enforcement units aided by PNP drug enforcement group Special Operations Unit 1, Kalinga provincial police office and PDEA Ifugao during a three-day operation that ended Monday morning.
The bust was so massive, the Kalinga police said, that it took them three days to complete the destruction of the plants. — The STAR/Artemio Dumlao
June 24, 2019
A young boy reportedly shot and killed a 42-year-old villager of Lagayan town in Abra over a verbal spat, police say.
Fisherman Wilfred Ban-o Bersamira alias "Boy London", 42, reportedly left a drinking party at the house of a certain Alan Bernal with his friends Ali Donato and Peter Tandingan when they met Marian Mica Vista,20, on their way home.
A verbal spat ensued between the fisherman and Vista prompting the suspect to draw a gun and fired at the 42 year old fisherman on the head.
The suspect is Vista's brother..
Bersamira died while being treated at the Abra Provincial Hospital in Bangued, the province's capital, Sunday night.
Police launched a search for the suspect, a minor. — The STAR/Artemio Dumlao in La Trinidad, Benguet
June 20, 2019
Authorities have nothing yet in the murder of Islamic religious leader Imam Bedejim Abdullah, 55, who was peppered with bullets by a bonnet-wearing gunman last December just a stone's throw away from the headquarters of the Baguio City police and from Baguio City hall.
"Right at the doorstep" of an Islamic education institution along Kayang St., here, Abdullah, who taught theology at the Philippine Military Academy aside from being a very important instrument in the propagation of Islam in Baguio City and the rest of the Cordillera region, was walking up to the "Discovery Islam", a non-government institution propagating the teachings of Qur'an (Koran), when the gunman came close from behind and pumped bullets into his head and body.

Even with CCTV footage at hand, local police are finding it difficult to find a suspect.
Already considered "a cold case", nothing has came out of a probe by a Special Investigation Task Group of the Baguio City police.
The case has been handed over to the Criminal Investigation and Detection Group-Cordillera.
Even the family seems to be losing hope that the case will be resolved, laments lawyer Yasser Guru of the National Commission on Muslim Filipinos (NCMF) here. "Not that they are losing confidence to the investigators but the snail-paced results is despairing them," he explains.
Abdullah's colleague Imam Samsoden Monib, who swore Abdullah has no personal enemies nor business interests in the city earlier said that before the religious leader's murder he had been receiving death threats from a fundamentalist Islamic group, alluding to an "ISIS"-inspired group that wanted his head.
Abdullah was not the first Islamic religious leader gunned down in the country. In 2017, another "imam" was gunned down by suspected "ISIS"-inspired gunmen in Cavite. — The STAR/Artemio Dumlao in Baguio City
June 17, 2019
More than P2.9 million worth of marijuana plants went up in smoke after a three-day marijuana operation by Cordillera police, soldiers and Philippine Drug Enforcement Agency agents in Tinglayan, Kalinga.
Three plantation sites with a total land area of 1,950 square meters were discovered at Barangay Loccong by Kalinga police, PDEA-CAR and troopers from Philippine Army's 503rd Infantry Brigade .
Some 14,600 fully-grown marijuana plants were uprooted and burned onsite.
Authorities recently hatched "Oplan Buscong Ridge" wanting to clear all drug-affected barangays in Tinglayan, Kalinga.
Last month, P5.7 million worth of weed were destroyed and burned in Barangay Butbut Proper, also in Tinglayan. — The STAR/Artemio Dumlao in Baguio City
June 10, 2019
The Department of Environment and Natural Resources in the Cordillera region says there is no formal order or memorandum from Environment Secretary Roy Cimatu imposing a total ban on the cutting of trees in Baguio City.
Ralph Pablo, regional chief of the DENR, said Cimatu's supposed pronouncement of a ban on cutting trees is not backed by a formal order for it. He said the DENR will process applications to cut trees in Baguio City through the regular process and under the existing rules and regulations.
"We never delayed the issuance of tree-cutting permits to applicants but we have to subject their applications to the processes prescribed under existing orders. We can issue the desired permit within one week from the date it was applied for," Pablo said.
The DENR's central office can issue tree-cutting permits to cut naturally-grown trees and applications for 50 or more planted trees. The regional office is authorized to issue tree-cutting permits for applications to cut down 50 trees or less.
Local chief executives can issue tree-cutting permits for dead trees and trees that pose a serious threat to life and property. — The STAR/Artemio Dumlao in Baguio City
June 6, 2019
Police in Baguio City say they arrested two women Wednesday after they sold shabu to undercover government agents in separate sting operations.
Rowela Maso Delfin, 47, from Brgy Balili, Km 3, La Trinidad, Benguet was caught at Camia Street, Purok 2, Sunnyside, Fairview, Baguio City Wednesday afternoon.
Joint personnel of the Baguio City Drug Enforcement Unit (CDEU), station 1 of the Baguio City Police Office and Benguet police investigators caught Delfin selling more or less 5 grams of shabu to an undercover agent.
On Wednesday night, Marie Claro Dela Cruz, 41, from Pinsao Proper, here, was taken to the jail after she sold .3 grams of shabu to an undercover government agent at 2nd Kayang Street, Barangay Kayang-Hilltop, here — The STAR/Artemio Dumlao in Baguio City.
June 6, 2019
The Technical Education and Skills Development Authority has trained 1,987 Kalinga scholars after President Rodrigo Duterte directed the agency to help improve the lives of the marginalized, especially among the indigenous peoples of the Philippines.
Trainings included Basic Training on Manicure and Pedicure, Basic Haircutting, Install Electrical Wiring, Lights and Outlets, Furniture Finishing, Basic Tile Setting, Bread and Pastry Production II, Bread Making, Concrete Hollow blocks Making, Sustainable Agriculture Organic Farming.
A sizeable number also underwent Electrical Installation and Maintenance NC II, Basic Body Massage, Draft and cut pattern of casual apparel, Fabricate, install and remove wooden formworks and Basketry and Bag Making.
"We are targeting 4,324 beneficiaries for community based training the whole year, and currently 1,987 graduated already as of May 2019," says Gabriel Gayacay, TESDA Kalinga provincial director. — The STAR/Artemio Dumlao in Baguio City
June 3, 2019
A man was found dead and shirtless along a dimly-lit grassy portion of a road in Baguio City over the weekend.
The body was found Sunday morning when a resident urinated along the road and noticed it.
The said road, which stretches up to Bakakeng Norte, is a new arterial bypass road that is not as busy as the Marcos Highway route.
Forensic investigators have yet to release details on what caused the death of the victim. — The STAR/Artemio Dumlao
June 1, 2019
Anti-narcotics operatives from the Benguet police has raided two plantations of marijuana in Kibungan, Benguet.
Putting ablaze some 5,100 fully grown marijuana plants, Benguet police director Colonel Lyndon Mencio says they discovered those planted in a land measuring around 1,020 square meters in Tacadang proper. The marijuana plants approximately cost P1,020,000.
No one was in the area when authorities found the plantation site. — The STAR/Artemio Dumlao
May 30, 2019
An online petition is asking President Rodrigo Duterte to declare a moratorium on the construction of high-rise buildings in Baguio City.
The moratorium should be in effect until a proper urban plan is reviewed and implemented, the petitioners said. The urban plan will include properly conducted and peer-reviewed soil investigation and testing reports for foundations of structures, performed by a licensed geotechnical engineer and that no structures will be constructed over the eight-story limit specified by the city government.
Petitioners claim, it is crucial that the current policies on construction and zoning be reviewed, citing six earthquake faults below Baguio City while also citing a historical seismic study by the Philippine Institute for Volcanology and Seismology that supposedly saw a 6.4 to 7.0 magnitude earthquake is likely to occur in 20 years after the July 16, 1990 major earthquake.
The fault lines are located at Burnham, Mirador, Tuba, San Vicente, Bued, and Loakan. — The STAR/Artemio Dumlao
May 30, 2019
Government anti-narcotics operatives swooped down on more than P5 million worth of marijuana in Tinglayan, Kalinga in three days of operations.
The Philippine Drug Enforcement Agency burned P5.6 million worth of marijuana plants seized in operations done alongside the the Tinglayan and Lubuagan town police, Kalinga intelligence agents and the 1st and 2nd Companies of the Kalinga Provincial Mobile Force Company.
Some 28,300 grown marijuana plants and 1,000 marijuana seedlings were found from at least 10 plantations at a total land area of 2,931 square meters in Butbut Proper, police said.
No suspect was caught and PDEA agents believe the cultivators fled when they heard operatives closing in.
Any individual engaged in the unlawful cultivation of marijuana is punishable under Sec.16, Article II of the Republic Act 9165 or "The Comprehensive Dangerous Drugs Act of 2001".
— The STAR/Artemio Dumlao
May 29, 2019
Kalinga Vice Governor James Edubba, who ran for governor, has formally filed an election protest with the law department of the Commission on Elections seeking to exclude votes cast in one of the vote-rich barangays in Pinukpuk town.
He also wants the poll body to dig into circumstances that cast doubt on the sanctity of the 622 votes cast in that precinct.
In his petition, Edubba questioned the decision of Comelec officials in barangay Sucbut, Pinukpuk to confiscate the SD cards from the board of election inspectors (BEIs) and ordered them to leave the polling precinct since it might take two days to allegedly reconfigure the alleged defective SD cards.
He however narrated that after several hours, the BEI members were called back to the municipal canvassing center only to be informed that what was defective was the vote counting machine and not the SD cards which now raised doubts on the sanctity of the ballots in the said barangays.
Edubba's petition claimed there were some 622 votes that were cast in the questioned precinct in barangay Sucbut where incumbent Tabuk City Mayor Ferdinand Tubban garnered 267 votes, Conrado Dieza, one of the aspirants for the gubernatorial post was able to get some 191 votes while Edubba only got 125 votes. — The STAR/Artemio Dumlao
May 28, 2019
Mystery still shrouds what villagers found Monday afternoon in a remote village in Tubo, Abra.
Residents found the remains of three men in sitio Lakanga, Baclingayan, Tubo town at around 2:30 PM Monday.
Barangay Chairman Filbert Tingyan told police that residents discovered the bodies while they were on their way home.
Police Captain Grace Marron, Abra police spokesperson, said the chief of the investigation division of the Abra police provincial office went to the site to investigate but has yet to send back his findings.
No word had come from the Abra-based Agustin Begnalen Command of the CPP-NPA if the victims come from their ranks or to claim responsibility for the bodies — The STAR/Artemio Dumlao
May 23, 2019
The Philippine Military Academy in Baguio is now officially a historical site.
National Historical Commission of the Philippines Acting Executive Director Ludovico Badoy unveiled the historical marker with PMA Superintendent Lieutenant General Ronnie Evangelista on Tuesday, before the graduating ceremonies of the 263-strong PMA class of 2019 on Sunday.
The NHCP is the national government agency mandated to promote Philippine history through its museums, research and publications, and to preserve historical heritage through conservation and the marking of historic sites and structures.
PMA acting information chief Reynan Afan said application for the NHCP started last year for the Marcelo Hall, Borromeo Field and Sundial areas.
The Marcelo Hall was built in the 1950s along with the establishment of the hallowed grounds of the Borromeo Field, while the sundial was built in 1957.
The NHCP decided to declare the entire area as a historical site with the marker set at the main gates of the academy.
The marker reads:
"Kinikilala bilang kahalili ng Academia Militar na itinatag sa kumbento ng simbahan ng Barasoain sa Malolos, Bulacan, 25 Oktubre 1898 at nagtagal hanggang 20 Enero 1899. Itinatag sa Intramuros, Maynila bilang Philippine Constabulary School alinsunod sa General Order no. 71, 17 Agosto 1905.

Inilipat sa Camp Henry T. Allen sa Baguio alinsunod sa general order no. 24, 1 Setyembre 1908. Naging Academy for Officers of the Philippine Constabulary sa bisa ng Act No. 2605, 4 Pebrero 1916 at Philippine Constabulary Academy sa bisa ng Act no. 3496, 8 Disyembre 1928.

Pinangalanang Philippine Military Academy sa bisa ng Commonwealth Act no. 1 bilang pagsasakatuparan ng 'National Defense Plan' ni Heneral Douglas Macarthur, 21 Disyembre 1935. Itinalaga si Tenyente-Koronel Pastor C. Martelino bilang unang Pilipinong tagapamahala, 1936.

Inilipat sa Baguio Teachers' Camp, 1936-1941.

Pansamantalang nagsara noong sumiklab ang Ikalawang Digmaang Pandaigdig habang ang mga kadete ay lumahok sa pakikidigma.

Muling nagbukas sa Camp Henry T. Allen, 1947. Pinasinayaan ang kasalukuyang paaralan sa Fort General Gregorio del Pilar sa Loakan, Lungsod ng Baguio, 1950.

Nagsimulang tumanggap ng mga babae bilang kadete alinsuod sa Batas Republika blg. 7192, 1 Abril 1993."
— The STAR/ Artemio Dumlao
May 20, 2019
Outgoing Baguio City Mayor Mauricio Domogan, who lost a bid for a seat at the House of Representatives, says he is ready to face usurpation charges initiated by the Department of Environment and Natural Resources in connection to the issuance of tree-cutting permits for dead trees and those that pose a danger to the public.
Charges being floated by DENR Undersecretary Benny Antiporda, Domogan says, are another effort to subject him to trial by publicity.
He says the DENR should file the supposed usurpation charges so he can defend himself in the proper forum.
"We do not even know if the usurpation charges were filed in the first place. We are wondering why such charges are being floated in the media and not the proper forum so that we will be able to present our arguments that will dispute such unfounded and unfair allegations," Domogan says. — The STAR/Artemio Dumlao
Follow this thread for updates from the Cordillera Administrative Region, which comprises the provinces of Abra, Apayao, Benguet, Ifugao, Kalinga and Mountain Province.
As of the 2015 census, the region has around 1.7 million residents.