New NewJeans campaign in the Philippines features freebies, styling workshops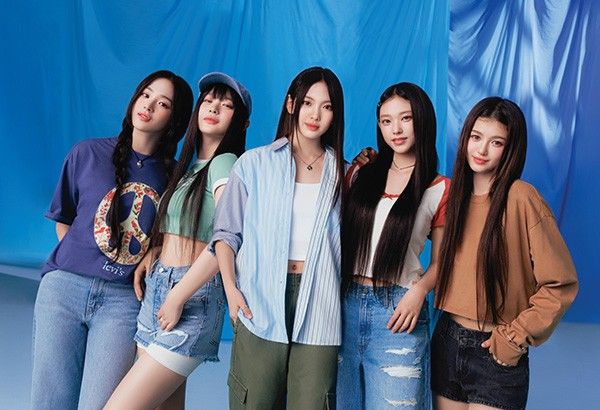 MANILA, Philippines — The Levi's brand and their global ambassadors, NewJeans, celebrate the ongoing 150th anniversary of the iconic 501 jeans with an exciting campaign fueled by vibrant creativity and self-expression.
Just like the brand, the sensational K-Pop group embraces individuality in each of their personal styles. Now, customers can also express their unique style by customizing their own 501 jeans—which come in a range of fresh, new, seasonal fits.
The campaign features "How Will You Wear Yours" Workshops aimed to inspire customers to make their 501 jeans uniquely their own, whether through styling or Do-It-Yourself (DIY) embellishments. Take your cue from Minji, Hanni, Danielle, Haerin and Hyein, and adorn yours with beads, patches, and other baubles exclusive to Red Tab Program members, the styling workshop by Yanna Lopez and DIY Back Patch Charm Making Workshop by Tropik Beatnik is on October 7 in Levi's Robinsons Ermita.
The public can also enjoy a "How Will You Wear Yours" Pop-Up Installation until October 3 in the Central Atrium of SM Mall of Asia. It will feature a photo-op area comprised of five sets where fans can recreate NewJeans' campaign images. Red Tab Program members and new sign-ups have access to the free DIY Charm Bracelet Making Activity that will be happening during the entire week of the pop-up installation.
As global ambassadors for the brand, NewJeans has been celebrating the ongoing 150th anniversary of 501 jeans, one of the most enduring icons of global style and the original template from which all other jeans have descended. The wildly adored South Korean K-pop girl group and the brand are extending the celebration with a new campaign promoting the power and joy of authentic self-expression.
Created with Haus Tailors and other artist partners, the campaign features one-of-a-kind takes on classic 501 fits to demonstrate the creative potential of the jeans as a canvas for authentic self-expression. At Levi's Tailor Shops, fans can add their own embroidery designs, patches, pleats, and embellishments to 501 Shorts, '81 Jeans, Cropped Jeans, '90s jeans and Original jeans. With special embroidery designs and patches from Japanese and Korean tailors, including Harajuku Tailor Shop and Garosugil Tailor Shop, fans can go to Levi's Tailor Shops to create their completely original 501 interpretations. Through special rips and repairs, 501 Original Jeans can also be made to look worn in and thrifted as well as ultra baggy.
To accompany the campaign, a fun new brand film shows NewJeans choosing 501 options, customizing their pieces, and completing their looks with their own unique accessories and styling. At the end, they turn to the audience to ask, "how will you wear yours?." The film can be watched through the brand's official Youtube page.
Separate campaign films feature NewJeans showing off their expressive seasonal looks. For "cold weather" looks, the free-spirited and energetic essence of NewJeans members in Ribcage Wide Leg Women's Jeans, Low Loose Jeans, and Ankle Column Skirts is captured against warm-colored and textured backdrops. That same essence is also captured with the girls wearing Baggy Cargo pants, 501 Shorts, and Baggy Dad Jeans against cool-colored backdrops, creating a summer ambience.
"It's been so rewarding to partner with a brand that has both an incredible past and looks toward the future. This campaign encourages people to discover and express their unique style by showing the different ways you can wear jeans and really make them your own," said NewJeans.
"We are excited for our fans to explore how the collection can be customized with the Tailor Shop. We know they can take these clothes in some really unique directions, and we can't wait to see what they come up with!"
NewJeans made their debut on July 22, 2022, as the first group to debut from ADOR, an independent label under HYBE led by Hee Jin Min. The quintet aspires to push the limits of K-pop with honest and authentic music that exudes youth. Just like a pair of jeans that has been a staple of every wardrobe for generations, NewJeans aims to allure the listeners with timeless music to be kept in your daily music playlist.
The act released New Jeans on August 1, 2022, instantly captivating the global audience and becoming the first K-pop band to achieve the million-seller milestone with their debut album. One of the title tracks "Hype Boy" charted on Billboard Global 200 for 37 consecutive weeks - the longest record from any K-pop female act. NewJeans amazed the world with groundbreaking records, charting on Billboard Hot 100 within less than half a year of their debut with global smash hits "Ditto" and "OMG."
The act also broke the Guinness World Record as the K-pop act to reach one billion streams on Spotify in the shortest amount of time since debut, and have quickly surpassed the two-billion mark with their latest EP "Get Up" released in July. The stellar EP attests to NewJeans' widespread global presence, debuting at No.1 on Billboard 200 and at No.15 on the U.K. Official Albums Chart with all of its triple lead singles, "Super Shy," "ETA," and "Cool With You," landing in Billboard Hot 100.
Continuing their upward trajectory, NewJeans made history as the first K-pop female act to perform at Lollapalooza in Chicago, winning over 70,000 audience gathered to watch.