West End has a new star and he's Filipino
September 23, 2023 | 12:00am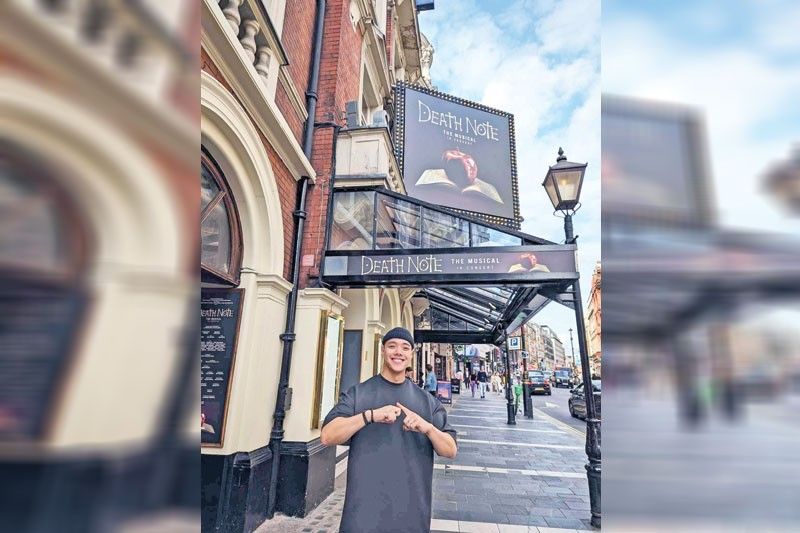 Videos have been circulating online of long lines in West End reaching three blocks long!
It started at one of the biggest theaters in the UK which is the London Palladium and people from Germany, Japan, US and other parts of the world are flying in and lining up at the stage door for the musical Death Note. Our very own thespian, Joaquin Pedro Valdes, is top-billing in the musical as Light Yagami and is definitely the international theater scene's next big star.
Producers are taking great notice of him since he moved to London two years ago and after persevering and just showing up in every possible audition. We recently spoke to Joaquin, who was on a lunch break, via Zoom as he was very much still based in London because the bookings for his musical shows there just kept rolling in!
Joaquin was in awe of the blessings that just keep pouring into his life right now. He said that he is still adjusting to the attention he has been getting. "Hindi ako nasanay hahaha! Never ko na-experience ito nung nasa Pilipinas ako and even here, I said, wow, what's going on? Our stage door would go blocks!!! I was blown away!"
Death Note: The Musical is based on the Japanese best-selling manga that has been adapted to theater. The musical's score is by Frank Wildhorn who is behind the hit songs Where Do Broken Hearts Go and This Is The Moment.
Joaquin shared, "It's cool because I remember the Philippines dahil halos lahat ng kontesero at kontesera natin nanalo na dahil sa kanta ni Frank!"
Besides Death Note, Joaquin also booked several lead roles in West End productions, including Christopher J. Orton and Jon Robyns' Then, Now & Next as well as Vanara which ran in 2021 and Killing The Cat in 2022.
Another big project of his is yet to be announced. Since he was 10 years old, Joaquin has been in theater scene here in the Philippines and he even tried his luck in showbiz.
He had bit roles in teleseryes and even went as far as joining a boy band. He said, "I'm proud of my hard work! Even in my credits, I always include the work I have done in the Philippines and I want it to be recognized."
After the Philippines, Joaquin then sought other plans and went to the UK for drama school but in 2018, he had the opportunity to get cast in the international tour of Miss Saigon and then the lockdowns happened.
He looked back on his journey so far: "It is not always easy. Not everyone has that Cinderella story of booking your first job and suddenly you're a star. It is hard work and I am proud of that hard work because I started as an ensemble member of Miss Saigon and worked my way to another ensemble until I got here."
Before his stable West End career, Joaquin told us that he even had to say yes to every opportunity that came his way even if it was unconventional to some. "During the lockdown, I was doing a foot commercial! Imagine? A foot commercial!" he shared.
"Maganda paa ko kasi bumida iyong paa ko!!! For a multinational commercial! Mahal kasi dito sa London at may pamilya ako kaya kailangan ko magtrabaho."
With his success, Joaquin not only hopes to open more doors for Filipino talents in the global theater stage, he also hopes for our kababayans to get the recognition and big break that they deserve for their talents and the hard work they put in the industry.
"The Philippines is a wealth of talent but the opportunities for us to go on the world stage don't come often," he said. "Hopefully, with more of us out here, mas nakikita na and the world can see us and the world is getting smaller now."