Welcome new teen idol Shoti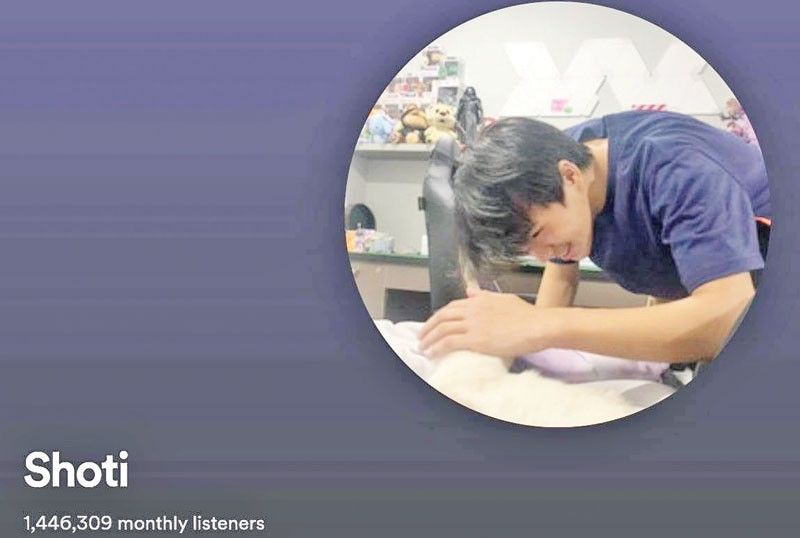 There is something exciting afoot in local music this week. A new name behind a curious, enchanting tune has entered the charts. The song is titled LDR, which as everybody knows means Long Distance Relationship or Long Distance Romance. The composer and performer is a guy who calls himself Shoti.
That is right, Shoti, maybe he was named after those delicious elongated loaves of bread I saw on display in bakeries in Bratislava. That would have been one for the books. But then, maybe the better meaning comes from China where honorifics dictate that the oldest daughter is called Achie and the younger one is Shobe. In the case of sons, the oldest boy is called Ahia and the younger boy is Shoti.
Well, it turned out that Shoti is indeed part-Chinese and is the younger boy in the family. Here is what I found out from bits and pieces online that added up to a sort of bio. His full name is Jared Lim Almendras, take note of that middle name Lim, which is surely Chinese. He is only 16 years old and is now a successful singer and songwriter.
Shoti has already released four singles online. These are In Love Kaayo; In Love (Gihapon), Feel this Way and LDR, which became his breakthrough song. LDR is simple chill R&B that reminds me of I'll Always Love You by Michael Johnson. Shoti sings in soft whispery tones, just like that Harana Boys do. The only difference is that Shoti's lyrics are a mix of English and Cebuano.
Now, the language of music has no boundaries. An expressive performer can convey what he wants to his audience no matter what his language is. That is why the world listens to Italian opera. That is why K-pop became a phenomenon. That is why Justin Bieber and Luis Fonzi sing Despacito in English and Spanish.
Mixing languages or dialects in lyrics is also nothing new out here. Porque, an old song by the group Maldita which has gone viral recently, mixes Tagalog and Chabacano. The members of the boy band Alamat sing their songs in their native dialects. And so, here he is Shoti in English and Cebuano.
"…Ngano layo kay ka/ wala tay mabuhat/ kung diri ka sa akong tupad/ adto tag cinema/ human mangaon ta/ kaon bisag asa/ ika'y pili/ ako'y bayad/ ako ray bahala/ ako ray bahala/ why do you live so far/ saying kung LDR/ cause I know what happens to them/ they always fall apart…"
Not much is known about Shoti at this time. He sings in Cebuano, so he probably comes from Cebu. He is only 16, so that makes him still a high school student. Fans who have only recently discovered him need not worry though, as I am sure the media will be all over him once he decides to start performing live.
Now, here is me, just curious. Is Jared Lim Almendras the same as the football player from the Visayas named Jared Willy Almendras? If he is one and the same, then he just made local pop music more exciting. We have a football player who sings.
Meanwhile, Uhaw, that engaging tune by Dilaw, continues to lord it over the Billboard Global Philippines hit list. Check out the Top 25 titles here.
Uhaw by Dilaw; Cupid by Fifty Fifty; Angels Like You by Miley Cyrus; Die For You by The Weeknd and Ariana Grande; Pasilyo by Sunkissed Lola; Snooze by SZA; Kill Bill by SZA; Cruel Summer by Taylor Swift; Mahika by Adie and Janine Berdin; What It Is (Black Boy) by Doechii ft. Kodak Black; Elevate by Jeff Grecia; Tally by BLACKPINK; Nonsense by Sabrina Carpenter.
Bite Me by ENHYPEN; Until I Found You by Stephen Sanchez; Anti-Hero by Taylor Swift; OMG by NewJeans; Angel (Pt.1) by Kodak Black, NLE Choppa, Jumin, JVKE, Muni Long; Here with Me by d4vd; Umaasa by Calein; Ikaw Lang by Nobita; Flower by Jisoo; Enchanted by Taylor Swift; Always by Daniel Caesar; and then, there it is, LDR by Shoti.