K-drama heartthrobs Jung Haein, Ko Kyungpyo face off in Connect
December 7, 2022 | 12:00am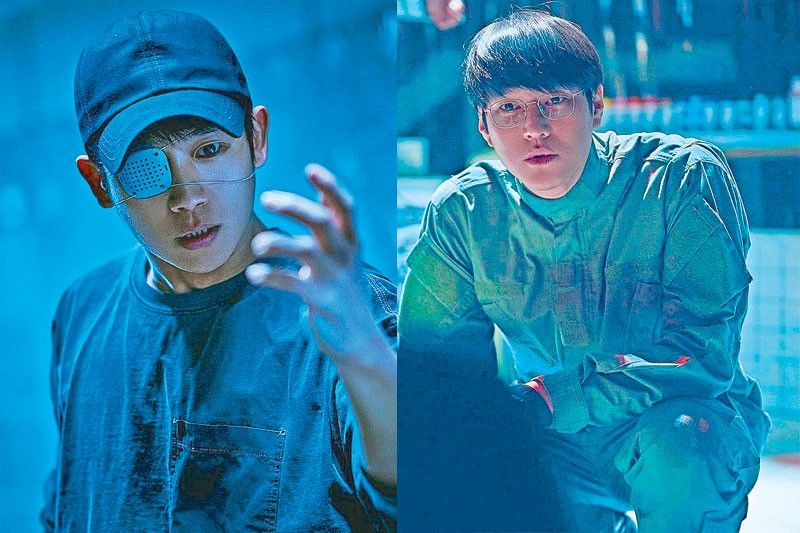 SINGAPORE — A variety of upcoming South Korean content was presented at the Disney Content Showcase APAC 2022 last week and one of the titles that stirred much excitement among the press was the sci-fi thriller Connect.
Premiering today on Disney+, the K-drama is topbilled by Jung Haein (Snowdrop, Something in the Rain), Ko Kyungpyo (Reply 1988, Love in Contract) and Kim Hyejun (Inspector Koo), and directed by Japanese genre master Miike Takashi, all of whom stepped on stage at the Sands Expo and Convention Center to discuss their new project.
In Connect, an adaptation of a webtoon, Haein portrays an immortal human, Dongsoo, who is pitted against a psychopath played by Kyungpyo, along with a mysterious character, Irang, played by Hyejun.
"I had a lot of new experiences making this series," began the director during the Q&A at the Disney Content Showcase. Connect was his first time to work with a Korean team and with a streaming platform as well.
"Being able to create something and have that streamed through a platform like Disney+, which felt to me like a whole new world, means so much to me," he said.
"Being here is such an encouraging experience for me, and I would probably tell my past self, 'Miike, one day, you will have your work featured on Disney+, so don't doubt yourself so much, but keep up the good work.'"
Talking more about his experience of helming a Korean production for the first time, Takashi confessed he's a huge fan of K-content. "Whenever I watch Korean content, I've always wondered why Korean actors' performances were so different from their Japanese counterparts. I wondered what made that difference," he said.
"What I could confirm from working with a Korean cast this time was the level of passion. I found all actors very passionate about what they do. They made me realize how powerful the energy of a person can be. Their ability to act is a given, but I felt that they had all the elements that are crucial to an actor beyond their acting skills."
Besides the director, the main cast also had their share of firsts in this series. "This was my first sci-fi project, and I had more CGI scenes than I initially anticipated," lead star Haein said. "We have, by now, seen a lot of Marvel films, featuring superheroes that quite often involve CGI. My respect for those actors deepened throughout this project."
The actor pointed out that filming CGI-driven scenes was difficult. "I had to use a lot of imagination as I performed, which was quite strange and awkward for me in many ways," he shared. "But the energy on set was great, and we had great teamwork among the cast and with the director and crew."
For Kyungpyo, he tried to display a side of himself in Connect that was distinct from all his previous characters. "I think it will be refreshing for the audience to watch a type of character that they have not seen me perform," the actor said.
"The series itself is also very new and original, which will be very intriguing for many viewers."
It was also the first time for Hyejun to do scenes that required CGI and action. The actress further said, "In terms of the appearance of my character, I also tried a lot of new styles. I had my hair bleached for the first time, for example. I tried a variety of things to build this character."
Takashi confirmed that he relied on considerable CGI in Connect, as he did in previous works JoJo's Bizarre Adventure, Blade of the Immortal and As the Gods Will. However, he also focused on the theme of the series about how "vulnerable the human mind can be."
"It was also about, 'What sets me apart from others and what kind of complexes does that bring?' A large part of the story revolved around the theme of 'I became lonely because of those complexes, and I need to fight the loneliness,'" he explained.
"I saw this series as a human drama where the characters need to set themselves apart from others and also strive to live."
"Loneliness" and "solitude" were also Haein's first thoughts when he buckled down to work for Connect. He said, "(My character) essentially has a good heart. He slowly figures out his abilities and decides to use his power for the right cause. I thought about how he would move and what he would think every second.
"When portraying Dongsoo, I didn't see him as a hero, but as someone who aspires to be a hero. His journey very much felt like a struggle of a man to simply prevent bad incidents from happening."
Haein was also asked to address reports that Kyungpo was his personal recommendation for the role of his nemesis.
"I would not say that it was a formal recommendation," the 34-year-old clarified.
"I got to work with him for another project before. Although I performed with him only briefly, I could feel great energy from him. It was more of a wish, thinking that it would be great to work with him again.
"Recommendation sounds like I did a lot, but Kyungpyo was someone I wanted to perform with one day for a longer project, and even though our characters are antagonistic toward each other in the series, in reality, we got along so well on set, exchanging ideas and just having fun working together."
Kyungpyo agreed that while they're enemies on screen, they're friends in real life. "One of the biggest reasons why I decided to participate in this project was my respect for Haein and wanting to work with him," the 32-year-old said.
"Throughout the process of filming the series, I just felt that we just clicked. When we were working together on our scenes, I always felt that we understood each other very well.
"Of course, this series is very different from the project we worked on briefly. We were reunited in different roles, but we could always discuss how to bring out that different dynamic. I would always welcome an opportunity to work with Haein, regardless of the type of the project or the role."
Connect, which debuts on Disney+ today (Dec. 7), was invited to the On Screen section of the 27th Busan International Film Festival in October and reportedly premiered to high acclaim.