Expensive Candy allows Julia Barretto to graduate into more mature roles
September 12, 2022 | 12:00am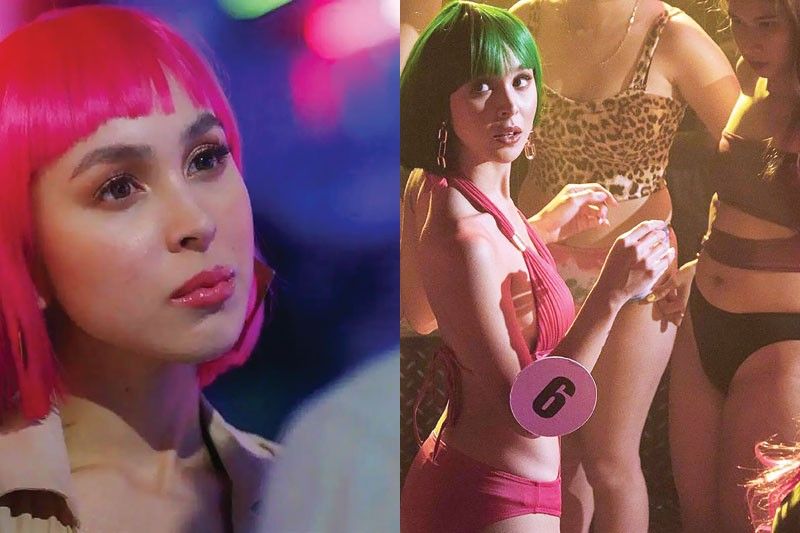 There are actresses who shocked the entertainment world once they decided to venture into the sexy genre. There were those who went all out, there were a few who merely agreed to show some skin, while there were others who didn't have qualms baring on the big screen.
Twenty-five-year-old actress Julia Barretto's recent starrer, Expensive Candy, which will have its theatrical release on Sept. 14, merited an R-13 classification from the MTRCB (Movie and Television Review and Classification Board).
In Julia's acting career for nearly a decade, this marked only the first time for her film to get such a rating strictly for adults only. While it is true that Julia is ready for daring roles, Expensive Candy truly allowed her to graduate into more mature roles.
At the Monday night (Sept. 5) red carpet premiere of Expensive Candy, Julia was supported by her mom, Marjorie, who came to watch with her other children, Claudia and Leon. Marjorie admitted she didn't know what to expect in the film, directed by Jason Paul "JP" Laxamana.
"I had to prepare myself for this," admitted Marjorie before watching the film. "This is a grown-up Julia. But I'm sure this is a better version of her definitely. She really worked so hard for this project.
"I read the script of Expensive Candy and I approved it. You raise your kids and you just wish that they are wise enough to make decisions. Julia is 25 years old. I trust her."
Direk JP went a bit emotional and cried after the screening. "More than the movie itself, I missed this setting, inside the cinema," direk JP said.
He also wrote the screenplay of Expensive Candy, which had the red-light district of Angeles City as setting. The place is close to his heart as he was born and raised there.
Direk JP first worked with Julia in Between Maybes (2019), where she was paired by Gerald Anderson. Expensive Candy is Julia's most daring film to date.
Carlo Aquino plays a high school teacher, Toto, who regularly surrenders his pay envelope to his mom. He is a male virgin, that's why he was being pushed by his mom to find a girl that he likes. With P500 in his pocket, he spent one night with Candy in a non-air-conditioned shack somewhere in the city.
Given a mere smack on his lips, Toto readily professed "I love you" to Candy and fell in love at first sight with her. She merely laughed it off.
The next night, Toto made sure he got to know Candy better even if she was obviously a sex worker. He couldn't get her off his mind. The savings in his piggy bank went to another expensive tryst with Candy.
However, as he started saving for yet another night with her, he subsequently found out she had an upgrade and moved to the Fields, where girls in their more seductive outfits were dancing onstage.
Julia spent nights initially familiarizing herself with the controversial district in Angeles, getting to know the ladies plying the sex trade — one named Cheska even became her friend — and bravely going into lock-in filming there.
Naturally, the audience had to contend with the subplots in the story. There was the romance of Toto's younger sister played by Ashley Diaz, who was in love with her classmate, played by Andrei Yllana, that she had to condone her brother's dalliance with Candy.
Toto's poor background compelled him to earn extra bucks like selling ice candy, doing student reports for a fee or even blackmailing his students to hurdle the exams and get passing grades in exchange for money.
Expensive Candy proved Julia is indeed ready for more mature roles in her first venture into a sexy, romantic drama. The actress' sexiness, however, goes merely into donning seductive outfits. Nothing over the top. Even her kissing scenes with Carlo were kept to a minimum. Nothing torrid. No scene was lewd.
Meanwhile, Carlo planed in from the US last Sept. 2 to attend the premiere night of the film. He escorted Julia to the event.
The star-studded red-carpet premiere of Expensive Candy was also attended by sisters Yassi and Issa Pressman, Joko Diaz (who supported his daughter Ashley), Quinn Carillo who is also in the cast and the all-male band, Alamat, who recorded the theme, Sa Panaginip na Lang, for Expensive Candy.
Others in the cast are Francis Magundayao, Bob Jbeili, Denise Esteban, Ivan Padilla, AJ Muhlach, Keagan de Jesus, Aurora Sevilla and Marissa Sanchez.