Super Radyo DZBB anchors, reporters look back on Eleksyon 2022 experience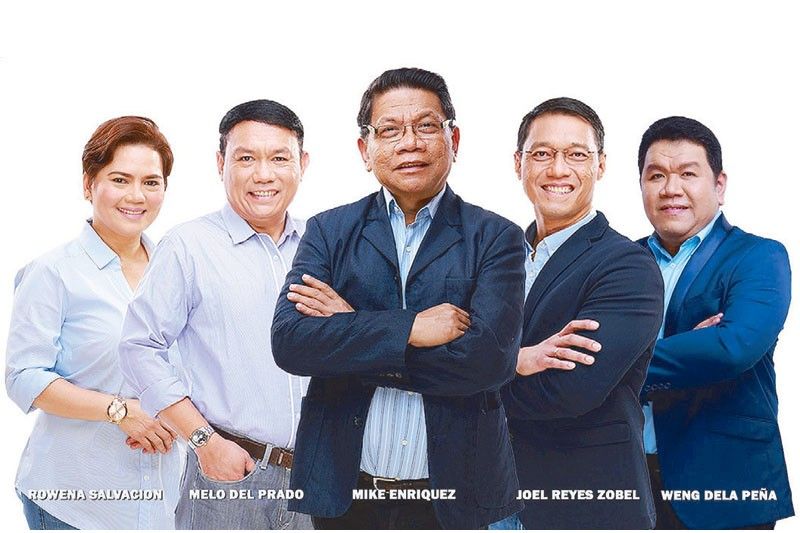 Filipinos here and abroad witnessed yet another historical event in the Philippines with the recent conclusion of the 2022 Presidential Elections.
GMA Network pulled out all the stops in providing the most comprehensive election coverage last May 9 and 10 as well as in the lead-up to Election Day. Complementing GMA's TV and online coverage was Mega Manila's No. 1 AM station Super Radyo DZBB 594, which provided up-to-the-minute election news and updates via Eleksyon 2022: DZBB Special Coverage. The special coverage was also aired across the country with its 23 Super Radyo and Barangay FM stations as well as on TV via GTV.
Super Radyo DZBB 594 again claimed the top spot in Mega Manila for April 2022, according to the recent Nielsen Radio Audience Measurement data. DZBB recorded a 43.9 percent total audience share, versus DZRH, which only got 29.9 percent.
Hearing the news on-air may sound easy for the public, but of course, it entailed so much hard work for the anchors and reporters. So, we got to ask some of the men and women from DZBB how they prepared for the two-day election coverage.
Joel Reyes Zobel, anchor of Super Balita Sa Umaga Nationwide and Bangon Na Bayan, revealed that this year's election coverage was an emotional ride. "It really needed a lot of focus to live by the GMA mantra. Leave your biases at the network's gate when you go on the air," he said.
"Modesty aside, this is where our experience in the past elections kicked in as our advantage," said fellow DZBB anchor Melo del Prado of Melo del Prado Sa Super Radyo.
He also took pride in how the station equipped them for this important coverage. "DZBB has a set of guidelines and rules for its on-air and editorial staff that we use for every election coverage. Also, we were provided election primers that helped us a lot to familiarize ourselves with the automated election rules and procedures. Our coverage of Eleksyon 2022 was indeed guided by ethics," Melo said.
Meanwhile, DZBB anchor and GMA News pillar Arnold Clavio shared how he did his homework to prepare himself for the coverage. "Since the start of the campaign, I closely monitored the political rallies, caravans and motorcades of all the candidates for national positions," he said. "I made a note, detailing their personal positions on certain issues, particularly on COVID-19 responses, economic recoveries and foreign policies. I also researched their past records on government service."
"On the eve of election day, I meditated and prayed that we, all news anchors and reporters, be guided for a successful coverage. I also prayed for everyone's safety," added Arnold, who regularly anchors One-On-One, Walang Personalan.
Super Balita Sa Tanghali and DZBB Round-up anchor Orly Trinidad concurrently headed efforts and coordinated reports of provincial news teams during the coverage. He shared that the first thing he had to accomplish was complete contact details of their provincial reporters and their designated areas, as well as the network partners to have smooth airing of the coverage.
"It is easy for media men to visualize how they will perform during an election coverage by watching and listening to news reporters. But it is better to present your report with visual or audio support. With modern cellphones and other gadgets, news reporting can get really interesting and exciting," Orly said.
"As a radio reporter, I deemed it important that I know the background of the candidates, including their family backgrounds and political affiliations," said radio correspondent Nimfa Ravelo. "Before going to my coverage, I make it a point to clear my mind of all my personal biases and pray for everyone's safety and for DZBB's smooth coverage." The Bantay Balita sa Kongreso host also ensured that her gadgets needed for airing are complete and fully charged.
From their learnings in this year's Eleksyon coverage, what advice can they give aspiring reporters?
One-On-One, Walang Personalan co-anchor Connie Sison urged young reporters to uphold idealism in their style of reporting. "The ability of journalists to report freely on matters of public interest is a crucial indicator of our right to become free press. Our goal is to inform citizens of their leaders' successes or failures, convey the people's needs and desires to government bodies, and provide a platform for the open exchange of information and ideas," said she.
"As reporters, we are also humans who have their own opinions and perspectives. But we have to always keep in mind that we have to be always fair and factual at all times," added Allan Gatus, radio correspondent and anchor of Super Balita Sa Hapon.
"As the scourge of 'fake news' continues to plague social media, genuine journalists need to double up efforts to stand their ground. My advice to aspiring journalists is to always speak the truth. Report fairly, objectively and accurately. Never ever compromise your job for anything. Credible elections need credible media," asserted Mark Makalalad, Super Radyo DZBB radio correspondent and Markado host.
Bantay Balita Sa Kongreso anchor Isa Umali has been covering the national and local elections since 2010. For her, Eleksyon 2022 is one of the most crucial elections in the Philippines. "Aside from the COVID-19 pandemic, disinformation is also viral nowadays. So, try not to catch one of them, or even better, avoid both," said she. "My advice for young reporters is to not add to the disinformation that is happening around us. Be a beacon of truth, even if the truth is different from your view of the person or the story you are working on. Do not spread unverified reports and always check your facts."
Last but definitely not the least, leading the network's radio group is GMA News pillar Mike Enriquez who, throughout the years, continues to uphold fairness and balance in these important times. "This busy and exciting time is what we live for," he said. "During these special coverages, we always remind our men and women to just maintain balance and stick to the truth. Dapat Totoo. Coupled with that is the strict monitoring of all reports and of all stories. We can't go wrong with that combination and we also make sure that everybody is on the same page."
As for the DZBB's continued success in terms of ratings, Mike only had good words for his team and for the listeners. "We are gratified that listeners continue to support Super Radyo DZBB as well as our FM station, Barangay LS. And the credit goes to all the dedicated men and women of our team. As always, we face every single day with Serbisyong Totoo in our hearts — whether it is a special coverage or a typical news day," he concluded.