Aga, Pia and Anne talk about their joy and pride
September 9, 2021 | 12:00am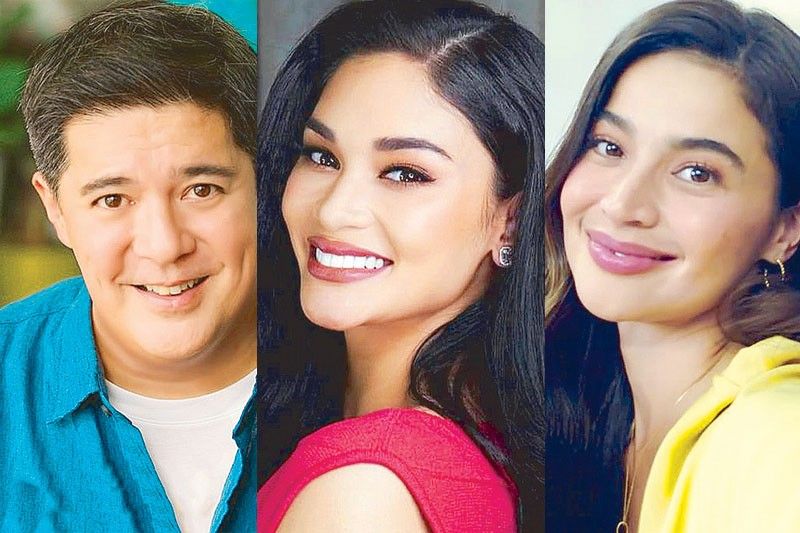 What do Anne Curtis, Pia Wurtzbach and Aga Muhlach have in common?
Aside from the obvious, which is being household names in showbiz, and then recently working together as celebrity ambassadors for Jollibee Chickenjoy, it's their realizations over the pandemic and how this time has reminded them to value their relationships.
That's what The STAR learned from an exclusive interview with the stars ahead of their mini-talk show, titled Our Joy and Pride, to be streamed tomorrow, Sept. 10 at 2 p.m., on Jollibee's official Facebook page.
The online special comes on the heels of the fast food chain's ad starring Aga, Anne and Pia to represent an important aspect of Chickenjoy and how it has become a "proudly Pinoy" food product. It's the first time for all three of them to work together in a project albeit "socially distancing" due to health protocols. Aga, the OG celebrity endorser, said during the Zoom chat: "I was really excited because it has always been me, me, alone or with my family. It would have been nice if we were all together (in the same place and time). But I'm really honored to have worked with Anne and Pia in a Jollibee commercial. Seriously!"
The former matinee idol added, "I'm really happy for Anne, I'm really happy for Pia, first sa mga naabot niyo sa buhay. I still remember Pia when she was still starting, nakasama ko na siya sa pelikula ko, and then with Anne, we did a movie together (When Love Begins). I saw Anne grow, ang galing, you became the person that you are, now that you are married and have a kid already."
They also got to update us on what they've been up to and other experiences during this time. But first things first, we asked them about their earliest encounter with the brand long before they were appointed as endorsers.
According to Anne, it was when she was discovered at a branch along Boni Highway. "I was 12 years old. We were eating there with my family, with my mom, after mag-school interview. They brought me there as a treat and we ate Jollibee. Dun na ako na-discover sa isang talent scout. Ang galing di ba? That's definitely one of my fondest memories because it's such a milestone."
Pia, on the other hand, said she has pictures to prove she spent birthdays as a child at a Jollibee branch in Cagayan de Oro. "I also remember, nag-high school kasi ako sa ABS-CBN DLC, dating school sa ABS, sa baba ng floor meron kiosk dun kung saan din ako palagi kumakain. I mean, it feels natural to talk about it because it was really a big part of my childhood."
As for Aga, his first memory was back in high school when they used to hang out at Greenhills. "Funny thing was, maraming stores, but Jollibee was the hangout of teenagers before outside the parking (lot). Yung magda-drag race before would buy their food there and bring it to their cars. When I would do films in the '80s, I had movies that would shoot at Jollibee stores in Virra Mall at that time. Fast-forward to when they first got me in '91 or '92 for my first commercial, I would never forget because I did 26 costume changes. My goodness, 26 sa isang shoot! Even the owners were all there. Ang liit pa ng Jollibee nun, they only had 22 stores when I first shot my first endorsement with them. It was so personal… The rest is history. Now, I'm with Pia and Anne."
Here are more excerpts from the Zoom interview (edited for brevity):
On what their source of pride is nowadays:
Anne: "I'm so proud of being a first-time mama. If ever anything this time has really brought out a side of me, it's to really focus on my family. That's something I'm very proud of. Learning new things, spending so much time with my daughter and husband, and just enjoying this whole journey of motherhood."
Pia: "I think because of the situation that we're in, it really forced us to go back to basics and to really think, ano ba talaga yung nagpapasaya sa atin. It's no longer the material things, the fame, the glitz and glamour, and all of that. It's really about going back to family. It's really just being thankful you have your family with you, kahit hindi in person, but you know that they're happy and they're healthy and everything is OK. And I think this time of our lives, and this time of the pandemic, it really forced us to be grateful for the little things. Well, actually those aren't the little things, those are the important and big things. So, I'm really proud and grateful for my health, life, ganun nalang. I'm really proud and happy that I've reconnected with friends and that my family is OK, I wouldn't ask anything more than that."
Aga: "Sabi nga nila, in life, it's true, money makes life easier, money solves a lot of things, but happiness really comes from within, from your loved ones, from your family. That's what I take pride in also. Kung wala ang pamilya ko, parang walang silbi lahat ito, especially kung wala yung asawa ko. She's really my anchor, who really takes care of all of us. And me, in my own little way, I try not to add difficulties sa buhay, sa aking pamilya. It's always a happy day here in the house, a happy life with family. And like I always say, happy wife, happy life."
On how the pandemic changed their views on showbiz career:
Anne: "I think all my fans and supporters have noticed how much I value my family right now, which is why I really haven't necessarily returned yet to my commitments with my It's Showtime family, just because if there's one thing that I've learned to value now is the time that I have with my family. I took that for granted because super workaholic ako, it was like every day, let's go, let's go, kaya kong i-segue lahat yan. But now I've learned to value that time, especially with how young (my daughter) Dahlia is. One is to really value the time lost and to value the time that we have now."
Pia: "I've learned that people are so adaptable. I've learned that so much of the work I can do online. Slowly, I've started to pivot from doing in-person shoots to doing much of my work online. Sakto nalang din siguro that the shows I was doing, especially the Metro Channel travel show, yung last episode namin was right before the pandemic happened… Some projects we put on hold and realistically, some have to be cancelled but that's life, it doesn't mean wala ng ibang papasok.
"During the pandemic, I was able to do a little passion project that now turned into a big community of 6,000 members which is my podcast and that's something I can do remotely. I've just learned ways to connect to people, to my supporters, to my advocacies. Of course, iba pa rin yung face-to-face interactions but I've learned how to adapt and still continue to work even though I don't have to be there in person all the time."
Aga: "Bago mag-pandemya, halos tahimik na rin buhay ko. I would do one film every two years. It's been a quiet life for me. I've always believed in God's plans for us. It's not what we want, it's what He wants for all of us. So, you just have to believe, and hindi tayo mawawala. He always gives enough, with what we really need. And then when dumating yung pandemya, di na siya bago sa akin, yung lockdown... And I have my family with me. It's never a dull moment here.
"Ang iniisip ko lang parati ay yung mga maliit na tao na nawalan ng trabaho talaga, that's where I really get affected when you know for a fact na nawalan ng hanap-buhay na kailangan talaga pantawid nila yun. Pero sa amin naman, fortunately, we're OK, thank God for that. And yeah, just living life and knowing that all these will come to pass. Matatapos din lahat yan, may pinapa-realize lang sa atin and we're all realizing that now, what really matters sa buhay natin. Smile lang parati, kapit lang, lahat ito lalagpas, things will be back to normal and we will all be better and wiser."
ON HOW TO FIND JOY AND STAY INSPIRED DURING THIS TIME:
Anne: "I think, to look for joy in the small things that are around you, like whether it be reading a book or finding a new hobby."
Pia: "Since most of us are at home, we have so much time in our hands and nagbababad tayo on social media and it can have a negative effect on our mental health because we tend to compare ourselves to others. Sometimes, you just have to know when to put the phone down and take a break and to surround yourself with real people who believe in you, who make you happy. It's to reconnect with all the people that you love, family and friends. Kung di man in person, online nalang muna."
Aga: "What also gives you joy really is...isa humahanap ako ng mga tao na nangangailangan ng tulong kasi ang sarap tumulong talaga, kahit maliit na bagay lang. Kapag nakakatulong ka or nakakabigay ka ng luwag sa buhay ng mahihirap, kahit pakonti-konti lang, minsan sa halagang isang libo, dalawang libo, tatlong libo, di mo alam yung tuwa na nabibigay mo sa mga tao ngayon.
"Hinahanap ko yun, minsan nanonood ako ng YouTube, sa Facebook videos, nakikita mo yung mga taong may problema… tatawagan mo yun, biglang magugulat sila, nag-me-message ka o ano ba, privately lahat yun, so I tell you, tumulong ka ng konting ganun and it gives you joy really. Wow, sarap di ba na kahit papaano nakatulong ka kahit konti."