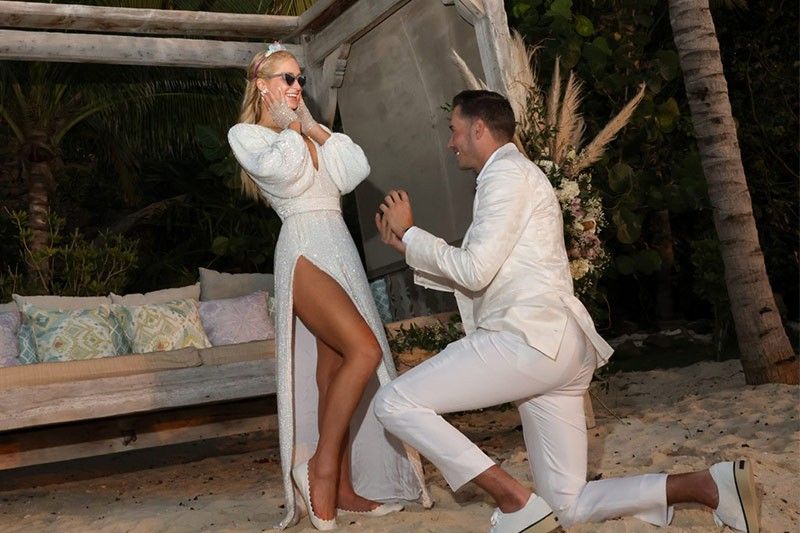 Carter Reum proposes to Paris Hilton
Paris Hilton
Reum for more? Paris Hilton engaged again at 40
MANILA, Philippines — Fourth time's the charm.
Celebrity heiress Paris Hilton said "yes" for the fourth time to a marriage proposal, according to her post on her 40th birthday.
Paris' latest engagement is to entrepreneur Carter Reum, who had dropped to one knee during a pre-dinner walk on the beach.
"It was the kind of proposal I had always dreamed of, followed by a special celebration with family and close friends," Paris fondly recalled in a website post.
She gushed at the engagement ring, which is estimated to retail for around $2 million.
"My love went above and beyond in every way. He tapped Jean Dousset, the great-great-grandson of Lous-Francois Cartier, to design a breathtakingly beautiful ring that appears to be lit from within."
The couple has been dating since 2019.
Paris has found assurance in her newest fiancé. "With Carter by my side, I know that anything is possible," she said.
"He accepts me for who I am and encourages me to show my true self. I'm eternally greatful to have him in my life."
"The Simple Life" star's line of ex-fiancés includes model Jason Shaw, heir Paris Latsis and actor Chris Zylka.