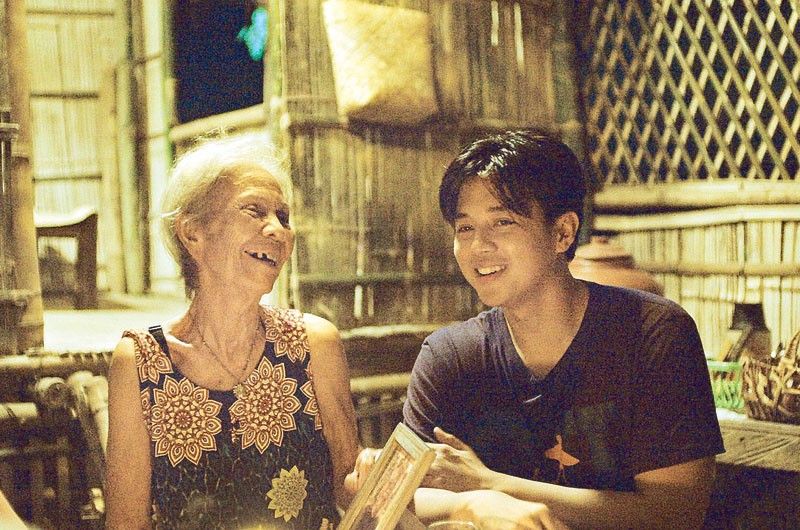 Angie Ferro and Yves Flores in Lola Igna
Pinoy films gaining fans on Netflix
FUNFARE
-
Ricky Lo
(The Philippine Star) - June 30, 2020 - 12:00am
Side by side on Netflix with K-dramas and attractions from countries around the world, Filipino films have been gaining followers so much so that in an interview with Funfare, a popular (award-winning) actor said that his dream was to break into the most widely-followed platform. That dream still has to be realized.
Already, several Filipino films have made it to Netflix, with the new additions released last Independence Day (June 12) — Pamilya Ordinaryo, Sunod, Pinoy Sunday, Lola Igna and Untrue.
Here's what the actors and directors behind Filipino films on Netflix have to say on how they feel about their films streaming on Netflix, and their favorite Netflix titles.
What's your favorite Filipino film/s on Netflix that's not yours, and why?
• Mikhail Red (director, Dead Kids, Birdshot): "As a genre fan, I would recommend some of these Filipino horror films to get a good and diverse picture of what Filipino talent is capable of — Sukob, Banal, The Entity and Haunted Mansion."
• Epy Quizon (talent, Pinoy Sunday): "I really like Heaven's Waiting because I enjoyed watching the chemistry of the lead actors."
• Bayani Agbayani (talent, Pinoy Sunday): "My Favorite Filipino movie on Netflix is Metro Manila. Starring John Arcilla and also Heneral Luna in which he is also the starring role. In Metro Manila, the film showed how poverty in the Philippines forced a father to commit a crime and sacrificed his life for his family to have a decent future. The director and writer showed how poor family struggles on a daily basis and as the story progressed, I couldn't predict how it would end until the very end of the movie. Because I am the type of viewer that I always guess the ending of the movie. It is a good film!
"For Heneral Luna, I liked the character and the acting style that John Arcilla put into playing Heneral Luna."
• Hasmine Kilip (talent, Pamilya Ordinaryo): "My favorite Filipino movie is Crazy Beautiful You. It inspires audiences to forgive, open their heart and be grateful with life. It also teaches to love, respect and understand our mother/parents."
• Mylene Dizon (talent, Sunod): "KathNiel movies! Kinikilig ako e!"
• Carlo Ledesma (director, Sunod): "Filipino movies that I've enjoyed on Netflix are Eerie, Birdshot, Never Not Love You, Sid & Aya and Kita Kita. All well-written, well-shot and well-directed films that are world-class and retain their unique Filipino voice."
• Carmina Villarroel (talent, Sunod): "Stranger Things, Bird Box and K-dramas like Mr. Sunshine and Crash Landing On You. I like the concepts, and unique and unpredictable storylines. Also, Can't Help Falling in Love starring KathNiel. It makes you cry, laugh and fall in love."
• Meryll Soriano (talent, Pinoy Sunday): "A few Filipino films that are my favorite are Heaven's Waiting (Hintayan ng Langit), Die Beautiful and Birdshot. I wasn't able to catch these films at the cinema! It was so great to see titles that I have wanted so much to watch on Netflix."
• Yves Flores (talent, Lola Igna): "My favorite film on Netflix is Ang Babaeng Allergic sa WiFi. It has a nice story about being so obsessed with social media."
Your favorite film or show on Netflix from anywhere in the world, and why?
• Mikhail: "I would recommend my favorite show of all time, Breaking Bad! Great writing, craft, character arcs, and a whole lot of fun! All five seasons are streaming on Netflix! If you like something that's also existential but more on the comedic side, I would recommend my other favorite show, Rick and Morty! A very smart and funny animated show filled with memorable wacky characters, unrelenting humor, space exploration, interdimensional travel and philosophical dilemmas. Crazy fun!"
• Epy: "I am a fan of Peaky Blinders because it is my kind of series and the way it has been executed is spot on."
• Bayani: "My favorite foreign film on Netflix is the comedy film 50 First Dates, starring Adam Sandler and Drew Barrymore. I have been an avid fan of Adam since day one, especially movies like Waterboy, Big Daddy and The Wedding Singer. I even dreamed of doing a movie with him on Netflix because I knew that he is going to produce a lot of movies for Netflix as part of his contract. Even a cameo role in his movie is a dream come true for me. So I think there is no further explanation of why 50 First Dates is my favorite."
• Hasmine: "A Korean drama called Boys Over Flowers. It gives me butterflies and happiness watching them."
• Carlo: "Hands down, for the last five weeks, it's been The Last Dance. I grew up a Michael Jordan fan and it's great that younger generations get to see why he is the greatest of all time. And since I've been in lockdown with my kids, my wife and I make sure that the screen time we give them counts. So we show them educational shows like Our Planet, Night On Earth and Storybots."
• Mylene: "The Crown, Kingdom, Peaky Blinders and documentaries like Icarus and Jiro Dreams of Sushi. I guess the common denominator to all of these titles is the portrayal or representation of different cultures and history. I love traveling, it teaches me to understand people more and appreciate the beautiful similarities and differences we have. Watching these shows and docus, it's almost like I'm traveling through time and space."
• Meryll: "Netflix is my go-to for really well-made documentaries. I am a docu-junkie and Netflix has given me a chance to binge-watch on titles like: Pandemic, The Evil Genius, I Am A Killer, The Ted Bundy Tapes, Don't F*ck with the Cats and the most recent, The Last Dance. I'm also a fan of Netflix Originals like: Black Mirror, Bird Box, Stranger Things and many more.
"Thank God, there's Netflix! As an actor/filmmaker, it's great to know that there's a platform for new and important content that reaches out to an audience globally."
How do you feel about having your film on Netflix?
• Mikhail: "I feel very grateful as a filmmaker that my works have reached audiences all around the world, thanks to global streaming platform Netflix! It is my goal to use storytelling and genres to get my message across, to entertain and engage people at the same time, and Netflix has granted me the perfect platform to connect with an audience anytime and anywhere. Even my older film, Birdshot, the first Filipino film streamed internationally, which has been on Netflix for three years, is still getting fresh reactions online from viewers seeing it for the first time, thanks to Netflix's perpetual service."
• Eduardo W. Roy Jr. (director, Lola Igna and Pamilya Ordinaryo): "I felt flabbergasted when I got the news from Netflix that the team loved my film, not just one but two of my films. I'm excited about its launch since I knew it can now be viewed by my fellow Filipinos globally. I'm personally thankful to Netflix for introducing my films to a larger audience not only in the Philippines but to the whole world.
"My films have been exhibited to the different film festivals abroad, but this time, I am very happy that through Netflix, my films can now be easily accessible to many, anytime and anywhere around the world."
• Widing Ho (director, Pinoy Sunday): "I am a Malaysian-born, Taiwan-based director making a Tagalog language film. It never bothers me because we are part of the same world, despite the difference in cultures and languages. We share the same emotion. Pinoy Sunday is a universal story."
• Carlo: "Having Sunod screened theatrically during the 2019 Metro Manila Film Festival was an incredible experience, and now I'm excited for the film to find a new audience online, especially on Netflix, which has the best streaming. Speaking on behalf of myself and my crew, we took great pains to make the movie look and sound good, so it'll be a rush to see it stream in high quality."
The biggest takeaway for audiences from your film in one line?
• Mikhail: "Cinema can teach us to hope, dream and defy our realities. We should let our imagination take us places, and inspire us to change things for the better."
• Eduardo: "My two films talked about life. Considered it 'precious.'"
• Widing: "It's never bad to have a small dream. Every minute, someone or something will want you to give up. You hang on to keep going, keep dreaming. At the end, the dream might not come true but at least you give yourself a try, at least, you have the experience of chasing a dream. This film is dedicated to all the dreamers in the world."
• Carlo: "I hope Sunod scares them and entertains them and makes them appreciate the importance of a parent's love, because that's what the film is ultimately about."
(E-mail reactions at rickylophilstar@gmail.com. For more updates, photos and videos, visit www.philstar.com/funfare or follow me on Instagram @therealrickylo.)