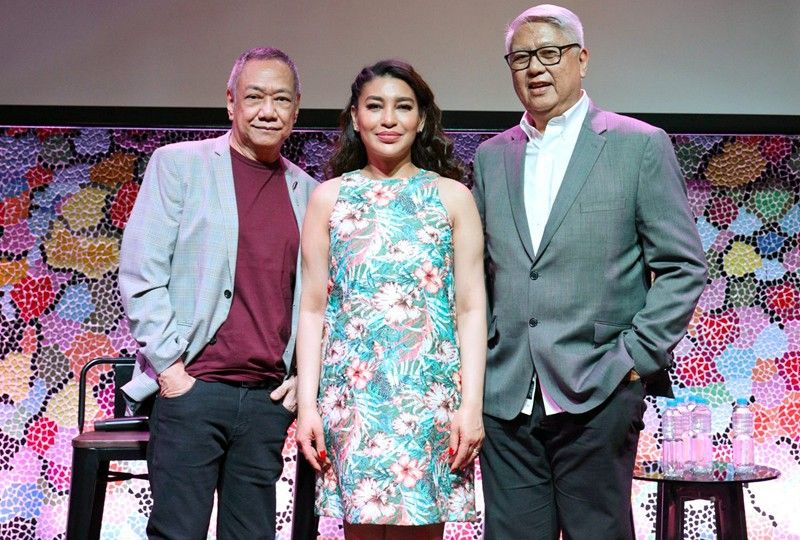 From left: Basil Valdez, Lani Misalucha and Ryan Cayabyab topbill And The Story Begins…: They will perform signature songs and compositions
OPM icons share their musical stories
Jerry Donato
(The Philippine Star) - February 26, 2020 - 12:00am
MANILA, Philippines — Music is life for Maestro Ryan "Mr. C" Cayabyab, Basil Valdez and Lani Misalucha. It's their passion. Through their signature songs and compositions, the triumvirate will share their musical journeys in And The Story Begins…
"The goal of the entire show is for us to share somehow a part of our lives to our audience," said Lani of the Resorts World Manila concert on Feb. 28 and 29 at the Newport Performing Arts Theater. The STAR had the opportunity to interview them separately. "We would want to tell them a little bit of our very personal lives and how we started in the industry and how our lives (paths) crossed."
Part of that was a collection of songs that paved the way for their successful careers. "I'm presenting my life actually kaya yung songs (represent the time) when I started (except the songs of) 1970," shared Basil. "I started as a solo recording artist in '77. I will sing all my signature songs, my spots are all (about) Original Pilipino Music (OPM) songs."
For Mr. C, National Artist for Music, the show also presents four decades of Philippine music and somehow allows audiences to think that music is a product or representation of its milieu.
"Kaya ibang-iba yung tunog at timbre ng mga kantang ginagawa ngayon kasi iba ang buhay nila (That's why contemporary music is different from the music of the past because new composers live differently as compared to their predecessors)," he said. "Kami yung bata noon, I was a young composer then." George Canseco was among the established songwriters, who served as an inspiration, to the then up-and-coming tunesmiths like Mr. C.
"Honestly, I didn't expect that I would be working with them (Basil and Mr. C)," shared Lani of her latest show and that feeling of unexpectedness (a welcome surprise) also resonated her becoming an accidental (reluctant) singer. "I never thought that I would be a singer one day. I was just a housewife, a homemaker who had two daughters at the time when I entered the industry. It (was) somehow accidental... it's really a big bonus in my life to be with them (Basil and Mr. C) and to work with them."
Basil, the balladeer and Mr. C, the composer first collaborated on the song Paraisong Parisukat, which snagged the FAMAS Best Movie Theme Song for the Christopher de Leon movie, titled Masikip Maluwag Paraisong Parisukat. Aside from Mr. C, he also recorded songs of Canseco (like Hanggang Sa Dulo ng Walang Hanggan and Ngayon at Kailanman) and Gerry Paraiso (You), in which the latter saw him graduating from performing Filipino songs to English ditties (Lead Me, Lord and Lift Up Your Hands). Lani, meanwhile, has worked with the Maestro and their most recent was a show last December. Her collaboration with Basil was during a 2002 US concert. He and Lani had back-to-back (solo) performances, but never did duets. In And The Story Begins..., the two will have shared spots and their own segments. Lani is also expected to perform non-OPM songs.
Asked about the importance of collaborating with fellow artists (between singers and between performers and musicians), Ryan had this to share: "You know what I have noticed in the industry, especially if you're a singer, hindi ka pwede (na you're) on your own. In the beginning, you really (need to) be on your own, (para malaman mo) kung (ano) ang gusto mong gawin, ang style mo, anong material ang gagawin mo (like figuring out what you would want to do, what style and material you would like to explore). You know eventually they (singers) have to look for a partner, (make a tandem) to do their music, para ma-synthesize nila... kung anong style ang gusto nila. That's why, for me, it's very important for singers to find a composer or a music director, makikita mo lahat sila meron... It also makes life easier for them." The musical partnerships of Martin Nievera and Louie Ocampo, Gary Valenciano and Mon Faustino, and Bamboo and Ria Villena-Osorio are exemplars cited by Mr. C.
Professional growth, on the other hand, was the point of any collaborative work, said Lani. "It's for your own growth kasi minsan ito yung sistema (ng work) mo and once you get to work with someone who has (another system of work)…, you will learn from that person. Kailangan mong makisalamuha sa mga taong higit sa'yo (You need to interact with more experienced people) for you to be able to learn... (from there and them,) you can learn so much."
Basil compared doing collaborations to a friendship wherein two persons are "looking toward the same direction. When you see a person who looks toward the same direction, parang masarap maki-collaborate. (And) off-stage, you share your experiences (with the person)."
Given the nostalgic feel of And The Story Begins… and the industry experiences of Ryan, Basil and Lani, where do they see OPM is heading to, (plus the availability of technologies to new artists)?
"Hindi ko masabi (I can't say where it is going?)," replied Basil. "As Ryan said,... mas maganda na bumabata yung mga singers, even the composers, ang bata pa lang nila, ang gagaling na nila (It's good that we have young singers and composers around and they are really good)."
As for Mr. C, now is "the best time so far for OPM, (there's abundant) flowering of creative ideas, of new music, of new materials," he said. "Why do I say so? Dahil available na ito (technologies) sa mga bata, everyone who has a yearning for self-expression and (for creation), they can do (it) now kasi they have computers, even their cellphones, (which feature a) voice memo." This has been complemented by the music camps and workshops, spearheaded by Mr. C, which nurture creativity.
"Parang mas malakas na at maganda na ang takbo ng OPM ngayon (and this perhaps can be attributed to) the help (provided) by social media," added Lani. "The youngsters love the music of Moira (dela Torre) and Ben&Ben, which is Original Pilipino Music and band scene is (also) alive."
(Tickets to the concert are available at the RWM Box Office and all TicketWorld outlets. For details, visit www.rwmanila.com)