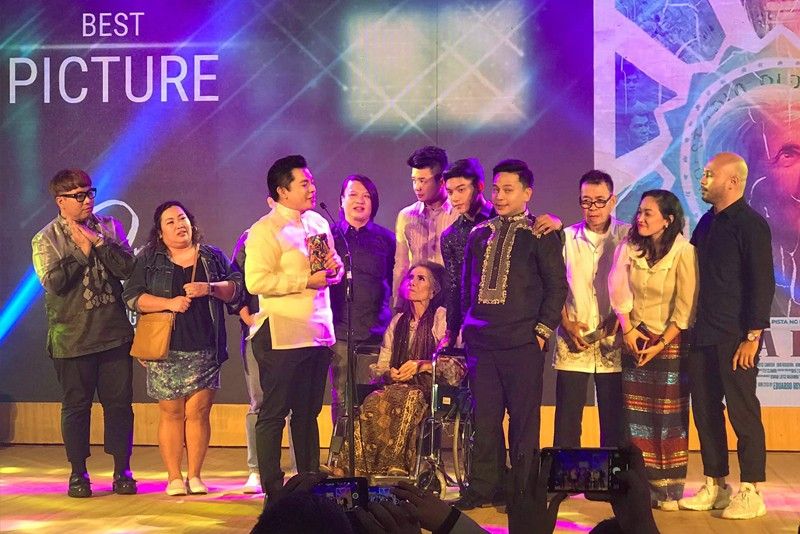 Eduardo Roy Jr.'s Lola Igna wins four awards, including Best Picture and Best Actress for its 82-year-old lead star Angie Ferro at the Gabi ng Parangal of the 2019 Pista ng Pelikulang Pilipino (PPP)
Photos courtesy of FDCP
Angie wins big for first lead film role after 60 years
MANILA, Philippines — Veteran talent and young blood shone during the Gabi ng Parangal of the third Pista ng Pelikulang Pilipino (PPP), which takes special meaning this year because Philippine cinema is celebrating its centennial. The week-long film festival is mounted by the Film Development Council of the Philippines (FDCP).
The awards night's big winner among the 10 films in the PPP 2019 roster was Eduardo Roy Jr.'s Lola Igna, which won Best Picture, Best Screenplay, Best Musical Score and Best Actress for its octogenarian lead star Angie Ferro.
Graded A by the Cinema Evaluation Board (CEB), the film tells the story of a foul-mouthed elderly woman (Ferro) who can't wait to pass on, but that changes when she gets reunited with her long-lost, great-great-grandson (played by Yves Flores).
Lola Igna is Ferro's first starring role in film after 60 years of being active in the industry. "I'm already 82, ha? Ngayon lang ako naging leading lady sa pelikula," said the seasoned thespian during the awards and thanksgiving event last Sept. 15 at One Esplanade in Pasay City.
She thanked God, her acting mentors, particularly at PETA where she started in the '60s, and directors who have had given her challenging roles through the years. When she forgot certain names on her thank-you list, the veteran actress poked fun at herself and quipped, "Nakalimutan ko na, wala akong utang na loob."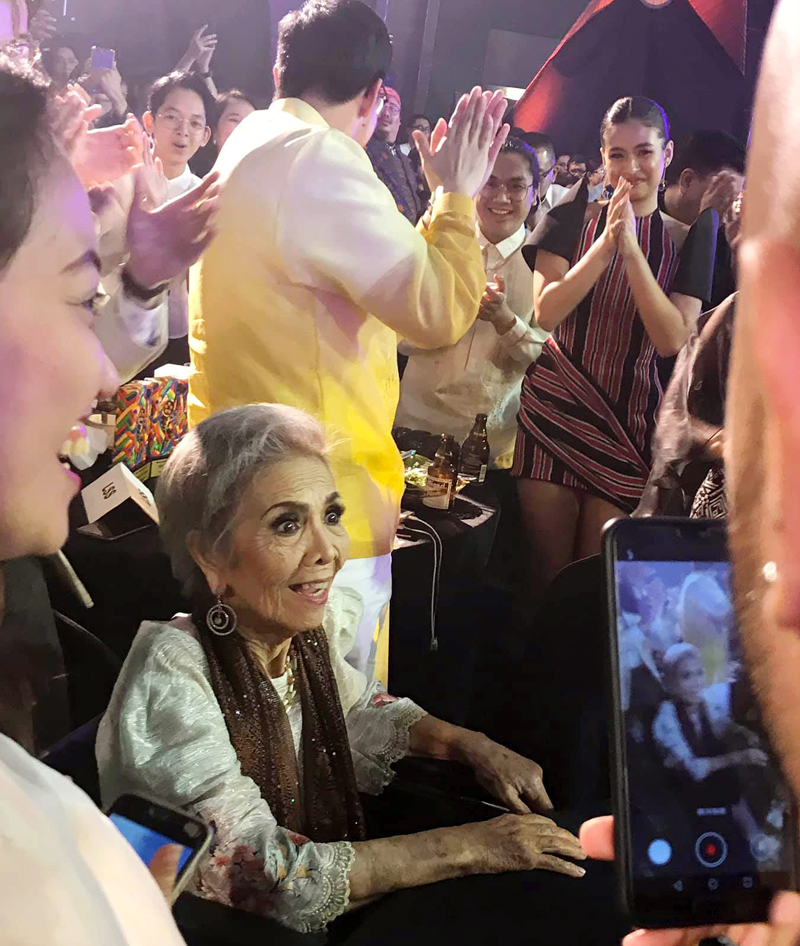 Angie Ferro at the Gabi ng Parangal of the 2019 Pista ng Pelikulang Pilipino (PPP)
Ferro hoped the film's awards will result to more theaters showing Lola Igna. As of Sept. 15, it was screening in 32 cinemas only. "Sayang naman ang Best Picture kung walang sinehang dagdag," said Ferro. "Panoorin naman. Hindi kayo magsisisi. Panoorin lahat."
For his part, director Roy said, "I'm very sad because we won but medyo konti yung mga sinehan namin. We hope more people will watch our film."
The film, nevertheless, is a validation for all their hard work, especially during the filming because of its far-flung location near Arayat, Pampanga, going to which they had to lift and carry Ferro, plus the rains brought about by the season.
"Celebrate life until the end — that's the main takeaway of the film," Roy, whose script took seven years to finish, said.
Other major winners were Tyrone Acierto (Best Director for Watch me Kill) and Martin del Rosario (Best Actor for The Panti Sisters).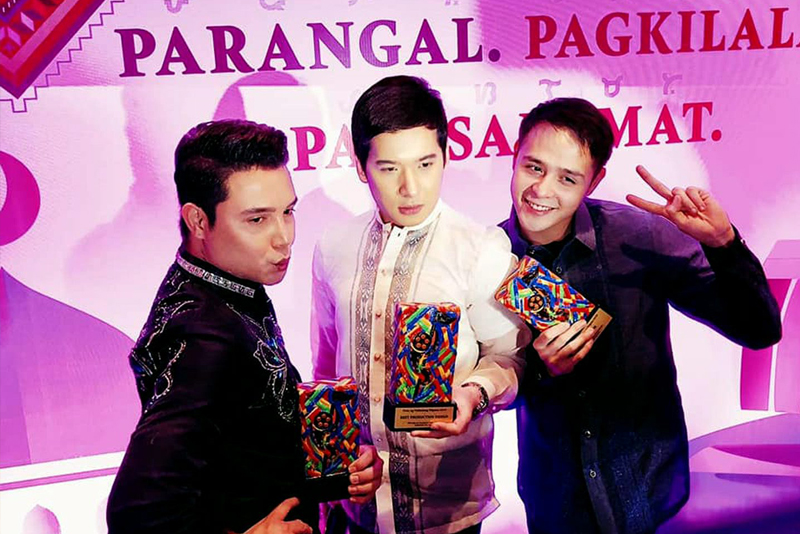 Best Actor Martin del Rosario (right) with his The Panti Sisters costars Paolo Ballesteros and Christian Bables — Photo credit: Direk Perci Intalan
"This is my first time to win a Best Actor award. When I was on stage, I couldn't understand how I felt. But the first thing that came mind was that I needed to share it with my 'sisters,'" Del Rosario added, referring to co-stars Paolo Ballesteros and Christian Bables. "I believe all of us shone in the film. All of us deserved this award."
For Acierto, the directing plum came as a shock. "When I looked at the line-up, I thought I had no chance at all, so I drank wine first (laughs)," he said. "I really don't know why I won but I think it's the fact that I really followed my heart and what I wanted to see in the film in terms of art, and not because I wanted it to make money."
The Fil-Am filmmaker continued, "I love making films, especially in the Philippines, there's a lot of stories to tell that I think can be shown abroad. So, I've barely scratched the surface. I want to be a bridge towards getting our Philippine culture, our cinema, outside the Philippines. A lot of Filipino filmmakers have done that and I want to help."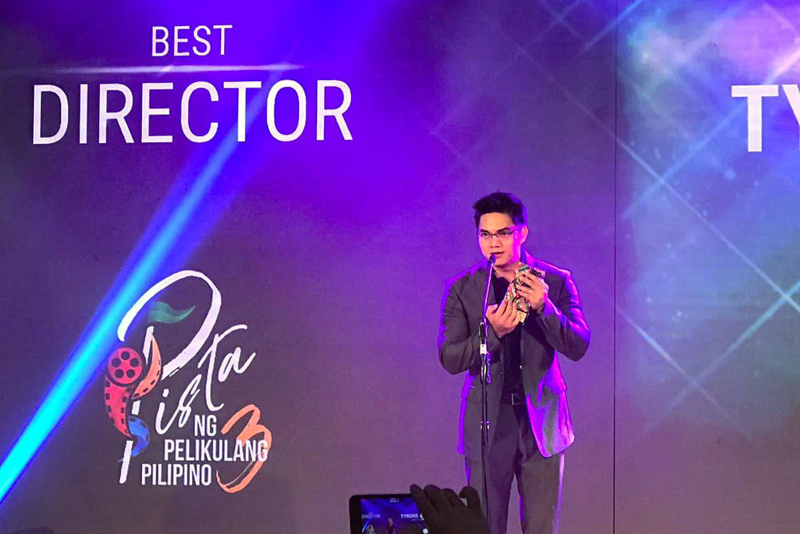 Tyrone Acierto is Best Director for Watch Me Kill
Watch Me Kill has been chosen to screen at the Warsaw International Film Festival in Poland next month.
Two films received the Audience Choice award — Jun Robles Lana's The Panti Sisters for being the top-grosser and Jade Castro's LSS for getting the most number of votes via the PPP mobile app. Incidentally, LSS also won the Special Jury Award and Best Original Song (Araw Araw) for Ben&Ben, who didn't only lend its music to the film but also starred in it.
Band member Miguel Guico said, "Dun sa song na Araw Araw, ang lyrics ay 'Mahiwaga, Pipiliin ka sa Araw Araw.' Ngayong gabi, ang realization namin, and tayong lahat hopefully, ang mahiwaga ay sining, pelikula and musikang Pilipino, at ang mahiwaga ay ang pagka-Pilipino at pipiliin natin ang mga yun araw-araw."
The rest of the winners were Tuesday Vargas (Best Supporting Actress, LSS); Gio Alvarez (Best Supporting Actor, I'm Ellenya L.); Roy and Margarette Labrador (Best Screenplay, Lola Igna); Colorado Rutledge (Best Editing, Watch Me Kill); Marcin Szocinski (Best Cinematography, Watch Me Kill); Marxie Maolen Fadul (Best Production Design, The Panti Sisters); Andrew Florentino (Best Musical Score, Lola Igna); and Aurel Claro Bilbao and Arnel Labayo (Best Sound Design, LSS).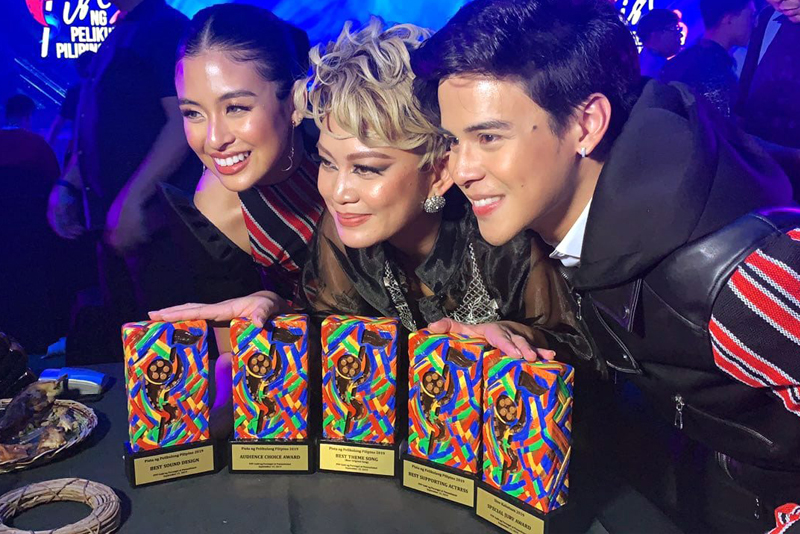 Best Supporting Actress Tuesday Vargas (center) with her LSS co-stars Gabbi Garcia and Khalil Ramos — Photo from LSS official Facebook page
Rodson Suarez's Kalakalaro was awarded Sine Kabataan Short Film, while Chok by Richard Jeoui Salvadico and Arlie Sweet Sumagaysay was named Pistapp Sine Kabataan Audience Choice.
Meanwhile, as of Sept. 17, PPP earned P105M in total box-office sales. Top 3 grossers are The Panti Sisters, Open and Cuddle Weather. The Panti Sisters had generated at least P61M.
FDCP chair Liza Diño hopes the 2019 PPP will break last year's record. "Last year, (the total sales) was P120M. We're hoping to have bigger box-office results in the coming days," Diño said.
The lady chair of the lead government agency on film believes the awards night was "a big help in raising awareness." Opening on a Friday also helped, she added.
FDCP will also request theater owners to extend the filmfest. As previously announced, it runs until today. "This Friday, konti lang yung films na lalabas maybe because they've (theater owners) anticipated that we have these 10 films, plus Verdict," she said, referring to PPP's special feature directed by Raymund Ribay Gutierrez, which won the Special Jury Prize at the recent Venice Film Festival in Italy. "We're very positive (of the cinema support) that the films will be extended for a few more days or at least over the weekend."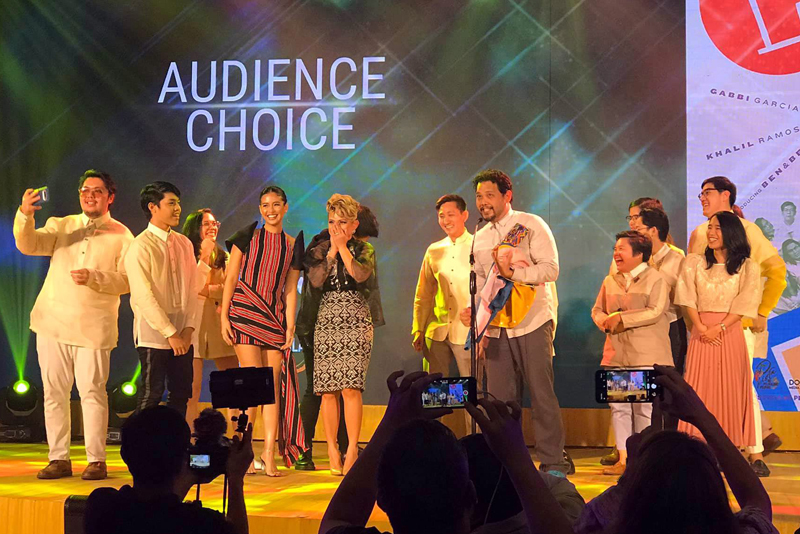 LSS lead stars with producer Quark Henares, director Jade Castro and Ben&Ben while accepting the Audience Choice award
Diño also expressed her happiness over the growing audience support for PPP. "Putting together a festival is just one side of what we do, in order to showcase and really champion our beautiful local films. The other side is to really receive support and to ask all of you to help us promote all these films. It's not easy to create films lalo pa sa ganitong panahon na napakarami ng platform to consume films. But PPP is advocating the importance of still engaging the audience to watch films in the cinemas."