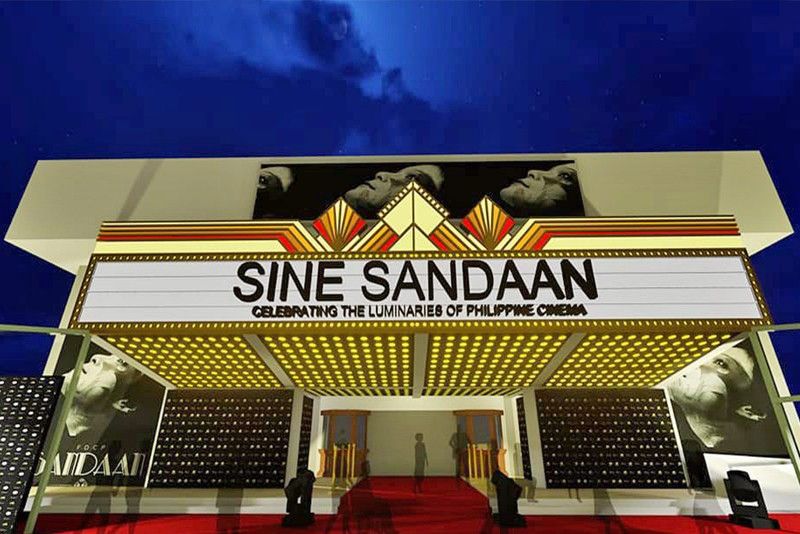 For the Sine Sandaan, the facade of New Frontier Theater in Araneta Center will be transformed into an art deco design to hark back to the era of standalone theaters, during the time of the so-called first golden age of Philippine cinema
Photos courtesy of FDCP
Sine Sandaan looks back on 100 years of Philippine cinema
MANILA, Philippines — On Sept. 12, 1919, the first-ever Filipino film was born. It was the silent picture Dalagang Bukid directed by Jose Nepomuceno and topbilled by bodabil performer and eventual National Artist Atang dela Rama. Film history tells us that its story about a young lass forced to wed a rich old man despite loving another man, became a box-office hit, earning P90,000 — or more than triple its production cost of P25,000.
It will be exactly 100 years since Dalagang Bukid — also regarded as the birth of Philippine cinema — tomorrow, Sept. 12, and the Film Development Council of the Philippines (FDCP) turns the spotlight on the historic event with Sine Sandaan at the New Frontier Theater in Araneta Center, Cubao.
About 300 individuals who have made significant contributions to the development of Philippine cinema — whether they have been front, center and behind the camera — will be feted during Sine Sandaan. These "luminaries, visionaries, living legends, icons and unsung heroes" include veteran actors, box-office stars, directors, movie press and even cameramen.
"Sine Sandaan is the official celebration of the 100 years of Philippine cinema. We will give recognition to around 300 people who really represent and have contributed to the growth of Philippine cinema," said FDCP chair Liza Diño during a presscon at Novotel.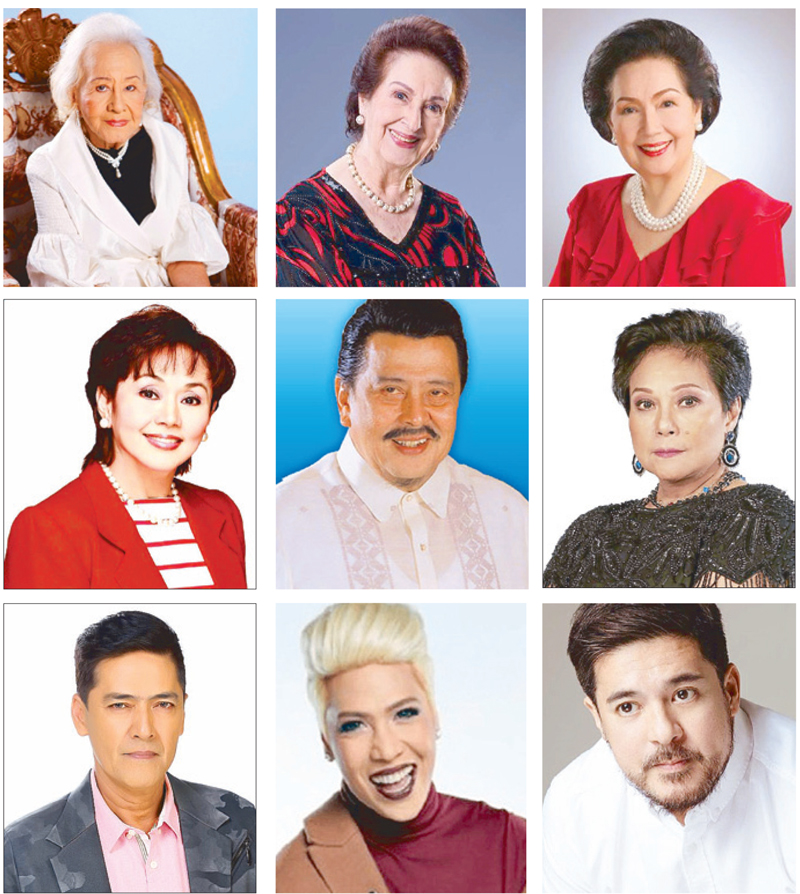 Philippine cinema icons (top, from left) Anita Linda, Gloria Romero, Susan Roces, (middle, from left) Vilma Santos, former Pres. Erap Estrada, Nora Aunor, (bottom, from left) Vic Sotto, Vice Ganda and Aga Muhlach.
"We are celebrating the film industry's unsung heroes, luminaries and icons in a one-night celebration and three-hour musical extravaganza where we would look back on the past and history of Philippine cinema from the time of Dalagang Bukid… to this day, kung saan namamayagpag ang ating mainstream and independent film industry. They will come together and celebrate as one."
During the presscon, the lady chair of the lead government agency on film offered a preview of the grand homage to the movie industry. Liza said some 2,000 attendees are expected to grace the red-carpet affair which offers a trip down memory lane, starting with the New Frontier Theater. Its façade and marquee will be transformed by Bigbulb Creative Lab, Inc. into an art deco style to hark back to the era of standalone theaters, during the time of the so-called first golden age of Philippine cinema.
Meanwhile, the Gen. Aguinaldo street fronting the venue will be closed off to traffic, allowing the honorees to be chauffeured in limousine to the red carpet. The red-carpet ceremonies will take place from 5:30 to 7:30 p.m., to be aired by ABS-CBN.
To be directed by Ice Seguerra, the program proper is a musical spectacle featuring a mixture of songs, dance, live scoring and experimental presentations. "We are happy that we have the support of a lot of the best performers and musicians," Liza said.
National Artist for Music, Ryan "Mr. C" Cayabyab composed the music for Sine Sandaan with words and lyrics by film director Jose Javier Reyes. Award-winning musical director and scorer Vincent de Jesus has also created a musical titled Ang Mundo ng Pelikula.
Meanwhile, Liza acknowledged the agencies, institutions and stakeholders who lent their support and help in mounting the celebration.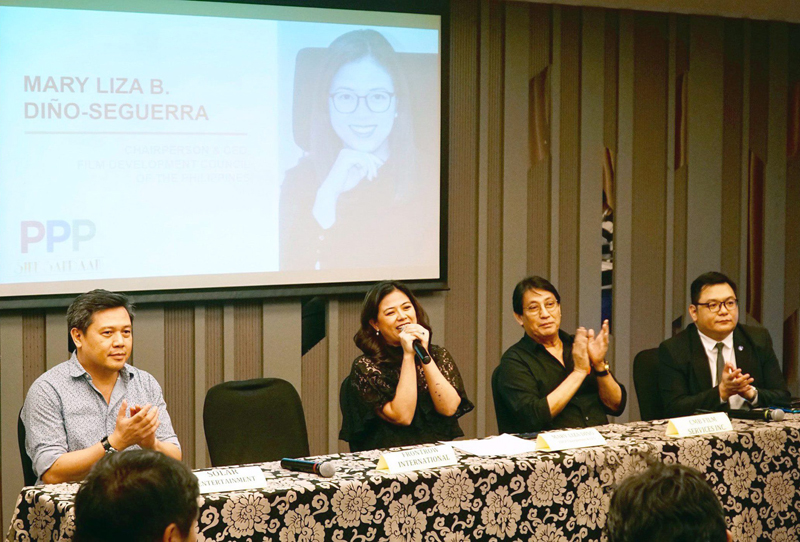 Film Development Council of the Philippines chair Liza Diño (second from left) with representatives from Sine Sandaan partners
Sine Sandaan is co-presented by CMB Film Services and ABS-CBN and supported through the FDCP's strengthened partnerships with the Department of Tourism (DOT), Araneta Group and Fashion Designers Association of the Philippines (FDAP).
"The goal of FDCP is to be a neutral ground. We want this to be an inclusive and unifying event. We would like to put together and integrate all our sectors," she said.
As a major partner, DOT gave FDCP P8M. While Liza admitted that the amount is not enough to cover the costs, the agency is making the most out of it and "marami pang ibang tumulong," including the artists themselves. They're also open to other pledges of support.
"This is once in a lifetime so I think our film industry deserves more than that," Liza said. "This is really a work of love and passion for the industry. I really believe that we couldn't do this without everyone onboard because it's 100 years of Philippine cinema."
The Sine Sandaan affair officially kicks off the year-long centennial celebration. The official proclamation was made on Nov. 11, 2018 after President Rodrigo Duterte signed Proclamation No. 622, declaring Sept. 12, 2019 to Sept. 11, 2020 as "Centennial Year of Philippine Cinema."