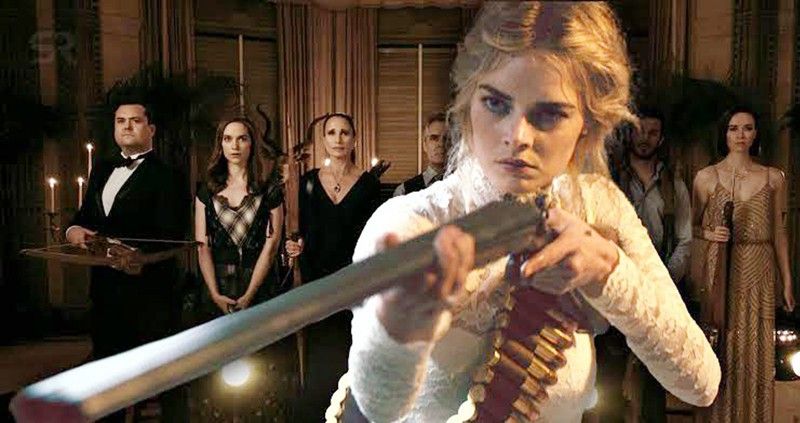 Samara Weaving is Grace, who has come from foster homes and is about to be betrothed to a LeDomas
Film review: Ready or Not
MANILA, Philippines — At its core, the thriller-horror film Ready Or Not is a throwback to the Italian giallo films that peaked in the '70s. It's your damsel in distress (or is she?) premise; which in this case, is a bride on her wedding night.
There are all forms of instruments of death introduced throughout the film, and it's scene after scene of gore, splatter and mayhem. But what turns the film into something fresh is how this is all blended with dark comedy, and subtle social commentary. By actually embracing all these elements, Ready or Not entertains in a major way.
Grace (played by Samara Weaving) has come from foster homes, and we're introduced to her on her wedding day. She's about to be betrothed to Alex (Mark O'Brien), an heir to the LeDomas fortune. The nuptial takes place at the LeDomas mansion estate, and right off the bat, Alex warns Grace that his family is crazy, different. Eccentric doesn't even begin to describe the family. They made their fortune selling playing cards and board games, and this dates back to the American Civil War.
During the wedding ceremony, a strong sense of foreboding is already set in place. Does the family consider Grace to be a trashy gold-digger, or at best, a rank opportunist? And it's when Alex informs Grace that there's a family ritual that every new "member" of the family must undergo that things turn really dark.
Forced to play a "game" of her choosing by picking from a deck of cards, a deadly game of hide n' seek ensues — one where your life is at stake. Apparently, some ancient curse, a pact with a Mr. Le Bail, was forged to create the family fortune, and it involves a periodic human sacrifice. Preposterous? Yes, but like I said, the film embraces all this absurdity.
Matt Bettinelli-Olpin and Tyler Gillett direct, and they've obviously loved films like Carrie and Agatha Christie films while growing up. The LeDomas estate turns into a fatal battlefield at close quarters, and Grace either goes as a whimpering victim and patsy, or shows she is made of sterner stuff and actually fights back to survive until dawn. Each set-up is designed to exaggerate the letting of blood and gore — the squeamish are hereby forewarned. The film knows the beats for films of this ilk, and we know that every 10 minutes has to result in a new corpse, and a novel way of dying.
Nicky Guadagni as Helene, the LeDomas aunt, is especially effective. From the very start, she's all malevolent stares and visible disdain for Grace; it's like she can't wait for the ritualized game to commence when she can get her hands on this usurper. Samara Weaving is a strong Grace. She may be the latest in a long line of a Hollywood search to find a Margot Robbie clone, but she knows how to pick her spots, and have us cheering for her. The rest of the cast seems to be having fun, but they pale to the two above in making lasting impressions.
The social commentary is contextualized within a single family — how the very rich are abusive in their feeling of entitlement. How they can devalue the worth of lives of people outside the immediate family. This message is masked with humor, throwaway quips and matter-of-fact absurdities that only serve to ramp up the quotient of black humor in this film. By leaning with enthusiasm into the craziness of it all, the film works on the level of thriller with horror elements and social satire.
Ready or Not is no masterpiece, and it doesn't aspire to prick your social conscience in any big way. But like Get Out of two years ago, it knows how to play genre, while also commenting on real social situations, to heighten the empathy one can muster for the film.