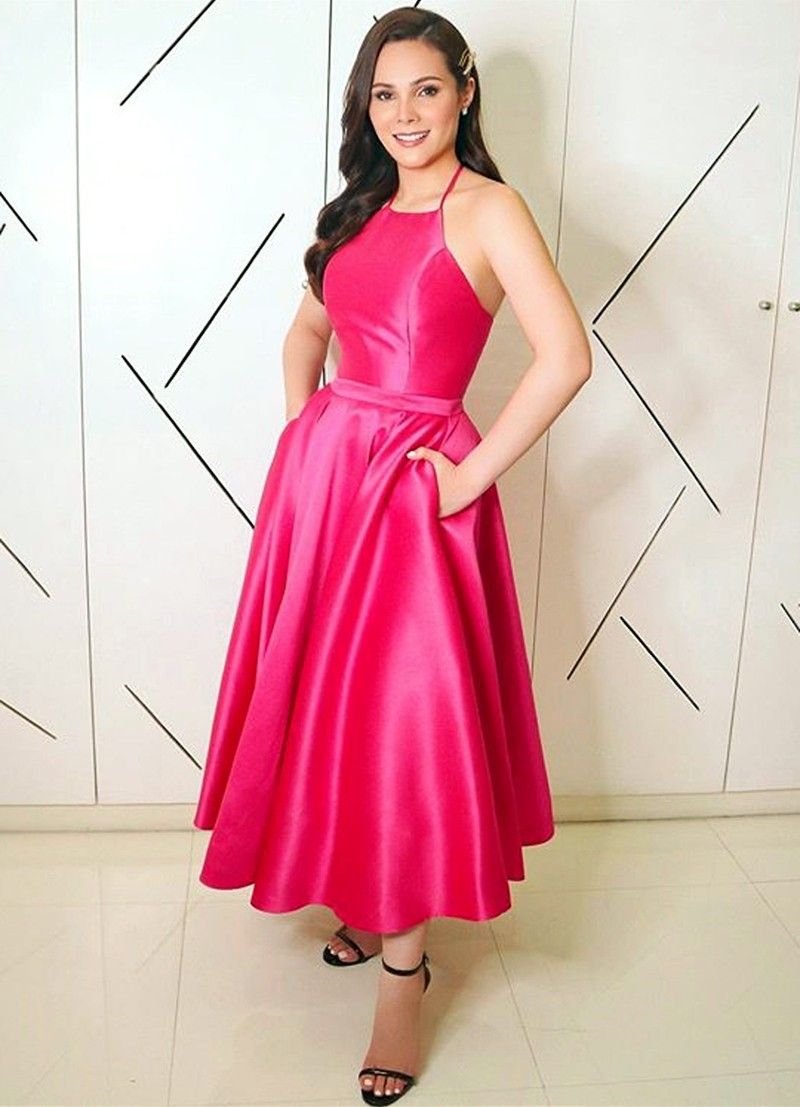 Alyssa Muhlach, the daughter of Almira Muhlach and former PBA star Paul Alvarez: Carrying her surname has its share of advantages and disadvantages
Another Muhlach joins showbiz
Another Muhlach has entered show business and she's none other than Alyssa Muhlach, the daughter of Almira Muhlach and former PBA star Paul Alvarez.
After her stint in the Miss World Philippines last year, Alyssa is setting her sight on acting with the thriller movie Clarita as her first project. She also has a good singing voice that could give today's singers a run for their money.
Coming from a well-known showbiz clan, Alyssa is also deserving of a spot in showbiz. She sees carrying her surname has its share of advantages and disadvantages.
"There are disadvantages because there comes a certain expectation with (regards to) the last name," she began telling while sitting for the first time on the hot seat of Tonight with Boy Abunda recently. "S'yempre palagi po akong pressured to really try to live up to the expectations of the people na kapag Muhlach ka kailangan ganito ka kagaling automatically."
She added, "The advantage is since they've been in the industry business for years, they've shared with me much wisdom about how the industry works and, at the same time, how you should deal with people, to always be humble and to treat everyone with kindness and respect."
But she'd like to think that with regards to the "disadvantage" it can also be seen as an advantage knowing that it challenges her to really do better and to always give an edge "as in ibigay mo kung ano 'yung maibibigay mo at kung kaya mo pang higitan, higitan mo."
Her showbiz roots can be traced from her grandfather, former actor-producer Cheng Muhlach, the dad of her mom Almira. Of course, you should know by now that Alyssa's mom, Almira, is one of the siblings of Aga and Arlene.
Alyssa said that her Tito Aga and Tita Charlene are close to her. They supported her when she joined the Miss World-Philippines last year. Aga also gives her pointers on acting.
The 22-year-old stunner didn't hesitate about telling how she felt when her parents separated. She was really angry at her dad during those times.
"Yes, I was angry (that time). I mean, how I wish na pinili n'ya kami. We're three girls and since I'm the eldest, I sort of became the bridge between the two, like 'Ma, sabi ni Papa…' or 'Pa, sabi ni Mama.'"
Due to her parents' break-up, Alyssa felt it's her duty to protect her siblings. "As the Ate, I'm very protective of my sisters. Actually, it was because of my parents' separation that I feel like I've become the stronger and more selfless woman that I am now.
"I can't change the past. What I can do is to really try to be the best version of myself now and I love my dad, my mom and my sisters unconditionally as in kahit anong mangyari I will always be there to support them kahit paulit-ulit man 'yan."
In fact, she learned martial arts like karate and taekwondo for self-defense. Boxing has even become her hobby. No wonder, Alyssa is willing to do action in future projects.
Soon, Alyssa will be appearing in a teleserye with JM de Guzman and Kiko Estrada. Everybody knows that JM is now single. So, what if the actor courts her?
"Hindi po kasi ako 'yung type of girl who just dates around. When I date or nagpaligaw ako, it's really like a commitment to me; it's a serious relationship. And I also wanna be with someone who respects my family — my mom and my dad na magpaalam so kung kaya n'yang gawin 'yung process na 'yun," the NBSB (no boyfriend since birth) Alyssa answered with a laugh.
Meanwhile, get to know more about Alyssa through her answers in Fast Talk:
Tubig? Langis?
"Tubig."
Noon? Ngayon?
"Ngayon."
Which is tougher — beauty contest or horror movie?
"Horror movie."
Your favorite Aga Muhlach movie.
"In the Name of Love."
Favorite phone app.
"Instagram."
Who is your childhood crush?
"Zac Efron."
Kung mawawala lahat ng senses mo, ano ang gusto mo matira?
"Sense of sight."
If you were a junk food, what would you be?
"Pizza."
Yes or no — do you still have plans of joining beauty pageants?
"Yes."
Dream leading man.
"Enrique Gil."
Sexiest man in the Philippines.
"Coco Martin."
Lights on or lights off?
"Lights on."