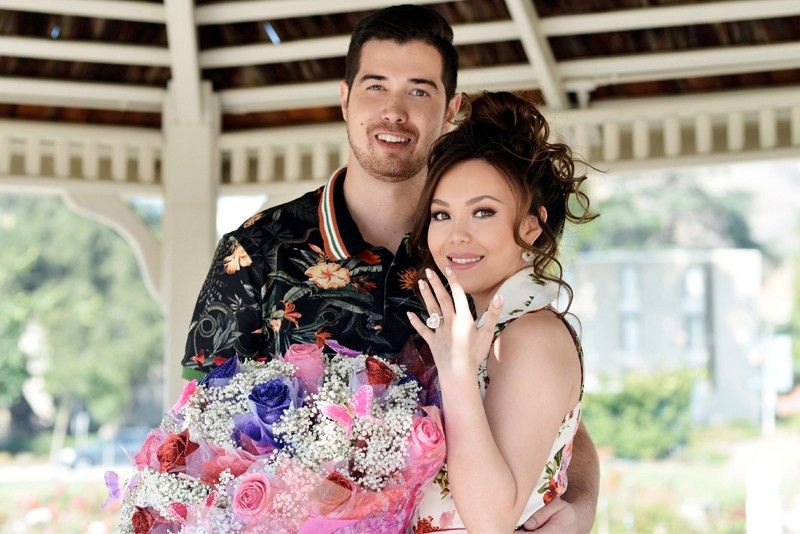 Anna Maria Perez de Tagle (in Oliver Tolentino) and fiancé Scott Kline Jr. during their engagement on Nov. 11, 2018. Wedding is set end of June at the Cathedral of Our Lady of the Angels in Los Angeles, the same church where Lea Salonga and Rob Chien were married in January 2004.
Photos courtesy of Anna Maria Perez de Tagle
FUNFARE
-
Ricky Lo
(The Philippine Star) - May 6, 2019 - 12:00am
It's official: Anna Maria Perez de Tagle will be a June Bride! The wedding is set end of June at the Cathedral of Our Lady of the Angels in Los Angeles (the same church where Lea Salonga and Rob Chien were married in January 2004). The lucky groom is Scott Kline Jr., an aerospace engineer.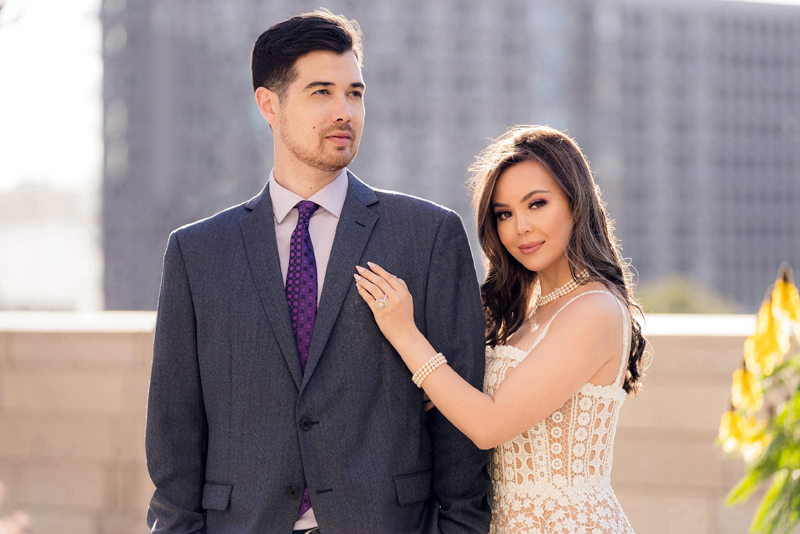 Funfare got this "breaking news" from Oliver Tolentino last week when we (immigration lawyer Jemela Nettles and her friend Miss Rona) met Oliver and his partner Andrew Caruthers at their shop in Beverly Hills. It's Oliver who is designing Anna Maria's wedding gown and Scott's suit.
The daughter of Archie Perez de Tagle and granddaughter of Sylvia La Torre, Anna Maria grew up on the Disney Channel, along with the Jonas Brothers, Miley Cyrus and Demi Lovato in Hannah Montana and Camp Rock. She used to be managed by the Jonases' father. She also co-starred in Godspell on Broadway and guested on Charmed. For sure, Lola Sylvia will draw tears from the guests if and when she agrees to sing at the wedding.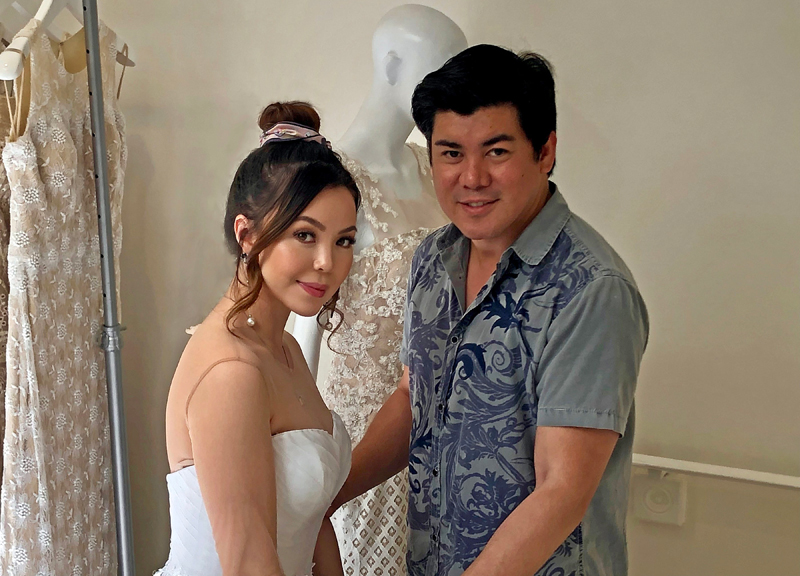 Anna Maria with Oliver...
From the invitation (lettering in purple, Anna Maria's favorite color), we noticed that the Maid of Honor is Emmy award-winning actress Uzo Aduba who won two Emmy awards for her work on Orange Is The New Black. Anna Maria and Uzo co-starred in Godspell and became best friends.
"They have stayed close ever since," said Oliver who, with Andrew, will serve as Principal Sponsors.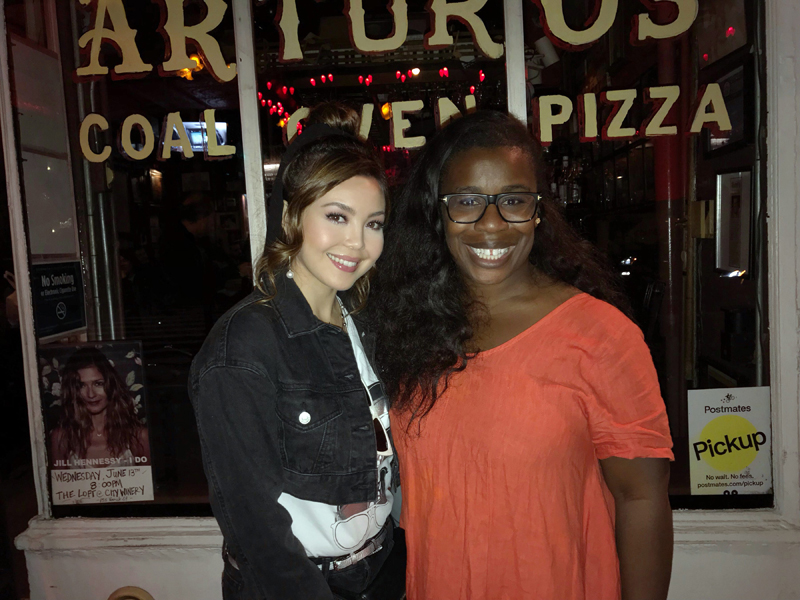 ...Godspell co-star Uzo Aduba (as Maid of Honor)...
We learned from Oliver and Andrew that Scott's mother is Filipina and his father is German-Irish.
"He and Anna Maria have been dating for two years after being set up by Anna Maria's cousin," added Oliver. "They share a love of music, food and travel, and have the same core values."
Scott proposed to Anna Maria on 11/11 at 11 a.m. His original plan at the Getty Villa had to be changed at the last minute due to the Malibu wildfires, so Scott took her to the Japanese Gardens at Cal Poly Pomona, his alma mater. There he dropped to one knee and proposed. Scott must have been very confident she would say yes because he had arranged for their families to wait nearby to celebrate.
"It was a beautiful event, sealed with a stunning ring featuring a heart-shaped diamond surrounded by double halo pink diamonds," noted Oliver.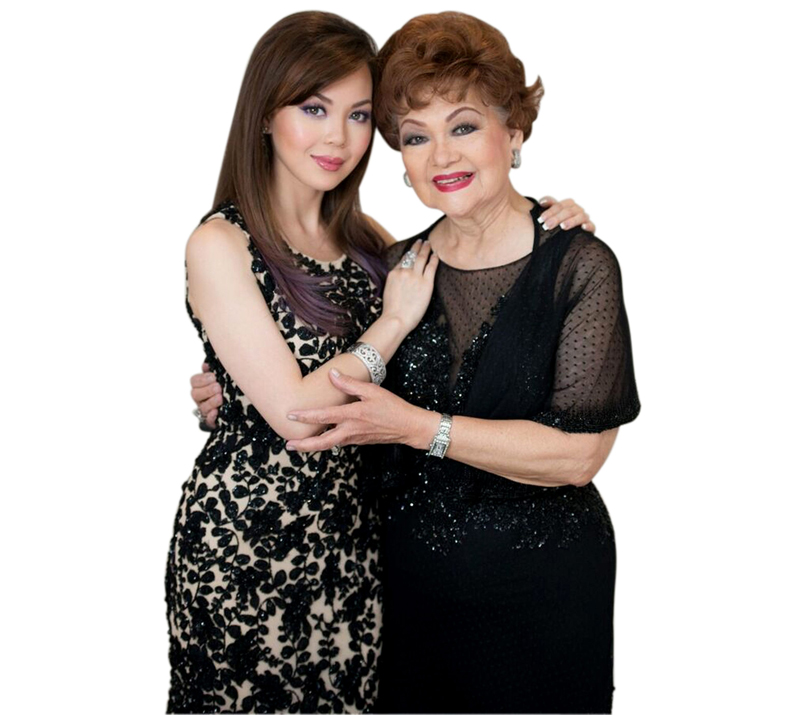 …and grandmother Sylvia La Torre (mother of Anna Maria's dad Archie Perez de Tagle).
Our meeting with the Hollywood celebrity designer happened on a spur of the moment after I interviewed the stars of Netflix's The Last Summer (now streaming, more on that later) at Four Seasons. Since we were nearby, Jemela called Oliver who welcomed us into his beautiful shop on Robertson Blvd. The shop is about three times the size of his previous Melrose Avenue boutique. Displayed in the large windows were piña dresses. In fact, the boutique is filled with colorful couture creations, including several gowns Pia Wurtzbach wore in Oliver's Bangkok fashion show last December. The boutique includes a second floor bridal salon that overlooks the main floor. A monitor features a slideshow of Hollywood celebrities who have worn his creations ­— over 75 celebrities and counting!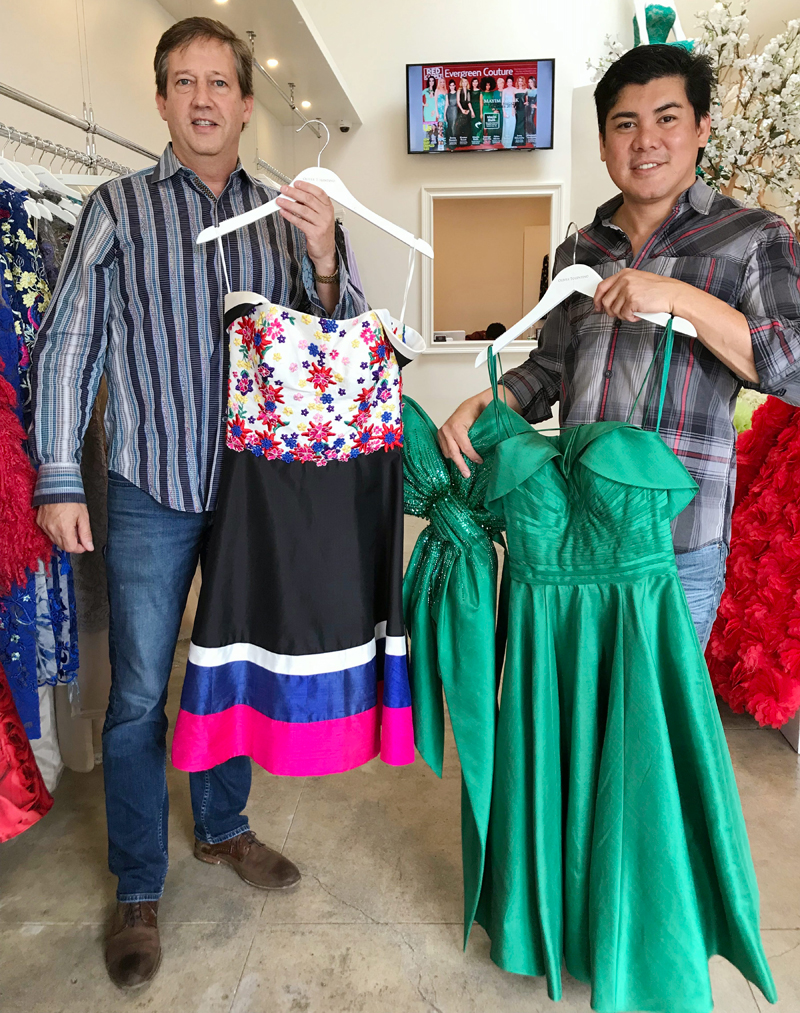 Oliver and partner Andrew Caruthers at their shop with the gowns made of Thai silk that Oliver designed for a special fashion show in Thailand — Photo by RICKY LO
Over lunch at a nearby Japanese restaurant, we realized that it was 10 years ago to the day when Oliver moved into his original Melrose boutique and became the first Filipino couture designer to expand operations from the Philippines to the States. He still maintains his Makati boutique and actually is arriving today to work in it for about a week.
Naturally, Oliver was mum about the details of Anna Maria's wedding gown, but we know that it will be beautiful.
Meanwhile, best wishes to Anna Maria and Scott!
The Binibinis who passed the bar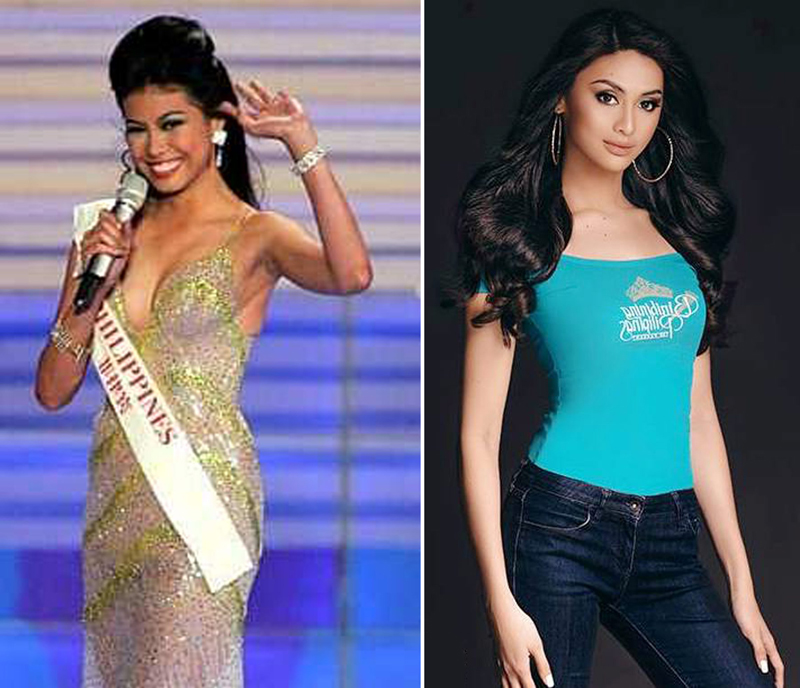 2004 Bb. Pilipinas-World Karla Bautista-Siao(left), 2019 Bb. Pilipinas candidate Bea Patricia Magtanong
They are authentic "beauties and brains."
2004 Bb. Pilipinas World Karla Bautista-Siao and 2019 Bb. Pilipinas official candidate Bea Patricia Magtanong were among the 1,800 (out of 8,158) who passed the 2018 bar exams.
Karla competed with 107 hopefuls in the 2004 Miss World pageant in Sanya, China, where she finished a Top 5 finalist and was named Continental Queen of Asia and Oceania. After graduating from UP Cebu with a Masscomm degree, she worked as a flight attendant with Emirates Airlines until 2011. After getting married, she quit her overseas job and helped her husband in managing their chain of spas located in Cebu, Tagaytay, Cagayan de Oro, Siargao and soon in Boracay. They have two daughters and a son due this August.
"I will focus on family first and help in the business until I give birth. I have no plans yet on what specific practice I would pursue but would love to be in the government or Public Attorney's Office," shared Karla to this correspondent during a conversation in Facebook messenger hours after the results were released.
Meanwhile, 24-year-old Bea Patricia representing Bataan is among the 40 hopefuls in the Bb. Pilipinas search with finals slated on June 9. She completed her Business Economics degree, cum laude, before earning a Juris Doctor degree (previously named Bachelor of Laws) last year, both from the University of the Philippines. She idolizes her father who is also a lawyer. As a lawyer, she wants to promote the rights of prisoners, maintaining that they have rights to humane treatment. On the sideline, Bea Patricia is a ramp, fashion model and is a member of Professional Models Association of the Philippines.
Other Binibini lawyers:
• 2001 Bb. Pilipinas-Universe Zorayda Ruth Andam and 2007 Bb. Pilipinas-Universe Ana Theresa Licaros passed the 2004 and 2009 bar, respectively. Like Bea Patricia, they are also UP College of Law graduates.
• 2014 Binibini candidate Joy Antonette Diaz passed the California Bar Examination, USA, in 2017. She finished her Bachelor of Arts in Political Science with a Minor in Sociology as Honor Dean's Lister from California State University. Thereafter, she obtained her Juris Doctor degree, cum laude, in May 2017 at Chapman University, Fowler School of Law in Orange County with full merit scholarship. Her father is from Dagupan City, Pangasinan. She's the grandniece of former Speaker Jose de Venecia.— Reported by Celso de Guzman Caparas
* * *
(E-mail reactions at rickylophilstar@gmail.com. For more updates, photos and videos, visit www.philstar.com/funfare or follow me on Instagram @therealrickylo.)