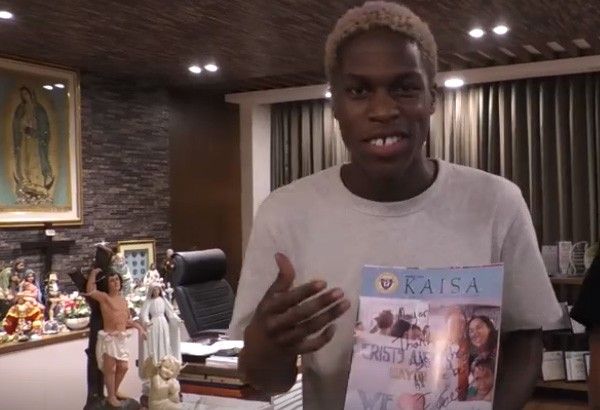 Daniel Caesar in Tarlac
Facebook/Mayor Cristy Angeles
Grammy winner Daniel Caesar visits Tarlac ahead of Manila concert
MANILA, Philippines — Canadian singer and songwriter Daniel Caesar visited Tarlac City ahead of his July 23 concert at the New Frontier Theater in Quezon City.
Caesar shares the 2019 Grammy Award for Best R&B Performance with H.E.R., the Filipino-American singer-songwriter he collaborated with for the hit single "Best Part."
Caesar, whose real name is Ashton Simmonds, is also famous for his single "Get You," which garnered over 10 million streams on Apple Music and for which he got a Best R&B Performance nomination at the 2018 Grammys.
Tarlac City Mayor Cristy Angeles shared on her Facebook page a video of Caesar's recent visit.
"I would just like to express my heartfelt gratitude and appreciation to the Canadian singer and songwriter, Daniel Caesar, for visiting me at the Mayor's Office despite his busy schedule in preparing for his solo concert that will be held in the New Frontier Theater in Manila on July 23," Angeles said.
"Daniel Caesar is a Grammy-winning artist known for his modern R&B and electronics music while his lyrics explore the subjects of religion and unrequited love. Some of his remarkable songs are Get You (feat. Kali Uchis) and Best Part (feat. H.E.R.) which garnered together more than 453,000,000 Play Counts at Spotify as of date," the mayor added.
"I wish you continued success in your musical career and again, thank you very much for gracing us with your presence."
Caesar also documented his Tarlac visit in his Instagram stories. He showed videos and pictures of him living like a local — eating Jollibee and drinking San Mig Light, riding a tricycle, playing basketball with kids, and listening to Filipino rap legend Francis Magalona on Spotify.
He tagged Filipino-American artist Keavanx in his Instagram story. In an Instagram post, Keavanx said he brought Daniel and his other friends to his ancestral home in Tarlac City.
Caesar last performed in the country at the Wanderland Music Festival last year. — Reports from Patricia Lourdes Viray