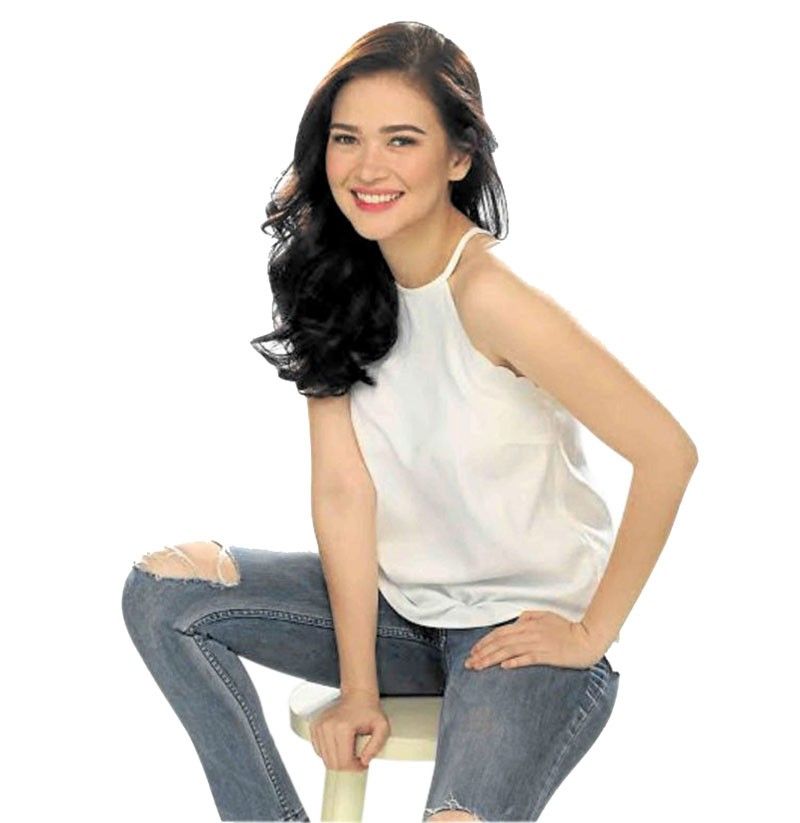 The 27-year-old Kapamilya star claims she's more productive than she ever has been since becoming loveless two years ago.
Perks of being single: More writing projects for Bela Padilla
MANILA, Philippines — Bela Padilla is setting herself apart from her fellow actors by dipping her hands into film writing.
"Ganun talaga ang nagagawa 'pag walang jowa (That's what being single can do)," the 27-year-old Kapamilya star says with a laugh. She claims she's more productive than she ever has been since becoming loveless two years ago.
Bela's latest creative credit is Dreamscape's easy breezy digital film Apple of My Eye, a romantic title available on ABS-CBN's streaming service iWant. She is also working on two more projects to add to her growing portfolio as co-writer or screenwriter in films such as 10,000 Hours (2013), Camp Sawi (2016), Last Night (2017) and Luck at First Sight (2017).
The actress has another one coming up for Dreamscape Digital, but a bit dark in tone and tackles a journey to self-discovery. She also has a new script, which she describes as a "full-on rom-com," greenlit by Viva Films.
"If you're inspired, you're inspired. There's no formula to it. There are days when I still don't feel like a legit writer. But I'll just come up with something I like or something I want to watch. So with me, there are scripts or stories, I wish I could be in. I wish I could watch but have not been done yet. Sometimes, that's what inspires me," she says in a reply to a question about her creative process.
Personal experiences also inspire her, but she's not the "confessional" type.
"Sometimes, I draw from personal experience. There's one scene in Apple of My Eye that actually happened. Even in my acting, I'd like to inject a little about myself in every performance. It's the same like in every script (I do), I guess to make it real."
Her films offer a piece of herself and if anything, they give audience an idea of the state she's in — happy, sad or content — in life. "I notice all the stories I write is what I'm going through at the moment. I'm not going to be specific, parang may foreshadowing lang like in Camp Sawi, I wrote it and then I broke up with my ex shortly after. With Luck at First Sight, it was right before I started getting the projects that I wanted to get. I'm feeling whatever my soul is going through at the moment, it comes out in the scripts that I write. You can tell what is happening to me in real life by watching my films."
For example, like the female lead Apple in the iWant film, Bela is not techie in real life. "When I reply to e-mails, I literally reply to the e-mails, I don't know how to make attachments and things like that."
She's also old school. "I have a record player, I collect vinyl. It's not because I'm trying to be old school but I really cannot learn, I think there's something in me that's so stubborn that doesn't wanna cope with modern technology that's where I am right now."
All her stories are handwritten. She says, "All my notes are on my paper. I have so much (notebooks to write on), that's my guilty pleasure. I always have with me a notebook, in my car, on my side. Right now, I just started my blog. I don't let anyone handle my thoughts because I don't like anything to be misinterpreted so I would like to be responsible for whatever I write. Like my social media, everything is mine. So, when I started a blog recently because I have so many random thoughts that I feel like people can relate to, I just put it out there. It's nice, the comments when you read them. I'm happy that somehow people are finding a voice."
Bela is also busy in the acting front, doing the teleserye Mea Culpa with Jodi Sta. Maria. But she always finds time for writing. "I don't know why but I feel I'm in a hurry to do things because I don't wanna look back five years from now and say I should have written that idea or I should have said that. So I try to write, if they like it, thank you."
To improve her writing, she signs up for courses and workshops under the likes of the legendary screenwriter Ricky Lee.
She also keeps on reading. "Right now in my car, I have When Breath Becomes Air. It's the true story of a surgeon in America who found out he had cancer. He wrote it himself while he was dying. Very, very sad. Actually, I'm reading two at the same time. The other one is A Gentleman in Moscow (historical fiction). Wala akong genre ngayon, kahit ano, hindi lang ako nagbabasa ng self-help or tips on blah, blah, blah. I like stories. I get bored by self-help. Parang Chapter 1, nabasa ko na siya somewhere else."
On how she continues to hone her writing skills, she adds: "I just keep on writing new material. This is one of the reasons I'm so addicted to K-Dramas because their stories are so fresh. I try to keep on educating myself with what's new outside."