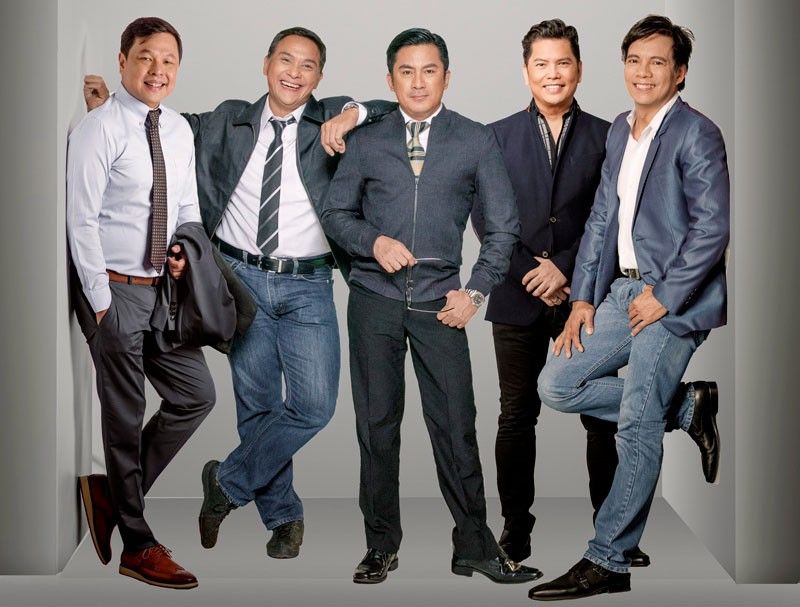 The third (four-weekend) run of the musical stars (from left) Jett Pangan, Nonie Buencamino, Robert Seña (who is producing it with his wife Isay Alvarez), Carlo Orosa and Bo Cerrudo.
Good reasons why you should watch DOM
FUNFARE
-
Ricky Lo
(The Philippine Star) - February 20, 2019 - 12:00am
As I've been saying DOM could mean, well, "Delicious Old Men" or "Dirty Old Men." But as a musical, it simply means Dirty Old Musical which is set for its third four-weekend run still at the Music Museum starting on Friday, Feb. 22. During its initial run in September 2016, Jojo Gabinete and immensely enjoyed it, and so did Sylvia Sanchez, Beverly Salviejo, Glenda Garcia, Carlitos Siguion-Reyna, Renen de Guia and wife Celine, and Susan Roces who were also in the audience. Susan told us that she watched it to support senior artists who are still active.
DOM is a musical, all right, but, again as I've been saying, it's not your kind of musical that showcases only songs interspaced with dancing. It has songs ­— and much, much more. As scriptwriter Rody Vera put it, "It's something about aging men, a little past the midlife crisis, but barely approaching senior-hood…that age when men are just about halfway to giving up denial and yet not unwilling to partake of the wonders of technology for whatever it takes to extend the illusion of youth…"
It's about five artists trying to relive their glory days as they hatch a plan to raise funds for a hospitalized ailing member (played by Ricky Davao shown only in video clip, a clever idea because Ricky couldn't do it in person due to his vertigo), in the process opening the Pandora Boxes of their pasts in episodes packed full with drama, comedy, action and a lot of surprises enlivened by songs of the bygone era when hearts were young, and loving and living involved nothing more life-threatening than missed meals and loss of sleep.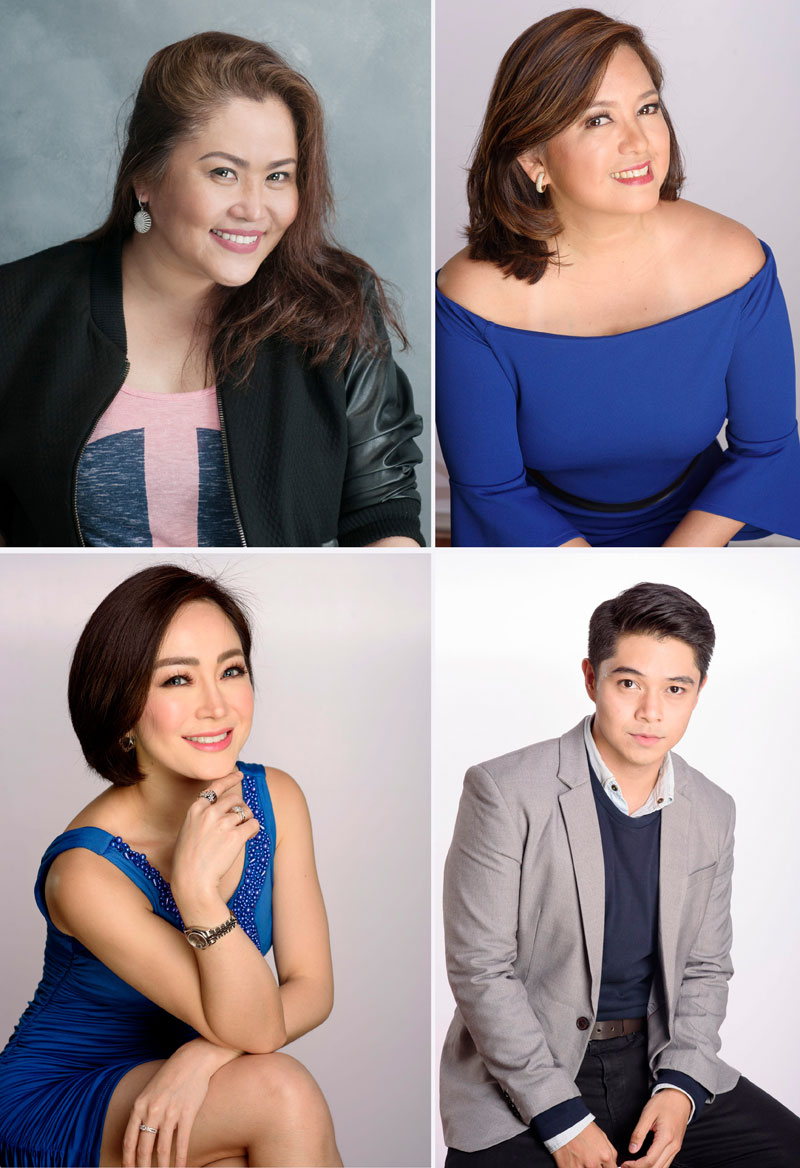 The other members of the DOM cast (clockwise, from top left) Ima Castro, Tricia Amper-Jimenez, Neo Rivera and Kitkat.
The five characters are played by Nonie Buencamino (original), Bo Cerrudo (original, as replacement for Ricky Davao), Carlo Orosa (in the second run as replacement for Michael Williams), Jett Pangan (replacement for John Arcilla) and Robert Seña who is producing the third run with his wife Isay Alvarez under their Spotlight Artists Centre.
Did John back out because he had upped his talent fee (according to rumors)?
"No," clarified Isay. "He's busy with Probinsyano and he couldn't do the whole four-weekend run. He is very, very, very busy."
Carlo said that his performance as a gay is flamboyant (while that of Michael was subtle).
"Initially," confessed Carlo, "I was hesitant to accept it because I wasn't sure kung gusto ko talaga o kung kaya ko talaga. It's my first time to play a gay character, kaya na-challenge ako."
Jett is excited about stepping into John's shoes because DOM marks his first Tagalog musical, noted as he is for English productions. ("Englisero siya, eh," said Isay in jest).
"DOM is masaya," said Jett. "I haven't watched it but even during rehearsals I find it very calming."
According to Isay, except for refreshing additions here and there, the original concept is intact. And she gave three reasons why you should watch (if you haven't yet) DOM…and watch it again:
• It's a feel-good story, playfully naughty and irreverent;
• It revolves around an all-male '80s group…and should bring back a wave of nostalgia for Gen Xers; and
• The musical soundtrack consists of well-loved OPMs such as Kastilyong Buhangin, Mag-Exercise Tayo Tuwing Umaga, Kay Ganda ng Ating Musika and many more.
Other members of the cast are Kitkat, Tricia Amper-Jimenez, Ima Castro, Katherine Tiuseco, Anthony Castillo, Matel Patayon, Carlon Matobato and Neo Rivera (replacing Fred Lo who is performing in Hong Kong Disneyland).
DOM is choreographed and directed by Dexter M. Santos, with musical direction by Myke Salomon, set/production design by Mitoy Sta. Ana and lighting direction by John Batalla.
(DOM playdates are Feb. 22 and 23…March 1, 2, 8, 9, 15, 16, 22 and 23 at 8 p.m. The March 16 and 23 shows have matinees at 3 p.m. For tickets, call TicketWorld at 891-9999, Music Museum at 721-6276 or Spotlight Artists Centre at 776-4487/0919-9114444.)
A boy for Miriam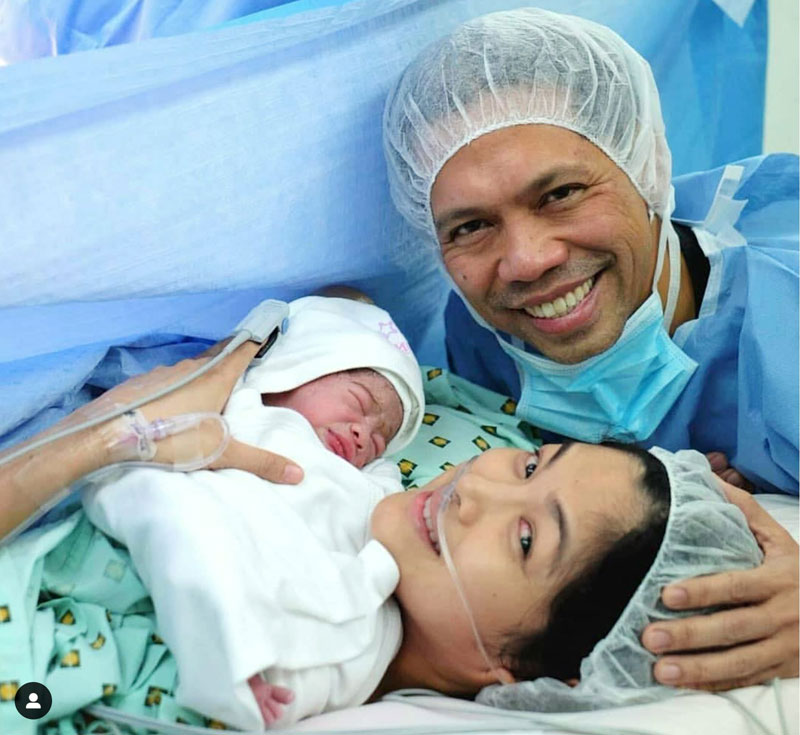 —Photo from Miriam's Instagram
Miriam Quiambao gave birth to a boy through emergency Caesarian section at 7:32 p.m. last Saturday, Feb. 16, at the Asian Hospital & Medical Center, almost a month ahead of the original schedule.
Named Elijah Roberto, the baby weighed 4.7 lbs. He's an answered prayer.
'I prayed for this child,' said Miriam in her Instagram account, 'and the Lord has granted me what I asked of Him. So I now give him to the Lord. For his whole life he will be given over to the Lord.'
Miriam is turning 44 in May and husband Ardy Roberto 53 in April. A widower, Ardy has a child from his first marriage.
(E-mail reactions at rickylophilstar@gmail.com. For more updates, photos and videos, visit www.philstar.com/funfare or follow me on Instagram @therealrickylo.)