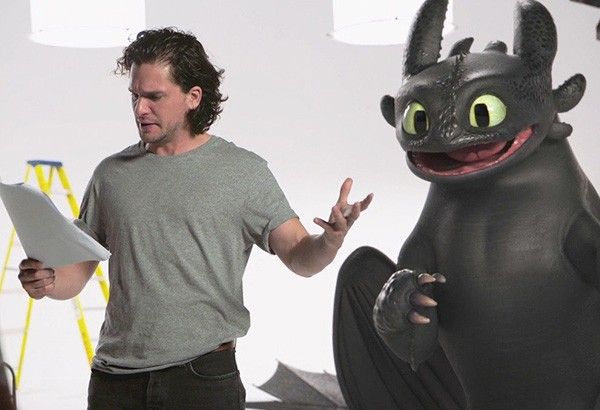 "How to Train Your Dragon 2" star Kit Harington
United International Pictures/Released
'Game of Thrones' star Kit Harington on dragons and 'How to Train Your Dragon'
(Philstar.com) - February 19, 2019 - 5:24pm
HOLLYWOOD — Even though he joined the "How to Train Your Dragon" series in the second film, Kit Harington has become as much a member of the "Dragon" family as any other.

Harington's character, Eret, Son of Eret, one of the bad guys in 2014's "How to Train Your Dragon 2," is proof positive that anyone can change.
"Eret has gone from being a nemesis to Hiccup who traps dragons to a man with a good heart trying to protect his men," said the actor about his character's evolution.
"What we learned with Eret is that, through education, an angry young person's good essence can be shaped into treating his fellow creatures better. This series has a lot to say about how we treat those creatures in the world around us."
Related video: Harington's "How to Train Your Dragon" audition


Discussing his hope for audiences' experience with "The Hidden World," the final film in the How to Train Your Dragon trilogy, Harington said: "I hope they get a sense of warm closure from this amazing journey that we've all gone through with these characters. Hopefully, it leaves those people who've been watching since the first film with a sense of satisfaction from growing up with these characters. And people coming new to it, if they're watching the third film and haven't seen the first two, then you've got a great well of discovery ahead of you."

Asked in a recent interview with Insider what it is about dragons he seems to be drawn to, Harington, most popular for his role as fan favorite Jon Snow on "Game of Thrones," said, "I don't know why I keep being put in movies with them, but I've enjoyed it. I've loved it."
Of "How to Train Your Dragon: The Hidden World," he said, "This is like a more family-friendly version of Game of Thrones, with dragons and all… They're wonderful, the dragons in this film. They're varied and brilliant, and fun and funny. It's great." — Video from YouTube/Columbia Pictures Philippines