Is Bong Revilla-Coco Martin action starrer feasible?
February 7, 2019 | 12:00am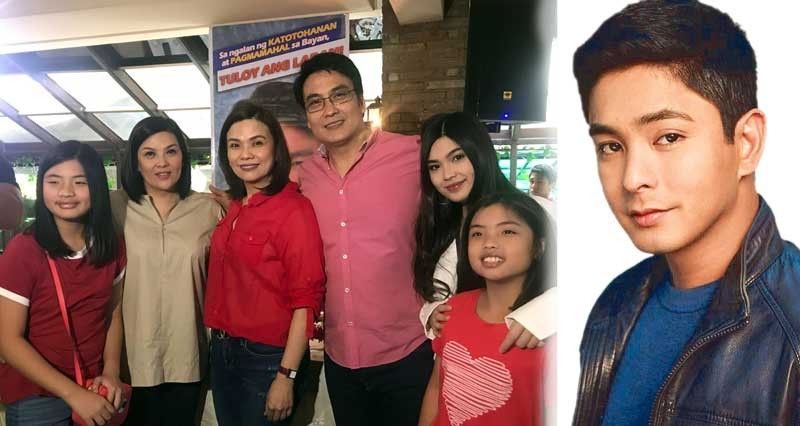 Perhaps not many moviegoers remember that almost 17 years ago, Coco Martin appeared as a supporting actor in Ang Agimat: Anting-Anting ni Lolo, a 2002 action movie directed by Augusto Salvador and produced by Imus Productions owned by the family of Bong Revilla who starred in it with son Jolo.
"Oo nga pala!" said former Sen. Bong (running in May's mid-term elections) the other day when reminded about it during a friendly lunch with movie writers at Annabel's. "Coco did a fight scene with Jolo. The original actor was not okay and it was my brother Marlon (Bautista) who saw Coco on the set. 'Umarte ka nga,' Coco was told. Mahusay siya so he got the role. When I see him now in Ang Probinsyano, hanga ako sa kanya. Sabi ko, siya pala 'yung Coco na nakasama ko sa pelikula noon. Hindi mo talaga masabi ang swerte."
Somebody suggested to Bong to co-star with Coco in an action movie, maybe the one that Bong has been conceptualizing during his five-year stay at the Camp Crame Detention Center that he's intending to enter in the 2019 Metro Manila Film Festival (MMFF) as his comeback starrer. Good idea, isn't it?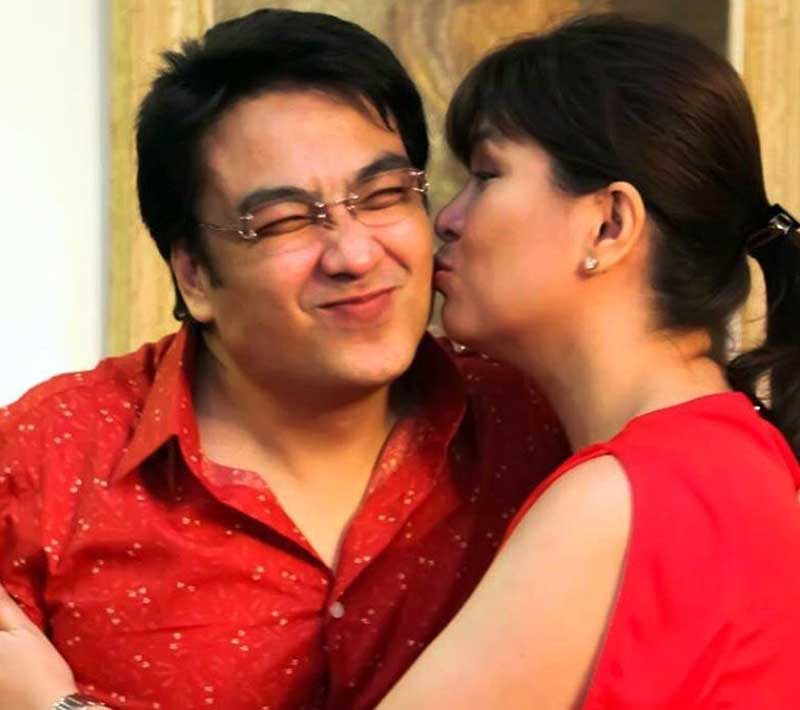 In this photo from her Instagram account, Bacoor City Mayor Lani Mercado gives Bong a 'titillating' kiss. Lani begged off from the Annabel's event for Bong to 'monopolize' the spotlight.
"I want to revive interest in action movies," said Bong who lamented the moribund state of the genre that catapulted him to stardom. "When was the last time na sikat ang action films, during the time of FPJ? That was a long time ago."
In fact, Imus Productions has kick-started the big move by producing Tres, a trilogy topbilled by Bong's sons Jolo, Bryan and Luigi. A good step in the right direction.
Taking time out from the mid-term campaign that has brought him around the country where he's getting a warm welcome, Bong told the movie writers that if elected, he would file a bill that would bring down the movie admission price from P300-P250 to around P200-P150.
"In my sorties," related Bong, "I saw the big number of poor people, ang daming mahihirap. That got me thinking, how could they afford to watch movies? Their alternative is to watch TV shows and old movies (including his starrers) on PBO (Pinoy Box Office, etc.). If I can bring down the admission prices, I think that should help bring back the people back to the movies."
What if he's offered to star in an action-adventure series?
Bong thought for awhile, presumably caught between his being (used to be?) a Kapuso and one-time Kapamilya (he starred in the very first action film produced by Star Cinema)? What would get his nod (if the price is right)?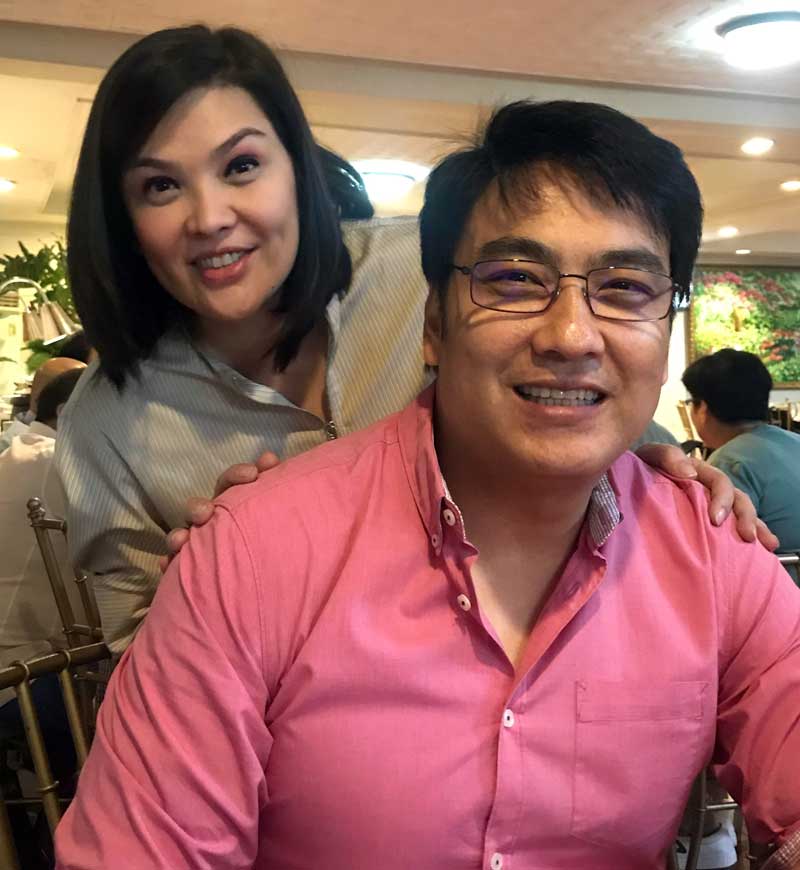 Brothersister act: Andeng and Bong support each other all the way.
"The TF (Talent Fee) is immaterial," replied Bong. "My prime consideration would be the project."
Incidentally, compared to his first post-Camp Crame salu-salo with the movie press at Gloria Maris last month hosted by Regal Matriarch Lily Monteverde, Bong looked "fit and fabulous" during the Annabel's affair, several pounds lighter and as macho as ever, thanks to his regular workout even while he was "inside."
On hand to support him were his daughter Gianna, sisters Andeng Ynares (with daughters by husband incumbent Antipolo Mayor Junjun Ynares) who is running for Antipolo City mayor unopposed and Rowena who is running for reelection as councilor in Bacoor City where the mayor is Bong's re-electionist wife Lani Mercado (who begged off from the Annabel's gathering to avoid distracting the spotlight from Bong).
Since Valentine's is just around the corner, Funfare asked Bong how he and Lani would spend the day. The couple spent the past five Valentine's at Camp Crame with permission from authorities for conjugal visits on special occasions like Christmas, New Year and Valentine's.
"I stayed at a small room with no air-con," confessed Bong, "and even when we turned the blower full blast, it was very hot pa rin, so we would end up sweaty, pawis na pawis."
That was "inside." For their first Valentine's "outside," Bong and Lani plan to simply watch a show, something light and easy that will make them feel bright and breezy.
The couples' theme song is Ikaw, same as Pres. Duterte's.
Sta. Lucia Mall celebrates the Love Month
Celebrate the Love Month this February at Sta. Lucia Mall as it brings you A Fair You'll Love and The Love Park.
Feel the love, fun and excitement at Sta. Lucia Department Store, where you can enjoy up to 50 percent discounts on great selections of prom night apparel, shoes, bags, accessories, cosmetics and others.
A Fair You'll Love also has a love booth at the ground floor, main entrance, for shoppers looking for Valentine gifts to please their loved ones and make them enjoy the Season of Hearts even more.
Check out Sta. Lucia Mall's cozy hangout place, The Love Park, designed for shoppers who want to live, laugh and love. The Love Park, which is open from Feb. 1 to 17, offers special areas where you and your special someone can make sweet memories together. It has "love carts," a photo op area, dedication booth and others.
Shoppers can share a romantic meal at the many restaurants in and around the mall and watch a movie in any of the clean, comfortable cinema houses.
(E-mail reactions at rickylophilstar@gmail.com. For more updates, photos and videos, visit www.philstar.com/funfare or follow me on Instagram @therealrickylo.)