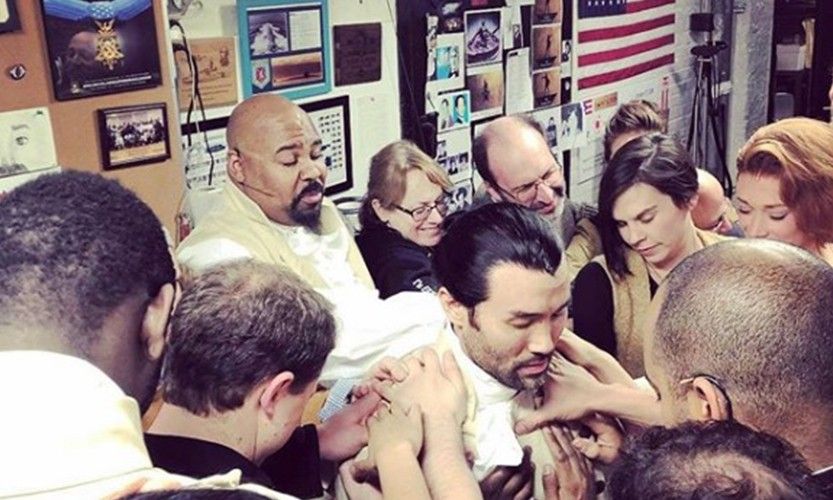 Marc Dela Cruz is the first Filipino-American to be cast as Alexander Hamilton in the hit-Broadway show "Hamilton."
Marc Dela Cruz/Instagram
Fil-Am actor cast as lead in Broadway hit 'Hamilton'
(Philstar.com) - January 21, 2019 - 4:10pm
MANILA, Philippines — Last January 19, Filipino-American actor Marc dela Cruz took the stage as the lead role of the hit-Broadway musical "Hamilton" for the first time.
"I am over the moon to be a part of Hamilton," he said in an interview with New York-based Filipino-American magazine "The FilAm." "I've been a fan of Lin-Manuel Miranda since I saw 'In the Heights' and I always wondered at the possibility of being in something he created."

The Hawaii-born Dela Cruz is the first Filipino-American cast to play the lead role, originated by the show's creator Lin-Manuel Miranda in 2015.
While it was his first time playing Alexander Hamilton, he has played several other roles such as Hamilton's father-in-law Philip Schulyer, James Reynolds and Hamilton's doctor.
The Tony Award-winning hip hop musical's story revolves around the life of Hamilton and his journey from a young orphan in the Carribean who used his skill as a writer and intellectual to becoming a revolutionary and founding father of the United States.
The show is still one of the hottest tickets on Broadway in New York City and generated an estimated $1.9 million (P100 million) a week in its debut run, according to the New York Times.

While the real-life figures the characters in the show are based on are all Caucasian Americans, Miranda often speaks about deliberately casting actors of different ethnic backgrounds to play them in the musical version to better represent American diversity today. "Hamilton" is frequently recognized for having one of the most diverse casts on Broadway.
Dela Cruz is the third Filipino-American member of the Broadway cast, the other two are Karla Puno Garcia and Christina Glur.
While Filipina singer Rachelle Ann Go plays Eliza Schulyer, Hamilton's wife, in the West End production of the show in London.

The role of Hamilton was most recently played by Michael Luwoye, an American actor of Nigerian descent.

Miranda recently opened the show's debut with the touring company of "Hamilton" in Puerto Rico for a three week-run to raise funds for arts programs on the island that was devastated by Hurricane Maria in 2017.
Aside from the touring company and on Broadway, there are also are other productions currently playing in San Francisco, London, and Chicago. — Ryan Macasero