From world to universe: Catriona Gray is now fourth Filipina Miss Universe
December 17, 2018 | 10:57am
BANGKOK, Thailand (Update 4 11:36 a.m.) — Two years after landing the top five of the Miss World 2016 pageant, Catriona Gray now conquered the universe as she has been named this year's Miss Universe title-holder.
Catriona made the Philippines' Christmas wish come true as she bested out 93 other beauties from across the globe.
In her final answer, Catriona said her experience working in the slums of Tondo, Manila taught her to "look in the beauty of the children" and be grateful.
"And I will bring this aspect as a Miss Universe to see situations with a silver lining and to assess where I could give something, where I could provide something as a spokesperson. And this I think if I can teach people to be grateful, we can have an amazing world where negativity could not grow and foster and children will have smile on their faces," she said.
Earlier during the first round of the question and answer round, Gray said she is in favor of legalizing marijuana for medical use, but not for recreational use.
"I'm for it being used for medical use, but not so for recreational use. Because I think if people will argue then what about alcohol and cigarettes? Everything is good but in moderation?"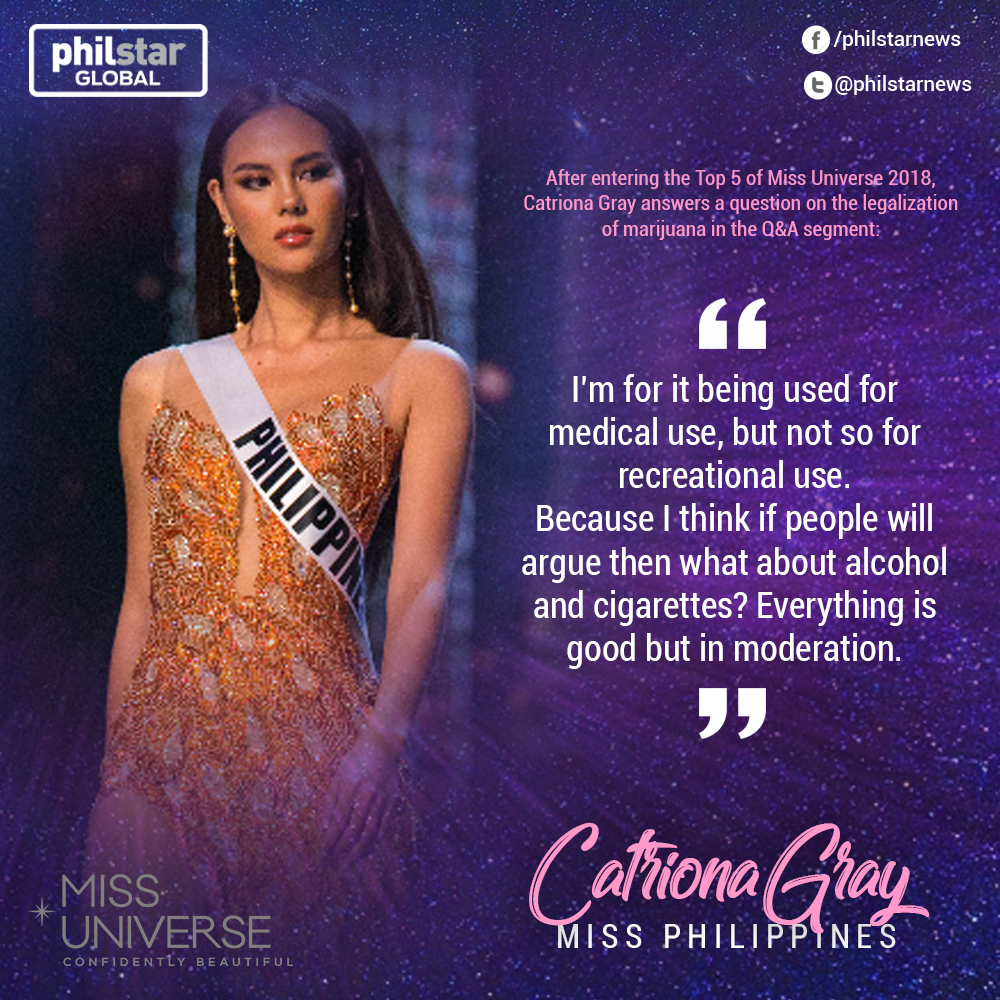 With her victory, Catriona now joins the three other Filipina Miss Universe titleholders, namely Gloria Diaz, Margie Moran and Pia Wurtzbach. Catriona is the fourth Filipina Miss Universe.
In an Instagram post on Sunday, Catriona said she dedicates her Miss Universe journey to the Philippines.
"What an amazing journey this has been - from day one back in January 2018 of announcing candidacy @bbpilipinasofficial to today. Philippines, you have endlessly inspired me, given me strength and support. I want nothing more than to bring pride to you and give my all to give the best Christmas gift ever to my country," Catriona wrote.
"Mahal kita, Philippines. Para sayo 'to," she added.
First runner-up is South Africa's Tamaryn Green while Venezuela's Sthefany Gutiérrez is second runner-up.
— with Gaea Cabico