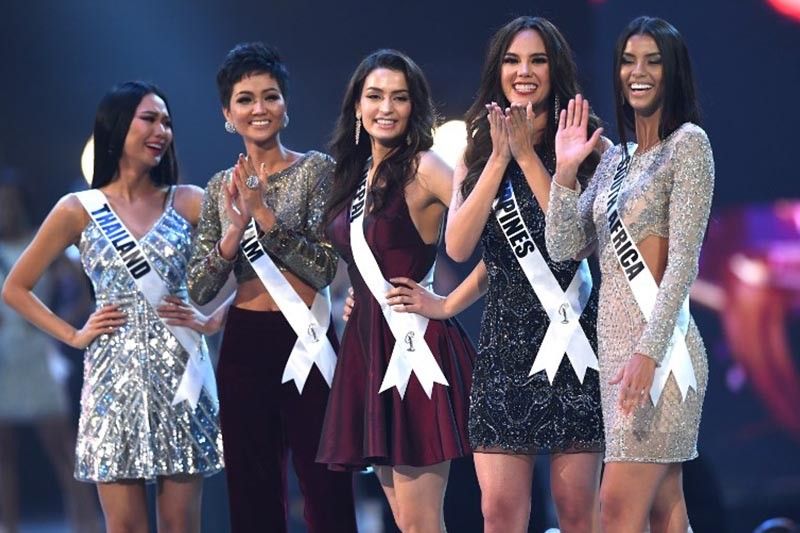 Miss Universe contestants (L-R) Sophida Kanchanarin of Thailand, H'Hen Nie of Vietnam, Manita Devkota of Nepal, Catriona Gray of Philippines and Tamaryn Green of South Africa stand together after selected as top 20 candidates during the 2018 Miss Universe Pageant in Bangkok on December 17, 2018.
AFP/Lillian Suwanrumpha
FULL TEXT: Miss Universe 2018 opening statements of top 20 contestants
(Philstar.com) - December 17, 2018 - 10:32am
MANILA, Philippines — Cheers erupted as Philippine bet Catriona Gray delivered her opening statement during the coronation of the highly-anticipated Miss Universe 2018 pageant.
In her opening statement, the 24-year-old Bicolana beauty said that it is the lack of child support and not poverty that killed the dreams of her countrymen.
"I stand here today because someone believed in me and we owe it to our children to believe in them," she said.
Her opening statement became her ticket to advance to the swimsuit and evening gown competitions of the pageant.
Below is the full transcript of Miss Universe 2018 opening statements portion:
South Africa
As a medical student and tuberculosis survivor, a disease that kills many people every year, I'm one of the lucky few to survive and able to tell my story through my hashtag #breakthestigma campaign and I hope I can encourage everyone out there facing any adversity or any challenge to speak up about their story.
Philippines
Working in some of the poorest areas of my country, I found that it was a lack of child support not poverty that killed their dreams. A child once told me, 'Cat, it's just not my life and those dreams are not for me' but I stand here today because someone believed in me and we owe it to our children to believe in them.
Nepal
I see myself as a pioneer. I'm a first generation immigrant and first generation college graduate. That fact alone has made me value my dreams and feel empowered. I now work to empower the women and girls in my community who face mental health challenges by providing them health training and solutions and health education.
Vietnam
I am an ethnic minority. I'm just to get married at 14 but no I chose education and from nothing — here I am. I can do it, you can do it.
Thailand
To many, I dream an impossible dream to be a Miss Universe. I dare to overcome all fear of failure and criticisms to join this journey and I'm doing with all I am and all I have to fulfil not only my dream but the dream of Thai people.
Poland
The fact that I'm standing here is the proof that it's always worth to be yourself and this is the message especially for younger girls: You don't have to be perfect, you just have to be the best version of yourself and you have to work hard and also believe in yourself.
Belgium
I wanted to tell you that at age 13, I didn't embrace my body. And I would like to pass on a message to all women: Be strong. Don't let anybody judge you. To be here in front of you is my biggest success.
Great Britain
When a knee injury ended my dreams of becoming an Olympic athlete, I quickly realized that in this life, you're all entitled to more than just one dream. This belief inspired me to become a barrister and an advocate for victims of acid attacks and equal pay. This is what I want the world to remember me for.
Hungary
After I graduated at high school, I decided to travel as a model. I end up in the most beautiful places all around the world but I felt so aimless and alone. And now, I'm back to Hungary studying at the university—finals in the accounting and I'm very happy and satisfied with my life.
Ireland
As a nurse, with a dream of opening my own female health clinic, I want to use my knowledge and my experience to educate women on how to look after themselves. I wanna raise awareness about female health and as a Miss Universe I would shine a light on the unfortunate stigma that surrounds female health in society.
Curacao
Despite our society's ideology of beauty, the most important thing for me is to stay true to the woman I was created to be. Making sure to express the highest and truest expression of myself with love, respect and a lot of confidence.
Canada
I'm fortunate enough to come from the land of opportunity. I was blessed with a ten year modelling career that took me around the world where I realized there's a need for change. I chose to be a part of that change by pursuing study of biomedical engineering so that I can help people around the world regardless of who they are and where they come from.
Indonesia
Being raised in a family with four different religions and seeing there's many cultural differences, religious intolerance and gender inequality have been the cause of trouble in Indonesia and also persecution. [These] inspired me to do a campaign called "Be Diverse, Be Tolerant" to encourage all the people to respect difference and respect others.
Puerto Rico
I've been a fighter and believer and I haven't had a very easy life. Even though many doors have closed for me, I have never lost my faith and I never stopped believing in me. That's why wherever I go I always deliver a message of hope. I want to inspire and motivate people to achieve their dreams whatever those may be.
Venezuela
I have learned to be confident, constant and determined woman, thanks to the example of my mother who gave me the valor in my family. [inaudible] In the country where people suffer the consequence [inaudible]... I am here so proud to shout to the world that we Venezuelans are warriors of love.
Brazil
I am Mayra Dias, Miss Brazil 2018 and I'm proud of be from Amazon in Brazil and my mission is make people aware of the importance of the environment. This is crucial to ensure the future of the next generation. Conserve the Amazon is to preserve every life on earth.
Australia
I'm an advocate of cultural diversity and ive come to learn the importance of diversity through my experiences of growing up biracial in Australia. I believe theres no one single definition of beauty but one's difference is what truly makes you beautiful.
USA
As a certified child-life specialist, I break down medical jargons to relieve anxieties. As the next Miss universe if I were to be chosen, I will utilize my career experience to bring children from around the world child-life strategies because I believe no child deserve to feel alone or scared.
Jamaica
I start my Miss Universe journey despite my insecurities. I know that… I actually start today to work on my insecurities… I know that I've realized that queen defines their own perfection. I know I have what it takes to inspire, relate and most importantly comfort young women across the world.
Costa Rica
Well, I come from a place where they taught me to find happiness in the simplicity of nature and the healing power of love. This is why I don't dream with a physical crown or a title. I dream with the opportunity to represent each and every one of you behind that screen that still believe the world can be changed by planting seeds of love and acceptance.
Related video: