Will MNL48 First Generation live up to the hype?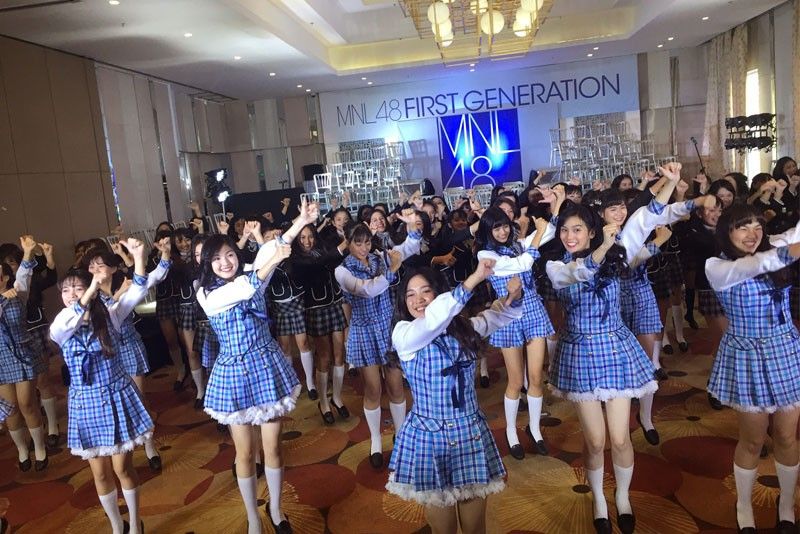 MANILA, Philippines — With all the mainstream support and grand gestures that MNL 48 is blessed with, the question whether it can take hold of the Philippine market for a long run remains to be answered. This, considering that the general public is not accustomed to such a big girl group and the hard-to-please Pinoys are somewhat notorious for moving on quickly to the next big thing.
Yet, by observation, it looks like that the girl group's First Generation members are being well-trained to keep everyone's attention intact.
In a recent press conference held at Hive Hotel in Quezon City, they performed spectacularly in sync and carried themselves with incredible collective charm, each one bent not to outshine each other but rather to represent the group in a wholistic approach.
"Nais po naming maging ehemplo sa mga millennials na sincere po kami sa aming actions. Genuine po ang aming respeto sa isa't isa at sa mga tao," implied Sela (Marsela Guia), one of the Top 7 finishers set to fly to Japan for more "idol" training.
A General Election was held late last month that determined the 48, now comprising the country's own version of Japan's highest-selling all-girl group AKB48. A total of 72 finalists were ranked, with the topnotcher, Sheki (Shekinah Arzaga) being named the Center Girl or the face of MNL48 worldwide.
As proof of the machinery behind it, MNL48 will get to perform regularly at their own MNL48 Theater and train under AKS which also manages AKB48. They will also record music under Star Music and endorse Tokyo Girls Collection.
"J-pop has an audience here even if it's not as mainstream as K-pop. Di naman nagkakalayo ang culture natin sa kanila and we are into animé also," argued Jonathan Manalo who is supervising the Filipinized recording by MNL 48.
He further commented, "The J-pop brand established by AKB48 is tried and tested in various territories in Asia. At least for the music, we only need to tweak the lyrics to be more relatable to Pinoy sensibilities."
MNL48, whose members are aged 15 to 20, can sing and dance while carrying the said brand that began in 2006 and has grown into franchises in Bangkok, Jakarta, Taipei, among others. The nationwide search was mounted by Hallohallo Entertainment (HHE), led by its president Paulo Kurosawa, and ABS-CBN. The group was launched on ABS-CBN's It's Showtime after the General Election held at the network's Studio 4 and Center Road.
More than 4,000 aspirants auditioned for the MNL48 First Generation slots. A list of 19 Kenkyuusei (trainees) that follows the magic 48 was also given to the media.
Also in the so-called Kami 7 are Abby (Abelaine Trinidad), Tin (Christine Coloso), Zen, (Zennae Inot), Alice (Alice de Leon) and Trixie (Sharlene Tano). Girls ranked Nos. 1 to 16 are labeled Senbatsu, the Nos. 17 to 32 dubbed Under Girls, and Nos. 22 to 48 called Next Girls.
"Bilang idol, we will help other young girls strive to reach their dreams," Alice said.