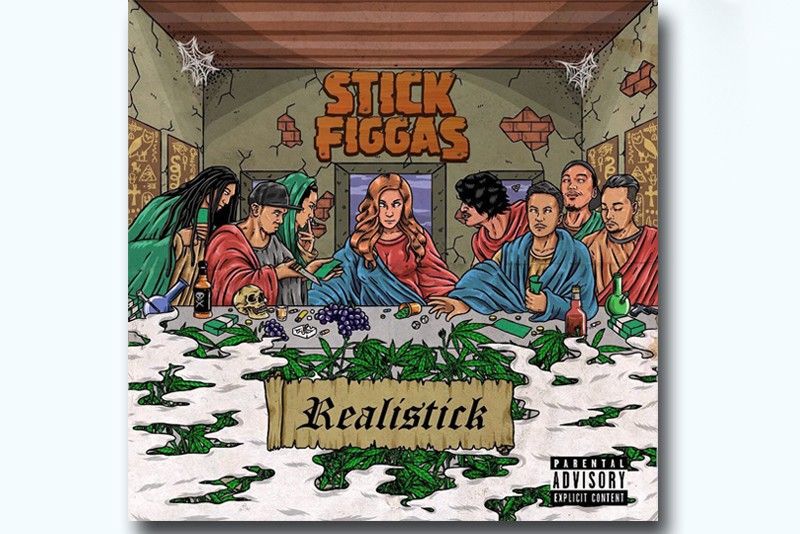 Made up of some of the biggest names in Pinoy pop music, the group has come up with the debut album Realistick
All-star cast in Stick Figgas
Stick Figgas is made up of some of the biggest names in Pinoy pop music. Originally, these were rappers Loonie and Ron Henley who formed the group while they were high school students. The name Stick Figgas was inspired by their then "stick figures."
We remember them from many years ago with the late Francis M. then later going off on their own. As soloists, Loonie, the more introspective sort had a hit with Tao Lang, while Henley who is known for his jokes and double-meaning songs had Biglang Liko.
Recently, while preparing for a new album, they decided to expand their music beyond their usual Pinoy hip-hop and R&B and brought in a star-powered line-up of new members. Given the long collective career history of the names of those who joined in, it is now a must for Stick Figgas to come up with tunes that are game-changing hits or at the very least, that we will enjoy.
The new recruits of Stick Figgas are: Kat Agarrado of the pop groups Passage and SinoSiKat as vocalist; and the band which includes JC Sebastian, arranger, producer and engineer on lead guitar; Tuts Calinawan of the rock band Cheese on bass guitar; Macky Brilliantes of the duo Motherbasss on drums; Bboy Garcia, also a member of Cheese on the turntables; and Nikki Cabardo who was formerly of Freestyle, on keyboards.
Their first time out as a group is the album Realistick and for a while there, it was 10 years ago again with the rapping Loonie and Henley who both sound no different from before. This is also their first time to record an album together since their debut in Critical Condition in 2007. Just like it was during the early days, they both tackle the human condition in their writing. But though they derive inspiration from what is around them, the results are as ever with a marked difference.
Loonie is the serious one, always in search of answers, always looking at the big picture. Henley, on the other hand, is almost always keen on little incidents, initially funny or risqué but later hitting the gut. Of course, lending a new flavor to the package is the gorgeous Kat who sings around them. She sounds great and should be asked to do more.
Having a band behind them puts Stick Figgas on a different level than other rap acts. But then, this also means that more can now be expected of them. And I cannot help but do that. I want them to tone down the beats and amp the melodies. I want them to think of fusion. They doubtless recall the thrill of listening for the first time to Linkin Park. That was fusion of the first order. The rap still works but given the talent at their disposal, I believe Stick Figgas should experiment with new combinations and explore other possibilities.
Realistick by Stick Figgas is made up of 4:19, Lamanloob, Mukha Ng Pera, Ubasan, Parisukat, Hiram, Bara Bara, Sinungaling and Nandito Lang Ako.
The Viral 50 Philippines chart on the streaming site Spotify has become an excellent launching pad for new acts, particularly the homegrown variety. So, it has become my go-to place when I want to check out the music happenings around us. It is also a way to be introduced to new artists. And as per the latest listing, here are the Top 50 viral sounds in the country today.
Freaky Friday by Lil Ducky feat. Chris Brown; Call Out My Name by The Weeknd; Bulong by December Avenue; One Kiss by Calvin Harris with Dua Lipa; Baga Ka'g Face by Malaya Macaraeg; Hard To Face Reality by Poobear feat. Justin Bieber and Jay Electronica; Let Go by BTS; Thinkin' Of You by Sofia Romualdez feat. Rap Sanchez; Mundo by IV of Spades; Day 1 by HONNE.
EVERYDAY by WINNER; Fools by Nathan & Mercury; Unreleased by Kakaiboys Bosx1ne, Skusta Clee & Flow G; Prom by Ebe Dancel from the soundtrack of Never Not Love You; New Heroes by TEN; Don't Let Me Down by Sabrina Claudio feat. Khalid; Nice For What by Drake; Puno by Coeli feat. Clara Benin; Prom by JaDine also from the soundtrack of Never Not Love You; and Wasted Times by The Weeknd.