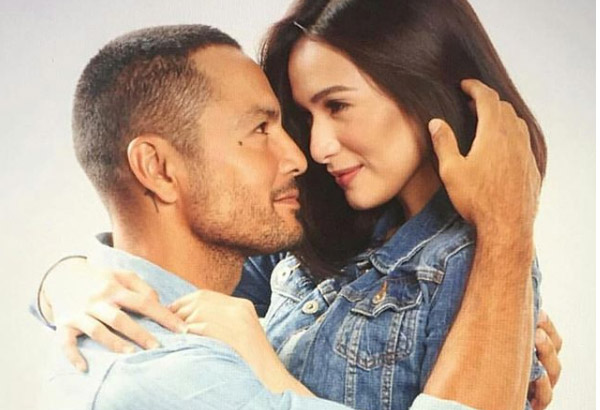 MMFF 2017 Best Actor Derek Ramsay and Jennylyn Mercado star in the 2017 festival entry "All of You." Instagram/Derek Ramsay
MMFF 2017 sets record for highest 1st, 2nd day sales
MANILA, Philippines — This year's Metro Manila Film Festival broke the festival's box office records as it surpassed the 2015 first and second day gross sales, the festival reports in its official Facebook page on Wednesday,
The Facebook announcement coincides with MMFF's awards night at the Kia Theater in Quezon City.
Though the festival's organizers did not disclose the actual amount, they assured that the festival "also tripled the foot traffic to the theaters from last year."
"The big achievement is bringing back our kababayans to the theaters. It took quite some time before we saw this kind of enthusiasm once again from the Filipino viewers," MMFF Execom (Executive Committee) Chair Tim Orbos adds in the Facebook statement.
From the Parade of Stars in Muntinlupa City, to the post-holiday theater tours, people have flocked to the theaters once more to support the all-Filipino film line up "that went through grueling screening from an esteemed Selection Committee headed by no less than National Artist Bienvenido Lumbera," the statement says.
"Now that we have the audience and the revenues back on track, we are committed to continue making quality productions that would satisfy and enrich our general film audiences," the organizers said.
Early this week, MMFF has made a new rule prohibiting all entries from disclosing its sales records while the festival runs until January 7, to prevent people from seeing a film merely due to box office success.
Due to MMFF's reported impressive record this year, will the organizers prolong the films' duration in cinemas so more people can see the films? Will this victory be for now or for good? Will it eventually lead to the revival of another Golden Age in Philippine cinema?
RELATED: MMFF: No official box office results until end of film fest
MMFF reveals official 2017 entries
IN PHOTOS: 2017 MMFF entries showcase float in 'Parade of Stars'