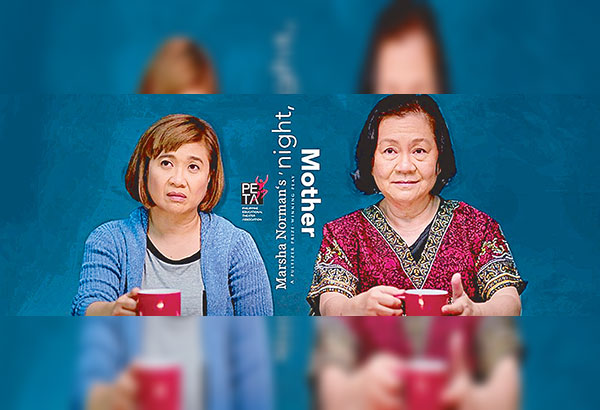 Eugene Domingo (left) portrays a clinically depressed woman who is pitted against her mother, played by Sherry Lara, in PETA's 'Night, Mother
Eugene goes dramatic in PETA play
MANILA, Philippines — Eugene Domingo is a product of the University of the Philippines' Dulaang UP, where she honed her craft, trained by directors like Tony Mabesa and Alex Cortez, and showcased her acting skills in contemporary Filipino plays as well as translations of world classics.
After graduating, she tried showbiz, appearing in many movies including indie films and on TV, and what do you know she exploited her comic flair, became widely known as a comedienne, a celebrity and household word. And winning awards.
Five years ago, Eugene went back to the stage in PETA's (Philippine Educational Theater Association) Bona, playing opposite young hunk Edgar Allan Guzman in the role made famous by Nora Aunor in the Lino Brocka film classic: A die-hard fan betrayed by her idol, who then pours boiling water over him.
And now, at the height of her popularity as a movie-TV comic actress, she is going back to the stage in a highly dramatic role in PETA's 'Night, Mother as a clinically depressed woman contemplating suicide.
The Pulitzer Award-winning play by American author Marsha Norman has been translated and adapted to a Filipino setting by Ian Lomogo and is directed by Melvin Lee. It is an intense, actor-driven two-character work in which Eugene as Jessie is pitted against her mother Thelma, played by Sherry Lara, a respected veteran of the stage. A 10-minute excerpt from the play was performed for media by Eugene and Sherry in a recent press launch at the PETA Theater Center in Quezon City.
You saw the daughter cleaning a gun, to the concern of the mother. And slowly, as the two begin to talk, one deadly calm and the other growing more disturbed, you begin to feel a sort of quiet horror — despite some unintended comic lines — at the outcome.
Director Melvin paid tribute to Eugene for her versatility:
"Hindi ito, 'Si Eugene Domingo comedy lang yan.' This is something new for her fans."
Eugene herself said, "Hindi ito yung nakikita mo ako nagpapatawa sa iyo sa TV o sa laptop mo. I am very, very excited to go back to stage." She kept the media laughing with her off-the-cuff remarks and wit while discussing her serious role.
Asked what effort it took to shift from stage to screen and back again, she observed: "I'm used to the shift, this is our objective as artists, balanse. My first love is theater. I turned to movies and TV dahil hindi ako pinanganak na mayaman (I'm not born rich). But if I had one thing to do, I would choose theater."
'Night, Mother will be presented at the PETA Theater Center on Feb. 2 to March 18 but already the buzz about Eugene returning to the stage — squaring off with drama stalwart Sherry — is starting.
For details, call 0917-5765400.