Stranger Things: What secrets will Season 2 reveal?
October 19, 2017 | 4:00pm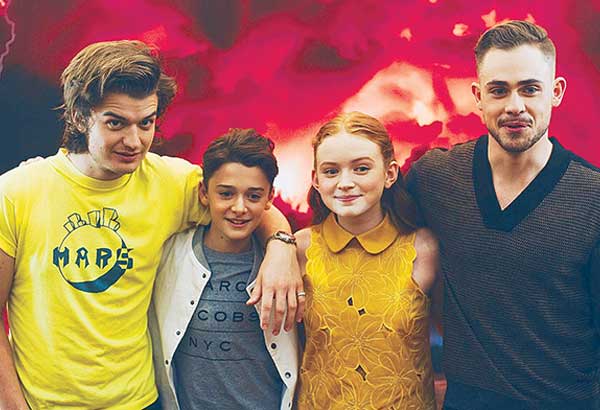 MANILA, Philippines — When Will Byers and his moptop hair returned from the Upside Down, we knew there was no turning back. Stranger Things, Netflix's 2016 mega hit, has fully sucked us into a parallel universe of '80s nostalgia fest and left us shouting at Christmas lights for answers.
While the whole production remains on lockdown to prevent leakage of epic Game of Thrones proportions, they left breadcrumbs along the way as Season 2 drops on Oct. 27. The STAR joined Noah Schnapp (Will), Joe Keery (Steve), and newcomers Dacre Montgomery (Billy) and Sadie Sink (Max) for an intimate interview at Makati Shangri-La Hotel to get more pieces to the puzzle.
From pop culture Easter eggs that captured the zeitgeist of a decade (shout out to fans of The Clash, E.T. and Charlie McGee) to relatable characters in accurate '80s fashion (Hello Steve's pompadour and Barb's mom jeans), Stranger Things was a cultural phenomenon that defied demographics. The massive success of the show raised the stakes and expectations for the next installment.
"There's more pressure now. They're worried about someone taking photos (of the script) and putting it online," Joe said.
"Last year, we would just leave them somewhere thinking that no one was gonna see the show anyway," Noah added, grinning at the thought. Boy was he very wrong.
The Comic-Con trailer, a major visual breadcrumb, is a nod to 1984. There's MJ's Thriller, Ghostbusters, Temple of Doom, Dragon's Lair, a Reagan-Bush re-election sign, and more of Will's moptop hair. It also confirms the return of Finn Wolfhard (Mike), Gaten Matarazzo (Dustin), Caleb McLaughlin (Lucas) and Millie Bobby Brown, which means that Eleven is back in all her ragged baby doll glory — bloody nose and Eggos included.
Two more video clues came in the form of an old school Kodak Ektagraphic slide show of peculiar happenings in 1984 and a Demi Moore-esque rom-com trailer featuring the Steve-Nancy-Jonathan love triangle.
Though tightlipped, Joe revealed that there will be more of this love triangle in chapter two. He admires how the Duffer Brothers decided to go against the trope in the season finale by letting Nancy end up with him (the bad guy) instead of Charlie Heaton's tormented good boy character, Jonathan Byers.
Dacre, whose audition tape reportedly involves dancing to '80s music in a G-string, shared that he had to study Jack Nicholson's brand of bad.
"Stephen King had this idea about the human antagonist being scarier than a monster; I think Jack Nicholson's villainous roles achieved that, so they asked me to make reference to him," the 22-year-old Australian actor explained.
Texan born Sadie, 15, didn't divulge anything about the second season's first episode called Mad Max, which is obviously about her character. She spoke highly of her co-stars, though, saying they all easily welcomed her into the pack.
The question is, will Max come in between the budding closeness between Eleven and Mike? We will soon find out.
As we wait for more answers, hold on to your Eggos and read the rest of our chat with Joe, Noah, Dacre and Sadie.
How do you keep yourselves from spilling show secrets to your friends and family?
Joe: Obviously, I'm gonna tell my mom maybe one or two things. Most people I found don't wanna know, they want to wait for the show to come out.
Noah: I think we both learned to not say anything.
Sadie: My friends are fans of the show. I'm like, yeah, sorry I can't tell you (laughs).
Dacre: In Australia, there's bettings online called sports bet where you can bet for money who dies first in Stranger Things Season 2. My mates would come to me going 'Look, I could win big here.' And I'm like, my career could be over big and I could have a lawsuit on my hands (laughs).
How was it like working with Winona Ryder? The Duffer Brothers?
Noah: She's amazing. There was a scene where I was in the Upside Down, I guess she was worried that my parents were worried because Hopper had to do CPR on me. She was like, 'Oh! I assure you he'll be fine.' Then I also text her, 'Do you mind looking over this (script) and maybe texting me some advice?' The next day, she came in an hour early, talked to me and helped me through it and it turned out to be a great scene.
Sadie: It was definitely a little bit scary at first, but we fit right in. There was nothing wrong about anything; everyone was really welcoming.
Dacre: Winona was lovely. I remember, because I come from Perth, the first thing she said to me was 'Oh! I knew Heath Ledger.' That's her association to Perth, and the Duffers are extremely collaborative; they're lots of fun to work with.
Did you guys ever get creeped out watching or filming the show?
Joe: Watching the show we do but when we're filming it's like (someone shouts), 'He's coming to the ceiling (laughs)!'
Noah: The first scene, the scientist is running in the hall, alarm blaring, and the lights are flicking; every time it gives me the chills.
Sadie: Not really, it was mostly all fun for me.
What was it like being a part of a series that's set in the '80s?
Sadie: It's interesting. Obviously, I didn't live in the '80s but my parents did. They would go to set and then my mom would see one of the characters wearing a shirt or a dress and she'd be like, 'I had that exact shirt. I had that dress (laughs).'
Dacre: The little things that the Duffer Brothers had inserted in the second season are very reminiscent of a particular year. It's kind of exciting because I'm not just in the '80s, I'm in this month in 1984 and that's cool. I wasn't born until 1994, but I grew up listening to The Clash.
How are you and your character alike and different?
Joe: My character is a little bit more immature than I am, maybe not but hopefully (laughs). On paper, he's just a jerk but the actor's job is to make it seem real and give it a motive because nobody's a total jerk for no reason.
Noah: My character is more quiet and introverted but that's just different because I'm usually not. I think a similarity, he's very close to his brother and I have a twin sister named Chloe and I'm very close to her.
Dacre: He smokes, I don't smoke in real life. He's incredibly insecure and I think at that age I was very insecure; I am still in some ways.
What's the most memorable scene for you?
Noah: The scene where all the boys were playing D&D at the table. No one knew how everything would work and we were all just trying things out. There wasn't a lot of pressure. Everyone was making faces and trying to make everyone laugh. It took forever to finish that one scene.
Joe: Probably the (Demogorgon fight) scene; it feels like you're at camp. Seeing all the robotics, the Demogorgon, seeing the prosthetic pieces being controlled by these guys; it was so technical and cool.
Did you actually get to play Dungeons & Dragons on set?
Noah: They had a guy that taught us how to do everything, which I still don't understand, but we did it on set. No one knows how to play it but we pretended we do.
Steve was both good and evil in Season 1. What's he going to be like in Season 2?
Joe: I don't wanna give anything away. The character starts off in a place where we left him off, kinda focused on this relationship with Nancy. I would say he hasn't completely changed but he's going through a change.
How did you welcome the newbies?
Joe: Dacre took me to a boxing class one time… he beat me up (laughs).
Noah: We went out to dinner. We went to this Greek restaurant to welcome them.
How do you feel about the show's overall success?
Joe: We were going to a bar one night, you know, the neighborhood place that we would always go to. Then some guy was like, 'Oh my gosh! Are you that dude from that show?' It's so cool that it just spread through word of mouth and people having genuine interest rather than just a ton of ads.
Noah: We didn't expect anything. One season and that was it, no one was gonna watch it. We didn't think anything would come out of it and then all of a sudden, people started watching and noticing us.