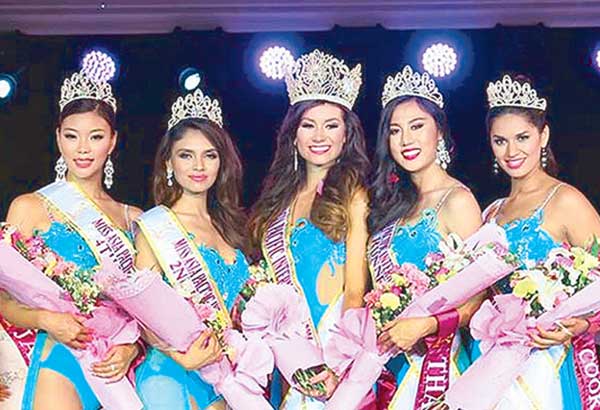 Phl brings back the Miss Asia Pacific Int'l
FUNFARE
-
Ricky Lo
(The Philippine Star) - October 17, 2017 - 4:00pm
After a decade of hiatus, Miss Asia Pacific International (said to be "The mother of beauty pageants in Southeast Asia) is back, with the grand finals set for Nov. 29 at the Newport Performing Arts Theater of Resorts World Manila (RWM). The official re-launching was held at Sheridan Beach Resort and Spa in Puerto Princesa, Palawan. The current title-holder is (photo) Tessa Helena Le Conge of The Netherlands and her runners-up are Chawanya Thanomwong of Thailand (first), the Philippines' Ganiel Akrisha Krishnan (second), Felicia George of Cook Islands (third) and Soyeon Kim of South Korea (fourth).
Some 50 "empowered ladies" are competing and they will start arriving in Manila on Nov. 10.
Here are some of the confirmed candidates — a preview of the initial confirmed candidates set to vie for the crown:
• Miss Netherlands Morgan Doelwijt, 19. She's a sports, dance and travel enthusiast. Can she pull a back-to-back win?
• Miss Suriname Francisca Wong Loi Sing, 21. She's excited to gain friends from different parts of the world and learning their diverse cultures.
• Miss India Sonika Roy, 23. A multi-lingual, trained Indian classical and Bollywood actress, dancer and model, she hopes to win not just the crown but the hearts of her fellow candidates and the global audience.
• Miss Bangladesh Marjana Chowdhury, 23. Based in the US, she has joined a team of Columbia University members in empowering incarcerated youth at the Rikers Island Correctional Facility through workshops and prison reform programs.
• Miss Myanmar HtweEiKyaw (Nang Thazin Tin), 20. A bookworm, she is taking up AB English at the University of Dagon. Will she be the first Miss Myanmar to win the crown?
• Miss Colombia Yhully Bell Gomez, 23. A lawyer and model, she loves dancing and regularly working out in the gym. She hopes to put up a foundation that will focus on helping women and children through arts.
• Miss Philippines Ilene De Vera, 21. A Masscom graduate from UP Cebu, she is presently working as a marketing executive in a real estate company and has been modeling for six years under Models Association of Cebu.
• Miss Japan Yuki Du Sonoda, 23. She's a Law graduate from Rikkyo University in Tokyo. While preparing for the bar exam, she works as an office assistant in a Tokyo-based real estate firm.
• Miss Mauritius Aylasha Ramrachia, 22. As Miss Mauritius, she's doing charity work and promoting Mauritius' tourism. She will take further studies specializing in Tourism and Hospitality Management.
• Miss Brazil FranciellyOuriques, 25. As Miss Brasil Empresarial 2017, the Human Resources Management graduate is busy with "We Are All Children," an organization that partners with Hope House Institute that helps the orphaned children in Brazil.
For more updates, you may check their website at http://www.asiapacificintl.com/ or follow Miss Asia Pacific International's social media accounts (FB: Miss Asia Pacific International, IG: @missasiapacificintl TW: @ms_asiapacific)
(E-mail reactions at entphilstar@yahoo.com. For more updates, photos and videos, visit www.philstar.com/funfare or follow me on Instagram @therealrickylo.)