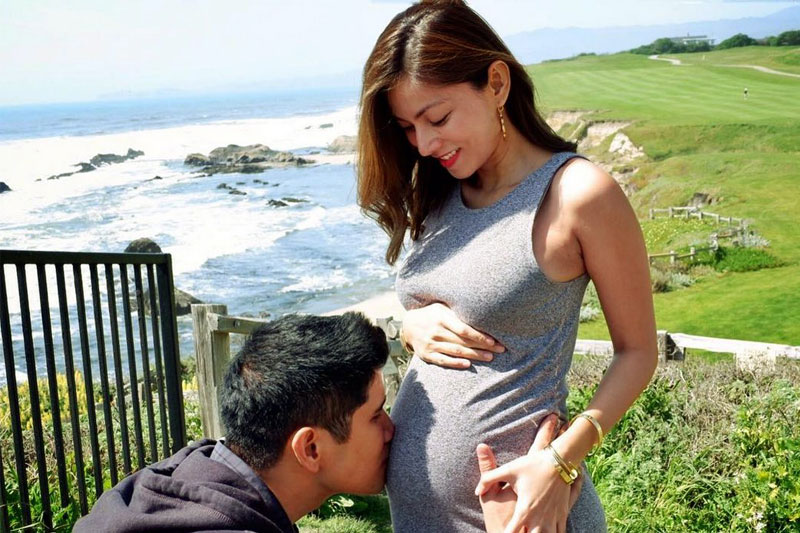 Maricar de Mesa at the third baby shower joined by Aprica, the Japanese baby-stroller brand. The yet unnamed American model, father of Baby Sky due anytime now, could hear the voice of the baby in Maricar's tummy
FUNFARE
-
Ricky Lo
(The Philippine Star) - July 17, 2017 - 4:00pm
More than two years after her marriage to basketball player Don Allado hit the rocks, Maricar de Mesa is still clueless where they went wrong. At least, that's what she told Funfare in an exclusive interview.
"I don't know," claimed Maricar who is giving birth any time now to her first child by her new love, a model whose name is being kept confidential for the time being. "I really don't know anymore. At saka, hindi ko na siya naiisip, eh. When the news broke, he didn't text or call." (Note: Maricar's ex-husband has gone back to the US.) "What I remember is that we started exchanging text messages na. That was when we got the papers already." (They were divorced.)
They were childless. Asked if a child could have saved the marriage, Maricar admitted that they tried everything to have a child, but…
"Every couple naman siguro wants to have a family and their own kids," mused Maricar. "Yeah, my ex and I even tried the scientific way. We tried IVF (In Vitro Fertilization). We had...I don't remember what it's called, but there's one procedure before IUI (Intrauterine Insemination). We did 'injectables' first, injection ako lang, but then he was taking something else.
"And then IUI was the next, before we tried IVF. We went through all the processes. With this one, under pressure ako kasi, of course, I was getting old, gustong-gusto ko talaga magka-baby, if possible the natural way! And I found out in December last year, two days before Christmas Day, that I was pregnant…without trying any artificial method ha! I really want a girl for my first child; saka na 'yung boy siguro."
Maricar talked to Funfare during a baby shower at a Pasig City restaurant, joined by Aprica (the popular Japanese-branded baby stroller). The baby's name is Sky.
Excerpts from our interview:
Are you giving birth by Caesarian section or the natural way?
"For now, kaya pang normal. Huwag lang daw siyang lumaki in the next few weeks. So far, Sky already weighs more than seven pounds. Her weight is bigger by two weeks for her age. My doctor was asking me to slow down on sweets which I love so much. They tested my gestational diabetes. Good thing medyo borderline lang; I guess from the food I had taken when I was in the States."
How are you preparing for motherhood?
"I'll be staying in my own place after I give birth; it's near my mom's place. So puede doon yung bata, ihahatid-hatid ganoon. With regards to my partner in the States, I really have no idea yet; no definite plans yet whether to stay there or here. But for now, I'm based here since I'm giving birth. But we'll see, we'll have to talk about it pa. By the way, I don't need to buy anymore baby needs since ang daming baby shower. This is the third."
Will you resume your career? Will you limit yourself to non-sexy roles?
"We'll see; I'm not closing my doors. Hilig ko 'yan eh; love ko yung ginagawa kong 'yan, eh. Hinahanap-hanap yan ng katawan ko eh. Maybe if the project is right at medyo gamay ko na 'yung baby and I can leave her with my mom."
If you may, give even a brief introduction to your current partner without giving his name.
"We met when eight or nine months after my husband and I separated. He came up to me and introduced himself to me one night. A friend of mine was even blocking him, because she had another guy who she wanted to introduce to me. Anyway, I had a bit of wine then so I ended up giving my name — Car nga lang binigay ko, eh, and my number.
"He contacted me the next day. He was supposed to leave for New York in three days, pero he extended for two weeks to stay with me. He flew out, and came back for two weeks for my birthday. We've been dating na for a while and masasabi naman namin na we know each other already."
"When I was with him in the States, he was very supportive. He's very excited about the baby, including his family. He calls every day, he checks on me every day. He's ready to be a father. Sky is also his first child."
Who will Sky look more like kaya?
" I guess 50/50. I would like to inherit my being strong-willed, 'yung confidence ko na hindi naman overpowering. I hope Sky will grow up independent like her dad, American kasi, eh! Like me, my partner is family-oriented. Sana ganoon din si Sky. Very independent and very smart. And very sweet like her dad, very malambing siya, eh. Ako kasi, I'm not good nga with words, eh."
Obviously, you and your partner are compatible.
"I think it's because we're both family-oriented, compared to my previous partner. Kasi pareho kami ng pinagdaanan; medyo pareho kami ng background. He had a previous partner also in the US, and we are both separated. We were destined for each other. He's based in the States at dito pa kami sa Pilipinas nagkakilala! Who would have thought, di ba?"
Do you have plans of getting married?
"No pressure. We both came from failed relationships, you know. Focus muna kami on the baby."
Why are you calling your baby Sky?
"You know what, every time I ask something from God, I would simply look up at the Sky at ayan na. It's a wish granted palagi. And another thing, my mom's name Senna, starts with an S and she requested that our baby's name should start with the same letter. Sky will be a second name. The first name will come from the dad and we are still debating about it."
And how soon do they plan to have another baby?
"I'm turning 38, so maybe if I get pregnant again, I will be 39 or 40."
1st PNP Anti-Illegal Drugs Filmfest bets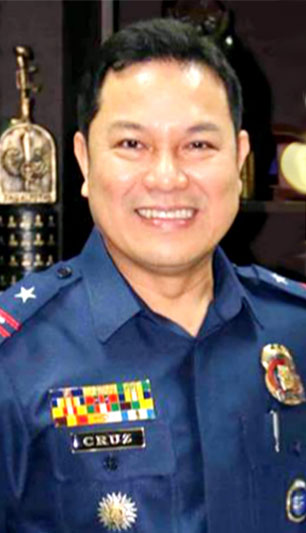 PCSupt. Guilberto DC Cruz, the brains behind the 1st PNP Anti- Illegal Drugs Filmfest
The seven finalists of the first PNP Anti-Illegal Drugs Film Festival are all produced of students from three universities to show their support to the government's movement toward change. They are:
1. Banyuhay, directed by Elna May Santana, screenplay by Karen Bondoc and Jobelle Macayan. Cast: Jeremi Flores, Alexander Joshua Barcela, Queenie Fernandez, Maria Divina Tigno, Mary Mae Lodriguito, Vilma Tolin, Gabriel dela Rosa and Simon Asenjo. Adviser: Dr. Maria Lourdes D.P. Garcia (Polytechnic University of the Philippines).
2. Batak Bata, directed by Ian Villa, screenplay by Al-Jhun Virgo. Cast: Jess San Andres, Tessie Lagman, Tony Suvega, Ernie Garcia and Jan Dio. Adviser: Prof. Eduardo Palmos (Polytechnic University of the Philippines).
3. Kutob, directed by Daniel Bernaldo, written by William Ompoc, screenplay by Darwin Pesco. Cast: Lloyd Hatulan, Kruspakaya Valila, Ericka Louise Bumansag and Earl Justin Pingol. Adviser: Edna Tormon-Bernabe (Polytechnic University of the Philippines).
4. Tantos, directed by Raymart Ardaim, story by Aaron Dale Miranda and Shun Paolo Bueno, screenplay by Elda Len Morales. Cast: Jason Espinosa, Shaira Mae Reblando, Wyndel Usero, Carlo Manuel Sr., Jim Paolo Cruz, Michael Benedict Sindayen and Yutaro Sato. Adviser: Dr. Maria Lourdes D.P. Garcia (Polytechnic University of the Philippines).
5. Toktok Hangyo, directed and screenplay by Kris Cazin. Cast: Jaybee Ormasa, Jan Aaron Olabarrieta, Austin Seth Ignacio, Alyssa Rae Tan, Ray Escalante, Des Campos, Gabriel Ian Marasigan, Rosalinda Mercedes Castillo, Philip Cinco and Kim Clarete. Adviser: Dr. Auxilie Salvosa (La Consolacion College).
6. High na si Lola, directed by Abigail Modales, screenplay by Ma. Divina del Pilar. Cast: Alvin Fortuna, Jeff Fernandez, Liz Alindogan, Steph Cordero and Perla Bautista. Adviser: Prof. Eduardo Palmos (Polytechnic University of the Philippines).
7. Sais Bente Tres, directed by Paul Caisip and Jeffrey Deplomo, story by Deplomo, screenplay by Maricris Madara. Cast: Jeremy Asis, Janet Batubatan, Renzo Gruezo, Trisha Leonor, Star Orjaliza and Pontri Bernardo. Adviser: Estrellita Glodo (Eulogio Amang Rodriguez Institute of Science and Technology).
The filmfest is spearheaded by Police Chief Superintendent Guilberto DC Cruz, Director, Police Community Relations Group of the Philippine National Police, in partnership with the UNTV, PAGCOR and PCSO. Cruz was the writer of award-winning Banal directed by Cesar Apolinario, an official entry in the 2007 Metro Manila Film Festival (MMFF).
Cash prizes and trophies will be given to the Best Picture and two runners-up winners during the awards ceremony tonight at 8 at the PNP Multi-Purpose Center, Camp Crame, Quezon City.
Brillante Mendoza is the affair's special guest. Special recognition awards will be given to actors who appeared in the entries including Perla Bautista, Ernie Garcia, Liz Alindogan and Tessie Lagman. – Celso De Guzman Caparas