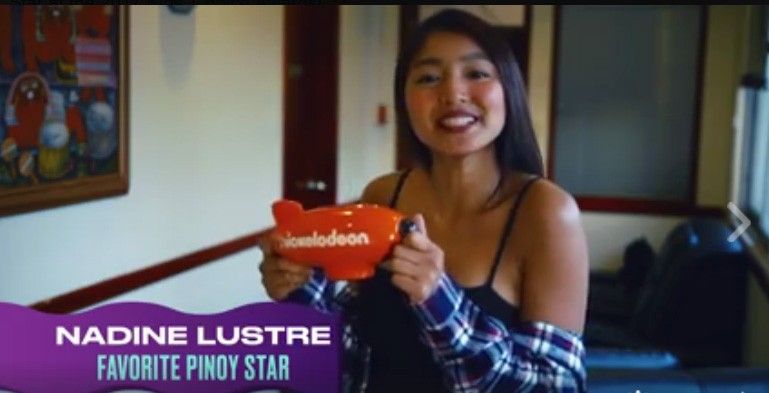 Singer-actress Nadine Lustre has been named "Favorite Pinoy Star" by Nickelodeon Kids' Choice Awards.
Screen grab from Facebook/Nickelodeon
EXCLUSIVE: Nadine Lustre on being a good influence for the youth
MANILA, Philippines — Filipino kids have spoken: Nadine Lustre is their "Favorite Pinoy Star."
Nadine won over fellow actors Janella Salvador, Janine Gutierrez and Liza Soberano in the category "Favorite Pinoy Star," of Nickelodeon Kids' Choice Awards (KCA) for this year. The category was available only in the Philippines.
In a phone interview with Philstar.com following her announcement as winner, Nadine said: "I'm really, really happy about it because Nickelodeon is a big part of my childhood. Being able to receive that award means so much to me. It's like a check out of my bucket list. I guess I really never expected it."
Despite the controversies she went through, including her sexy beach photos and car love scene with real-life boyfriend James Reid in their recently concluded TV series, "Till I Met You," Nadine still considers herself a good influence for the youth.
"I am (still a good influence to the youth) because I'm just being myself. That's what we teach 'di ba, all the kids to be themselves and not pretend to be someone else because that's how you live life happily eh – being yourself. Kasi trying to become someone else, I've been through that stage. So what I'm doing now is not influencing, but I'm like showing everyone na 'Don't try to be someone else because you're not going to be happy that way'."
The only thing that does not make her "wholesome" is her going to the beach in a bikini. "But I guess that's just normal (wearing bikini in the beach)," she opined.
She dedicates her award to all her fans, the JaDines, and everyone who voted for her.
The awards, organized by TV cartoon network Nickelodeon, celebrates kids' favorites from across the worlds of film, TV, music and pop culture. It is determined through a survey involving children 14 and below. From February 3 to March 6, the kids voted through the channel's website and social media sites, as well as via ballot boxes stationed in a popular toy store chain.
Last year, the category for the Philippines was "Favorite Pinoy Personality," which went to Maine Mendoza. This year, the category was changed to "Favorite Pinoy Star," where Nadine, Janella, Janine and Liza were the nominees.
Besides herself, who does Nadine want to win?
"When they announced the nominees, I was happy I was part of it. Because for me, whoever wins, we're all winners…I know all of them so kahit sino, I'll be happy for them. Because we're from the same country, we're all together in this."
This year, there were new categories: Favorite Frenemies; Best Friends Forever; Most Wanted Pet Squad; Favorite Music Video; Favorite DJ/EDM Artist; Favorite Soundtrack; Favorite Viral Music Artist; and Favorite Global Music Star.
KCA was held at USC's Glen Center in Los Angeles on March 11, aired in the Philippines on March 13, 11:30 a.m., with a same day encore at 5 p.m.
Nadine shared that she and James are leaving for a concert tour in the United States and they have a new movie on the works.
WATCH: Nadine Lustre receives her "Favorite Pinoy Star" award
WATCH: "Favorite Pinoy Star" award nominees