FUNFARE
-
Ricky Lo
(The Philippine Star) - January 13, 2016 - 9:00am
Some marriages are made in heaven, so to speak, others are hatched on the silver screen. That of TV reporters Maria Josefina "MJ" Romualdez Marfori, 27, and Oscar Elumba Oida Jr., 40, grows out of the frenzy of deadlines. MJ is with the TV5 Kapatid Network while Oscar is with the GMA Kapuso Network. No network "war" in this romance, proving that love knows no bounds, no boundaries.
MJ will march down the aisle of San Agustin Church in Intramuros, Manila, in a gown designed by Jo Rubio in the afternoon of Jan. 30, Saturday, with the reception following right after at the Palacio de Maynila in Malate, Manila.
"I chose the San Agustin Church because I love it, the church is dear to me," said MJ who, aside from being a field reporter, also hosts showbiz-oriented shows (one of them was Showbiz Konek). "Actually, we planned to have the wedding abroad but Oscar's parents are old na, in their 80s although they are still strong, so we decided to have it here na lang."
Oscar is the only son (the youngest after three sisters) of former NBI director Oscar Oida Sr. and Beata Elumba Oida; while MJ is the third among the five children of Jose Enrique (deceased) and Teresita Romualdez, the daughter of Vicente Romualdez (the older brother of former First Lady Imelda Marcos).
The wedding will cap a six-year romance that started when MJ and Oscar met at the Armed Forces of the Philippines (AFP) office while they were both covering the Department of Defense. Oscar was also on the police beat. Before long, Oscar asked for MJ's phone number and then he started courting her.
"Oscar is my first boyfriend," said MJ.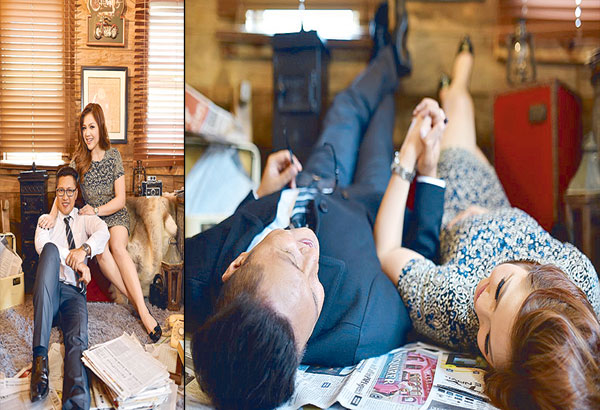 Asked how many girlfriends Oscar has had before her, MJ joked, "I don't know…unli, hahahaha!!!", adding, "It was easy to love Oscar. He's courteous, dignified and honest. When he was courting me, he put his cards on the table, wala siyang itinago sa akin. He comes from a good family, very simple and no complications at all."
Oscar surprised MJ with his proposal abroad.
"That was in October 2014," related MJ. "He did it at the Bow Bridge in New York City. I knew that Oscar was also abroad with his friends but I didn't know that he was in New York. I just came from a gimmick in Soho with my best friend who is based in New York. It turned out that Oscar conspired with his friends who acted as witnesses of the proposal. He fell on his knees and offered me a 1.2-carat ring."
After the wedding, MJ and Oscar will have a honeymoon around Europe.
"We want to enjoy each other's company first before we start having a baby," said MJ. "That will be maybe two years from now."
Here's the wedding entourage:
Atty. Felipe L. Gozon and Carmela "Mel" Tiangco/Manuel V. Pangilinan and Luisita "Luchi" Cruz-Valdez/Hon. Sen. Ferdinand Marcos Jr. and Wilma V. Galvante/Hon. Mayor Alfred Romualdez and Grace dela Peña-Reyes/Emmanuel C. Lorenzana and Victoria "Vicky" Morales-Reyno/Miguel "Mike" Enriquez and Jessica Soho/ Atty. Francis Tolentino and Marissa Flores/Arnold Clavio and Marijean M. Marquez, M.D./Atty. Ferdinand Topacio and Lolit Solis/Howie Severino and Charisse Ann Tinio/Lhar Santiago and Hon. Coun. Cristina Romualdez/Tomas Meere Castillo and Michelle Seva/and Rey F. Farne, M.D. and Herminia Marfori-Farne.
Best Men: Lawrence Oliver Castillo, Philippe Quito and Armando F. Virrey III.
Matrons of Honor: Maria Carissa Quirante, Maria Criselda Palines and Maria Erika Syquia.
Groomsmen: Dindo Wenceslao, Geth Savellano, Rufino "Raffy" Tima Jr., Rodolfo "Jun" Veneracion Jr., Emil Sumangil, Richard Villanueva, Doland Castro, Ivan Mayrina and Lee Veneracion.
Bridesmaids: Kimberley Migallos, Anne Claire Nicholls, Albertina Molano, Leticia Linnel de Villa, Fatima Aguila, Sarah Samantha Salonga, Nicole Zialcita, Marija Vicente and Christine Catiis.
Secondary Sponsors: Derek Ramsay and Pia Arcangel-Halili (Candle), Rodrigo "Jiggy" Manicad and Rhea Santos-de Guzman (Cord), and Isaiah "IC" Mendoza and Bianca Charlotte King (Veil).
Bearers: Anton Luis Quito (Symbol of Faith), Sabian Cole Marcos Lozano (Symbol of Love) and Ambriel Ethan Aricheta (Symbol of Prosperity).
Flower Girls: Luna Diwata Pizzato, Maaya Virrey and Emmanuelle Grace Tan.
(E-mail reactions at entphilstar@yahoo.com. You may also send your questions to askrickylo@gmail.com. For more updates, photos and videos visit www.philstar.com/funfare or follow me on www.twitter/therealrickylo.)