Love & horror in two MMFF entries
MANILA, Philippines – Quantum Films has two substantial entries in this year's Metro Manila Film Festival (MMFF) and both are worth patronizing.
One is a romantic comedy #Walang Forever top-billing actors Jennylyn Mercado and Jericho Rosales and the other is a horror movie, Buy Now, Die Later featuring Vhong Navarro, Alex Gonzaga, Rayver Cruz and TJ Trinidad, among others.
Two easily recognizable qualities of the film are the good writing by Paul Sta. Ana and the deft, if, spontaneous direction by Dan Villegas.
Here we get to see some scenes in the love life of celebrated writer of romantic comedy films Mia (played by Jennylyn) and her once and future love, Ethan (Jericho). The film opens with the writer preparing to appear in a TV talk show to which she doesn't know what to expect.
What she did not expect was that the interviewer would dwell on past loves and what she hoped to accomplish in the future.
As she recalls her past, a complicated love life unfolds. She thought she was through with one chapter of her first taste of love until she realized she wanted to be with her man whatever his status was at the moment.
Happily, the team up of Jennylyn and Jericho has a special brew to it that keeps moviegoers in varied state of romantic trance.
Jericho remains a leading lady's dream partner and lives his part with a good blend of romantic substance.
But it is Jennylyn who remains a very engaging performer. She is a natural in whatever state her character finds herself and the good part is that she lives and breathes the character with a high degree of credibility. On top of that, she remains as fresh as springtime adding a few more "kilig" factor to her role.
Direk Dan allowed the story to flow freely and never for once tried anything for effects. He is perfectly in control but doesn't show it. To him, the story is the thing. And it is just as well because #Walang Forever has a damn good story that we heard was an idea from director and storywriter Antoinette Jadaone.
As the movie plumbs through the present and the past of the main character, you see a movie imitating life and vice versa.
Ethan realizes that his conversation with his loved one was copied word for word from his past love encounters.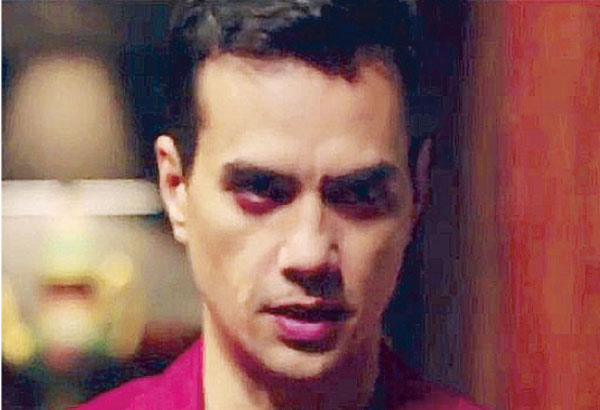 TJ Trinidad is one hell of a devil in Buy Now, Die Later
The film has excerpts from films written by Mia and through it all, we see a writer trying to be human, trying to find detachment from her writing life and her love life.
In the talk show, she confronts her past and decides the future. She will re-allow love in her life and will live with it no matter what it takes.
To be sure, the story is nothing new but Dan and Paul gave it a new twist and a new package fit for both the millennial and non- millennial crowd.
In the end, love triumphs and how Mia copes with it is another stroke of good writing.
Indeed, there is no original story in the world of romantic movies. It is how the writer and director deal with it that makes a lot of difference.
For this kind of creative collaboration, #Walang Forever was rated A by the Cinema Evaluation Board.
* * *
Buy Now, Die Later is another fairly good entry in the MMFF and there is a lot in it that will keep millennial screaming.
There are a lot of elements in it reminiscent of the spiritual saga of Faust and Mephistofele but in layman's lingo, it is a film that warns you: Careful what you wish for or else suffer the consequence.
The individual stories — of Vhong as the struggling photojournalist; Alex as the aspiring star; John Lapuz as the man-hungry neighbor and Rayver as the bartender dreaming to be a big-time chef — make up the whole movie with TJ lending a commendable sinister element in his role as the dispenser of all wishes.
Indeed, TJ's performance is one of the most satisfying, if, unifying elements of this film with director Randolph Longjas giving it his best. There are moments when you thought the horror film had turned into comedy but you quickly realize the nature of the character called for it.
If there is one lesson this film can impart, it is to be happy with what you have and don't even attempt to sell your soul to the devil.
Again, TJ is one hell of a devil in this horror film.
#Walang Forever and Buy Now, Die Later are now showing in cinemas.