Being second choice for Walang Forever... Jericho: Not an issue
MANILA, Philippines – Jericho Rosales is happy to have an entry once again in the annual Metro Manila Film Festival (MMFF).
"The first time I had an entry was in 2000, Star Cinema's Tanging Yaman, which won Best Picture," he says. "This was followed by Bagong Buwan in 2001, Baler which I did for Viva in 2008, Yesterday Today Tomorrow for Regal in 2011 and now, Walang Forever for Quantum Films."
Did he have second thoughts about accepting Walang Forever that was originally meant for JM de Guzman? "No, it was never an issue. I believe everything happens for a reason. I've long wanted to do a light drama like this with touches of comedy, so I consider this an answered prayer and I want to thank the Lord for granting my request," he says. "Even if I were the third or fourth choice, I won't let go of the opportunity to do this project, which happens to be a Metro Manila Filmfest entry also. I really enjoyed doing this film with Jennylyn Mercado who I get to work with for the first time."
He was praised to high heavens by Jennylyn during their presscon. When asked about him, she declared: "He's one of the best leading men I've worked with. He's a great actor and nice to everyone. He treats even the staff and the crew with care and concern, at siempre, maalaga siya sa kapareha niya, especially in our love scenes."
What can Jericho say about this? "What else but thank you," he says. "But Jen herself is a joy to work with. Napakagaan niyang kasama. We clicked right away on the set on the very first day of shooting. Truth is, when I'd see her billboards then, I was wishing that we'd be given the chance to work together someday and here it is, nagkatotoo na."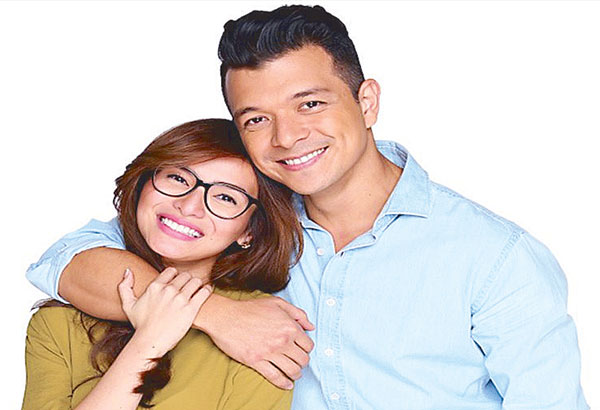 With Walang Forever leading lady Jennylyn Mercado in a scene from the film
What can he say about Jen's acting? "She's the best. We both won in a contest on TV. She in StarStruck, and me in Mr. Pogi of Eat Bulaga. She can be called the Rom-com Queen after doing hit romantic comedies, but in fairness to her, she's also good in doing our dramatic scenes. Ito kasing Walang Forever, it's not just a rom-com, marami rin itong dramatic scenes and she's also good in all of them.
"I play Ethan, her former boyfriend, an information technology expert who works abroad. We broke up because she thinks I'm so self-centered. Then I come back to her life, woo her again, she gives me a second chance, then things go wrong again for us, which is why she believes that in a relationship, walang forever."
What does he think are their chances against younger love teams like AlDub, JaDine and KimXi who are also starring in MMFF entries? "I believe in our movie. Our director, Dan Villegas, is very good. He has fresh, great ideas on how to come up with a crowd pleaser. Last year, he surprised everyone with English Only Please, which won awards and was also a box-office blockbuster due to positive word-of- mouth endorsement from satisfied viewers. I won't be surprised if Walang Forever would follow the same route. We're all happy with our movie. I think it will spread like wildfire that it's worth watching and it will have long legs at the box-office."
Jericho got married to model-TV host Kim Jones in May of last year. When do they intend to have kids? "As of now, we don't have any plans. We're doing a lot of traveling together to enjoy each other's company. When you have a baby, that would be hard to do. So having kids would have to wait."
He has romantic scenes with Jennylyn in Walang Forever, won't Kim get jealous? "No, she's very secure with me. She knows my heart belongs only to her and that when I kiss my leading ladies, it's just part of my job as an actor. I'm only doing it to be effective in my work and she already knew that even before she married me. Actually, she's excited to watch the movie and she thinks there's kilig factor and good chemistry in my team-up with Jennylyn."