Rocco to StarStruck survivors: Stay humble
Jerry Donato
(The Philippine Star) - November 28, 2015 - 9:00am
MANILA, Philippines – "To stay humble and to keep that passion and drive for work," was Rocco Nacino's reply when he was asked for words of wisdom for those StarStruck survivors who will continue on after the GMA 7 reality talent search's finale.
"After the contest is the real challenge and the real test. After this whole journey, they will be able to breathe," added Rocco, who had a quick chat with The STAR during the opening of Huawei's first experience shop at Mall of Asia. "What I can say so far, many are happy with this batch. I see potential in them. I'm just happy for them. They have invested in so much."
Rocco, the talent show's product and now segment host, didn't just invest time to learn the ropes of showbiz, but he also made an effort to improve his acting skills. For the past years, the then wannabe has become a fixture in his network's afternoon and primetime series. One of those is Beautiful Strangers, starring opposite girlfriend Lovi Poe, which had its finale last Friday.
Aside from TV, Rocco is also filming the period independent film Lakambini, directed by Ellen Ongkeko-Marfil and Jeffrey Jeturian, and again sharing the billing with Lovi.
"It's the story of Gregoria de Jesus and Andres Bonifacio," said Rocco. "Through (the guidance of) my directors, I will have a different approach to my role Andres (who has been portrayed by many actors in different mediums). People have this notion that he, like Heneral Luna, is very strong. In this film, however, Andres thinks of both sides — he is not just capitalizing on his strength and position (to pursue his missions) and to show his stand as the supremo (the supreme leader). He is very understanding. Hindi sa lakas ng boses o sa pagiging matapang (maipapakita) ang pagiging isang lider. The film will also show his growth as supremo, his demise and his romance with Gregoria de Jesus."
On days when Rocco is away from the klieg lights, he is busy gracing events like the Huawei's first experience shop as guest. Rocco saw it to himself the store's minimalist and relaxing interiors that engage the users to access the devices they want. The Huawei product line includes the new Huawei MateS with its Knuckle Sense 2.0 and Fingerprint Sense 2.0 technologies; Huawei G8's Beautification 3.0 Technology; the android Huawei Watch and Huawei's Nexus 6P.
With the success he is reaping now, Rocco remains humble and grateful for his network and fans. "I'm glad that GMA is looking out for me. They gave me good projects they (think) would help and boost my career. I'm thankful with what's happening in my career, I'm also grateful for the producers who think of me (and consider me in their projects), the directors who want to work with me."
After Beautiful Strangers, Rocco shared, some projects are coming up. "Hopefully, they will push through," he said.
If there's one thing Rocco has learned to value in his showbiz life, it will be: Never rest on one's laurels. "I think I still have many things to learn and to experience (as an actor). That's what I'm looking forward to. That's why I want to do different projects. So I will put myself in different situations and play varied roles and I will become well-rounded."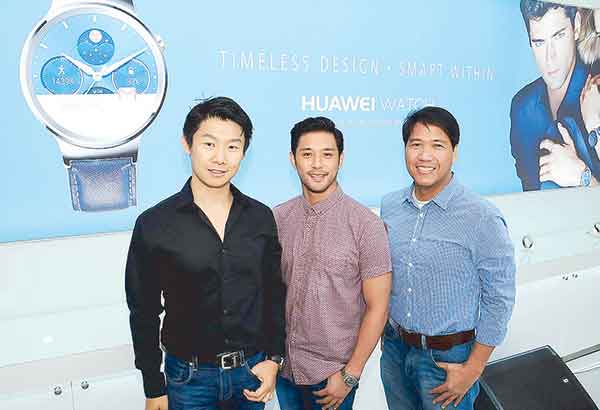 With Huawei Technologies Philippines country manager Charles Wu (left) and sales and marketing director Jojo Vega