Music reigns in South Pacific
(The Philippine Star) - September 17, 2015 - 10:00am
MANILA, Philippines - Ahead of everything, please forgive me for attaching the "Direk" title in my byline. It's not a boast but an acknowledgment that I am an active member of this industry and as such, cannot and should not be expected to review any other production. As a member of the human race, however, I am entitled to a reaction and if the show in question is South Pacific In Concert currently running at Resorts World, it is a joy to react to.
It's been several years since South Pacific, The Musical was in the news, locally or otherwise. England's National Theatre staged it back in 2001 with Sheila Francisco from Manila chosen by artistic director Trevor Nunn to essay the role of Bloody Mary to glowing reviews. In 2008, Glee's Matthew Morrison played Lt. Joe Cable in a Lincoln Center production in New York City. Two outstanding film versions were made, the most recent (if one can call it that) a slightly controversial interpretation using the not-so-slightly older Glenn Close as the "immature" lead, Nurse Nellie Forbush. But the version that is closest to the hearts of many is the 1958 film classic starring perky Mitzi Gaynor using her own voice and elegant Rossano Brazzi lipsynching opera bass Giorgio Tozzi.
Locally, this was staged by Repertory Philippines in 1981 and, ehem, I was assigned to play Emile de Becque. Some enchanted role, huh? But before rehearsals could begin, I had to pull out of the part and Roger Chua ended up playing it opposite theater great Baby Barredo. But of all these productions, the script of the moment came not from the stage or cinema but from a concert hall, Carnegie Hall, no less.
In the 2006 South Pacific In Concert production directed by David Horn and starring singer Reba McEntire, the original three acts were trimmed to two but enough dialogue was retained so that rather than just catching a concert of R&H songs, the audience could follow the actual story.
With this format, the experience of South Pacific In Concert at Resorts World becomes undeniably unique to either concert-goer or theater fan. Director Menchu Lauchengco-Yulo has taken the Carnegie Hall script and given it a recitalist's staging with occasional production choreography. Given that the Newport Performing Arts Theater (NPAT) stage apron is at least 20 feet wider than Carnegie Hall, this was necessary and quite effective. Videos shown on NPAT's giant LED screen served as more than sufficient background for the night.
But if I were to pick out what for me was the most outstanding element of this production, it would have to be the music and every aspect involved in performing it. From the original material to the arrangements to the orchestral interpretation to the actual singing, the show has glorious music in spades.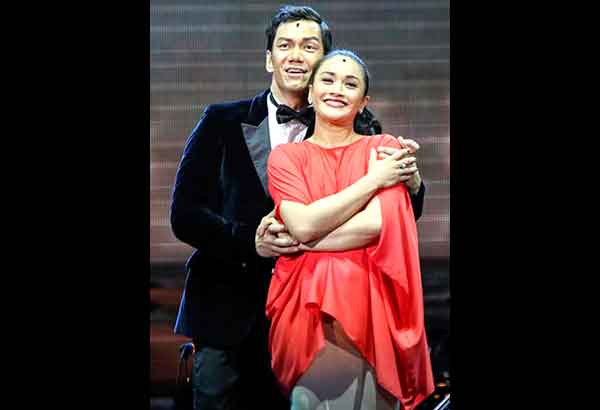 Jon Meer Vera Perez and Joanna Ampil — Photos by JAYPEE MARISTASA
There is always the challenge of working with only so many musicians that the budget can afford. Numbering 40 for the show, the Manila Philharmonic Orchestra under Maestro Rodel Colmenar becomes a truly major force to reckon with. From the opening overture to the final chords, one's ear is filled to overflowing with melodies and harmonies that transcend time, space and place.
The night I watched, the cast led by West End actress Joanna Ampil, classical singer Jon Meer Vera Perez, pop singer Mark Bautista and another West End veteran, Ima Castro delivered all their beautiful songs not just with aplomb but more importantly, with deep, genuine respect for how the score was originally composed and written by its great creators, Richard Rodgers and Oscar Hammerstein II.
Musically, Rodgers remains without peer. We use the term "classic pop" so loosely nowadays but when push comes to shove, more than six decades ago, Rodgers was already showing everyone the way. I remember hearing the melodies of Some Enchanted Evening, Bali Ha'I and Happy Talk as a child and never, as in never, forgetting them since. The melodic lines were classic but the ease and repetition were pop and the result of the combination is one of the loveliest scores ever written anywhere for anything.
As a music lover, I find Rodgers enough. As a stage director, I would need more and here, Hammerstein II is sublime. What makes South Pacific's lyrics so special is their appalling timelessness. In that regard, much as I celebrate the melodies of the earlier songs mentioned, I have to put an extra spotlight on Carefully Taught and This Nearly Was Mine.
"…to hate all the people your relatives hate…" resounds until today with alarming immediacy. "One dream in my heart, one love to be living for, this nearly was mine" still sounds like the personal anthem of anyone with a feeling heart. Rodgers' music is timeless, Hammerstein's lyrics, timely. Together, magic.
There aren't too many more aspects of the production to react to. Dimensionally, it is simple. But put aside the facts and figures and the show is left with a vibrant, throbbing heart that feels, touches, affects and enhances. Such is my overall reaction to this production. My overall wish? That audiences take the extra hour to deal with the traffic, to grab a good bite, have a sip and a half, take a seat in a lovely theater and just revel in all that the red velvet curtains reveal. May your evening be enchanted, may your talk be happy. In this realm of the Pacific, there is magic in the South.