Let Square One, Phl's 1st kid rock band, rock you!
FUNFARE
-
Ricky Lo
(The Philippine Star) - August 28, 2015 - 10:00am
Had Sampaguita, the Original Rock Queen, been at Historia Bar (on Scout Esguerra St., Quezon City) last Tuesday, she would have given Kyle Jimenez a standing ovation, and asked for an encore, after Kyle did a show-stopping version of Sampaguita classic hit Nosi Ba Lasi (sino ba sila pronounced backward).
Kyle is the vocalist of Square One, the first kid rock band in the Philippines, along with Sean Samonte (drums), JP Par (guitars) and Von Domingo (bass). They wear their hair long but don't be deceived by their looks. They are all boys, all tweens.
During the lunch presscon, the TV monitors at Historia were airing the smash-hit AlDub kalyeserye of Eat, Bulaga! But it was the Square One that attracted the lion's share of the media guys and others present. You have to watch the boys perform for you to, probably like Sampaguita would have, also give them a standing ovation and ask for more, more, more! The boys rock like no other rock band ever has, not even those older, and you love watching them do it because their passion for what they are doing is infectious.
No wonder, the boys, all born to musical families, have been exposed to the music of Metallica, Guns 'n Roses, Linkin Park, Slipknot, Dream Theater, Wolfgang, Kamikazee, Parokya ni Edgar and Siakol, among other rockers.
It took MCA Music, Inc. to detect a prospective hit in the band which is performing to big enthusiastic crowds around the country.
Meanwhile, get a copy of Square One's eponymous debut album (released by MCA), with Long Hair as carrier single, the boys' version of the '90s reggae hit. It's out on digital downloads via Spinnr and iTunes and streaming via Spotify, Apple Music, Deezer and Guevara. It's also available in CDs at Astroplus, Astrovision and Odyssey outlets.
Piolo's visit stops work at DWBR radio station
When Piolo Pascual showed up at radio station DWBR last Tuesday, Aug. 25, he was met with cheers and screams of "I love you, Piolo!" by the employees, obliging requests for "Selfie naman tayo!"
Piolo was there to pre-tape an episode for the program The Law Of The Heart is Love, hosted by election lawyer Romy Macalintal, to be aired tonight from 8 to 9 (with a replay tomorrow, Aug. 30, from 7 to 8 p.m.).
"He came on time," said Romy. "At around 12:30 p.m., I received a call from him saying, 'Attorney, nandito na po ako sa PIA naghahanap lang ng parking space, wala kasi akong driver. He's really humble and so simple. Now I know why he is that successful," added Romy who rushed from the fourth floor of the PIA building to meet Piolo at the lobby who had just alighted from his car.
Like other celebrity guests, Piolo read four poems for Romy's program, two Tagalog poems in time for the celebration of the Buwan ng Wika and two English poems written by James J. Metcalfe.
Added Romy, "Piolo likewise gamely read with full emotion, to the delight and thrill of his fans, memorable lines he delivered in his recent movie with Sarah Geronimo, Breakup Playlist, where he played the role of Dino, like this one where he told Trixie (played by Sarah) in a scene inside the car: 'Alam mo ba kung ga'no kahirap na nasa isang banda tayo, pero para sa lahat, ikaw ang magaling? Gusto mong umalis sa banda ko? Do me a favor, umalis ka na rin sa buhay ko.'"
Like the DWBR guys, Romy was star-struck, impressed by Piolo's answers in the interview conducted in between the poem reading.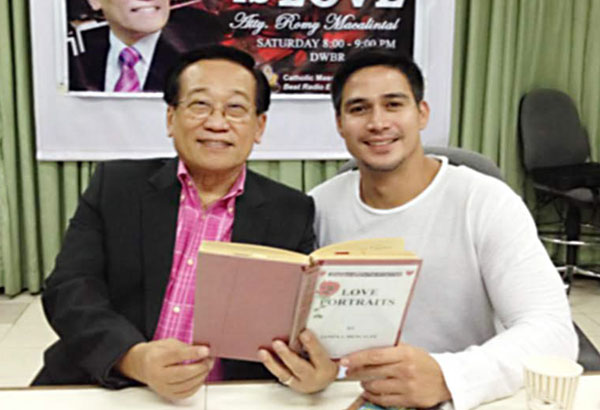 Piolo Pascual and election lawyer Romy Macalintal during the pre-taping of Romy's program The Law Of The Heart is Love
"In all those moments that Piolo was at DWBR," recalled Romy, "his eyes were beaming with great joy and pleasure as he eagerly and enthusiastically mingled with his ecstatic and loving fans who could not control themselves in touching and hugging him complete with all the selfies they took advantage of at that memorable moment they had with the hottest movie and celebrity in their midst."
It took Piolo a while to leave the parking lot because he gave in to repeated quests of his fans for more selfies.
More than 150 celebrities have read poems on Romy's program which has been on air for several years. It was named the 2013 Catholic Mass Media Awards' (CMMA's) Best Radio Entertainment Program and got a Special Citation Trophy in 2014 also from CMMA. The entire proceeds of advertisements generated from the sponsors of program directly go to the scholarship program of Mission Guided by Mary Foundation which now supports close to 600 poor elementary and high school students in various Catholic parishes nationwide under the supervision of their parish priests.
(E-mail reactions at entphilstar@yahoo.com. You may also send your questions to askrickylo@gmail.com. For more updates, photos and videos visit www.philstar.com/funfare or follow me on www.twitter/therealrickylo.)