Ronnie del Carmen: A 'Pixnoy' in Hollywood
MANILA, Philippines - Ronnie del Carmen's fondest memories of growing up in the Philippines included watching movies and daydreaming about making one someday. So, it was a sweet homecoming for the now US-based Ronnie when he returned here last Friday to introduce an animated film he helped create.
The 55-year-old artist is the co-director of Oscar-winning animator Pete Docter in Disney/Pixar's Inside Out. The comedy-adventure, which has already raked in $630M in box-office receipts worldwide, is opening in Philippine theaters on Aug. 19. Ronnie together with Pete came to wrap up the film's Southeast Asian press tour, which also made stops in Malaysia and Indonesia.
According to Ronnie, who was born and raised in Cavite, bringing Inside Out home is a dream come true. "I left in 1989 and migrated to the US. It's really quite a journey. You don't plan these things. I didn't even plan on going into animation but here I am, I have come home. And it's an amazing experience because I'm not just coming home, there's a movie that I have made that's about to open here, and it's kind of a surreal experience because I used to just watch movies here while growing up and I used to tell myself, man, I would love to do movies someday. (So) it's a dream come true."
Ronnie and Pete first worked together via the 2009 Oscar Best Animated Film Up, with Pete as its director and Ronnie as story supervisor. The working relationship has obviously evolved into friendship, gauging from their banter during Friday's presscon at the Makati Shangri-La.
"For a long time, I wanted to work at Pixar Animation Studios because I loved Toy Story. Then, I (was) interviewed at Pixar and everybody met me at this room with drawings of monsters, (I thought) very good, they were making a movie about monsters, I'd love to be part of this," recalled Ronnie of the beginnings of his partnership with Pete, who also directed Monsters, Inc.
Pete added, "Meanwhile, we had a couple of story artists whose work I loved and I asked how did you learn all this, and they said, (we) learned everything from this guy named Ronnie del Carmen and I was like, 'Great! Get him in.'"
Ronnie, however, didn't get to work on Monsters, Inc. but on Finding Nemo, also one of Pixar's biggest hits ever, instead. "(After I became an employee) they brought me to a room full of drawings of fishes, I thought, what's happening? So, I suspected that Pete Docter didn't want to hire me," he joked.
"Which is not true," Pete was quick to disagree.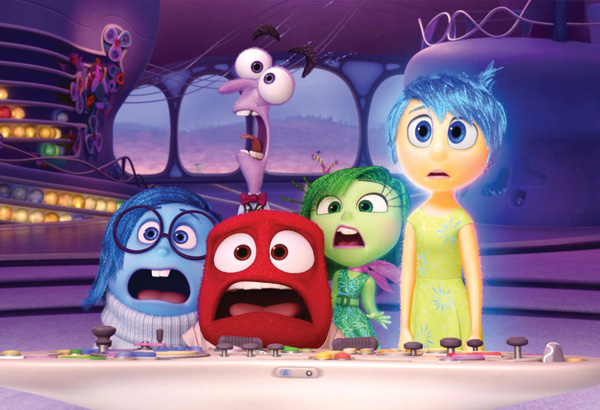 Joy, Sadness, Fear, Anger and Disgust in a scene from the animated film
"Which is not true," agreed Ronnie, because not too long after they did Up (about a bitter widower named Carl who decides to live his dream of moving to South America).
Remember the opening scene where viewers get to see the wedded bliss of Carl and his wife Ellie? Ronnie was particularly responsible for that touching scene, said Pete. "You know that beginning part of the movie where we see Carl and Ellie fall in love and live together? All of that four and half minutes Ronnie boarded. It was great stuff."
Up turned out to be just the start, with Pete declaring that he couldn't imagine the making of Inside Out without Ronnie. "Ronnie and I worked really well on Up, and we started sharing brains in a way. We have different approaches, but we found that it was more productive to work together and to, you know, think free things. On Inside Out, our thought was, let's go to the dark unknown together and figure out where this film was gonna go. We don't really know fully at the beginning. That's how it is (with animated films) and that's kinda surprising to people… But it (starts) with a little idea and then it gets added on to. It's a very messy process, so it's important to have a creative partner that you can explore things together."
Inside Out is a coming-of-age story that probes the inner workings of the mind of 11-year-old Riley, who experiences a riot of emotions, thanks to the color-coded, conflicting "voices in her head." There's Joy, Sadness, Fear, Anger and Disgust trying to guide Riley as she gets transplanted from an idyllic small town into a chaotic big city with her family. Apart from being "gorgeously animated," the film has been praised for exploring the psychology of human emotions.
"This film was a real challenge… we decided (to go) not in the brain, but into the mind, so it's not blood vessels and things, it's like esoteric stuff, consciousness and personality," explained Pete.
"And so we were talking about these very abstract things, but at the back of my mind, I'd be like how am I going to do this, what it's gonna look like, I had no idea. And I look over and Ronnie has drawn already. He has this amazing ability to take these feelings and put them as images that we can shoot. I can't imagine working on this film without Ronnie."
If Ronnie's life were adapted into an animated film, there would be echoes of Inside Out: you have joy, sadness, fear and more importantly, inspiration.
In 1989, Ronnie was already raising a young family and applying his Fine Arts degree from University of Sto. Tomas as an advertising art director when he got petitioned to the US by his father. They were separated for 18 long years after financial woes forced his father to work in the US. The move meant huge sacrifices and an uncertain future.
Ronnie started from scratch, eventually finding employment as assistant to an art director. Through hard work and willingness to learn on the job, he went on to become story artist and story supervisor, first on Dreamworks and then Pixar, where he has been for over a decade now.
He is just one of the Filipino talents shining at Pixar — like Nelson Bohol and Chris Chua — and they had formed into a group called Pixnoys.
"We have a mailing alias for a group of Filipinos at Pixar — Pixnoys — and we get together for two reasons. One is to eat, like we would have potluck and salo-salo. But also, we hold charity events and auctions, so that we can donate to charities that give typhoon relief here and others. It's a very active and friendly group."
And whenever Ronnie is visiting the country, he tries to meet with local animators and animation students like today, he's set to give a lecture in an event organized by the Animation Council of the Philippines at the IMAX SM Aura.
Asked for any advice to those who'd want to succeed in animation or any creative field for that matter, Ronnie said, "It actually helps that you're doing what you love doing."
But the most important thing, he stressed, is that creative people should keep on creating. "You make something, you finish it and you show it to people, so you'll get feedback, and because if you don't get feeback, you don't know what to fix, you don't how to improve. So (again) do something, finish it and you will eventually get to all your dreams."