(The Philippine Star) - February 23, 2015 - 12:00am
MANILA, Philippines - "It is what I really do ever since. I started out very abstract. I didn't have figures," says Manunuri ng Pelikulang Pilipino president Grace "Gigi" Javier Alfonso of her love affair with painting. Alfonso is one of the featured artists in SiningSaysay: Philippine History in Art, a joint venture of Araneta Center, the University of the Philippines and University of the Philippines Alumni Association. The 30-piece mural exhibit includes the works of National Artists Abdul Mari Asia Imao and BenCab, Aileen Grace Lanuza-de Pio, Romeo S.A. Carlos, Janice Young and Angel Cacnio.
"You work with basic elements," says Alfonso of abstract. "I could already express myself by just using elements like color, line, texture, and I could use (them) even without the images in telling my story. Putting in some images, you've already jumped into something narrative form that other people can readily understand. It is a choice."
With SiningSaysay, it was the choice of artists like Alfonso, who has done eight solo exhibits and numerous group shows, to go figurative and thematic.
"It has to be the choice because you are reaching out (to people) and you know, it is going to be a public exhibit and you are pushing for a public discourse. Therefore, you have to certainly connect to your audience — not to be too ambivalent," she says.
Alfonso's mural is titled Women Empowerment in the Philippines, which speaks of her feminist stance as a visual artist.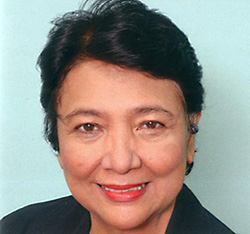 Artist Grace 'Gigi' Javier Alfonso STAR
"That has been there for quite sometime," she shares. "Probably in the early years, it wasn't purposive but it was there already like when I was directing for television... I would be working with women writers like Lualhati Bautista, Racquel Villavicencio and Marra Lanot. I asked them to write for me when I did drama anthologies."
The 6' x 12' acrylic on canvas work is a product of research on women in Philippine history and a discourse with historians Dr. Serafin Quiazon and Prof. Ma. Luisa Camagay and curator Ruben Defeo. Alfonso worked on a preliminary sketch bozetto first before finally getting her hands full with the wall painting.
According to her, SiningSaysay will be exhibited at the Gateway Gallery for two years and transferred to the University of the Philippines.
Alfonso's mural is all about "women claiming their spaces through time," she says. It is rich in images of the indigenous women like the lumads who were not Islamized or Christianized. They are the "uncolonized" women who preserved the art of weaving and music. There are also women leaders like Gabriela Silang, Trinidad Tecson, Teresa Magbanua, Agueda Kahabagan and Tandang Sora. A space is devoted to the Women of Malolos, the contemporary feminist activists, women teachers and women in the media. Names of women organizations in the country weave the cloth image in the painting. The moving and upright leaves (dahon) dominate the mural's uppermost part, which symbolize the growth of women and women empowerment in history. Dahon is also a common image in Alfonso's paintings, "They are the uncelebrated (parts), but they are also an important part of the plant." That explains Alfonso's fascination on them.
(The Gateway Gallery is located at the fifth level of the Gateway Tower.)